Peter Randall-Page: sculptor
Peter Randall-Page spoke to artcornwall close to the completion of a major new work for the Eden Project. He also gave us some rarely seen images of student work.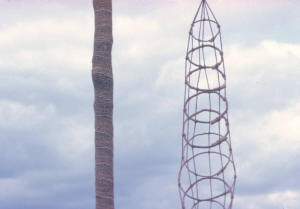 Peter, You went to art school in Bath in the 70's. What was that like? What were the influences that were around at the time and which were most important to you? How was stone-carving viewed and was this something you were already doing?
I was very lucky to go to Bath Academy of Art in the mid '70's. The college was in the small village of Corsham in Wiltshire. There was plenty of space and some very inspiring people. I made a lot of ephemeral large scale outdoor work using wood, rope and canvas, (above and below right) it was only towards the end that I started using stone and even then they were more constructions than carvings. Nobody was carving stone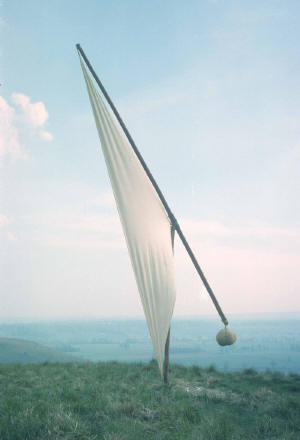 but a huge variety of other kinds of work was going on, performance, installations, film and as well as object making.

I experimented with many different mediums and idioms during my student days but my real passion became form and the kind of sensuality that can only find fruition in volume.
You now have a huge and impressive number of exhibitions and commissions to your name. By way of summarising your CV, is it possible to single out some projects that seemed particularly decisive in terms of your career or your development as an artist?

With hindsight certain works do feel seminal though I would not necessarily have realised their significance at the time. My first large scale public commission for Leicester Royal Infirmary in 1982 was a landmark in terms of scale and ambition and the work I did for Common Ground in Dorset endorsed my desire to integrate art with place and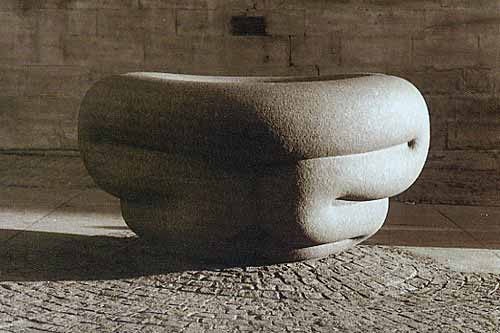 everyday life.

More recently I am proud of 'Body and Soul' in Edinburgh (left) and 'Give and Take' in Newcastle (below) where I had the opportunity to be involved with the design of the surrounding hard landscaping.

You are close to completing a large sculpture for the Eden Project - which will be sited inside the new education centre. There is a lot of information and some excellent pictures on your website, and I would recommend people to take a look. I would guess one of the most important considerations – especially in a location where there is so much already - was the siting of the work. Is it hard to site 'serious' - or at least more contemplative - sculpture in and around the busy thoroughfares of the Eden Project?

In a way the most exciting aspect of my involvement with the Eden Project was the collaboration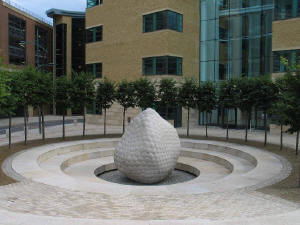 with the architect Jolyon Brewis from Grimshaw Architects. We worked together on the concept and design of the new education building itself. The challenge was how to incorporate plant imagery into a contemporary building. We ended up basing the roof structure on the kind of plant growth patterns that I have been studying for many years. The sculpture is based on the same geometry known as spiral phyllotaxis. I am pleased that my work will be at the centre of the education building. It is a contemporary building with a serious and important function. The sculpture will be sited within it's own specially designed chamber, lit form above with natural light.
My hope is that it will be an object of contemplation, a still quiet space at the heart of all the razzmatazz.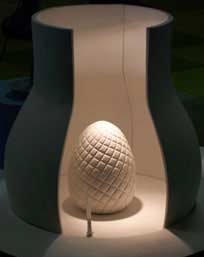 The building - which is very striking - has been called the Core Building, I believe.
Can I ask where in Cornwall the stone was quarried and was it carved on site? When you are working at this scale, how is the image in your head transferred into three dimensions? Do you eg use 3D software to do this or some other kind of computer template? Has the technology for making this kind of work changed much since eg the days of Barbara Hepworth?

We are making the sculpture at Delank Quarry on Bodmin Moor where the stone was quarried. This is the most ambitious project I have ever tackled. The quarried stone weighed 167 tonnes and many people with their own particular expertise have been involved; quarrymen, engineers, computer 3d modellers, carvers and many others have contributed to this project.

It is just the same as making any sculpture but the scale and complexity presents new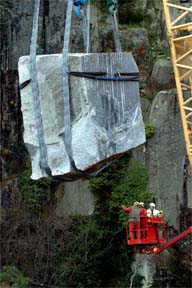 challenges. The computer modelling was useful but in the end I had to understand the form and pattern physically. The most valuable tools have been the compass and straight edge. The line and the circle are things I can understand.

How do you place your work in terms of recent art-history? You often seem bracketed with sculptors of a similar generation who are inspired by nature and natural forms such as Richard Long and Andy Goldsworthy - and yet your work has a more timeless quality - probably because of the traditional craftmanship involved with stone-carving. How do you see your work in relation to the land-art movement?

I'm not really very interested in art historical categories. My work comes from a pleasure and fascination in form and pattern. I want my sculpture to be like a good meal - both enjoyable and nourishing.
www.peterrandall-page.com includes an extensive back catalogue of Peters work, and more detail on the Eden Project sculpture