With the rise of abstract art in the 50s, and conceptual art in the 60s and 70s, representational figurative sculpture was, for a generation, rather unfashionable - or at least people rarely took much notice of it. More recently, with the likes of Marc Quinn, The Chapman Brothers and Kiki Smith it has made a comeback: often as a vehicle for conveying physical horror or violence, and installed with sense of melodrama or theatre.
Tim Shaw made his name as a figurative sculptor in Cornwall with a substantial commission for the Eden Project. His 'Rites of Dionysus', with its depiction of unfettered decadence and mayhem, drew out some of the mythological associations of the Mediterranean vineyard, and continued an interest in myth initiated in by works made in the years immediately after he left college.
One of the problems with mythological themes, though, is that they can seem remote from contemporary lives and lifestyles. They also assume that the viewer has some familiarity with the myth in question: which is rarely the case now that very few of us have a classical education. However in recent years Shaw has developed a number of works made as a response to the second Gulf War, and in choosing this as subject matter he has homed in on an issue that speaks directly to all of us.
'Tank on Fire' (
picture above top
) downstairs at Goldfish is a bulky black sculpture in wax of a tank with flames modelled in sheet plastic, capturing - as a documentary photographer would - a snapshot in time. The plinth it rests on is also black: in this case charred with smoke. Shaw's inventive use of materials is a recurring feature of the show, and is also apparent in the sculptures of two ravens also on the ground floor (above).
On the first floor the emotional tone of the sculptures is cranked up several notches. Like the tank sculpture 'Man on fire' (picture below top) was derived from a news photograph, this time taken in Basra, Iraq. Spilling down, rather elegantly, from the white plinth is sump oil, which serves to re-emphasise the political background of the work. The words 'What God of Love Inspires such Hatred in the Hearts of Men' is roughly scrawled on the front.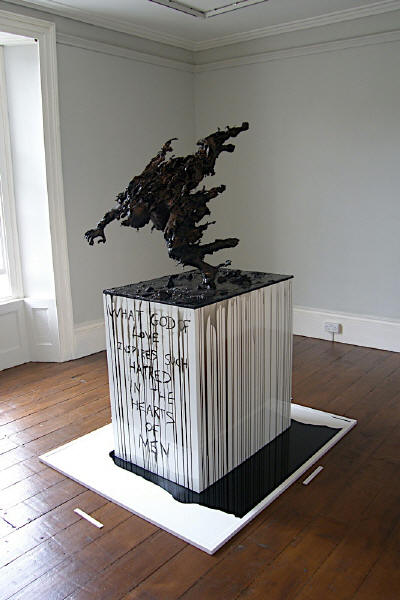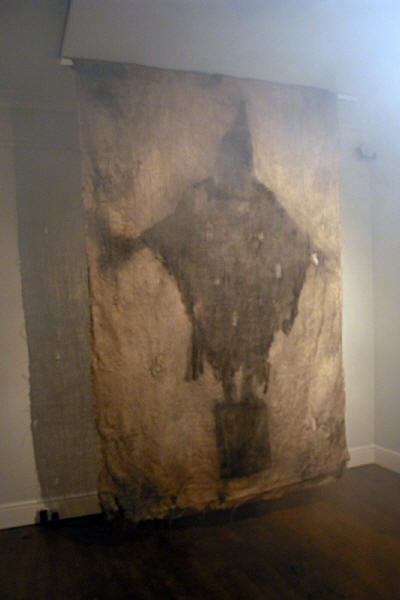 Whilst the other Gulf War works remain elegant and almost fetishistic, as the paraphernalia of war (uniforms, guns and weapons) often does, 'Shroud' (picture above bottom) is much more abject and destitute. The iconic image of the Abu Ghraib prisoner with arms outstretched that circulated in the world's media in 2004 is rendered in smoke on a rough piece of hessian, installed within a dimly lit back room, accompanied by the sound of a heart beat and wisps of dry ice. Though literal, and melodramatic, it is undoubtedly powerful as it rises over the viewer like a black phantom.
On the evidence of this show, it appears Shaw is not generally given to playfulness, frivolity or trivia, though in the immaculately installed top gallery traces of humour emerge. Here lots of fertility figures are depicted as maquettes only a few inches high: many based on the Silenus figure that was shown in 'Art Now Cornwall?' and was attacked in London last year. As a larger-than-life sculpture brazenly brandishing his manhood, Silenus, related to Bacchus in classical mythology, was overbearing and vaguely threatening. As a series of maquettes placed around the room these figures seem more jovial and harmless, despite sharing the same malevolent facial expression. Tucked away in a corner is a figure based on the Padstow 'Obby Oss: a subject that seems worth exploring some more.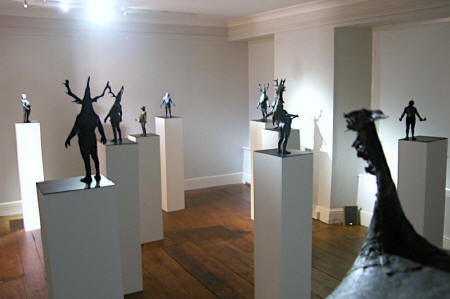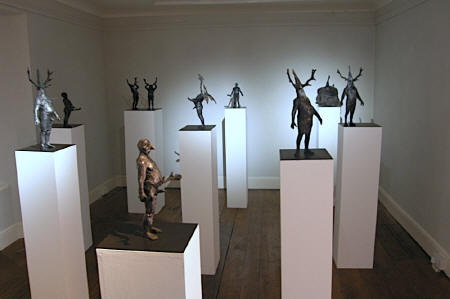 In his statement Shaw expressed doubts about mixing the timeless and mythological with more contemporary war themes. Yet with this sparingly hung, dramatic exhibition, the two elements undoubtedly create a context for each other in a way that makes them both individually stronger. In particular the mythological component is given an urgency and relevance that it might not otherwise have. The viewer is then compelled to reconcile the two contradictory elements, one creative the other destructive, perhaps most easily understood as conflicting but related aspects of the male psyche.