Breon O'Casey
Lemon Street Gallery, Truro Aug-Sept 2006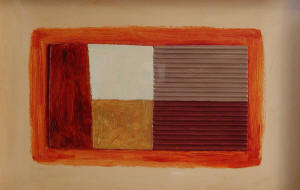 Now nearly 80 years old, Breon O'Casey is one of few practicing artists remaining in the county who lived in St Ives in the 50s and who knew and worked along-side the artists that gave the colony its name. This gives him and his art a special aura for fans of Cornish modernism, and makes it very collectable. But what relationship does his work have with the St Ives movement exactly, and how does it look now?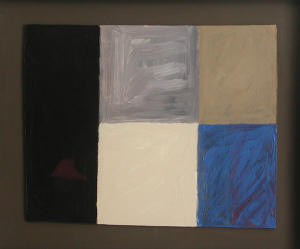 Lemon Street Gallery in Truro showed a large and exhaustive collection of his recent work in August and September. On the ground floor were 10 bronze animal forms on white plinths that resembled a petrified brown farmyard of chickens, birds and other animals. The paintings in the same room were more abstract, and often consisted of trademark elegant rectangular forms painted with acrylic on board, shown in gilded frames with glass coverings (above and left).
In the hall and stairway were a collection of prints, and two flat and sensual horizontal paintings in pinks and dark browns (bottom but one image). In the1st floor gallery was a selection of work on paper featuring softer, pleasing seed-like forms (belowX2) and number of other paintings, including one depicting an exotic bright-pink bird (bottom).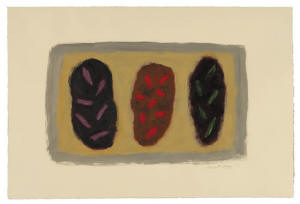 In the entrance to the top floor of the gallery was a strongly geometric large painting of a nude - expressionistic and in this sense out of keeping with the rest of the show - and inside a mixture of sculptures on plinths and paintings. The largest painting, called 'Venice', (exhibition index page) comprised eye or lip-type forms painted in autumnal colours on a luminous orange under-painting.
O' Casey clearly draws strongly on the legacy of Picasso and the French 'school'. The scale of his paintings and his use of deep umbers and vandyke browns is very reminiscent of early cubism,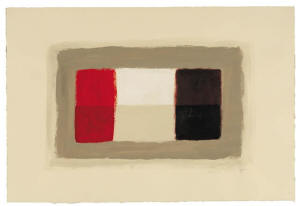 and it is hard to look at his animal forms, especially the birds, without seeing Picasso.
One of the things that St Ives modernism achieved was a rapprochement between the French 'schools', and the more abstract American 'schools' of painting that came later, partly through Ben Nicholson's own working through of the implications of the former. It can therefore be argued that, perhaps via Nicholson's example, O'Casey has returned St Ives painting to its origins in Picasso, in the process by-passing some of the other influences that it became subject to.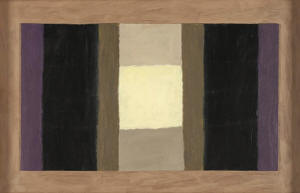 Yet, while this can't be denied, there is also something very 'now' about his art, particularly the two dimensional work. Although the scale is modest, the fact that they are executed in acrylic partly helps to locate his paintings as contemporary, as do the flat geometric forms and use of symmetry which references American painting of the 70s (Noland, Stella etc).
The conception and execution of the work, which both remain visible in the image, are simple, bold and confident. But then O'Casey has worked and re-worked the same ideas over 30 or more years, and his use of wonky geometric forms painted in scumbled luminous layers has become effortless and very distinctively his own.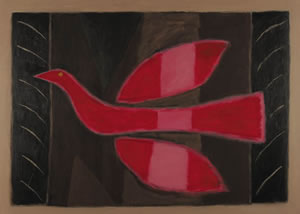 Most of all it is this playful quality in particular which sets him apart, in a good way, from the other rather more earnest St Ives modernists and provides a bridge between the 1950s and our own 21st century.
all images courtesy of www.lemonstreetgallery.co.uk