Michael Finn
Lemon Street Gallery 10th -31st March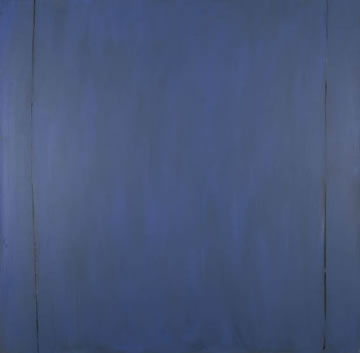 Michael Finn had a close relationship with Cornwall for most of his adult life. Although his art has similarities with that of his contemporary, Breon O'Casey who showed at Lemon Street a few months ago, as an educationalist (Principal of Falmouth School of Art in the 60s) Finn's personal links with St Ives art and artists were less immediate, and he was only able to dedicate himself totally to his own output relatively late in life.
The work for which he is best known - shown in a posthumous mini-retrospective at Lemon Street in March - is best described as a form of post-minimal painting; relying on a simple language of interchangeable elements: brushmarks, spacious fields of geometric colour, and canvasses of different dimensions and shapes.
Installed in the pristine white cube basement space at Lemon Street were around 20 such works of different shapes and sizes each made using a limited palette of blues, browns, lilacs and greys; all part of the estate managed by ex-Newlyn curator John Halkes. Like Robert Ryman and Mark Rothko, the process of applying paint to the canvas had been made an important feature of the work, such that the scumbled and cross-hatched brushstrokes created mysterious layers of emergent colour. The vertical lines that featured in some of the larger paintings had a scratchy hand-made quality that seemed to refer to a St Ives tradition of painting - perhaps to Lanyon or Heron - yet obvious references to landscape were conspicuous by their absence, and the symmetrical compositions were more evocative of pattern painting and late 20th Century American abstraction.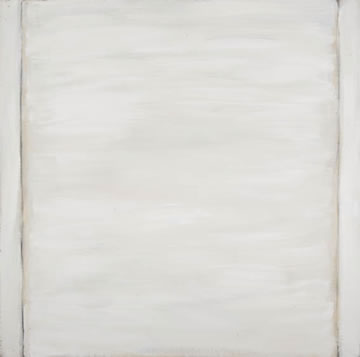 The most important and celebrated feature of Finn's painting is its emptiness. In choosing to emphasise this feature when he did (late eighties/early nineties), Finn was swimming against a neo-expressionist tide, as bold figurative painting had recently come back into favour.
In fact there has never been an artist in Cornwall who has used empty fields of colour as daringly as he did, and arguably this is his most significant contribution to the tradition of visual art-making in the county. As a devout Roman Catholic, he was almost certainly inspired to do this by his religious beliefs. It is in this emptiness, particularly in the larger paintings, that one glimpses the special mystical quality that his best work has. Indeed in a very engaging talk given at the gallery on the 17th March, in being a 20th century religious artist, John Halkes described Finn as second only to Stanley Spencer.
http://www.michaelfinn-artist.co.uk/