Lineage
NSA
Newlyn Art Gallery, 13th October-9th December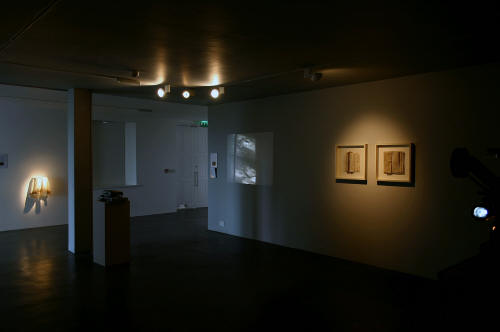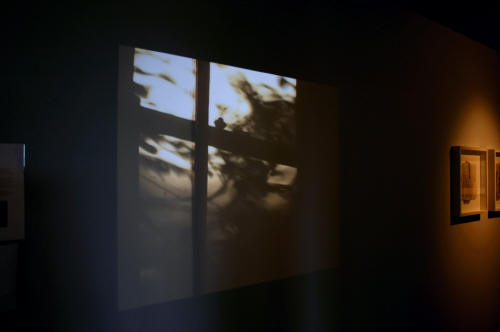 The association of Newlyn Art Gallery and Newlyn Society of Artists (NSA) has provided a focus for the community of artists that have lived and worked in the area for well over a century. For the show 'Lineage', current members of the NSA were invited to respond to an aspect of the work of the original Newlyn School through a process of research and reflection using, in particular, the resources held at Penlee House Gallery.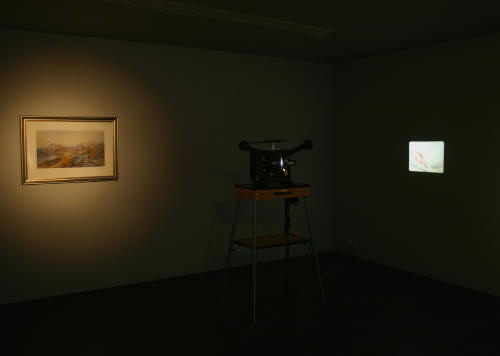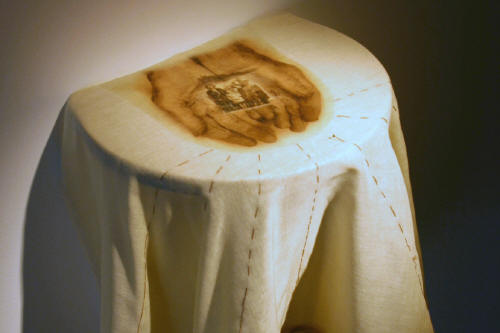 Angie Munro's projected film of sunlight falling on curtains was made in response to Frank Brambly's A Hopeless Dawn. It was one of the most elegant and poetic of the contributions, and it seemed to match the powerful elegiac tone of the original. Imagining journeys that might have been taken by local fish-sellers, John Keys photographed trails of salt on the ground and in 'Penwith Explorer' Bren Unwin showed a looping 16mm film of a journey through Penwith. Also in the dark downstairs space was a work by Allesandra Ausenda featuring sepia photographs printed on cloth.
In the hallway upstairs were two works made in direct response to the fishing industry itself. Prints by Denny Long, some using her own designs, some using fish-box stencils loaned to her especially by a local museum, were clustered together (below). Opposite were some sketches and a video by Kurt Jackson made whilst out at sea with local fishermen. Though claiming to take traditional hand-line fishing techniques as its subject - the work was, arguably, more about the artist and his own working techniques.
Further on, Susan Kinley contributed orange and green silk panels inspired by foliage, and the work of Alex Walker of Crysede. In the education room was, appropriately, a collection of paintings by Paul Nicholls in response to 'School is out', by Elizabeth Forbes.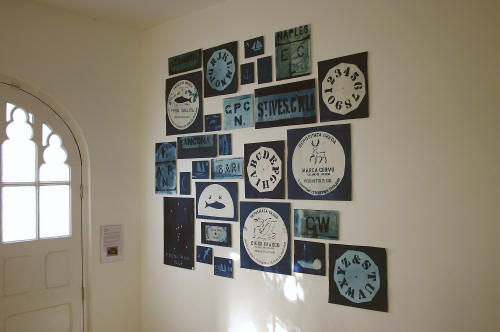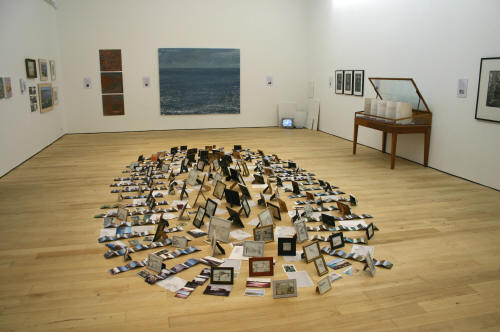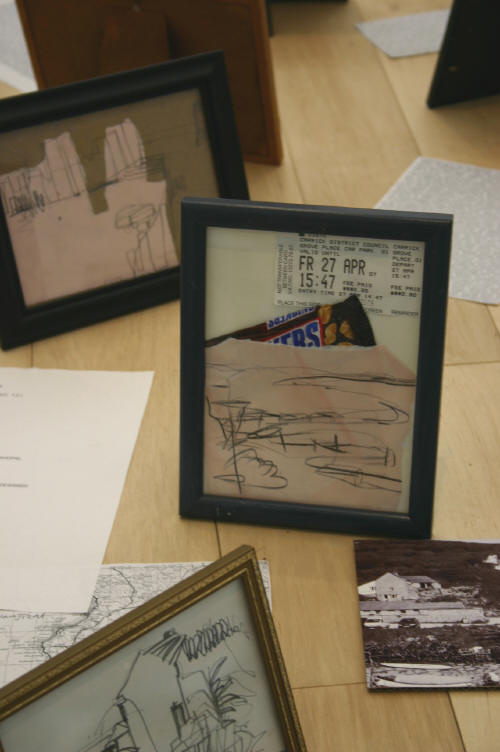 Occupying the floor of the main space, and bathed in milky light, was a substantial installation by Richard Ballinger (above). Called 'The Colony', the work was structured around 112 drawings made by the artist whilst following the coastal footpath around from St Ives to Penzance. The number was chosen because it corresponded to the number of years the gallery had been open, and also to the number of artists that were recorded as living and working in the area at the time.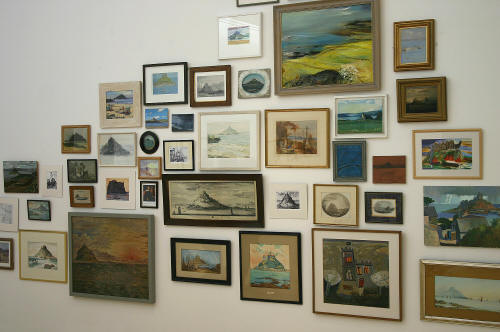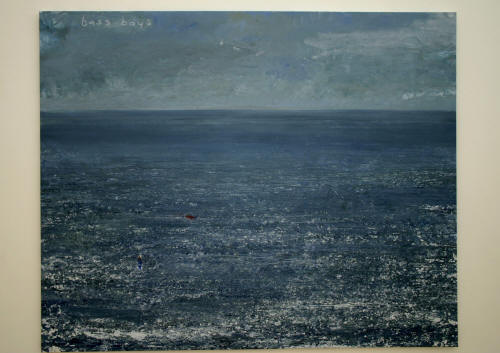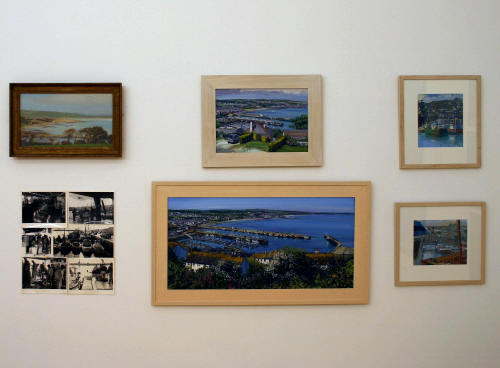 Facing each other on opposing walls were a majestic blue grey seascape by Kurt Jackson, featuring tiny fishing boats - 'The Bass Boys' - and a stunning collection of images of St Michaels Mount by various artists by Daphne McClure (above).
Peter Webster designed a club flyer and showed two accompanying abstract oil paintings inspired by a small enamel plaque by Laura Knight. Bernard and Audrey Evans painted representational views of Newlyn en plein-air (above) which included tantalising glimpses of contemporaneity, and Marion Taylor utilised three bright orange copper panels echoing the panels on the outside of the gallery.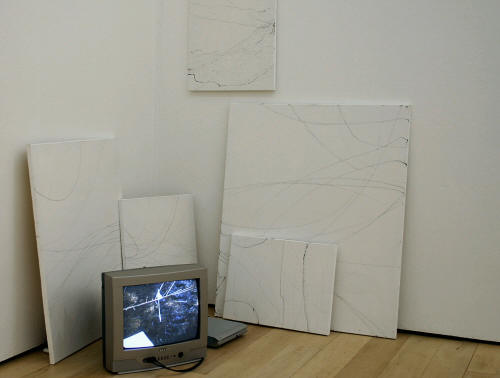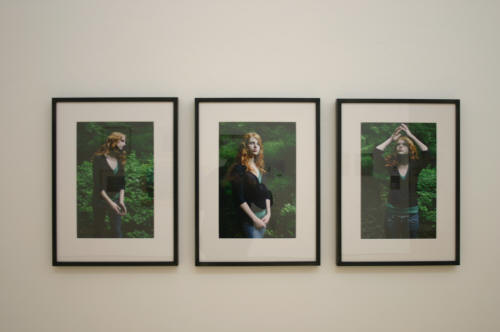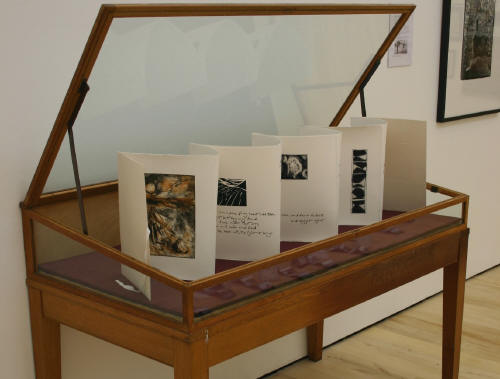 Rupert White showed a video of white canvasses floating downstream at Lamorna, such that a pencil tied to an overhanging branch drew graceful arcs on them (above). The work seemed to also relate to plein-air painting, but radicalised it by making the landscape a participant in the making of the work and not just a passive object to be gazed at.
Belinda Whiting showed a triptych of photographs of her daughter (above), and Sarah Poland contributed a limited edition handmade book comprising a poem and prints (above). In response to the ever-popular painting 'The rain it raineth everyday', Nik Strangelove showed two photographs of stones on the promenade, though it was interesting that he chose to focus on weathered chunks of granite rather than the repeating pattern of the pinkish paving slabs themselves. Next to his work were Nicola Bealing's two vigorous narrative-paintings in oil based on anecdotes by the local Victorian writer: Charles Lee.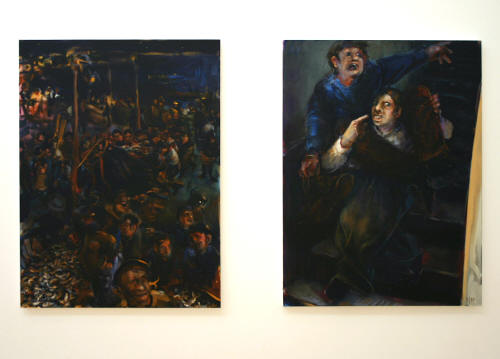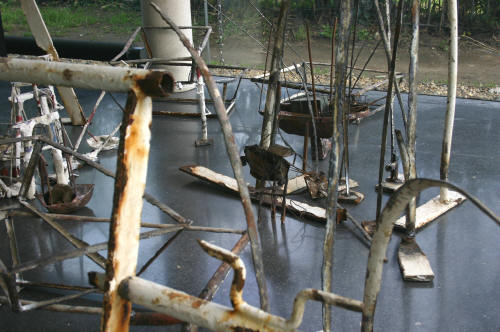 Though for some of the works the panel of text added little, in looking at Emma Churchill's sculpture it helped having a written explanation, for it contained hidden esoteric meanings. Two lead weights chosen as being the same weight as a female heart, were fused together to look like a heart, placed within a glass rolling pin, then connected by a silver thread to the outside. Nearby were two paintings by Bernard Irwin that were similar to Patrick Heron's late garden paintings.
Downstairs near the entrance was an evocative white and rust-brown sculptural installation using salvaged metal, and depicting a stylised harbour by Nicola Buxton.
One of the difficulties with mounting an NSA exhibition is that the membership is so large and diverse, that it is difficult to put together a show of its members that is genuinely coherent. In the case of 'Lineage', having a clear and prescriptive theme solved this problem, and the contributors were able to respond positively and inventively, and in a way that fitted their practice.
The main issue raised by the show was whether it is important for local artists to acknowledge the heritage of the region, and if it is, how far to do so and in what way. Should local traditions be honoured and kept alive or is it better to escape from the past and embrace the future? Can an artist ever do both simultaneously?
The local history of any area is like a bottomless pit of anecdotes and stories and, in sifting through it, it is easy to get lost both as an artist and a viewer. Ultimately it seems important to ask how well local references translate elsewhere. The most successful works in 'Lineage' were those that used inspiration found locally as a springboard to make art that was of more universal interest. That was, after all, what the greatest works by the original Newlyn artists also managed to do.
Ken Turner contributed a performance 'Shifts in perception': see webprojects.
Some works were shown at Penlee House: documentation of these would be gratefully received.
artcornwall.org has an archive of images from this and other shows in Cornwall that can be requested from the editor. The images on this page can be downloaded and used elsewhere, but please let us know and please acknowledge the source as artcornwall.org