Escalator
New County Hall, the elegant modernist home of Cornwall County Council, was opened by the Queen in 1966. Located in its own grounds on the south side of Truro, it was built by a team of young architects who had developed the designs under the watchful eye of the County Architect after visiting civic buildings all over Europe. Its central court-yard gardens are stocked with typically Cornish plants, and feature a sculpture by Barbara Hepworth.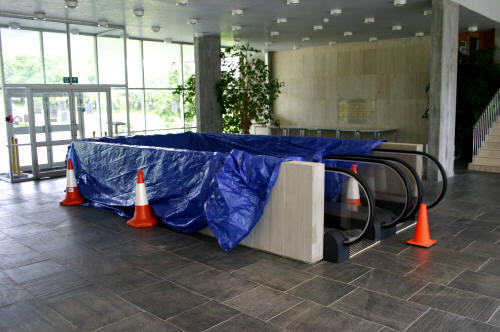 A stone's-throw away from the garden is a large empty space that serves as the main foyer of the building. Regular staff visiting during July would have seen Patrick Lowry's sculptural intervention straight away, but visitors not familiar with the space would probably have not noticed it, because it was so seamlessly integrated with the architecture.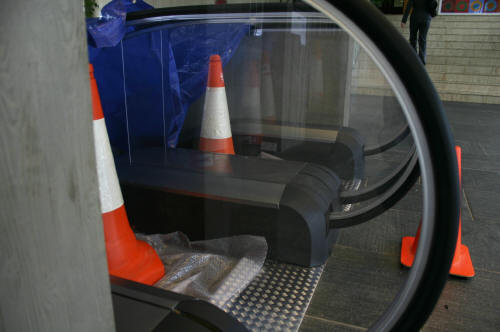 'Escalator' was one of the biggest of the works making up more Cornwall, and it was only on closer inspection that it was revealed as an elaborate hoax or prank: an apparently half-finished moving staircase made out of wood, plastic and shaped metal.
In fact, of course, there is no reason why the council would want to put an escalator there, as it would only lead straight into the ground. Was this, with its cheery bright orange cones, therefore a depiction of a bad planning decision or, more tellingly, a stairway to hell? Escalators are symbols of efficiency, and consumerism. They are often incorporated into shopping malls and department stores as ways of encouraging shoppers to enter further into the shopping experience, and to make it harder to leave. As a teenager living in the 80s in Truro, I used to joke with my friends that there was only one escalator in Cornwall. Back then it was true...
Happidrome
On two consecutive weekends in July, Happidrome was open to the public on a dramatic site adjacent to Goonhilly Earth Station. Part of the Downs overshadowed by the giant satellite dishes of Goonhilly, the site contains remnants of a large World War 2 radar station.
Paul Rideout strung squares of bubble-wrap between the brick walls of one of the former RAF buildings, such that any gust of wind would ripple through them. There was a sense that, through his efforts, he had constructed a different kind of signal receiver. Called a 'Window in history and landscape', the term 'window' here referred to reflective objects that can be used to confuse radar tracking systems.
At least 10 foot high, Alison Sharkey's interventions inspired by standing-stones, were visible from a great distance. The first of them looked like a giant root vegetable, or sausage. Beguiling in its strangeness, its organic, regenerative qualities contrasted with the satellite dish behind it. The second consisted of a pre-existing megalith clothed in bright contemporary fabric (above). This startlingly off-beat act both concealed the stone, yet made it more visible. Alison also made 'Dazzle-tree': a dying tree decorated with brightly painted canvas the colour of a summer sky.
At times the science and technology on which we rely seems forbidding and inhuman. For his work for 'Happidrome', Steve Paige seemed intent on going some small way towards demystifying it, and making it more accessible. On entering the main space visitors were invited to join an amateur radio club, and take small wind-up radios outside to find especially placed transmitters marked with flags in the nearby vicinity. One of them was relaying one of the first ever international radio broadcasts from 1920, featuring the warbling voice of a singer called Dame Nellie Melba. Inside were tables, set up like a field-station, displaying a range of books aimed at the amateur radio enthusiast. These further explained the technology he had employed in making the work.
In the same space on a flat screen monitor on the floor, Sara Bowler showed a beautiful time-lapse video of plants growing. All them she had sourced herself and grown from seed, and all were indiginous to the area. The video included the word 'persistence' which seemed to allude to history and to the changing uses of the landscape.
This was a theme she also utilised in an audio-tour that was available to visitors, which included a spoken listing of the many hundreds of plants known in the area.
In the darkest room of the Happidrome main building was an old bicycle, probably built in Britain in the 40s. Those who came to the show were invited to sit on it, and pedal as quickly as they could in order to light-up words ahead of them. The faltering mirage-like image read 'There'll always be an England'.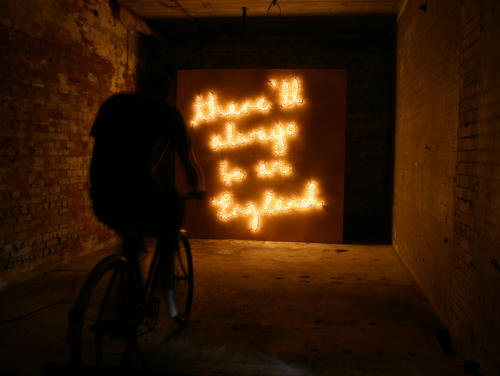 In this work by Elizabeth Masterson the bike, although it powered a dynamo, remained stationary. There was therefore a strong feeling of striving towards an unreachable destination: in this case a largely forgotten, or at least disputed, idea of nationhood.
www.happidrome.org.uk
Selected Bibliography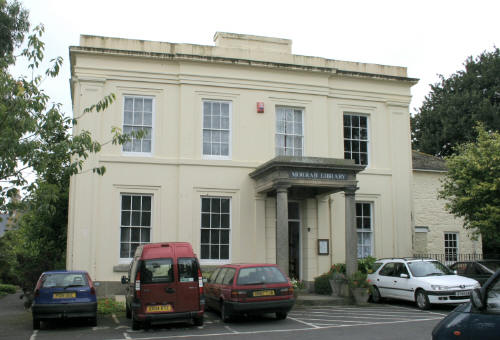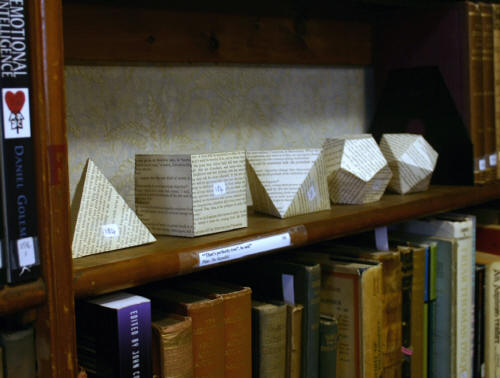 At the top of Morrab Gardens in the middle of Penzance is a grand late-Georgian building which, since 1818, has been the home of Morrab library. Many of the editions housed there date from this period and before, and as an independent library with charitable status, it is manned by volunteers. Fittingly it was the setting for the most literary of the more shows.
On the morning of the first day Zierle and Carter enacted a performance in two of the rooms upstairs that overlooked the park (video excerpts below). Both dressed demurely in librarian brown, one (Alexandra Zierle) split bright red apples in two and placed them on a table whilst the other (Paul Carter) separated the flesh from the skin and placed the resulting shell-like forms around the room. After about half an hour they moved to the adjacent room and, standing behind a table, kissed ink pads, then transferred the ink from their lips to sheets of A4 paper, whilst mumbling inaudibly. They repeated this obsessively for more than one ream's worth of paper, until their lips were bleeding and there was no paper left.
Miles Henderson-Smith also used paper, this time pages torn from a number of books, to construct fragile 3D objects placed on the shelves in the library. Each were entitled using quotes from the books from which the pages were taken, and, for example, included the ontological quandary from Heidegger: 'What, in truth, is a thing in so far as it is a thing'.
Amanda Brown contributed a spoken composition that was both reflective and philosophical, and rolled documents that gave instructions to the visitor to find a series of texts dispersed through the library. At the top of the stairs Steven Paige had created a display of texts and objects that became a library about a library, focussing particularly on the Dewey Decimal Classification (D.D.C.) system of library classification which is used to organise all knowledge into 10 classes.
http://en.wikipedia.org/wiki/Dewey_Decimal_Classification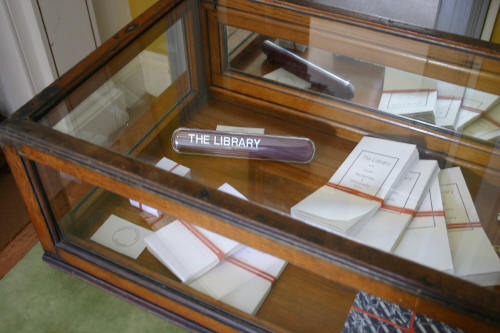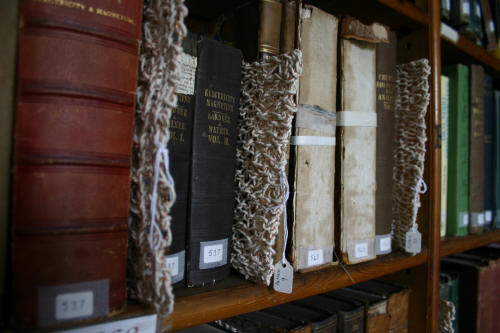 All the works in the show were numbered according to this system: a feature used to good effect by Molly Tufnell for 'Albert's Dream', which comprised swatches of string and copper inserted between the books in one of the rooms. Inspired by 'String Theory', each were woven according to a different pattern and were, appropriately enough, in the science section.
Adam Clarke showed a table of tiny bottles, between which refracted sunlight played delightfully. Visitors were asked to whisper a wish into one of the unused bottles, label it and add it to the growing collection. A few feet away were four clouds floating on books cast from resin and marble from polystyrene formers by Jacqueline Knight.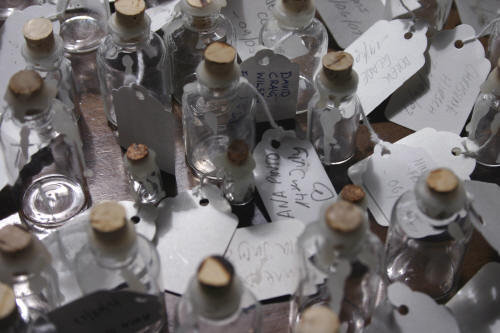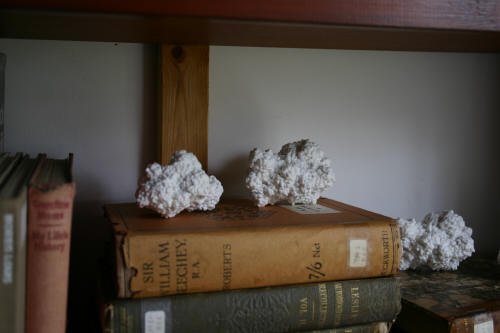 Stacey Righton broke up and reassembled text in a way analogous to a number of industrial or sculptural processes, in creating a series of animated 'short stories' on DVD using letters taken from another book (an Atlas already in her possession).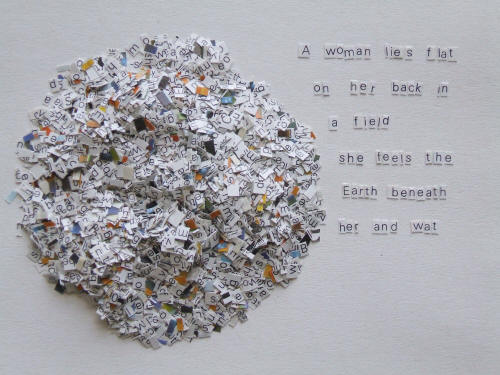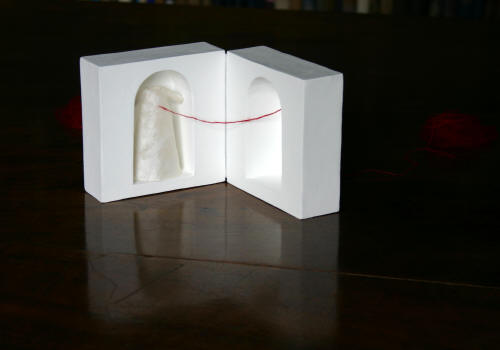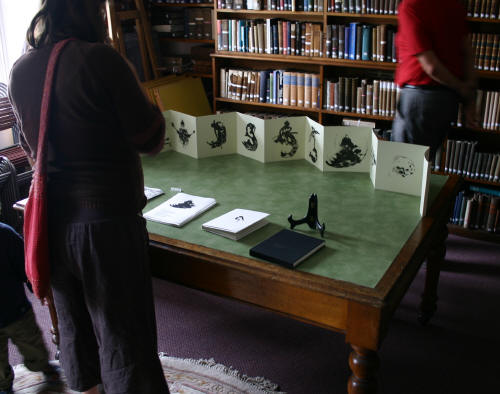 Housed within its own miniature alcove, and pierced by a red line of umbilical thread was a miniature paper dress by Lisa Mortensen. In the same room was an elegant book of poems and predominantly abstract black and white prints by Matt Osmond inspired by Cornwall.
As part of the event Penelope Shuttle and Victoria Field gave poetry readings.
Embark: Hayley Gearon
Hayley Gearon's contribution to the ongoing Ferry Art Project had some similar themes to the previous Embark show – with human figures appearing to blend and become one with their surroundings. In this case instead of a digital montage, the subjects were actually photographed at the waters edge, their clothes wet and muddied, emerging drenched with water as if survivors of a wreck at sea.
The processing came later, with images being spliced together like jigsaw pieces, to create hybrids or 'chimeras'. These were mounted as life-sized semi-opaque photographs on the glass wall of the Ferry looking towards the sea, so that the estuary itself became the backdrop to the artwork, and the figures ghostly, and indefinite.
Lit from behind by a milky white light, Gearon's photographs had an undercurrent of violence and drama, and looked like stills from a film. The emotional tone, which was offset to a degree by her chosen colour palette, was important to the work, as there was little in the way of overt symbolism to help reveal the meanings contained within.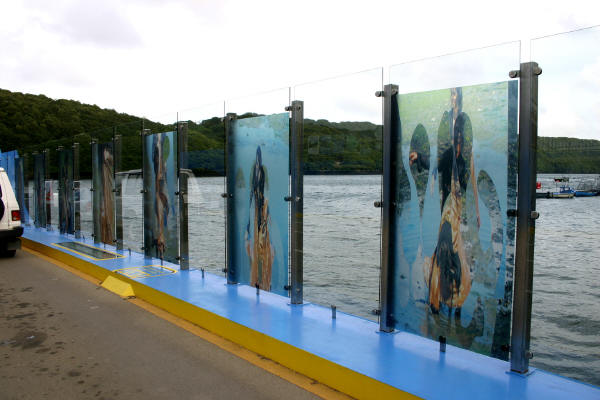 Gearon's own poetic description helps here, however: 'My own body becomes the locus of many narratives: the story of how we see nature, how we use it/him/her to explore our own pain of separateness and mortality. Whether she is mistress or master and the way we appear and disappear within its own great narrative, like phantoms through time'
However it should be said that this was the month of the highly publicised floods in Gloucester, Tewkesbury and the Oxfordshire region, which provided some alternative, if unplanned, readings for the work.
dot dot dash
Site specific work has been a strong feature of more cornwall, and 'dot dot dash' which started at the end of July was another strongly themed show, with pieces chosen for their specificity to the site, and its history. The Porthcurno Telegraph Museum is situated on rugged coastline, close to Lands End, some 7 to 8 miles west of Penzance. Upstairs is a large room with a parquet floor and windows overlooking a valley containing houses, car-parks and a tennis court.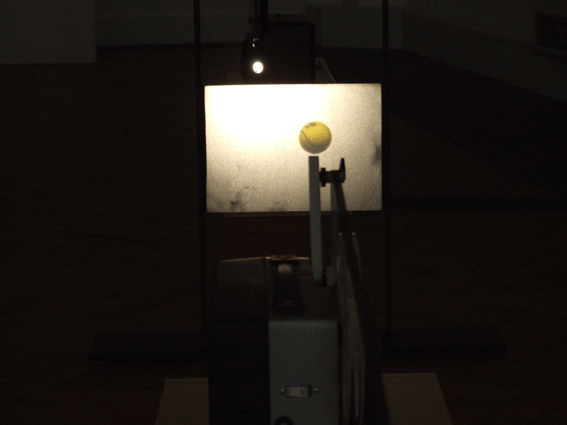 Prominent in the middle of the floor was Jacqui Knight's work, 'To me, to you', which consisted of two super-8 projectors facing each other between a mini screen. Onto this screen were projected stills of tennis balls and racquets in a seemingly random pattern, suggestive of roughly made home movies of the 60s and 70s. In fact it was morse code, spelling out the title of the piece. This complex work seemed to comment on the rule-bound nature of communication between humans, and suggest that it is analogous in some ways to sport.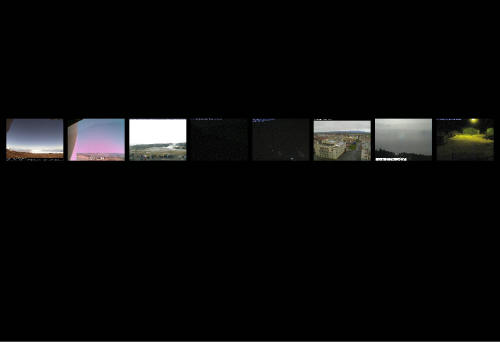 Next to draw the eye was Oliver Sutherland's video projection at the end of the room, featuring a newer technology. Called 'Morning till night' it consisted of a row of 8 slowly changing live webcams chosen from different parts of the globe. The images were organised from left to right according to latitude - ie from West to East, such that they moved from night to day and back again. An expansive symbol of the global village, it was breathtaking in scale.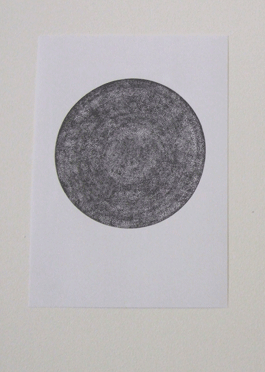 On one of the long walls were a series of drawings on glossy paper by Kitty Wingate, which were intricate webs of minute triangles. Although small, they were intensely detailed, and evocative of ancient world maps. In this context they seemed to refer to the networks of telecommunication wires and cables that now link people across continents. Kitty also showed a poster of a pigeon bearing the playfully incongruous legend: 'Polglaze Close Penzance: In-flight circuit training'.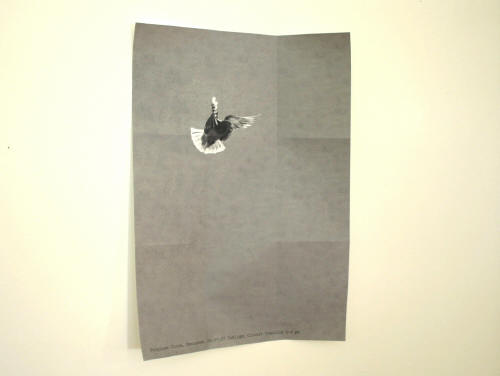 Opposite them was another netlike form: a wireframe drawing of the coastline at Porthcurno. One of a series of such works by Jacqui, it presented the coast of Cornwall in a refreshingly cool matter-of-fact kind of way, drained of its cliche and romanticism.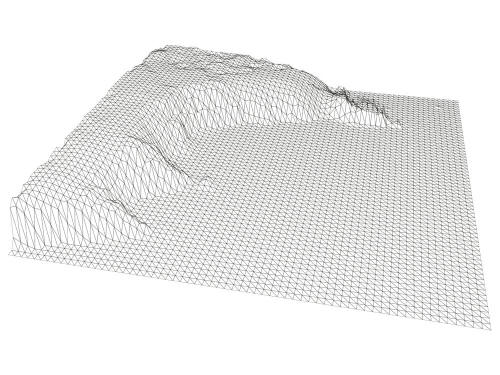 In fact all the work in dot dot dash shared the same Baldessari-like analytic rigour, and was conceptually precise, crisp and clean.
Thanks to Oliver Sutherland for the photos
Encounter

'Encounter', which took place over two weeks in one of the rooms at the Old Grammar School studios, was the first in a body of new work by Alexis Zelda Stevens. Previously Alexis has made large scale architectural interventions which have altered the space of their surroundings and encouraged the audience to move around them in an unfamiliar way. The notion of an artwork drawing attention to the body and to a pattern of movement, lead to a consideration of using movement and body more directly within the work. This new piece therefore came out of research into choreography in its broadest sense, and research into rock formation and erosion.

The audience was invited into this intimate setting to walk around the work, seeing it at close proximity from different angles; at times objects within the space appeared in the video that was being projected onto them. There were moments of correlation, fragmentation, juxtaposition, clarity and lack of it, in much the same way as a piece of
contemporary dance.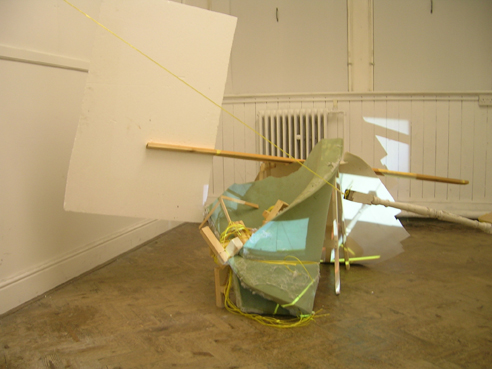 www.encounterproject.blogspot.com
Tales of the Unexpected
Tales of the Unexpected was a blog www.talesoftheunexpected.blogspot.com that was set up to coincide with the three months of more. It recorded the activities of 6 artists as they made artworks in unannounced and unofficial sites across Cornwall. Works uploaded in July included 'Line made by walking (landfill)', a re-working of one of Richard Long's early land art pieces by Rupert White. The work was identical to the original in its dimensions and method of execution, but the site chosen for making it was at United Downs, on land used for landfill.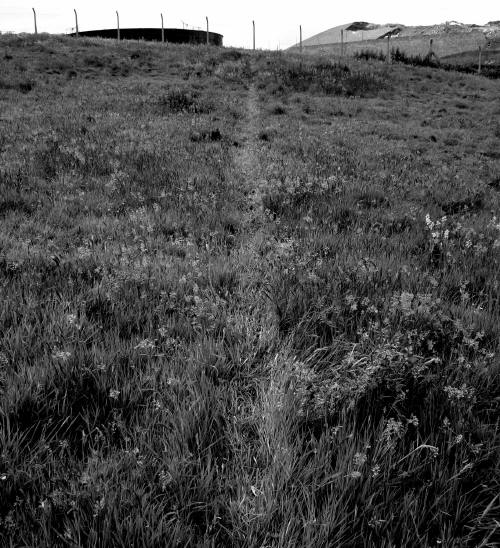 'Tales of the Unexpected' also included diary-like images collected by Andy Hughes over a number of weeks: enigmatic photographs accompanied by text recording his reactions to the Hayle Towans.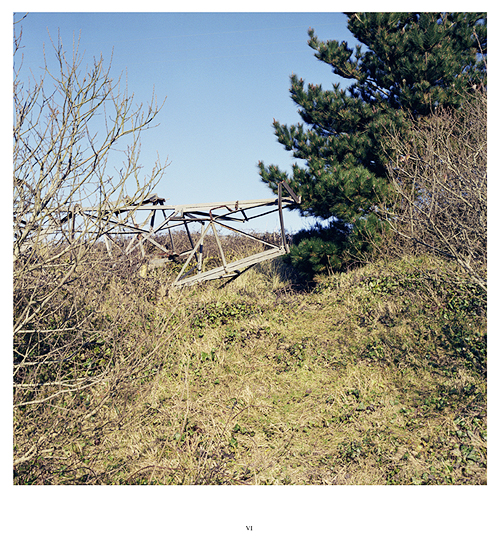 July also featured 'Ploughed Compass' by Julia Giles, a rather mystical composite image made in the St Buryan area of Penwith. More new work is expected in August.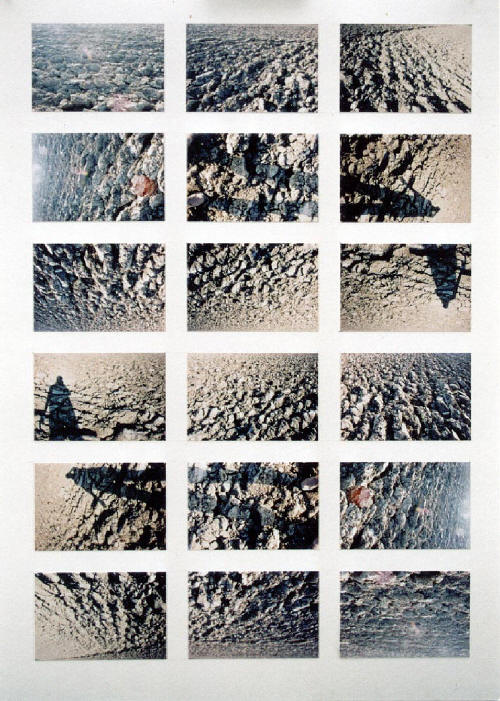 More more to come. If anyone has more documentation (or better documentation) let me know...