A Most Welcome Return
Sven Berlin at the Belgrave Gallery, St Ives, 2006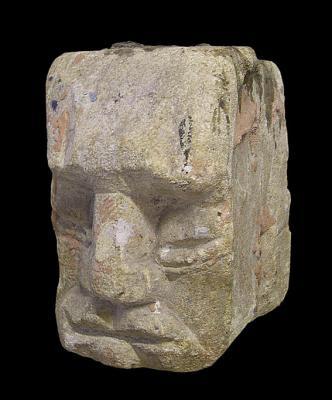 Since Sven Berlin's death in 1999, there have been very few opportunities to view the sculpted works of this most prolific and engaging member of the group of St. Ives Moderns. Berlin first arrived in St. Ives during the late 1930s, around the same time that Ben Nicholson first permanently moved here, and soon became a central figure in the burgeoning Modernism of the town. Always remembered as a strong and flamboyant character, the ex-adagio dancer must have cut quite a bohemian dash in the St. Ives of the post-War period, and he was instrumental in the formation of both the Crypt Group in 1946, and the Penwith Society in 1949. Multi-talented, Berlin was 'a remarkable man whose creativity was awesome; maker of paintings, drawings and watercolours; carver of wood and stone; writer of novels, autobiography and poems' (Irving Grose, introduction to exhibition catalogue). His pictorial works and writings have made regular appearances in St. Ives over the years, but it is more than 20 years since such a substantial group of his sculptures has been on view.
Sensitively presented by the Belgrave Gallery's Michael Gaca, the exhibition is comprised of some 33 pieces of sculpture, supported by a coherent group of related paintings and preparatory drawings. Drawn exclusively from the artist's home and studio, the works on view effectively span Berlin's entire artistic career, from his very first carving of the late 1930s/early 40s (above right), through to Dove Preening (below right), completed in the final year of his life. Although now a little indistinct (and seemingly carved from a house brick!), that first sculpture nevertheless captures the essence of what was to characterise Berlin's work for the next 60 years: a bold confidence of line, and a clearly incurable romanticism.
Portraying a head akin to the moai of Easter Island's Rapa Nui culture, this small, rough, monolithic piece can also, perhaps, be seen as signalling the beginning of Berlin's lifelong examination of his own strong and chiselled visage, which finds final, powerful and poetic expression in Monarch from 1990. That first carving sits atop a display cabinet crammed with gems of animal sculpture carved from various woods, stones, marbles and quartzes, and one is struck immediately -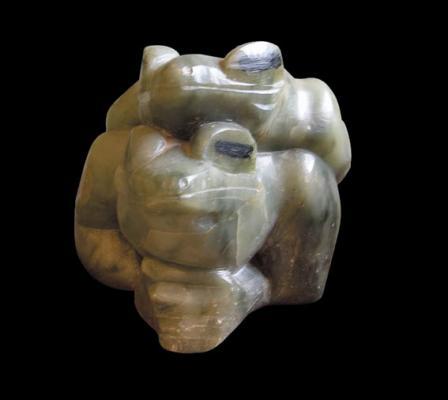 even in the miniature - by the melding of sensitivity and power with which all of Berlin's sculptures are imbued. That sensitivity is expressed not only in the natural romanticism of his subject-matter, but also in his ability to reveal only as much form as is necessary to maintain continuity between his material and his subject. The physical strength of the man is everywhere one turns - this was a man who could carve even granite -, but that strength is more subtly revealed in the beautiful, pierced marble carvings Big Cat and Chameleon, which exemplify Berlin's ability to relate himself seamlessly with the natural world with which he most readily identified.
Sven Berlin's mythologizing of his own persona (clearly demonstrated in his amusing, accomplished autobiographies, and dynamic - and not occasional - self-portraiture), finds a more gentle delineation in the three largest human figures presented in the exhibition. Pieta, Reclining Girl, and Mediaeval Lovers all stand, or lie, in testament to his ability to sublimate the proud, cock-crowing of ego into a modest awe in the potential strength of human spirit. Both Pieta and Mediaeval Lovers articulate a degree of pathos that renders them both pathetic and transcendent at the same time, and the latter's exquisitely elegant, out-sized hands are embodiments of this artist's engagement with a perceived relationship between the romantic, mythologising 'self' and the potential for spirit in nature. These are profoundly poetic pieces of work that demand a re-evaluation of Berlin's standing in the hierarchy of St. Ives artists.
There are other facets of Sven's personality that reveal themselves in this show. The restrained humour demonstrated in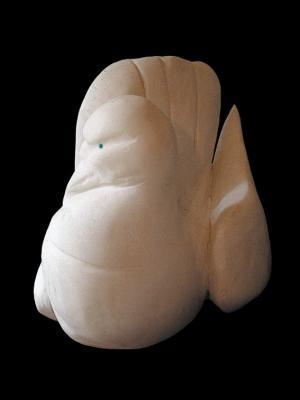 Frogs Mating (above left), Head Of A Greyhound and Small Cat, lends the work an accessibility that is vital for the viewer to engage evenly and equally with it, and the flamboyance that finds its apotheosis in his many remarkable, exuberantly coloured paintings from life, is necessary for that engagement to be made in strictly human terms. The mythological intensity of these paintings is derived both from the florid expressionism of his colouring and the audacious directness of his mark making. The supporting drawings (whose confident, bold outlines bring to mind the works of a similarly romantic figure, Henri Gaudier-Brzeska), give weight to assertions made elsewhere that Berlin 'carved an authentic niche as one of the finest romantic draughtsman of the period', and they are pleasingly instructive in their demonstration of the creative process.
On the aesthetic level, the Belgrave Gallery's almost clinical presentation of the work actually serves to highlight an important element in Sven Berlin's work. These are sculptures outside of their natural domain. They are works for the spiritual home; for the garden; for woodland; for nature. They are, like Sven himself, works of art pulled away from their roots, and whose purpose is to assert a respect for creation that eschews the academism of both modern and traditional practice. Despite a rather alarming notion in later life to give beaded eyes to some of his earlier sculpture, the exhibition is an essential one for anyone who is genuinely interested both in the history of art in St. Ives and in the genuine power of self-expression. In the words of Irving Grose, 'this is the work of an artist whose life was characterised by an indomitable spirit that nothing could extinguish', and that spirit is most refreshingly welcome back, here in St. Ives.
Richard Blackborow, August 2006
images courtesy of the Belgrave Gallery