Adam Chodzko: Proxigean Tide
Tate St Ives, May-Sept 2008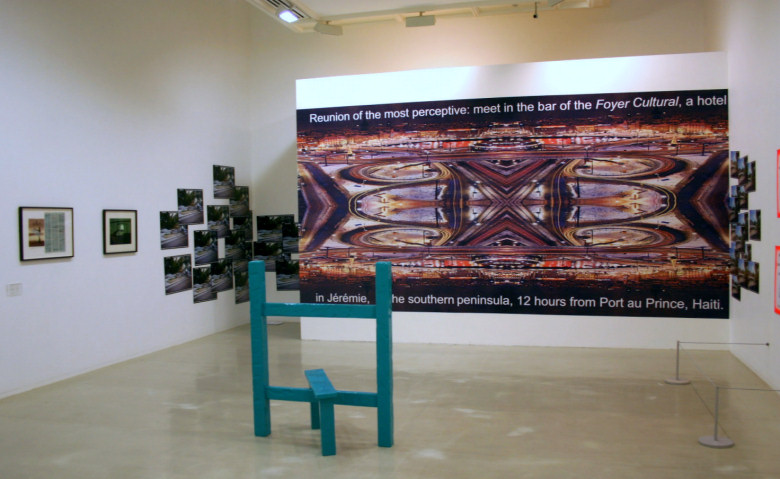 During the last 10 or more years, Adam Chodzko has been one of the most interesting artists working in the UK. His art has a fluid, protean quality that traverses both social and cultural boundaries. This inherent complexity was accentuated at Tate St Ives, and several of the works were installed so that they overlapped and merged into one another.
Much of Chodzko's art is close in spirit to the American conceptualism that was a big influence on British Art of the 90's. These conceptual roots reach deeply, and are particualrly apparent in the works from the beginning of his career like the Loot advert pieces in Gallery 4 (eg Millenarian Heterogenous Apparition (1993) - pictured below on the back wall), in which Chodzko makes a covert artistic intervention into a bigger pre-existing system.
He frequently displays the outline or remnant of an idea, and asks us to reconstruct the remainder of the work in our own minds. 'Flashers' is a piece from 1996 in which Chodzko illicitly added a short video of a lit flare onto the end of videos that had been hired out from a local shop for the night. In St Ives this work, which seems to reference the politically charged films of Derek Jarman, was represented by 6 photographs, and a piece of text.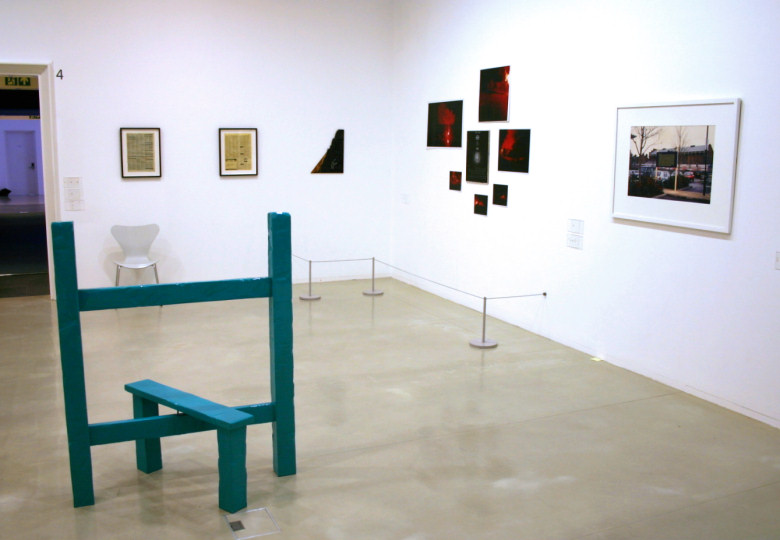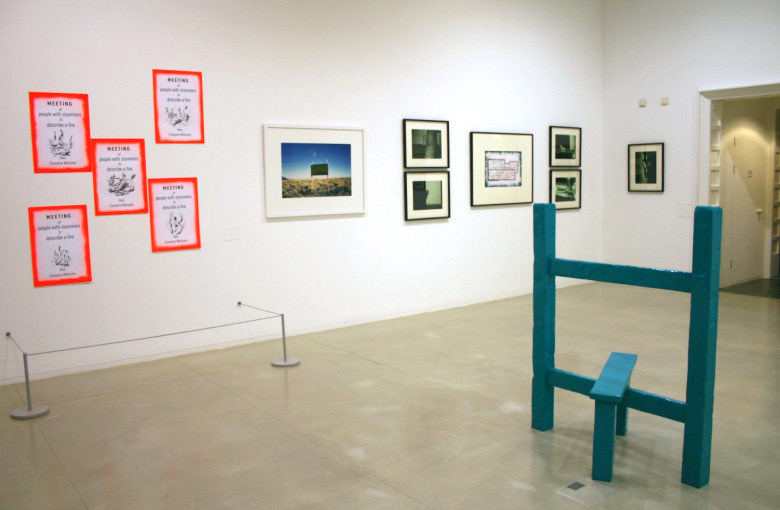 In 2004 Chodzko let loose a number of animals after closing time in the main Frieze Art Fair tent, and recorded their meanderings between the stands by means of a map and photographs. Like 'Flashers' this piece, 'Nightshift', on the opposite wall, is audacious and evocative in its conception, but has a physical presence that is more modest.
A sense of expansive geographic space, relevant to St Ives as somewhere that is displaced or remote, comes through in 'Test Tone for a Landscape' and 'Better Scenery'. The former comprises LP records of sampled sounds intended to be played in a landscape several miles apart (here played subliminally in The Loggia): the latter are two signposts installed on opposite sides of the Atlantic that refer to each other.
In fact a number of works in the show seem to have been selected with the rurality of Cornwall in mind. This sensitivity to locale is exemplified by the glossy turquoise-painted 'Stile' (above right), which looks like an enlarged version of a plastic toy. It is given pride of place in the middle of Gallery 4, and in the way that something so agricultural is made chic, it seems both cheeky and ironic. Fortunately there is a sense that Chodzko is laughing with us not at us.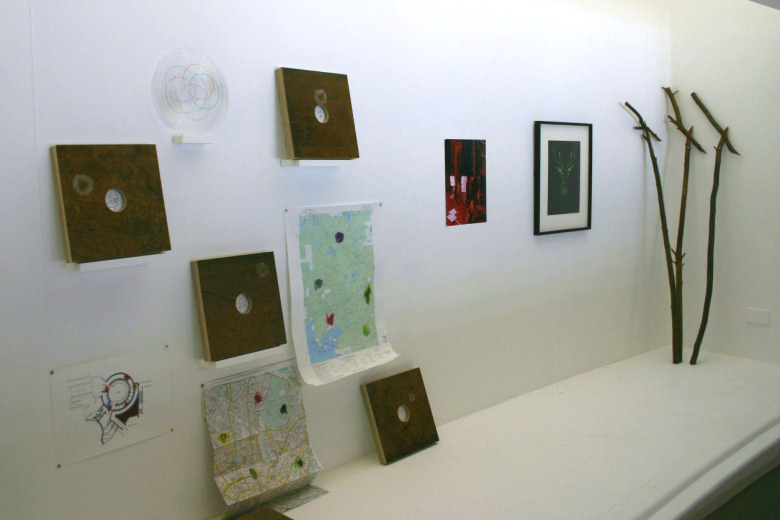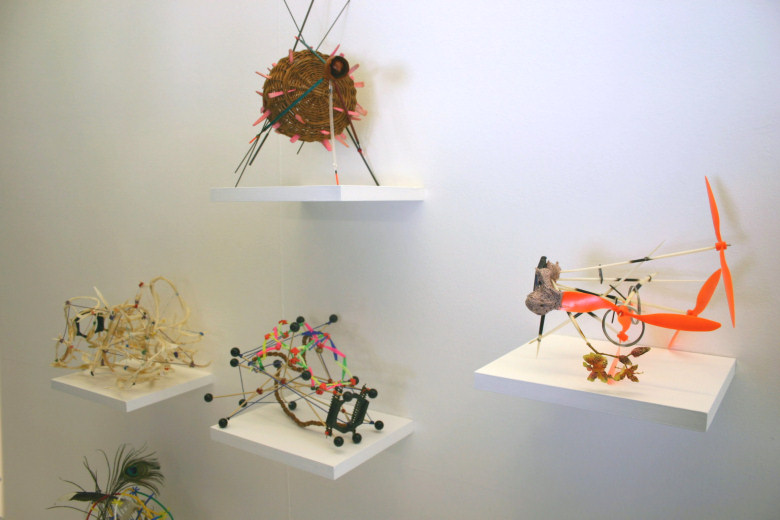 Rurality becomes merged with social history and the occult, in the powerful 'Plan for a Spell'. In this projected video-work burning cattle infected with BSE and footage of traditions like the Ottery St Mary Tar Barrelling feature prominently. 'Plan for a Spell', by virtue of its programming, is edited randomly and differently on every occasion that it plays, and, in its Godardesque way seems to link conceptual art with fin-de-siecle occultism and Jung's synchronicity.
Other works like 'Settlement' installed in the Apse refer to the landscape and land ownership. On a video monitor is a single rectangle of ground no bigger than a few feet square, that Chodzko bought from a London Borough and then gave to a stranger. On headphones is a recording of the recipient of the land reading from the legal documents that accompanied the transaction.
Most of these works, many of them photographs, mark an absence and suggest that the action is actually happening elsewhere: often in a real or virtual place far removed from the gallery. Some works were more physically present, however, such as the 'Mask-filters' in the curved Upper Gallery (picture above), which are not dissimilar in their form from constructions made in the 40s and 50s by St Ives artists, like John Wells. Unlike the work of these Cornish modernists, which was idealistic in an aesthetic art-for-art's-sake way, Chodzkos constructions have an explicit if arcane function: they are intended to be attached to cameras and used to document walks, as part of his 'Design for a Carnival'. Where this latter work begins and ends was not clear, and nor was it meant to be.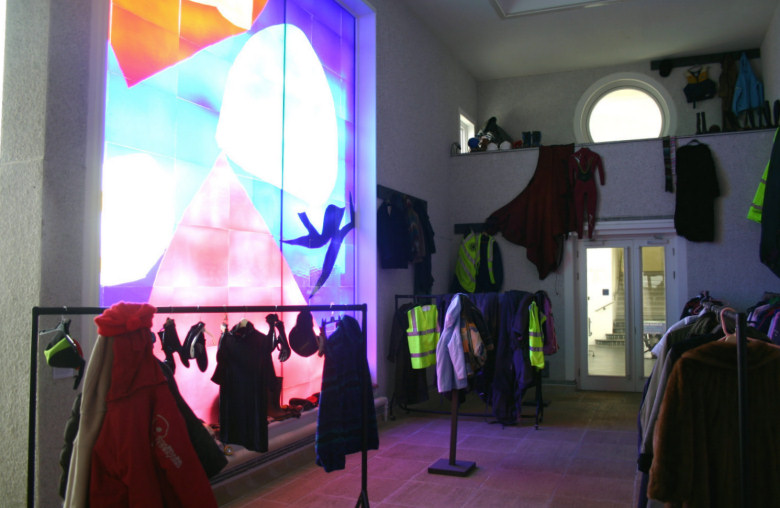 'Borrowed Cold Lodge' (2008 - above), made especially for the Heron Mall, represents a more direct response by Chodzko to the art of St Ives. Though supposedly mapped against Patrick Heron's coloured window, the underlying conceptual strategy or idea is left largely unstated. The wet-weather gear donated by locals to use in the installation provides a silent audience for it, and seems emblematic of a kind of social reality that was denied, and indeed vigorously expelled from modernist abstraction.
nb the photos in the slideshow were taken during the final installation of the work