Bob Law
Thomas Dane and Karsten Schubert/Richard Saltoun 20/11/09 - 16/1/10
Bob Law was arguably the foremost British minimalist artist of the 1970s. This exhibition – in two parts – is the first since the artist's death in 2004. It brings together a diverse range of works, offering a retrospective view.
Karsten Schubert/Richard Saltoun (pictures below x1) present a series of Black Watercolours from the late 1980s in conjunction with a large Black Drawing (1971), a renowned Black painting (1980), and paintings from the Kisses and Crosses (2003) series. These works are joined by quintessential examples of Law's sculptural work: a large obelisk and several small iron works.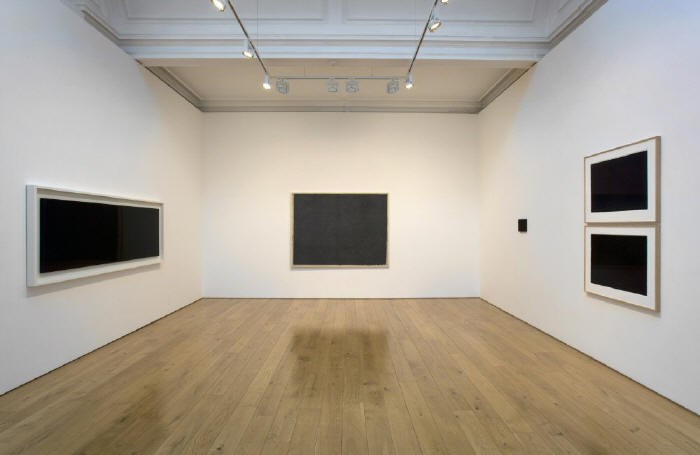 At Thomas Dane Gallery (pictures below X3), examples of the white Castle paintings from the mid-1970s meet the colourful Castle Paintings of the 1990s. Early landscape drawings and late sculptures never before seen are joined by one of Law's most famous works: Nothing to be Afraid of V (1969).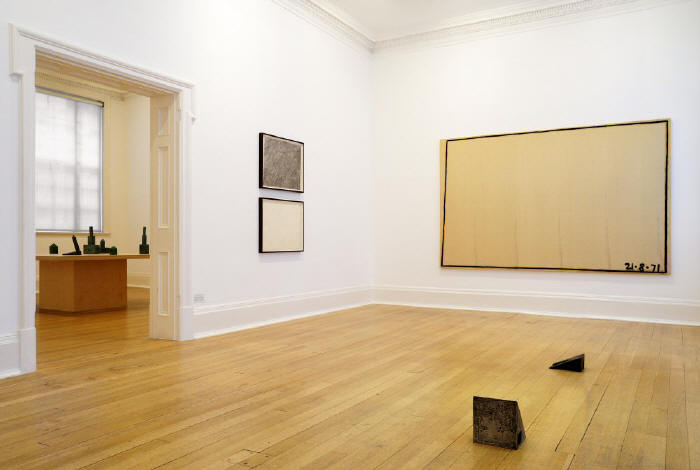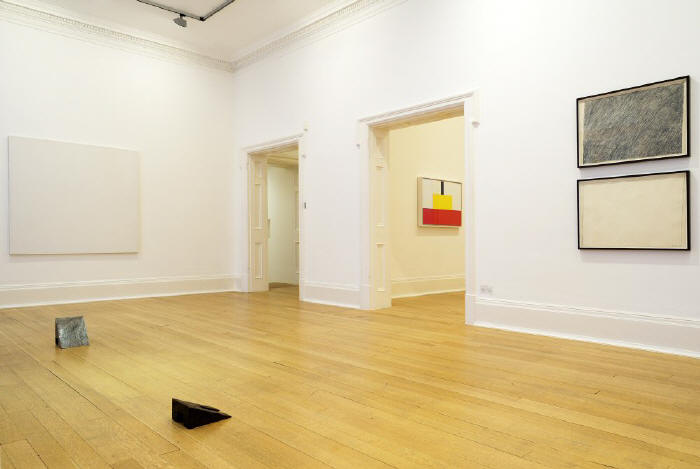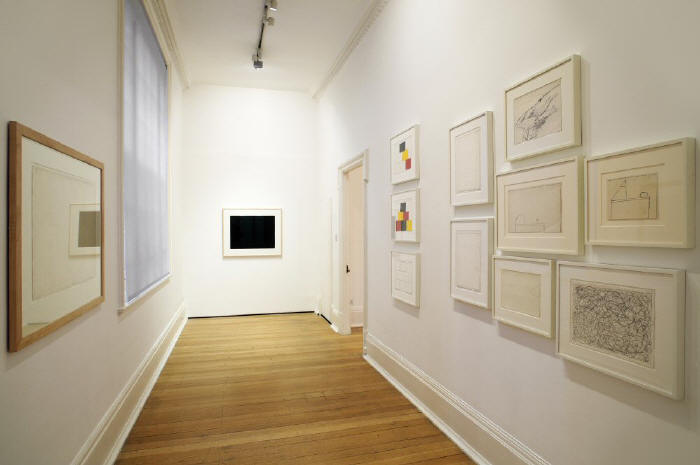 Bob Law's artistic career started in the late 1950s when he moved to St Ives in Cornwall, UK. Inspired by the landscape, he made some of his most famous works whilst lying on his back in a field. These seemingly simple outlines around the perimeter of the paper lead to a minimalist exploration of lines, shapes and forms. Pushing these boundaries, Law went on to make a series of black paintings out of different combinations of dark colours that were exhibited at the Museum of Modern Art Oxford in 1974. These included, Number 52 Black Plum Black Mauve (1966) and Number 87 Violet Black Violet Blue (1970). Law explained of these and other series: 'I've set myself philosophies which I invent myself.'
A prolific artist throughout his lifetime, Law also struggled with ideas surrounding the legitimacy and significance of abstraction. He took up sculpture in the 1980s, which extended and expanded his oeuvre. His vocabulary of elemental forms, traditional symbols and primary colours, can be seen across his paintings, drawings and sculptures. They include fields, houses, castles, chairs of rectangles, triangles, crosses in red, yellow and blue.
His works have been exhibited worldwide including the ICA, London; MOMA Oxford; Kunsthalle, Bern and his work is now in collections including the Tate, the Guggenheim and the Gallery of New South Wales.
The estate of Bob law is represented by Richard Saltoun. Please contact info@richardsaltoun.com.