Dawn Mellor: Vile Affections
Spacex, Exeter 8th March - 3rd May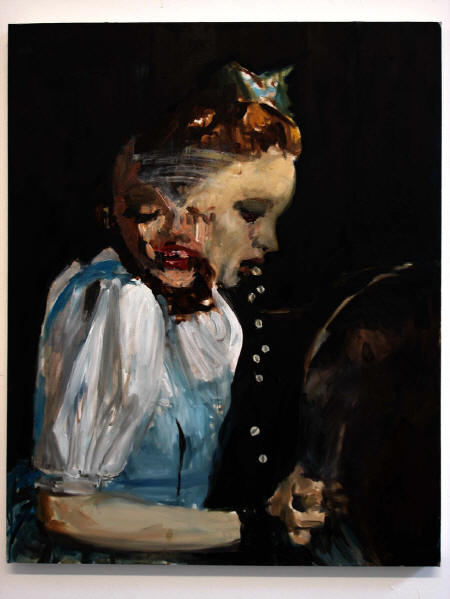 Tony Blair turns his head and stares out at us, trademark grin on his face, except this time it seems a little more manic than usual. A metal keyring is brutally piercing the cartilage between his nostrils. Dangling from it, just below his mouth, is a cute children's toy: Barney, the purple dinosaur and superstar of American children's television. Nicole Kidman faces us directly in her portrait. Her hair is dishevelled and her face pockmarked by a vile disease. The look from her right eye is penetrating her left eye, hidden from view by seven red laser beam-like lines that meet in its centre. Karl Lagerfeld has been painted from his chest upward, his ponytail, sunglasses and suit immaculate. The two giant white cockroaches crawling across him barely spoil the impression. He hardly seems to notice them.

These are some of the subjects that people the world of the contemporary painter Dawn Mellor's portraits. She concentrates on painting portraits of well-known public figures with a twist. And now they have come to Devon. Originally organised by Studio Voltaire, London, the exhibition at Spacex also includes works that have never been seen before.

Dawn Mellor was born in Manchester in 1970 and now lives and works in London. She studied at Manchester Polytechnic as well as Central Saint Martins College of Art and Design, London. She then graduated from the Royal College of Art in London in 1996. For the last 10 years, she has been painting celebrities. She has said that the time she spent studying was the only period where this has not been the major focus in her work.

But Dawn Mellor is a rising star herself. She has had her own exhibitions throughout Europe and in the United States: in Exeter, you can now catch Vile Affections just before it transfers to Team Gallery in New York. Later this year, she has a major solo exhibition at the renowned Migros Museum for Contemporary Art in Zurich, Switzerland.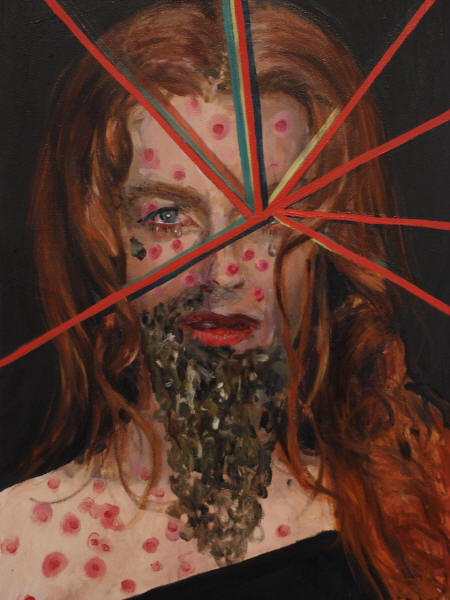 Apart from Hollywood stars, actors and musicians, she has painted political and religious leaders, as well as famous thinkers and writers. Occasionally, she has also chosen to turn her attention to her contemporaries in the art world and painted other artists and arts professionals. This is the case in Vile Affections, too. However, the show mainly features a vast amount of stars as well as some of the most powerful politicians and well-known intellectuals of our time.

Yet Dawn Mellor's portraits are never just straightforward representations of their subjects. Instead, she puts celebrities in grotesque situations. While they are always recognisable, they are re-imagined by the artist to startling effect. They may wear strange clothes or costumes. They are sometimes accompanied by animals or
objects, which may not necessarily seem to be related to them. And they are often painted in shocking poses. In fact, many of the paintings draw on disconcerting, violent or sexual imagery. Vile Affections is certainly not for the faint-hearted, and Dawn Mellor's art can be very unsettling. But that same shock effect forms an important part of the profound artistic message of her works.

Dawn Mellor first began drawing pictures of celebrities at a young age. Today she is still inspired by the same material, albeit in a very different way. She has admitted to still having the same adolescent enthusiasm for celebrities, too, and it is clear that she is not out to attack individuals in her art. Instead, her paintings often seem to emphasize with the celebrities they portray and their situation in our society. Her works frequently show precisely those celebrities that have been especially criticised in the media. Dawn Mellor*s art can
therefore also be seen as a comment on the society from which these famous people have emerged.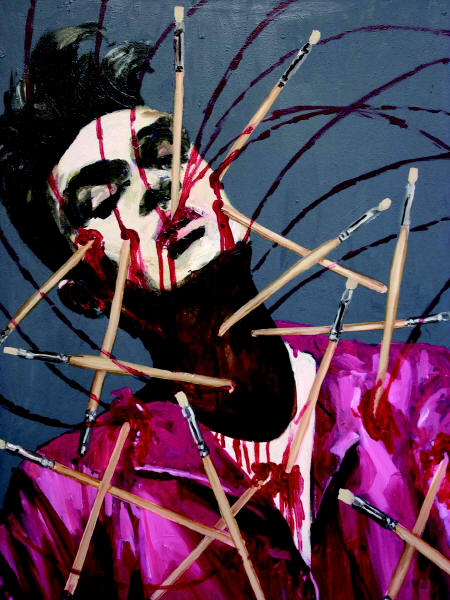 Provocative the portraits in Vile Affections may be. Nevertheless, it is clear that Dawn Mellor uses her paintings and drawings of celebrities to investigate a range of issues that go beyond a narrow concern with the subjects she portrays. Her art is political and engaged. Through the portraits of particular people she asks more general questions about topics such as racism and homophobia.

And there are many famous faces in Vile Affections. From Madonna to Michael Jackson, via Sigmund Freud, Martin Luther King and Alfred Hitchcock, Dawn Mellor has included scores of American and British as well as other international stars in her paintings. Vile Affections also features a new series of drawings of Britney Spears and an extended series of portraits of the actress Julianne Moore, both of which the artist unveiled exclusively for Spacex. There are over 60 paintings in total.

These have been hung close together in a way that is reminiscent of the famous Salon exhibitions held in Paris in the 18th and 19th centuries. This gives the paintings a hint of the atmosphere of competition and social approval that played a role in the Salon, where a jury decided which works would be shown and how prominently they would be positioned. The Salon of Vile Affections seems to ask whether there is a competition that celebrities have to take part in to become famous, and how they are approved. Yet the paintings explore not only how our celebrity culture is constructed, but our wider culture, too.

Vile Affections is an unconventional look at the world and a 21st century update of portraiture. And in the end, as serious as the exhibition's artistic aims may be, it is not without humour either as a certain purple dinosaur dangling from a very famous nose might testify.

Phil Ginsberg
article appears courtesy of 'The Peoples Republic of South Devon'