Edwina Ashton: No More Furniture
Works|Projects, Bristol 19 February – 28 March 2010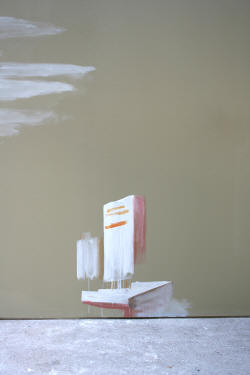 Characterised by a distinctly British eccentricity, a menagerie of oddball characters and disjointed narratives fill Bristol's Works/Projects, in Edwina Ashton's first solo exhibition at the gallery. Ashton is well known for her anthropomorphic insects, animals and other creatures, which usually feature as protagonists in her pantomime-esque films and performances. But with this selection she has chosen to focus on drawings, paintings and, in a new development, sculptures that make concrete her distinctive improvised aesthetic.
Applied directly onto the gallery's walls, History Painting (from the invention of writing to the building of Stevenage), 2010, (detail right) features a peculiar assortment of whimsical scenarios looking like illustrations from some kind of demented fairy tale book. Watercolour, felt tip, pencil and biro all conspire in the creation of these ethereal scenes, which include, amongst other things, a poodle smoking a pipe, an elephant drinking tea and a pack of bizarre 'roaming beasts' that appear to be an unlikely cross between dogs, sheep and hedgehogs. Ashton's paint handling is loose and impromptu, combining delicate figurative elements with drips and smudges onto a ground of muddy beige. Nebulous white patches, suggestive of clouds, punctuate her vignettes, adding to their reverie, while snippets of spidery handwritten texts hint at larger undisclosed narratives.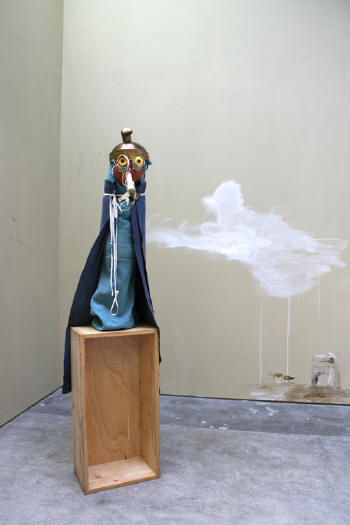 Acting like a theatrical set, the wall painting sucks you deep into Ashton's kooky world whilst providing an apt backdrop to the sculptural works which litter the gallery floor beyond. Stood atop humble wooden plinths are several puppet-like creatures, cobbled together from all manner of assorted bric-a-brac and found materials. With a Pinocchio-esque, sink plunger nose and protruding bug eyes, Galacticus, 2009 (picture right), sports a plastic Roman gladiator helmet and a cape made from scraps of blue cloth tied on with ribbon. Looking like a Muppet Show reject, this sad, emaciated character stands alone, wearing an expression of bewilderment. Nearby is Josephine, 2009 (picture below), a similarly lonesome figure made from a mixture of wood, wool, cloth, feathers, papier mache and horse hair.
These bizarre figures exude Ashton's trademark humour, yet also evoke an air of melancholy. Displayed alongside the sculptures are more painted scenes, this time applied to rickety, free-standing wooden screens. The most poignant of these is Lost in Stevenage, 2010, in which a lone figure rides a bicycle through a misty landscape. The work is situated near to one of Ashton's wall paintings depicting a cluster of architectural structures, perhaps representing Stevenage tower blocks. Although the significance of the Hertfordshire new town is unclear, the juxtaposition of these uncharacteristic works speak of hostile urban environments, which, along with the other sculptures, add to the sense of bleakness running throughout the show.
This pathos also permeates Ashton's delicate works on paper, which, despite her whimsical approach, conjure notions of isolation and alienation. Displayed away from the main space in the gallery's office area, the drawings – which span several years – are arranged somewhat erratically in small clusters. Forlorn characters such as the dishevelled looking man in No Lions Nowadays, 2009, or the naively doodled figure of Bapageno, 2006, simultaneously evoke pity and revulsion. In New Bedroom, 2005, a loosely sketched figure sits awkwardly on a bed; another lonesome individual, perhaps contemplating their own existence or simply waiting for the rain to stop. A mysterious ambiguity pervades many of these equivocal works, which are still one of the strongest elements of Ashton's expanding practice.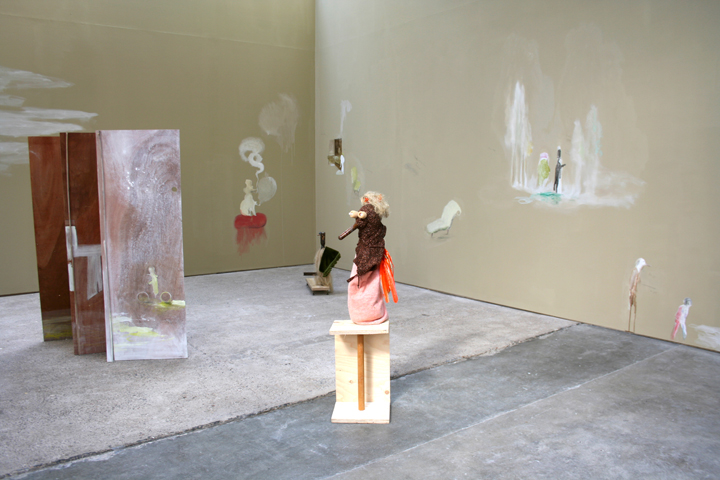 David Trigg 8/3/10