Jerwood Drawing Prize 2009
Bay Art Gallery, Cardiff 6/11/09 - 20/11/09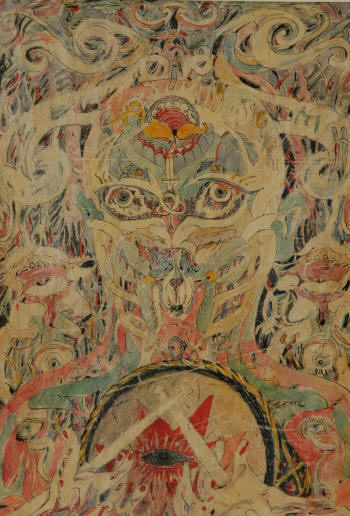 With the aim of promoting and rewarding talent and excellence in contemporary drawing, the Jerwood Drawing Prize is the largest and longest running annual open exhibition dedicated to the medium in the UK. Returning for its thirteenth year, 2009's presentation once again confirms that drawing, in all its many guises, still holds a pivotal role in contemporary art practice. With over 2,300 entries submitted for this year's competition, the distinguished panel of judges – comprising artist Tania Kovats, curator Roger Malbert and critic Nicholas Usherwood – certainly had their work cut out as they whittled down the final selection to 66 artists.
Scooping the £6000 first prize was Mit Senoj (aka Tim Jones) with his curious, otherworldly drawing The Drum (picture right). Inspired by colourful representations of Hindu gods, his busy tangle of free-flowing lines and marks, created with watercolour and ink, depict a peculiar deity beating a drum. Senoj's anomalous work is perhaps a slightly unusual choice for the prestigious award, but his distinctively playful and decorative drawings are unlike anything else on display here.
In stark contrast, and winning second prize, is George Charman's fastidiously intricate drawing, Ruin 2, which finds its inspiration in the social constructs of high-rise living. Drawn onto several layered sheets of graph paper and referring to the laborious process of architectural planning and construction, a shape resembling a cross-sectioned tower block has been cut into, revealing layers of elaborate detail beneath its surface. Visible through rows of punctiliously drawn girders are what could be rooms and other spaces deep within the structure. By cutting away areas of the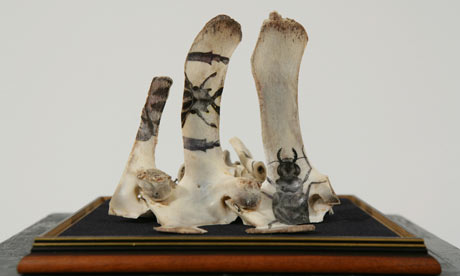 drawing, Charman's fascinating and impressive work creates a metaphor for the complexity of social cohesion in such buildings and the way in which these communities can quickly deteriorate.
The student prize was awarded to Roxanne Goffin for her untitled three-dimensional work playing with ideas surrounding entomology and natural history display (picture left). Sitting atop a plinth, a small, museum-style display case contains a selection of animal bones onto which Goffin has carefully drawn several images of beetles. Referring to the natural cycle of death and decay, this well-executed, skin-crawling work is quirky and unusual.
As ever, this year's show is a motley affair, yet despite the diversity of approaches on display, the selection here seems somewhat less experimental than in previous years. With relatively few works really pushing the boundaries of what a drawing can be, the majority of inclusions fit comfortably within the discipline's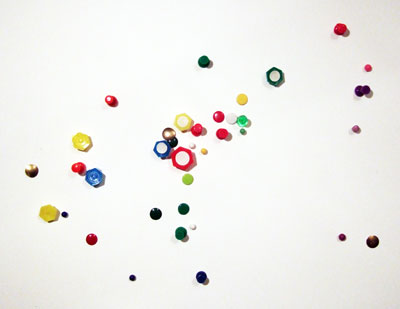 traditional parameters – a fact that will certainly please the competition's many critics who in the past have vociferously questioned the validity of certain entries. There are however still a few potentially contentious inclusions. Take for example David Chamberlain's confounding work 37 pins by 37 Librarians (right), which consists of various assorted drawing pins that appear to have been stuck randomly into a piece of mount board; or Tess Jaray's elegant Window, Blue, which comprises hundreds of tiny, precisely perforated diamonds, cut from cerulean blue card forming a simple window shape – it's a beautiful work but does it really constitute a drawing? Elsewhere, hovering precariously on the fine line between drawing and collage, is Paul Vivian's diminutive Pub Fire, which cleverly presents a blazing inferno on the side of a matchbox.
Taking a more traditional approach is Mark Jameson with an exacting pencil portrait of his sister, but despite being exceptionally well executed it lacks the vibrancy and dynamism of more adventurous pieces such as Chie Konishi's huge untitled drawing on tracing paper, which actually represents her failure to finish the work in time for the Jerwood deadline. The drawing comprises a fabric-like pattern, created from meticulous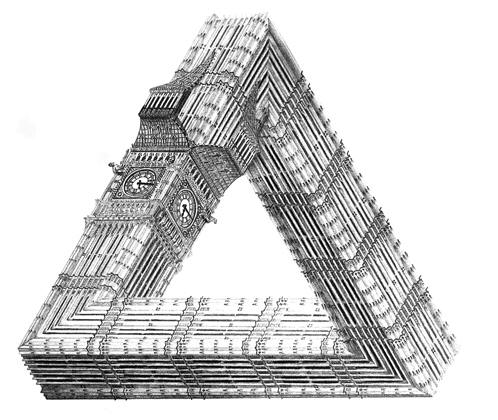 repeating marks, that stretches across the paper only to collapse in the middle, as if it had become snagged and unravelled like an old sweater.
Other highlights include Christopher Agnew's Thus Spake Progress (picture left), which, taking a leaf out of M.C. Escher's book, presents a meticulously detailed drawing of Big Ben in the form of a Penrose triangle. Also noteworthy is Catharine Nicholson's stunning display of intricate botanical drawing in After the Storm, which presents a sprawling mass of fallen branches, leaves, fungi and other woodland flora rendered in fine pen and ink.
Despite being crammed together somewhat claustrophobically, the majority of work in this brimming exhibition is enjoyably compelling. According to Professor Anita Taylor, founding director of the Jerwood Drawing Prize, "a good drawing is one that is fit for purpose and inventive within its means – a consummate synthesis of idea, form and content", and, thankfully, this year's show is filled with numerous adherents to her dictum.
David Trigg
The Jerwood Drawing Prize will be touring to the following venues: BP Atrium Gallery, Aberdeen, 30th November 2009 - 15th January 2010 Ruskin Gallery, Cambridge, 28th January - 26th February 2010 The Burton Art Gallery, Bideford, 4th March - 9th April 2010 Summerfield Gallery, Cheltenham, 19th April - 7th May 2010