A Line of Force: Fiona Robinson, Pennie Elfick, George Meyrick
The Brewhouse Gallery, Taunton 2/5/09- 12/6/09
There is a gravitational field generated by the work of these three artists: their lines form a moving point, and their mark-making operates within a topological illusion, where spatial relations are unaffected by the continuous change of shape of their gestures. Marking the detail of contours and boundaries, they uncover transitions of thought through their investigation and journeying, presenting a history of marks through vestiges of evidence and erasure.
From within this archaeology, forms emerge and circles dance to animate the illusion. George Meyrick directly marks the space, accentuating the scuffed imperfection of the filled, sanded, whitewashed walls with pencil crosses, circles, coloured globes and cubes exploiting subtle shadows. These interventions animate the visual perception of space, both channeling and connecting the work of his collaborators.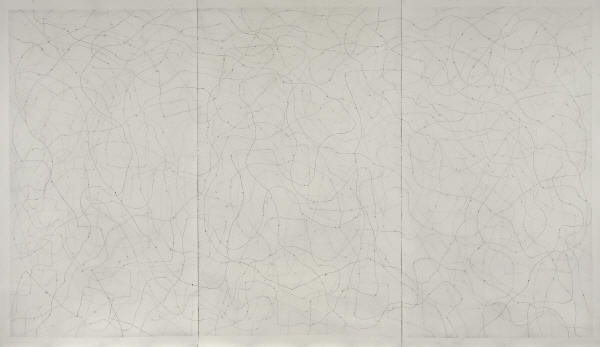 Fiona Robinson traces movement over paper, but her journeying is neither random nor motivated by geography. In From Ballinskelligs Beach to Bolus Head (above) this controlled exploration connects series of hierarchies within trails: points of rest, stopping, transition; documentary movement within interpretive space. Echoing Meyrick's Join the dots to form a circle, where precise pencil markings emphasize the exactitude and detail of process and intention, Robinson's drawings mark a controlled exploration, as if the final topography is already in mind. Lines are broken in stages, like breathing spaces, sometimes marking changes in direction. The methodology of thought and process is both transparent and collusive, marks transcending textural delineations to become cyphers.
In the smaller scale of 7000 Steps, Robinson maps a denser territory. Influenced by her recent installation at Exeter Castle, she traces an imagined seven thousand daily steps within the confines of a prison cell. Patterns emerge to make sense of the delineated space; marks are consequentially darker, superimposed with unrevised intent, investigating an emotional topography with a mania of hieroglyphs. In a wonderful moment, such tense control is denied as a transgressive mark escapes, beyond the border, defying the edge, free from the tidy control of her parameters.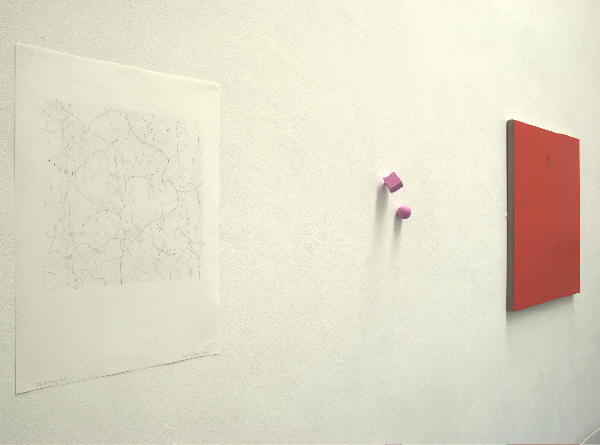 The containment of Robinson's drawings transmit a measured quality that is mirrored in Pennie Elfick's expanses of colour. The tonal shifts are drawn as echoes from the landscape in an emotional topography. Positioned within Elfick's scapes, the fine, regulated lines present in her earlier work have been melded here into small, transitional square forms in varying stages of emergence - highlighted, shaded, tonal within the mono tone. These emergent block forms populate the colour-scapes, animating her images, their edges blurring into the void of colour, blending and transfiguring their form.
The canvases of Conversations in Red, Aqua, and Blue (picture above and below), bring a vivid landscape of colour which yet remains restrained and controlled; the edges, so often a barometer of process and transition, reveal no clue beyond a decisive intention and focus. It is the subtle multi-layered surface textures that reveal the contours and elaborations within the single purity of colour, eventually giving way to the small forms which appear to emerge from other dimensions.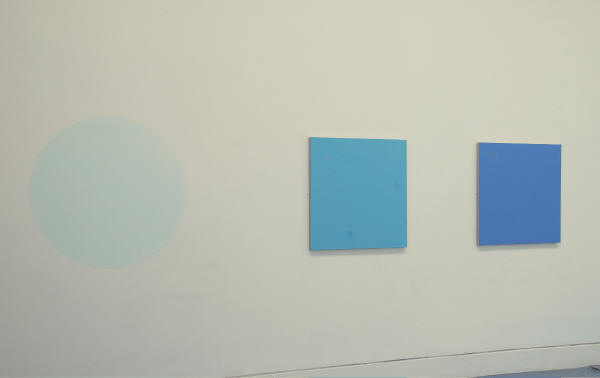 Alongside in this installation, Meyrick responds to Elfick's Conversations in Blue and Aqua, with a pale turquoise circle painted in evanescent colour directly onto the gallery wall (picture above). But this is no clean cut graphic stencil. With outline traced in pencil, painted by steady hand, still the edges reveal a subtle tone and shading, bringing the impermanent globe steadily into three dimensions. As you watch it appears to move, a trompe l'oeil, as if the act of watching brings it to life in some parasitical existence.
Mirrored and enhanced by Meyrick's work, the final colour palette of the exhibition encompasses both extremes of the white light prism, from the high frequency violet of Meyrick's suspended forms, For Molyneux, to the intense bright pigment of Conversation in Red with the longest wavelength. By his sophisticated intervention, finalised only once his collaborators' work has been installed, Meyrick exquisitely exploits the relational intensities of the gallery's white cube light.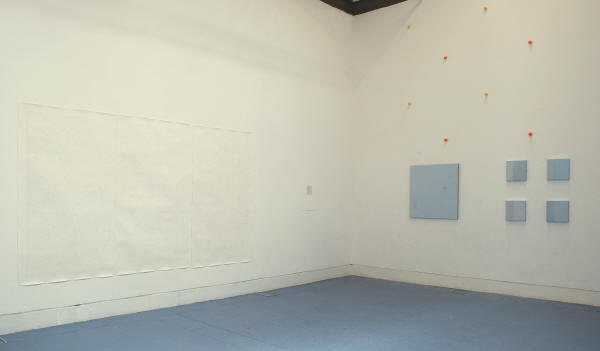 Animated by edge or pigment or texture, there is a curve of influence connecting points of common purpose in this installation, a fine imaginary line within this 'illusion of space'.
Kate Jago