Marcus Coates
Newlyn Art Gallery 21/11/09 - 30/1/09
Intelligent Design (below top) is a video of two giant tortoises 'getting it on' in an enclosure at the Charles Darwin Foundation Scientific Research Centre in the Galapagos Islands. The tortoises seem to move in slow-motion, their slowness conferring on the act of mating an unlikely grandeur and nobility, despite the indignity of having to perform in front of an audience of curious human beings.
'Intelligent design' is a concept that was developed by contemporary creationists as a challenge to other older evolutionary theories. It's a good title for a piece of art, but could easily be referring to the design of the works in the show, all of which have a simple clarity and directness despite addressing complex themes.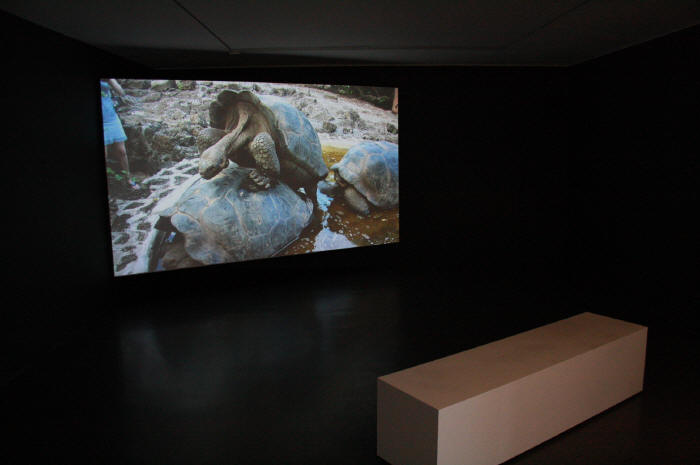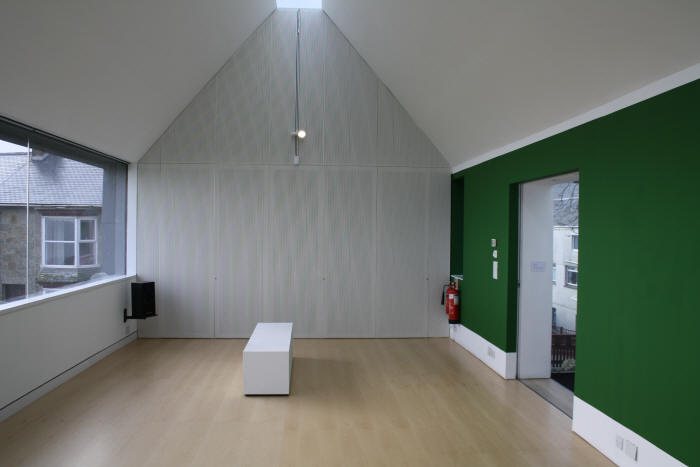 Follow the Voice (above middle X2) is a slightly longer video, running to 10 minutes in length. Projected large in the main upstairs gallery, it comprises 10 scenes that segue into one another. Shot in the shopping centres and schools of Shrewsbury - the birthplace of Charles Darwin - each scene features a distinctive man-made sound which, through being slowed or sped up, morphs into the call of an animal. At the end of the film is a key that describes each of the ten paired noises.
In the Studio (above bottom) is Cadences, a sound work from 2007 made up of the end sequences of orchestral pieces by well known British composers like Elgar, Holst and Vaughan Williams. Cadences provides an interesting reference point for the other works, and suggests some commonality between Romanticism in the arts, and evolutionary biology. It is also a particularly effective use of the Studio gallery, as it provides an appropriate soundtrack to the cinematic experience of looking out of the huge window and across the sea.
RW 9/11/09