The Passage of Time
Peta-Jane Field on Michael Porter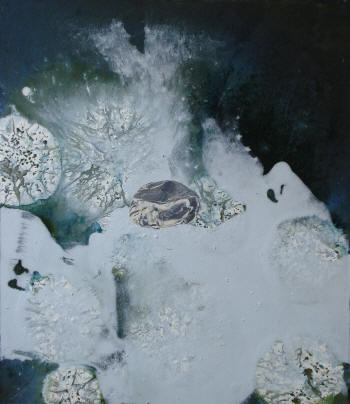 The Exchange's exhibition of paintings by the distinguished landscape artist Michael Porter spans the past twenty years. Porter has been the recipient of many prestigious awards, including The National Gallery Artist in Residence and more recently an Honorary Fellowship from The University College Falmouth.
The exhibition includes paintings inspired by two distinctly different locations, Shining Cliff Wood near Ambergate in Derbyshire and the coastline around Newlyn, where he has lived since 1997. Several significant paintings have been loaned from public and private collections dating from the late 80's and early 90's and are displayed alongside recent works produced in his Newlyn studio. Thus it gives a unique insight into how Michael's paintings have evolved and is an opportunity to see paintings never previously shown together.
"The work of a particularly strong painter has an afterglow," says American critic Christine Temin, "and Michael's work stays in the mind for a long while after seeing it." Despite their abstracted solid forms, his rocks seem to float, washed adrift by the motion of waves which swirl around them. Yet they fly too, as if they were seagulls; swooping and soaring. His large diptychs contrast the intricate interpretation of objects found within a place, flowers, leaves and stalks, with an over-arching conception of the place itself, or juxtapose an older work with a more recent one.
Michael's paintings have no horizons. His work is like being taken on a walk with your nose poised inches above the ground or being lost deep in a leafy wood where the light penetrates only as an iridescent glow. Full of an absolute beauty which spares nothing, his paintings are uncompromising explorations of how it is to be at one with nature in the landscape. Rich, textured and lustrous, layer upon layer of paint creates a depth of colour which seems to illuminate his canvases. Gazing at Michael's paintings is to lose all sense of reality, to become wholly immersed and mesmerised by his vision of nature.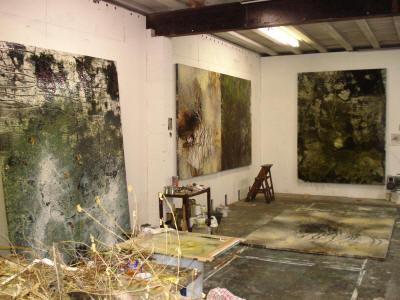 "For many years I have described what I do as 'making' paintings rather than 'painting' paintings, even though the materials I use normally conform to those used by traditional artists," explains Michael. ""What I attempt to do is use the natural characteristics of paint itself as a means of describing nature. For me, creating a painting is not simply a mechanical process. Like the land itself, it is something you sense - through your feet, your hands and your eyes. Often when people walk through a landscape, they can do so with a glance or a gaze. They can pass through quickly, casually noting the beauty of the place, or they can linger to take in the details; these paintings incorporate both ways of looking."
Michael absorbs and remembers all. Fleeting moments live again in his paintings, as visual translations of the fall of a leaf, the crisp rustle of twigs underfoot, the diffused light - glowing blues and umbers and russets - and all the other riches buried deep in a landscape. "Things which are not normally considered to be beautiful," Michael says. "I like to render beautiful and contain an element of thought provocation, to make people stop and gaze rather than glance and walk past."
'Passage of Time' was at The Exchange Gallery, Princes Street, Penzance from Sat 9 Feb until Sun 6 April, 2008.
A smaller exhibition of work 'An Image of Place – Recent Works on Paper' was shown concurrently at Wills Lane Gallery, Wills Lane, St. Ives.
Text appears courtesy of 'Inside Cornwall'