NSA: The Drawing Show
The Exchange 12th July - 5th September 2008
This is the first show of Newlyn Society of Artists' work at the Exchange. The Society was established in 1896 and it currently has membership of over one hundred and fifty professional artists. Past members have included Stanhope Forbes, Norman Garstin, Walter Langley, Lamorna Birch, Dod Proctor, Laura Knight, Alfred Munnings, Peter Lanyon, Bernard Leach, Patrick Heron, John Wells, Wilhelmina Barns Graham and Terry Frost. For this show the directors of the Exchange appointed two London–based curators, Kate MacFarlane and Mary Doyle who bravely selected the work of only twenty-three members.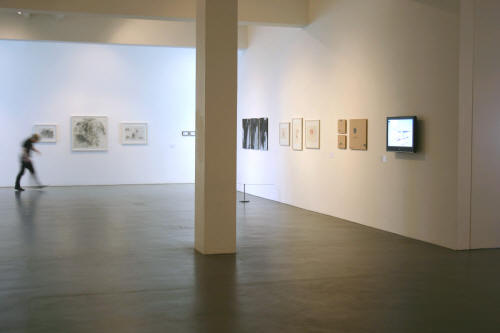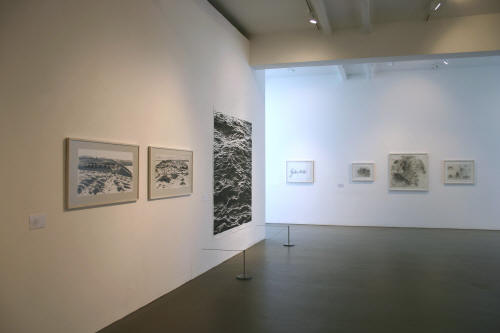 The fact that the curators are based at an East London gallery means they were likely to be unfamiliar with the strengths and weaknesses of the Exchange as an exhibition space, and unfamiliar with the strengths and weaknesses of the Newlyn Society of Artists. This seems to have created a handicap for them, with the resulting selection looking somewhat rushed and (forgive the pun) sketchy.
Within the plurality of the NSA, many artists use drawing as a means to an end, rather than an end in itself. This utilitarian aspect of drawing is underrepresented at the show. Equally conspicuous by its absence is computer-generated drawing, technical drawing, or drawings that imply 'Adobe Illustrator' rather than the hand, arm and foot of the Romantic artist. Also missing is the idea of drawing as graffiti, defacement or subversion. All works are politely executed on paper or screen, and there is no interfering with the authority of the bare walls and floors of the exhibition space.
The selectors concentrated instead on work about the idea of drawing. The show includes a few pieces where drawing can be seen as an exercise in skill and virtuosity, but there are not many of these, and so what we are presented with instead are many versions of the process of mark-making. It should also be said that without the few pieces that refer directly to the Cornish landscape, such as Stuart Ross' St Agnes to Carn Brea and Rocks at Godrevy, or Philip Hogben's drawing Godolphin House, much of this work could have been made anywhere in the world.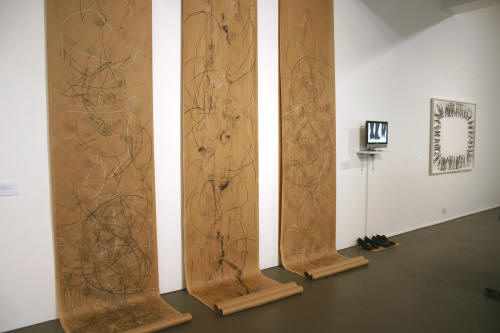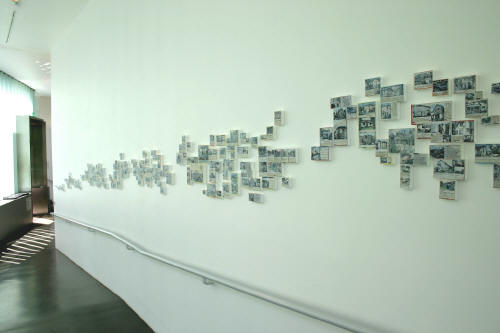 In the John Keys and Amanda Lorens Drawing in Embrace video (above top), a couple dance the tango to a recorded accompaniment, on a large roll of paper. The dress code is smart but informal, strictly not Celebrity Come Dancing. The dancers have marker pens attached to their shoes which scuff and skid along the paper surface. The event is very watchable and engaging – they make tango look hip. They aren't brilliantly professional dancers, but they are very watchable - it's like something you might like to try yourself and children love it.
The resulting marks are less engaging. As indexical traces on paper, they are faint - just light scratches on lots of plain paper. Art-historically they suggest Yves Klein's 1960 Living Paintbrushes, however the dance-generated drawings do not show ghostly shadows of bodies. The patterns have none of the knotted symmetries that emerge from traditional collectivised dance forms such as Morris or maypole: this is individualistic but within a more modern set of formal codes - very latin and very gestural. What we know as tango is a style of music and dance that was first identified in the lower class neighbourhoods of Buenos Aires in the 1890s. It became widely fashionable and a matter of national pride in Argentina under the government of Juan Peron. But why tango? Why not clog dancing - or other regional dances?
On a separate wall, leading to the restaurant area is The Flow (above bottom) by Richard Ballinger, comprising scanned reproductions of estate agent's adverts: local newspaper images of houses along with estate agents text glued to small rectangles of polystyrene and arranged in a piggledy row, like seaside cottages. They are faintly coloured in and doodled upon, and are punctuated with ads for luxury cars such as BMWs. The work isn't very skilfully executed but this is perhaps the only piece in the show that appears to engage (even tangentially) with the socio-economic realities of Cornwall. Cornwall is one of the lowest paid regions of the UK, and artists typically count among the lowest paid of all workers. Cheap means of reproduction and cheap materials are a necessity, not a novelty.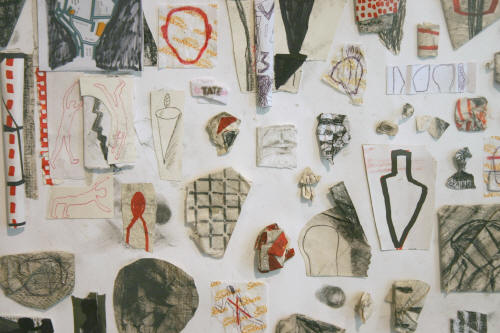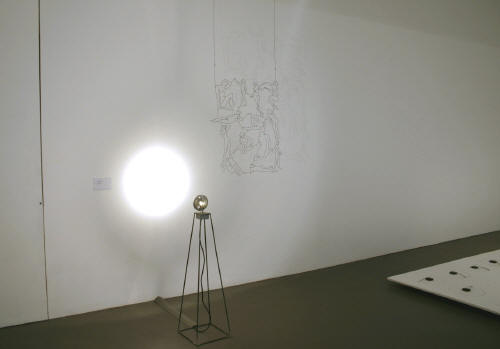 Kenneth Spooner's piece, Continuous Drawing (above top), consists of hundreds of small drawings: doodles on scraps of paper, all assembled in a human–sized frame as if these fleeting impressions form a diary pieced together from beermats, fagpackets and the backs of envelopes. Are these tiny details and moments of clarity the way we attempt to find meaning in a meaningless universe?
Drawing can use light and shade along with line. In A Light Show (above bottom) by Clarisa Beothy this process is deconstructed in a flat wire frame, perhaps a tracing borrowed from a set of nude images from a manual on "how to draw", it is lit by its own nearby spotlight which forms part of the work. The sheet of nudes are all based on Renaissance proportion and perspective. The wire frame casts a shadow on the wall but the shadow doesn't create an enhanced naturalism, instead it emphasizes the flatness and symbolic content of the classical nude.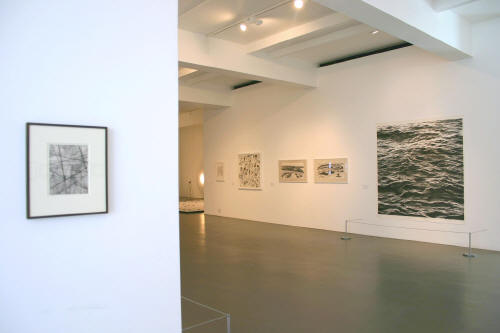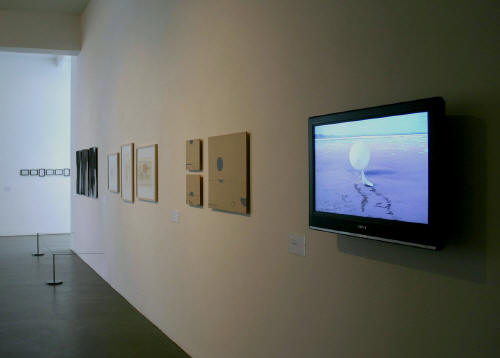 28 28.28'N, 16 51.45'W by Sax Impey (above top) is a rendering of a charcoal sea which, if you stand close enough to it, stretches out into the peripheral vision. It is drawn in a photorealistic style – the sea doesn't really look like this to the eye, also the real sea tends to be on a horizontal rather than vertical plane. The image is executed in charcoal – which has the qualities of absorption and neutralisation, something wet rendered with something dry.
In Rupert White's 3 minute looped DVD Drag Drawing (Eames) (above bottom), a hand held camera follows a large white weather balloon dragging a chair across a sandy beach. White borrows the isolationist tropes of Cornish art and critically reassembles them within the context of mass culture. The drawing is created by the interaction of metal, plastic and weather conditions. The title points out that the chair was by Charles Eames - a American modernist of a similar era to Barbara Hepworth - and is a chic 50s design classic. The beach balloon is instantly recognisable as the central motif in extraordinary 60s TV series The Prisoner, where an ex-secret agent is imprisoned in a strangely idyllic seaside village. On one level this is a video of a process of wind-generated drawing, on another it is a knowing collision of metaphors. The resulting sand-drawing may not be recognisable as a man-made representational drawing, it is the trace left by a system the artist has set up, and can only really be assimilated in the DVD screening. It becomes coherent as video, which is what gives it its context and locates it within televisual history.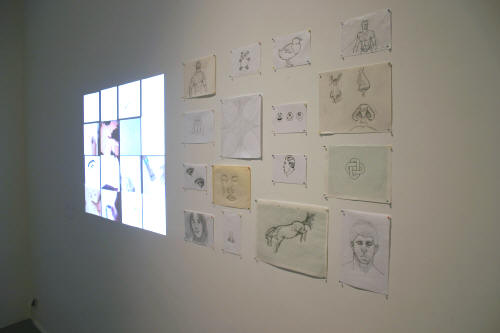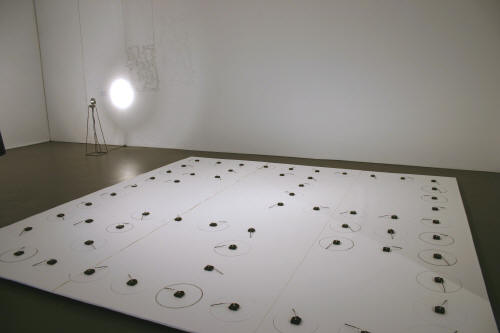 In Sixtysecondsquared by Emma Churchill (above bottom) a field of clock mechanisms, each with a stick of charcoal attached to the second hand, tick away. Each draws a circle on the large paper sheet. The mechanisms are those cheap plastic units used in novelty clocks running off a single AA batteries. Each drawing mechanism creates one orbit, the charcoal marks becoming denser minute by minute, until (we suppose) eventual entropy as the charcoal wears out and snaps. The drudgery of alienated time, of life cycles ruled by clock mechanisms.
Despite inherent problems in the structure of this show, the strengths of the drawings individually reward close engagement with their physical presence. They have qualities that mechanical reproductions don't have. What emerges is something that isn't to do with individualised genius and more to do with some kind of emotional honesty.
Nigel Ayers 23/7/08