Summer Exhibition 2009
Tate St Ives, 16/5/09-27/9/09
It must have been tempting to give the Tate Summer show a catchy title and a more clearly stated theme, but perhaps that would have been too easy and too obvious. Instead it is simply presented as seven named artists in seven gallery spaces. The catalogue also mirrors the structure of the show by comprising seven little booklets housed in a single box binder.
But the proof is in the pudding: it's a strategy that works, and the key thing here is the fact that the artists and artworks are well matched to the spaces they are given. Actually, the themes and the interconnections remain plain to see and so visitors can, if they so choose, indulge in inventing their own titles. Apart from being silly, 'Seven Brides for Seven Brothers' or maybe 'Back to the Future', kind of hit the spot.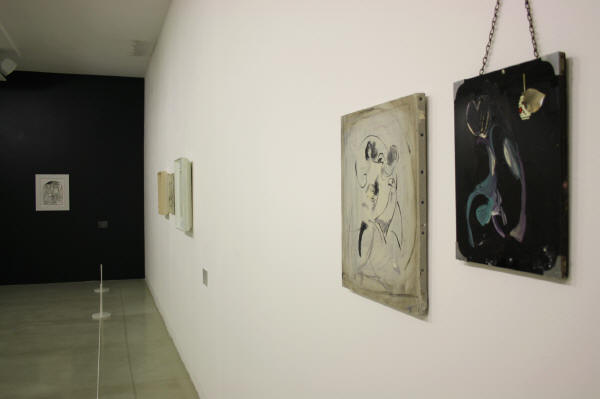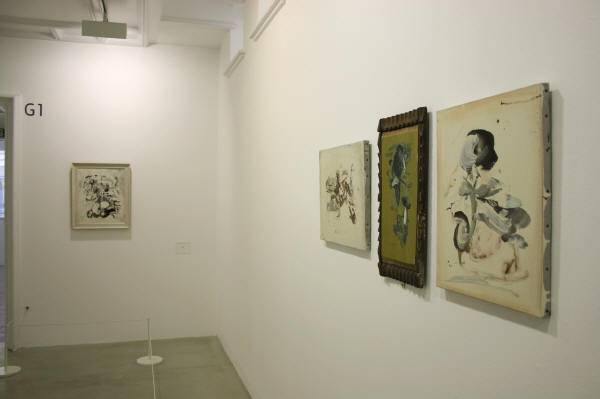 The first artist, Katy Moran (picturesX2 above), is a recent graduate of the RCA who enjoyed a mini-residency in St Ives prior to the show. She takes thrift store paintings, and old frames and paints over them in a loose, calligraphic style that is familiar from post-war painting of the 40s and 50s. Although there is something luscious and sensual about her addition of paint, it is the supports themselves, and the way the paintings are grouped together that impart character and meaning to the individual works. Therefore decisions taken by the artist before and after she picks up a paintbrush are arguably more important than those she makes with it.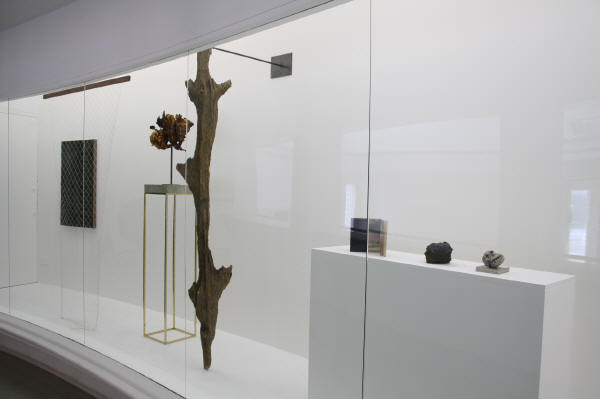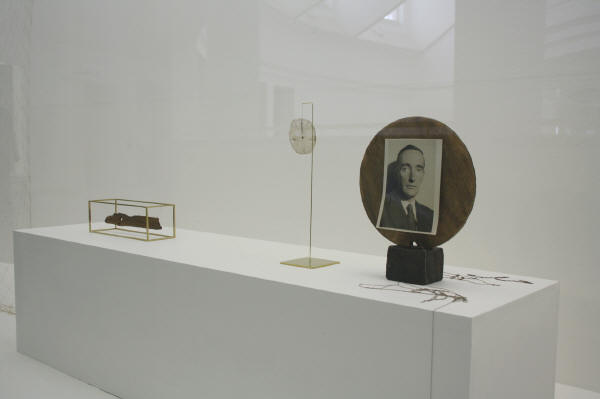 Decisions made regarding the selection and subsequent presentation of objects are also central to the work of Carol Bove, a contemporary American artist who is showing a single installation called 'La Traversee Difficile': its titled derived from one of a number of paintings by Rene Magritte of the same name (pictures X2 above). She is best known for juxtaposing found objects evocative of the 50s and 60s (the period just before she was born) using wall-mounted shelving systems typical of the period. In St Ives, however, her installation is placed in the large, curved glass display case. Bove 's work is more content-driven than Moran's, and more overtly focused on cultural history. A fascinating challenge to any art or cultural history-buff, it inspired an excellent catalogue essay by Martin Herbert who accurately described her installations as '...linear arrays of objects and books forming the syntax of interrogative sentences...'.
A collection of mid-size, mid-career Barbara Hepworth sculptures populate the curved gallery overlooking Porthmeor. Bove's work reminds us, importantly, that it is impossible to look at St Ives modernist art without using the 'spectacles of history': impossible to see it as 'pure form' as Hepworth might have wanted. Instead Hepworth inevitably reminds us, nostalgically, of the fashions of 50s and everything they connote. (The Harry Bertoia chair parked in the greenhouse of the Barbara Hepworth garden is another similar reminder).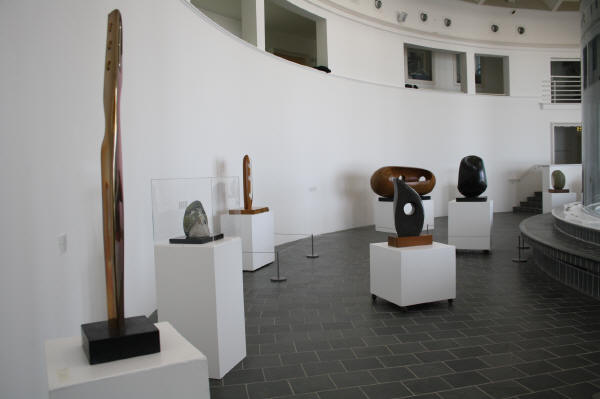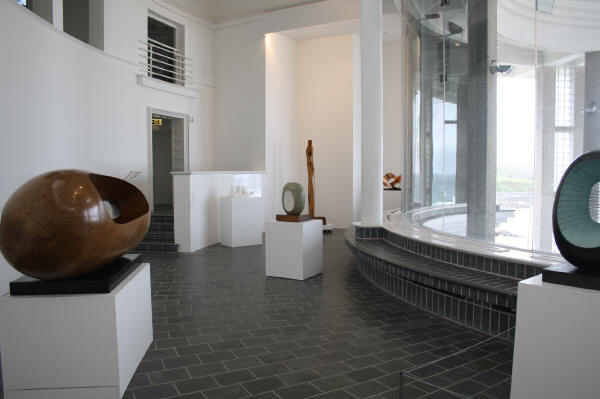 The same applies to Lucie Rie, a potter who mostly lived and worked in London and who had no direct link with St Ives. She made iconic pots that are also very evocative of their time. Several are shown in the small 'Apse' space at the Tate. Rie was slightly younger than Bernard Leach, and although inspired by his work, created studio ceramics that were generally more elegant and less rustic-looking.
Adjacent to Rie is an impressive collection of Alfred Wallis paintings, many on loan from Kettles Yard. It's difficult to see immediate links between Alfred Wallis and the other artists. As an outsider artist his work is, by definition, outside the shifting sands of fashion. Yet of course Wallis is known to have used and incorporated found objects into his work, in particular pieces of wood and board as well as boxes and other objects, and so, if nothing else, there are parallels here with the contemporary practices of Bove and Moran. But what's particularly nice about this mini-Wallis exhibition is the Billy Childish essay and poem that was commissioned to accompany it. Childish, who is associated with Tracey Emin and known as a founder-member of the 'Stuckists' is, arguably, comparable to Wallis himself. He is a self-taught 'outsider' poet and artist and his rousing writing is printed in the catalogue complete with his own idiosyncratic spelling.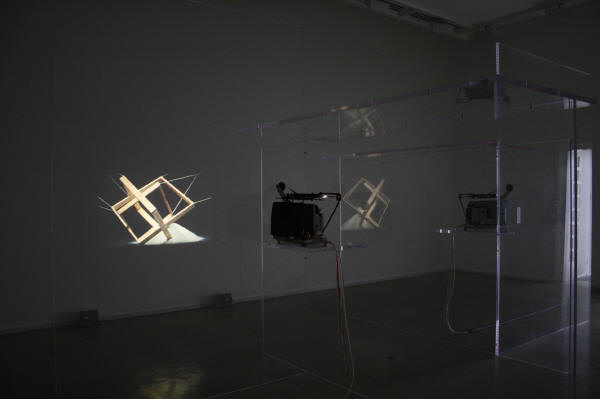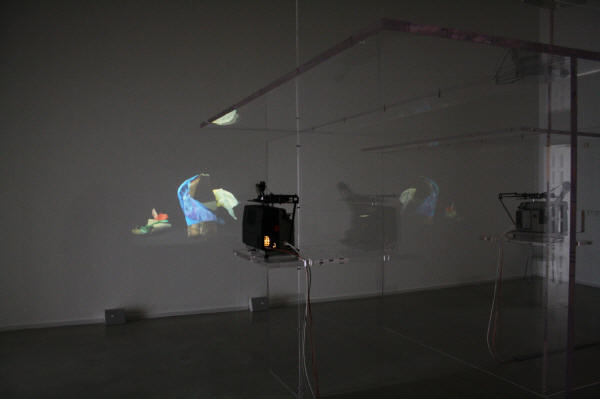 The three male artists are in the spaces at the back of the gallery next to each other. Bojan Sarcevic, a young sculptor who currently lives and works in Berlin makes large, semi-architectural sculptures inspired by a legacy of European modernism. 'The Breath-Taker is the Breath-Giver' is an elaborate and beautiful projector-housing made out of very thick perspex. Visitors entering the space trigger the two projectors sitting within it to lurch into life, and show films of more delicate ephemeral sculptures filmed against a black backdrop. The light from the projectors reflects across the perpendicular surfaces of the main sculpture and, in this context, it is the perspex itself that seems to give the work its resonance. Perspex is the trade name of an important type of plastic, that was first manufactured in the 30s and used by Naum Gabo to make his idealistic modernist abstractions.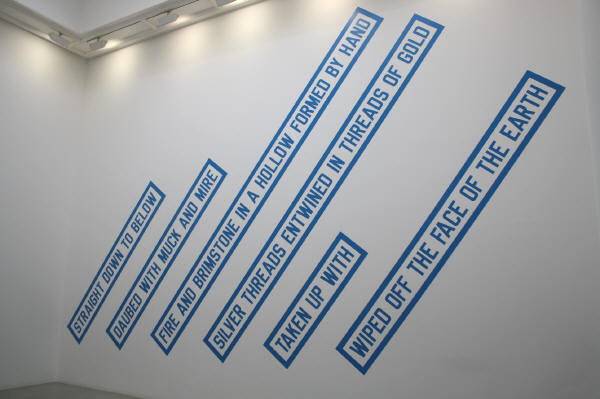 Lawrence Weiner, A-list American conceptual artist, has the last room in the gallery. Weiner first came to public attention in the early seventies. His text-based work, historically, bridges modernism and post-modernism. Lacking decorative flourish, and applied in assertive and rather cold blue diagonals, it seems to explore a completely different territory and time-frame to the other works in the show: one that is perhaps more classically ancient, even biblical.
Perhaps the show could have been called something like 'Retrofutures' or 'Heterochronicity'. And whilst the similarities between the works are telling, so too are the differences. It is notable, for example, that, formally, the contemporary art is less defined and self-contained: that is to say its objecthood is more ambiguous. It also dips into and out of kitsch, or low-culture, more readily than the modernist art. Indeed overall the contemporary art compares favourably, and much of the interest and pleasure in the works by Bove, Moran and Sarcevic is in the way the meaning and experience of them slips between and across the objects of which they are comprised.
Rupert White 16/5/09