Modernism in St Ives and Dawn of a Colony
St Ives Tate, May - September 2008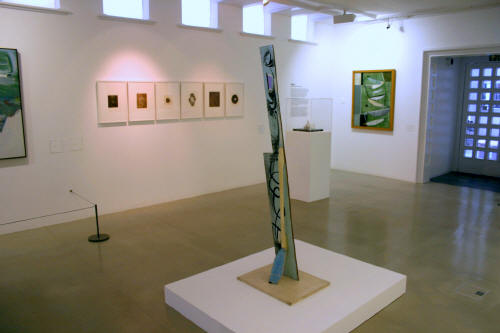 The Tate shows this Summer raise some interesting questions: not least visual artís relationship to photography and the internet, and the various processes with which it is documented, catalogued and historicised.
'Modernism in St Ives' in Gallery 1 (right) is the first modernist hang by new Tate St Ives director, Martin Clark. All the work in this space is in the Tate collection, and therefore viewable on-line. However, the scale of a sculpture or artwork as a reminder of its physicality and its relation to the body, is something that a photograph can never convey.
In the presence of the work, there is a strong sense of the shifts in scale that occur between the diminutive and austere work from the 40s by Naum Gabo, Wilhelmina Barnes-Graham and John Wells, and the larger more exuberant works by Heron and Lanyon dating from the 50s and later. War-time austerity and reserve are particularly apparent in the early Barnes-Graham canvasses, and the typically exquisite sculptures made by Wells when he was still a doctor living on the Scilly Isles.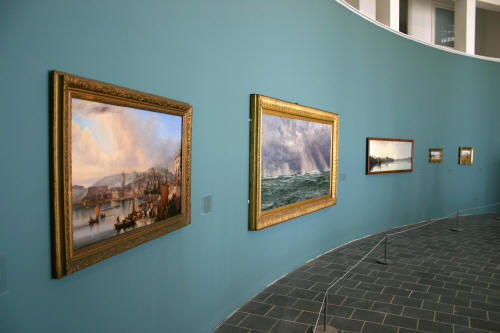 Peter Lanyon dominates the space - and the selection - however, with two large paintings and four constructions. The constructions include White Track (1939), Porthleven Boats, Tall Country and Seashore (both 1951) and Lost Mine (1959). Lanyon remains a favourite with local people because of his proud Cornish roots, but his art has also stood the test of time well: largely because its relaxed, free-wheeling approach to form anticipated later developments in American painting and international art (eg Abstract Expressionism, Arte Povera and Scatter Art).
'Dawn of A Colony' (above) Ė an exhibition about the early St Ives painters split between Penlee House and the Tate - is a powerful demonstration of the extent of the pre-history of modernism in St Ives, when the town became established as an art colony. Most art-histories have focussed on 20th century art in St Ives, briefly mentioning Turner and Whistler as having been visitors in the 19th century. In fact, inspired by the example of the French colonies, there were a lot of artists living and working in St Ives during this period, when it became established as a centre for artists specialising in marine painting.
The show has been curated by David Tovey (see podcast interview), and is in the curved lower gallery overlooking Porthmeor Beach, and the smaller studio space.