Fern Seed & Fairy Rings
Alan M. Kent
Dr. Rupert White is making serious and steady progress through various aspects of Cornwall's folkloric traditions. In this sense, he may very much be seen as a latter-day Hunt or Courtney, seeking out material from various sources which give a fuller picture of what that tradition is. Following on from his 2019 work, Physick and Folk Medicine: A History of Healthcare in Cornwall, comes his latest work, which is subtitled Plants and Plantlore from Cornwall and Devon. The work is an alphabetically-ordered consideration of plants and trees that are to be found in these two territories. White describes their properties and how they might be used medicinally, but as well as this, he gives observations about how these plants have been integrated into the folklore and ideology of place.
Anyone with Cornish nationalist leanings should not baulk at the title. White takes Hunt's idea of 'greater Cornwall' and runs with it. As most people know, there is a good deal of cross-fertilization anyway between these two territories – and they have a shared legacy, most fully observed on Dartmoor and in the Tamar Valley.
As we might expect, White draws on plenty of the usual folkloric resources from Cornwall (Hunt, Bottrell and Courtney) but, impressively, he also integrates the observations of Mrs Bray and Sabine Baring-Gould. He brings us up-to-date with modern and hitherto uncollected material too. For example, where precisely did the tradition of carrying daffodils to St Piran's Cross on Perranporth dunes come from? White's sources and knowledge are, therefore, far-ranging. One minute he deals with the lore attached to apple seeds in the Ordinalia Mystery Play cycle; the next he is dealing with where Medieval plants are now re-cultivated in specific locations. Particularly interesting are the notes on Mugwort and how that plant is represented (Green-Man style) on the ceiling bosses at Exeter Cathedral (photo below).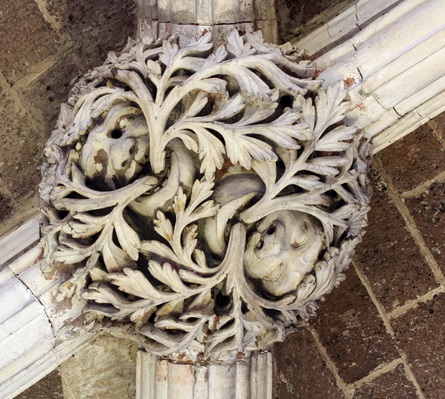 Obviously, the lore of plants is embedded into story and where possible, White recounts these. Likewise, he integrates much song and poetry into the collection too. One memorable example is that of the Cornish-language verse known now as Delkyow Sevy [Strawberry Leaves], where leaves made into a poultice allowed ladies (and men we suppose!) to have beautiful skin. Also of interest are plants such as mandrake which were fashioned into figures and the symbolic nature of trees such as elder, oak and hazel.
The title of the volume may puzzle some: Fern Seed are to be found on the quite magical under-leaves of ferns – almost hidden to the naked eye. Fairy Rings are more well known: the mushrooms or toadstools left behind in a ring where fairies or 'little people' have danced. This is why this work is so fascinating in its scope. I must have walked past the bench ends in Altarnun Church a hundred times but never knew that on many of them is carved a pomegranate, put there apparently in sympathy with Henry VIII's Catholic Queen, Katherine of Aragon.
Antenna Publications are now a major player in Folklore studies in Cornwall, and their smartly-produced editions make them eminently collectable. The folklore works all have white-themed covers and black spines. White's coverage of various strand of folklore seems to grow yearly, and he finds himself working in a collective of new folkloric activity gripping Cornwall. Perhaps then, there is still more to 'gather'. This is certainly seen in journals such as Lien Gwerin, and White's quest to better map the traditions prevalent here. His volume again proves that although quite small in terms of territory, it is the intensity of lore and legend that makes Cornwall special. We should congratulate White for this comprehensive new study and have it ready to instantly acquaint ourselves with the next tree we sit below, and the next plant we brush by, since all... we learn... are magical.
Rupert White's Fern Seed and Fairy Rings, is available from Antenna Publications, 2022 www.antennapublications.org.uk