Curation as Unstable Monument

Amy Shannon Halliday


Making his way carefully through Bristol's Arnos Grove cemetery early in 2015 after ankle ligament replacement surgery left him on crutches, artist Matthew Benington found himself drawn to a precarious grave marker wrapped in a blue tarp, covered in hazard tape, and surrounded by scaffolding: "Unstable monument," it announced. For Benington — who uses found and inherited materials, assembled fragments, and large-scale printmaking processes to grapple with questions of history, memory, identity, and forced displacement (including that of his grandmother from eastern Germany in the 1940s) — the sign offered a powerful rejoinder to the rhetoric of fixity, coherence, and stability embedded in traditional public monuments, institutions, and even notions of the self.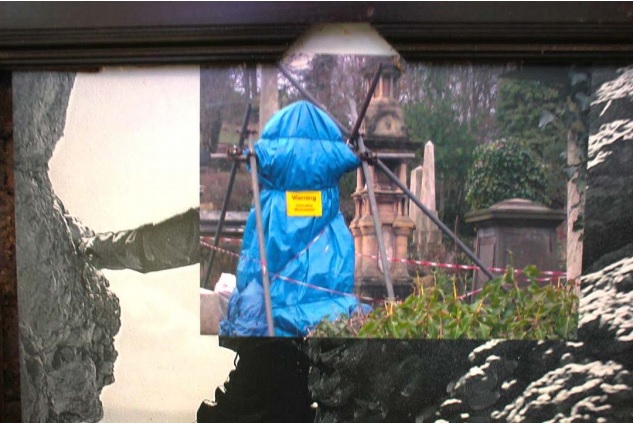 "Warning: Unstable Monument", snapshot from Arnos Grove cemetery inset into an installation by Matthew Benington.

Over time, Unstable Monuments became a framework for thinking about art-making, self-making, and history-making as fundamentally contingent, interrelational (and intergenerational) and unfinished. Working closely with fellow artist Jesse Leroy Smith, Benington has developed this line of inquiry into a state of curatorial emergence. Rather than participating in the pristine "white cube" gallery sector, Smith and Benington have worked with community partners to create a series of ambitious artist-led projects set in spaces of transition or precarity: an old warehouse in the ex-industrial mining town of Truro, Cornwall; a derelict complex of nineteenth-century magistrates courts and jail cells in Bristol's Bridewell Street. As artist-curators, the two are interested in anti-monumental materials and fugitive forms, and in creating the conditions by which emerging and established artists might experiment and collaborate, responding to specific sites, and to each other. The resulting exhibitions unfold dynamically: more than a little "out of [their] hands" laugh Benington and Smith over a conversation about their recent Bristol-based project.

The port city of Bristol — where a statue of merchant and slave trader Edward Colston (1636-1721) was erected in 1895, and famously toppled and tossed into the river by anti-racism protestors in June of 2020 — is freighted with the legacies of the past. Like the Colston statue, the former Magistrates Courts are Grade II listed on the National Historic Register. The courts have languished, largely empty, since the 1970s, variously used as a squat, a pop-up rave venue, a laser quest labyrinth. After years of advocacy, partnership and business-case building, the courts are set to be transformed into a creative entrepreneurship and up-skilling hub for marginalized youth. Renovation and restoration are due to begin in late 2022, but in March and April, Benington and Smith worked with Creative Youth Network (CYN), the charity spearheading the transformation, to run artists' residencies in the space, culminating in a one-weekend-only exhibition that reverberated well beyond its walls.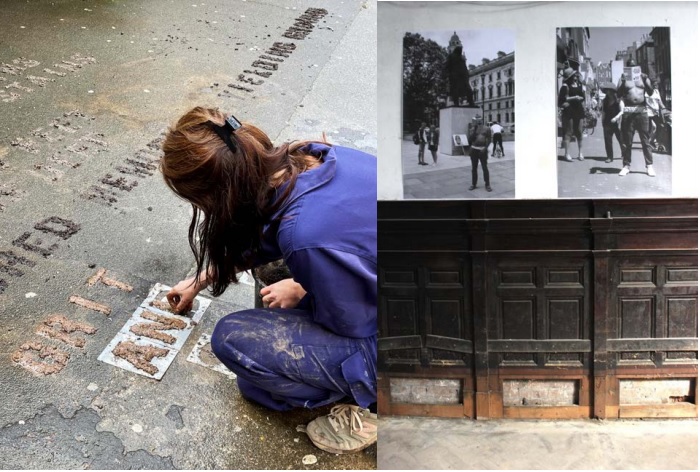 Katie Henning, Displace, 2021, public art performance, Richard Mark Rawlins, Public Intervention. 2020

Approaching the buildings for the exhibition, the first work to catch my eye was a live performance and ephemeral public artwork by Katie Hanning. Using hand-made stencils filled in with soil gathered from significant sites around Bristol, in Displace, Hanning inscribed the concrete courtyard with words bearing witness to her experience and encounters with people and places during the process of collecting and "moving" the earth. Hanning is interested in the invisible barriers that prevent audiences from engaging with art in traditional institutional settings. Her work, instead, is deeply informed by movement and conversation; the carrying of ideas and materials across thresholds. The outlines of the words are scuffed and occluded by the feet of visitors, spreading the soil in their wake, but their ghostly traces remain: "yielding" I read. I think I can make out the words "from where we came…" I stand for a while, and watch. Hanning was part of an exhibiting/performing group of art students from the University of Bath Spa, convened and mentored by Bristol-based artist and educator Young-In Hong. Henning's placement at the entrance foregrounded the significance of live performance and durational media in Unstable Monuments, as well as the curators' commitment to young and emerging artists (another call for artists went out through the Creative Youth Network). At the same time, as Smith emphasises during our conversation, mentorship is multidirectional, with many artists working closely together during the residency to respond to the buildings and to Bristol, and to the ideas, challenges and experimentation that working together fomented.

Architecturally and affectively, the building is very clearly divided between ground-level courthouses and offices (large, airy, full of natural light) and a series of subterranean cells (small, damp, dark). Across both, and in the interstitial spaces of stairs and corridors, several of the artists' works directly confront the vexed question of monuments and public memory with deliberately anti-monumental materials and processes. Richard Mark Rawlins explores the tension between the invisibility and hyper-visibility/surveillance of the Black body in public spaces through a series of Public Interventions (2020) around London. In each performance, the artist stands, bare torsoed — outside the National Gallery in Trafalgar Square, or with the Winston Churchill Statue in Parliament Square — and holding in front of his face a range of texts such as Reni Eddo-Lodge's Why I'm no Longer Talking to White People about Race. Performance documentation is installed as an unassuming series of black and white poster reproductions, wheat-pasted to a courtroom wall just above the room's dark wood panelling: documentation includes an email in which Rawlins writes to Bristol mayor Marvin Rees about staging one of his interventions on the empty Colston plinth (the request was denied).

Rawlins' interventions face Matthew Benington's Hide (2015). Though the structure is reminiscent of a child's blanket fort, the softness of the exterior gives way to an interior assemblage of large sealed etching plates. Painstakingly hand-painted with acid-resistant varnish directly onto each steel plate, building each tonal layer to create the image, the surface images are derived from family, found, and location photographs that are part of Benington's ongoing research into forced displacement. Focusing primarily on the kinds of vernacular imagery that families forced to flee carry with them, rather than the direct representation of conflict or flight, the installation is a powerful invocation of the lived reality — the fullness, depth, entanglements, and exquisite detail rendered as etched traces — of each life impacted by extreme sociopolitical upheaval.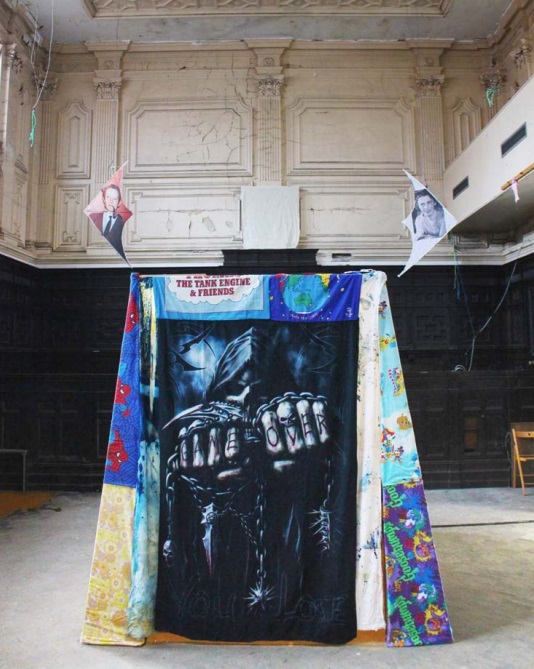 Matthew Benington, Hide, 2011-2018


Marianne Keating's Landlessness, a dual screen video installation in a nearby courtroom, is similarly poetic-yet-incisive in its exploration of migration and diaspora: in this case the recruitment and transportation of Irish indentured laborers to the plantations of Jamaica's north coast between 1835 and 1842. Keating overlays video footage of localised land- and seascapes (which might otherwise read as picturesque) with textual traces: fragments of testimony and records recovered from the National Archives in Ireland, England and Jamaica are assembled as if in conversation, tracing past and present connections between Ireland and the Caribbean, routed through British colonialism. An archival sensibility and attentiveness to materialising, interrogating, and layering "traces" – the remaining signs, partial and contingent visual and textual residue of past events – is a strong undercurrent in Unstable Monuments. Traces link Benington's photographic referents (and their transformation, in turn, as etched marks in Hide, or physical traces of the dark Bristol cells brought to light through cyanotype processes in The Architecture of Enclosure 01) to Keating's videos, Hanning's scattered earth, and James Hankey's quietly profound Dave Was. In the 36-page kettle stitch book, Hankey transcribes and archives the messages and musings, profanities and provocations he found on benches and walls, on the dividing panels between cells, seating areas and toilets during his residency: an insistence on presence in the face of prison's rough poetry of erasure.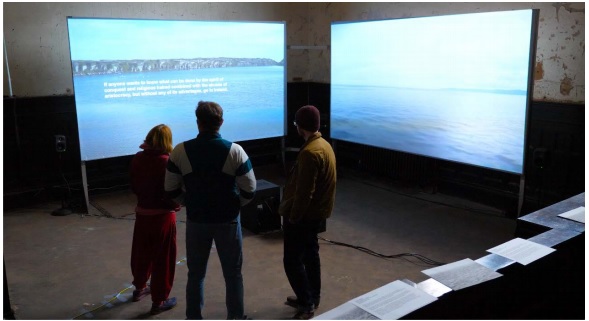 Marianne Keating, Landlessness, 2017-2022


Several works in Unstable Monuments were made on site. Laura Robertson's massive sculpture, Body Everted, was made from construction insulation (a fundamentally liminal material) draped, folded, assembled and augmented around a wooden scaffold in a small cell, its softness and organic pliability turning the language of the monument inside out. As work took form in the space, so other artists responded in performance. Lily Serendipity, for example, wove her wandering way around Body Everted in her piece, Unmasking, while Antonia Purdie's choreography-as-lifeblood seeped from (and back into) the fluid handling and crimson palette of Jesse Leroy Smith's Pollinators installation. Callum McCutcheon, whose practice is a means of exploring and mediating conscious and subconscious mental states, spent days translating his affective experience of the cells (anxiety, uncertainty, alienation, scattered attention) into a multi-media installation that was utterly mesmerizing. Reverberating sound, sculpture, wall drawing, and found objects read as a kind of emotional notation or set of jarring frequencies, the disparate elements engulfed by video projections of tumultuous waves crashing over, through, and between cells.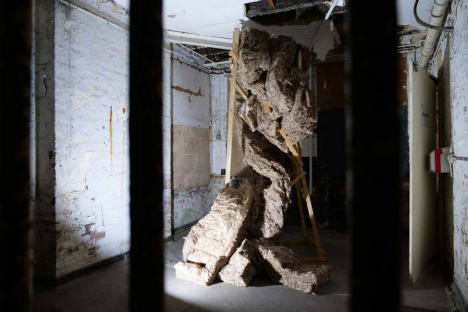 Laura Robertson, Body Everted, 2022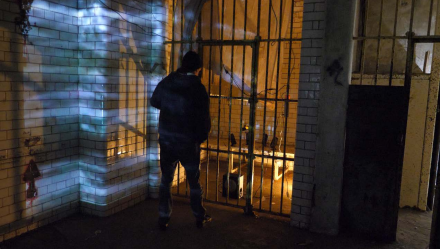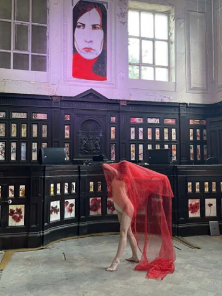 Callum McCutcheon installation view, Antonia Purdie, Unmasking


Local artist Orian had previously been experimenting with carving and painting wooden skittles but, through his time in residency and in discussion with other artists, developed this work into a large-scale installation. Skittles is a historical lawn game and target sport that has been played for centuries in England in public houses and clubs and backyards. Taking on this seemingly benign game, and with it ideas of the "innocence" of childhood, Orian's skittles are shaped by strong mental references from his own childhood: comics, popular music, and the casual racism of Enid Blyton's children's books (exported to the colonies where I, as a white South African, grew up with them too). The artist takes aim at the powerful hold of early representations and playground encounters on our racial and social imaginations: the work is all the more powerful for its positioning in front of a judge's seat in a court that may well have been involved in juvenile sentencing.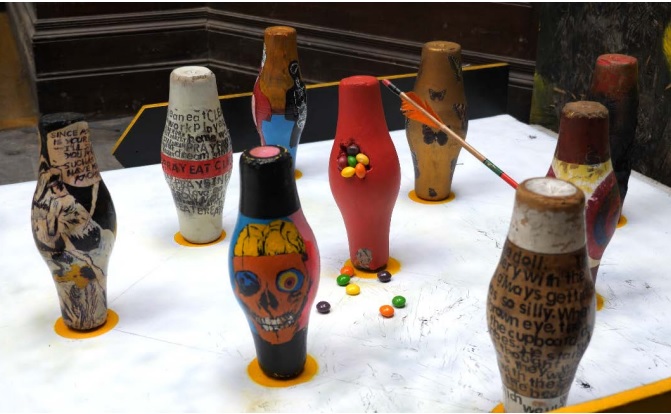 Orian: 'Eat,Pray,Clean, Butterfly Effect, 'Effigy, Music is the Answer, Hard Target, Skit Skull, Foolish little…,'Fucking Exit…,I was Born to Fight, Inside Out, Not For Sale, Skittle Me Sweet(nfs), An Eye…, Since Power is your God(nfs'. 2021-22


Many works made on site during the residency or installation period were also unmade during the process of public exhibition. Set in a small, sun-drenched office between courtrooms, Alison Larkman's chair installation, for example, invited visitors to sit, enthroned. Yet each use strained the fragile vellum seat, stitched from fragments and stretched taut across the wooden frame, until it gave way. Meanwhile Ling Ho's haunting clay figures — their heads formed into loudspeakers as if an embodiment of protest, assertion, or authority — slowly dissolved over the course of the weekend, the unfired clay subject to a constant overhead drip, the water undermining its structural integrity.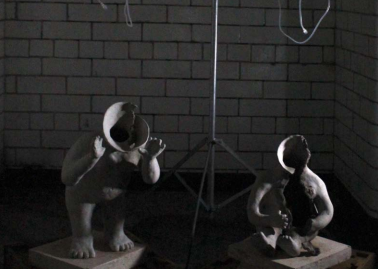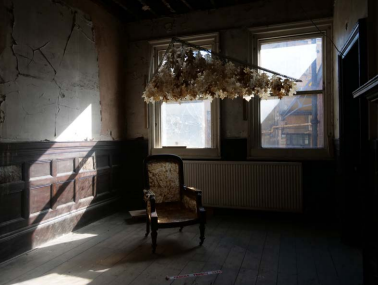 Alison Larkman Fragile Skin and Ling Ho Untitled


Given the imminent renovation of the building, as well as its place on the National Historic Register, artists were not allowed to make any new holes or add any new fixtures to the walls, a set of aesthetic and curatorial constraints that heightened a sensitivity to site. Jesse Leroy Smith's response was especially striking, measuring out each niche and negative space in an entire courtroom's austere wooden panelling and filling the magistrate's box with vibrant images of pollinators – birds, bees, bats, and flowers – that offer a surge of imaginative possibility and wonder just barely contained by the edifice's edges. On the three walls facing and adjacent to the magistrate's box, Smith presents an elegiac series of thirteen large-scale portraits, devised and painted in situ. Operating simultaneously as a personal pantheon, a jury of peers, and a freighted Last Supper, Gil Scott Heron, James Baldwin, Diane Arbus, and Vivianne Maier bear witness alongside Raghbir Singh, the first non-white bus conductor after Bristol's 1963 Bus Boycott (one of Britain's first black-led campaigns for racial justice), and an unnamed Romani boy killed during the Holocaust (and whose image at the Berlin Holocaust Museum seared itself into the artist's consciousness). The artist's son, collaborator Matthew Benington, and Creative Youth Network artist Lucia Harry, whose insights deeply influenced Smith's thinking about the Unstable Monuments project, appear, too, among these cultural icons, looming equally large in the artist's mind. Painted in oil on tracing paper, the large substrate floated and buckled in the damp, and was translucent in the morning sun: the scrim of peeling walls breathed through the portraits' thin surfaces.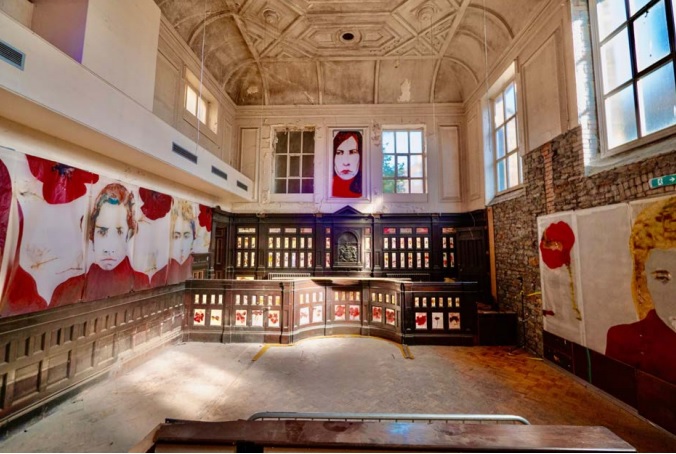 Leroy Smith Pollinators

As I left the exhibition, I climbed back up the stairs from the cells and decided to wander the upper halls one more time – small offices and hallways seemed to elude and surprise me at each turn. Somehow, I had missed a room with peeling walls, small pod and seed-like sculptures laid on unobtrusive shelves, and a square cage set on the floor. It was filled with what looked to be massive cowrie shells with printed indigo words: DERIVATIVES. SUB-PRIME. HUMAN CAPITAL. Closer inspection revealed the works to be ceramic transferware, the blue and white motif reminiscent of the popular trade in transfer wares in the late 19th and early 20th centuries. With their lustrous decorative surfaces and "exotic" associations with hand-painted Chinese porcelain, the mostly Staffordshire-made ceramics became increasingly popular in the United States. Often, these ceramics featured scenes of "quintessential" American landscapes and historical accounts, participating powerfully in the construction and circulation of the country's heroic (and exclusionary) founding narrative. Dan Pyne's replacement of these popular images with the resurgent heroes of contemporary capitalism on shapes associated with early modes of currency and exchange seems to suggest that money – which so often bears the official imprint of a nation's ongoing self-construction (its national heroes or architectural triumphs) – has always been a form of monument, a monumental form.1) Pyne's title, It's just business, don't take it personally, could act equally as epigraph to the standard apologia for the statue of "merchant" Edward Colston… MORAL HAZARD, reads another ceramic cowrie.

It is in contrast to this sort of systemic, pecuniary context that Unstable Monuments as a model for artist-led, community-partnered, extra-institutional curating shines most brightly: the exhibition as provocation; as process; as promissory note for further elaboration. In October, following months of uncertainty over the future of the Courts after the Bristol City Council denied the final £700,000 it had pledged to the Creative Youth Network for its renovation (potentially jeopardising the almost £5.5 million in match funding already secured), renovation began in earnest. Images surfaced yesterday of the demolition of the east entrance, making room for a new, fully accessible entryway: a newly unstable edifice, poised for possibility.

1) African-American artist Nari Ward recently made the remark in an interview on the Art Angle podcast that money is our "portable monument," but is based on a particular (exclusionary) history.
'Unstable Monuments' was in Bristol between 8.4.22 & 13.4.22
26.3.23