Discovering St Ives - Early Visiting Artists
David Tovey

An important new initiative has been made by Andy Smith, the new Curator at St Ives Museum, for, throughout the 2023 season from 1st April to 31st October, the Museum will be holding a loan exhibition, called 'Discovering St Ives - Early Visiting Artists', which will feature paintings, lithographs and engravings dating from 1790 to 1890.
Those who know the Museum will be aware that it has on display a fascinating series of artefacts relating to all aspects of St Ives' history. However, its own painting collection is of variable quality and has been packed on to the walls in a way that reduces the impact of the individual works. Fortunately I have been able to add works from my own collection, and the new display is now more professionally hung and lit. It showcases a fascinating period in the town's history, as it moves from being a dirty, smelly industrial town, dominated by fishing, mining and shipbuilding industries, to a tourist and health resort. With the art colony being established in St Ives in the winter of 1885, the majority of the paintings date from the 1880s, but there are featured works from most decades of the 19th century depicting a range of interesting aspects of the town's development.
The earliest image may well date from the 1770s and, albeit naively executed, it is an extraordinary evocation of the town's past. It shows the harbour full of sailing ships, whilst a huge catch of pilchards is being unloaded from numerous dipper boats and carried up the beach to the pilchard cellars. The whole town seems to be involved in operations.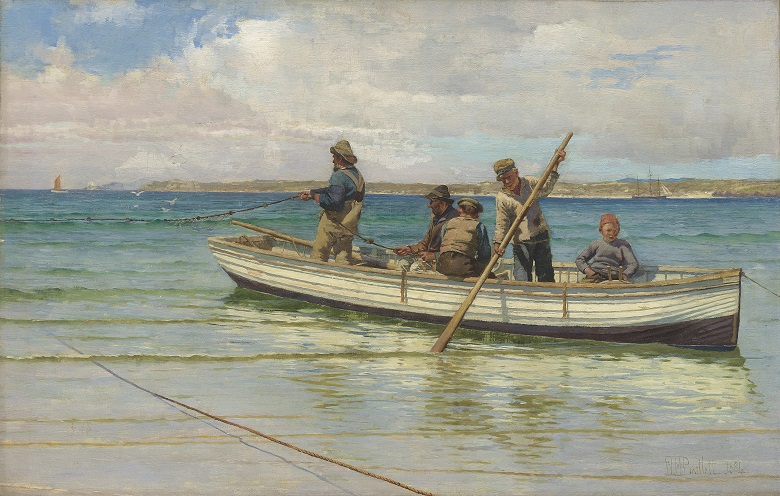 Bartlett 'Hauling Launces' (1884)
A previously unknown image by the celebrated landscape artist, Humphry Repton, dating from 1791, can be seen in a display case. Like many subsequent artists, such as J.M.W. Turner, he selected the view from above The Stennack out to Godrevy. In addition to the well-known engraving by Joseph Farington, published in 1813, there is included a view out to Godrevy based on a sketch by Frederick Stockdale, which was first engraved in 1824 in connection with his book, 'Excursions Through Cornwall', and may have been used for further engravings right up to the 1860s. A distinctive feature in these early depictions are the signalling poles on The Island and elsewhere which indicated by fluttering ensigns which seine companies were able to operate in each of the six stems in the Bay at any given time.
There are some watercolours from the 1830s, now attributed to Robert Morton, a St Ives master mariner, who was grandfather of Robert Morton Nance. These are some of the first to depict the distinctive pepperpot lighthouse on Smeaton's Pier, which was erected in 1831. There is also a lithograph by Joseph Hollway of Bath, which probably dates from the 1840s and shows some interesting formal gardens and a steamboat loaded with coal off Pednolver Point.
Other than the engravers, few professional artists were tempted to visit St Ives prior to the new rail link down to Penzance in 1859, but the exhibition does include a couple of works by the well-known marine artist, Edward William Cooke RA, from his visit in October 1848. These show that Carbis Bay, which Cooke called Carrick Gladden Cove, was very much a working beach for the seiners.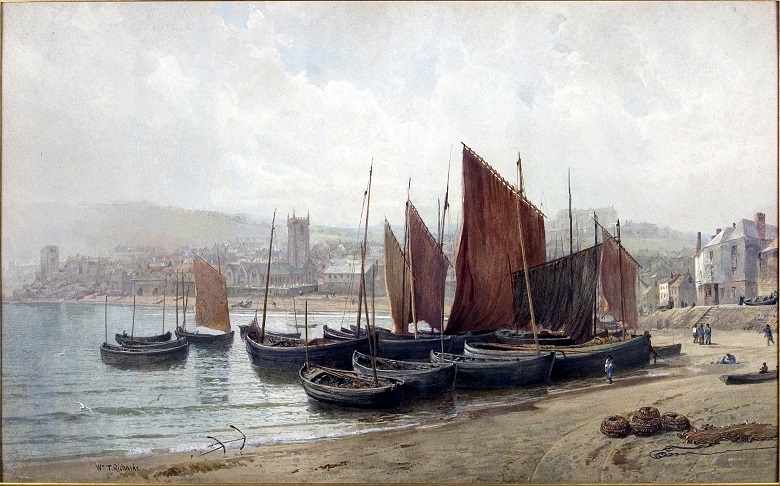 W T Richards 'Fishing Boats, St Ives'
St Ives Town Council's painting by an Italian artist called Conata is also included in the show. This again shows a huge catch of pilchards being landed in the harbour. No details about the artist appear to be known, but one possibility is that he was one of the Italian decorators employed by the Basset family in their development of Tehidy House in the early 1860s.
The new rail link clearly persuaded a few artists to visit St Ives and the exhibition includes examples of work by James Clarke Hook, who spent several months in the town in 1860, and by the two Bristol artists, Samuel Phillips Jackson and George Wolfe, who appear to have visited together in 1861. There are also some engravings of sketches by the Belgian artist, Henri Durand-Brager, who accompanied a French delegation who came over in 1862 to view Cornish mining practices. He depicted the view from Wheal Margery at Treloyhan, then considered one of the most progressive mines in the neighbourhood.
From the 1870s, there are mid-decade watercolours by James Bingley and Thomas Hart and some fascinating 1875 engravings, but two of the finest paintings in the exhibition are by the German, Theodore Weber, who captured the wooden pier, upon which work had started in 1864, just before it started to disintegrate in the late 1870s, and the American pre-Raphaelite marine painter, William Trost Richards. Richards first visited in 1878 and came down in both 1879 and 1880 as well. His depictions of the Cornish coast in both oils and watercolours transformed his reputation in America and are held by many public galleries over there, and yet he is little known and appreciated in Cornwall. His depiction of pilchard boats and the larger mackerel boats on the harbour beach, with a backdrop of the Pednolver Mine Engine House (built 1860), is a fine example of what he called his 'Grand Style' of watercolour painting, which he developed during his time in England between 1878-1880.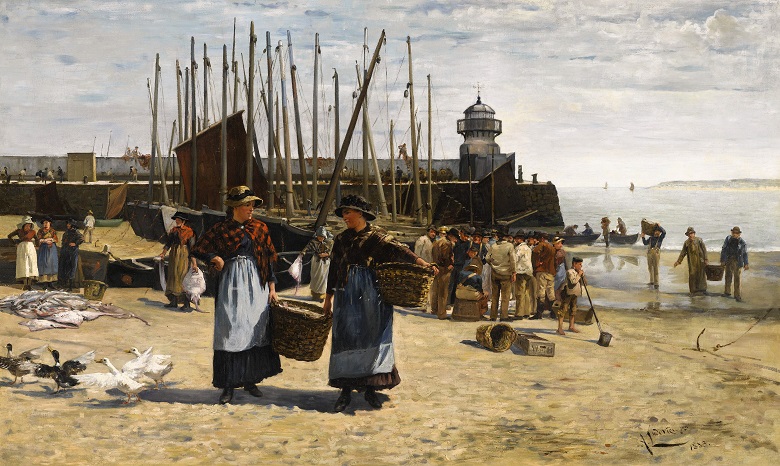 Alberto Ludovici 'Fish Sale, St Ives'
Richards was a great friend of George Henry Boughton RA, NA, with whom he socialised in London, and it was clearly upon Richards' recommendation that Boughton himself came down to St Ives in the late summer of 1881. This resulted in his fascinating painting of a local family enjoying an idyllic rural life, with two boys trying their hand at Cornish wrestling, which was shown under the title St Ives Bay at the Royal Academy in 1882. Boughton was one of the top Victorian artists of his day and his painting demonstrates the type of sentimentalised depiction of rural life that the young French trained artists reacted against when they settled in the town a few years later.
There are also included in the exhibition some iconic paintings by William Bartlett and Alberto Ludovici Jnr. The poster image is 'Bartlett's Hauling Launces' (above), which shows this operation off Porthminster Beach, the boat being beautifully reflected in the calm shallow waters. Ludovici shows a fish sale on the harbour beach, with groups of fishermen and fishwives scattered across the beach. It is dated 1883 and so was painted the year before Stanhope Forbes' more well known depiction of a fish sale at Newlyn. However, it is not hard to see how Ludovici's work will have enticed many more artists down to St Ives and, indeed, it was in 1884 that a guide to St Ives, clearly directed at artists, was first produced.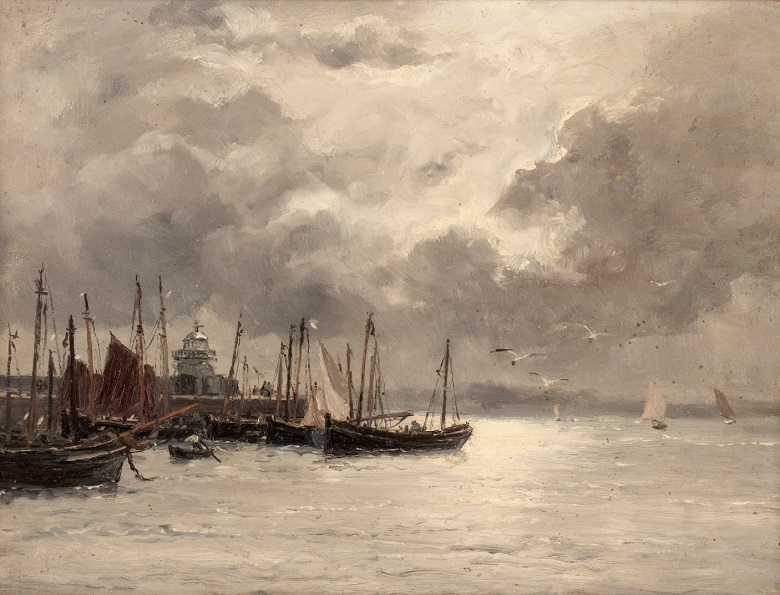 Emile-Louis Vernier 'The Lighthouse, St Ives'
The exhibition also includes an example of the work of the French artist, Emile-Louis Vernier, who was hailed by the American, Howard Russell Butler, as "the person who really discovered St Ives". Vernier seems to have worked in St Ives for quite some time in 1884-5, as over 40 paintings of the town were included in a sale of his work in Paris in February 1886. It is likely that some of the early settlers in St Ives - such as Henry Harewood Robinson, his future wife, Dorothy Webb, and Edward Simmons - met Vernier in Concarneau and were persuaded by him to pay St Ives a visit. Robinson and Webb settled in the town in 1885 and Simmons made a brief visit in the spring of 1886, which led him to bring a party of foreign artists across that summer. They enjoyed their time so much that they returned with more colleagues, such as Anders Zorn and Helene Schjerfbeck, in 1887, and the St Ives art colony as an international community was established.
It is a fascinating story and one of great importance in the wider context of British art, and I have now produced a new book 'St Ives - The Dawn of the Colony' to accompany the exhibition. This is a revised and much expanded version of his 2008 book St Ives Art pre-1890, as so much new information has emerged in the intervening fifteen years.
Given that no public gallery concentrates on promoting the achievements of early St Ives artists, the new initiative at St Ives Museum is to be heartily welcomed and deserves full support, and Andy Smith and his team of enthusiastic volunteers congratulated on the transformation that they have achieved.
David Tovey's website is here www.stivesart.info. Also see 'interviews' for recent (and older) interview.
6.4.23