'A Vista of Paradise' from the Lamorna Colony Pioneers
David Tovey
The exhibition, Lamorna Colony Pioneers, runs at Penlee House Gallery & Museum, Penzance, from 3rd May to 30th September. To accompany the show, I have produced the two volume book Lamorna - An Artistic, Social and Literary History - the break date between the volumes being 1920. Drawing on the archives collected by the Lamorna Society during its 25 year existence, these contain fascinating insights into the art and social life of the artistic community, which included the writers Charles Marriott, Cecily Sidgwick and Crosbie Garstin, and, after WW2, Ithell Colquhoun, Monica Baldwin and Derek and Jeannie Tangye.
The earliest images that we have of Lamorna are six pen and ink sketches in Penlee Gallery's collection done by local boy, Walter Tremenheere, in the 1780s. These are the only images that show the fascinating granite formations in the Cove before the quarrying operations commenced by the Freeman family in 1849. One can see that it was not too difficult for the quarry team to slice off one of these granite pillars so as to exhibit at the Great Exhibition of 1851 a 20ft high, 14 ton obelisk, for which the Freemans were awarded a medal. Engravings by Richard Pentreath in the mid-1850s show the scars of the initial quarrying activities and the fact that the Freemans had built an iron pier in the centre of the Cove in the hope that the large blocks of granite could be shipped by sea. However, ships could only get in and out of the Cove if the wind was in a certain direction and so, from the late 1860s, the stone had to be taken up and down the steep hills into Penzance by carts drawn by teams of horses, resulting in some alarming moments when drags broke. In 1867, another quarry was established on the western side of the Cove by Captain John Fulford Owen, but although he was responsible for the construction of the stone pier, the harbourmaster's house (Flagstaff Cottage), which has been the home of John Lamorna Birch and his descendants since 1902, and a large house with integrated chapel, which became the local hotel, his quarry proved a financial disaster, as the granite on that side of the Cove was of inferior quality.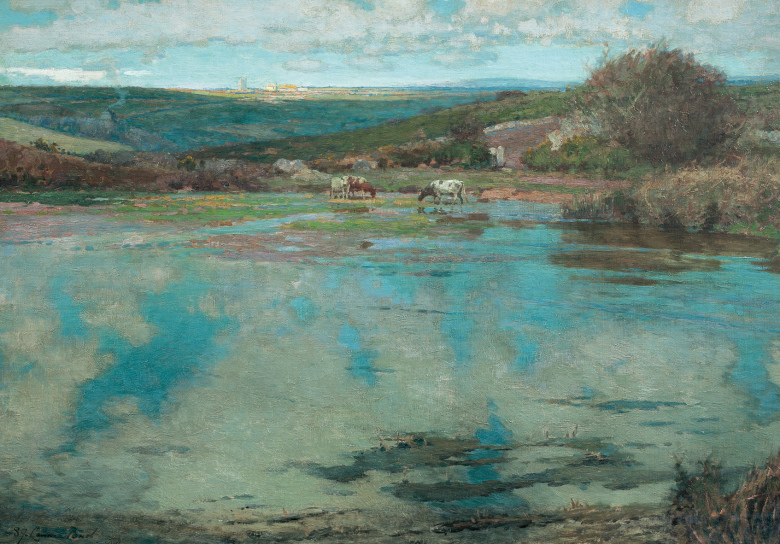 Lamorna Birch 'St Buryan 1907' Private Collection
The Lancastrian, John Birch, was the first artist to see the pictorial potential of the Valley. He first visited in 1888, but
paid longer visits after 1892, when he decided to try to make a living as a professional artist, and adopted the name Lamorna Birch in 1895 to distinguish himself from fellow artist, Lionel Birch. In 1902, upon his marriage to Camborne
girl, Houghton Vivian, they decided to settle in the Cove and I believe that this date should be considered to be the date
of the formation of the colony, as Birch's friend, Arthur Tanner, was also in residence. The early part of Birch's career is represented in the exhibition by Feeding the Calves, Boleigh Farm, a depiction of the farm at which he lodged from 1888-1902, and St Buryan - The Fowling Pool (1907), an attractive depiction of this pool at Trevider, which proved a popular picnic spot for the Birch family.
Another artist who was a very regular presence in the Valley from 1895 was Elizabeth Forbes, who was particularly
taken with Trevelloe Wood. She used this as the inspiration for her children's story, King Arthur's Wood, and for a number of her fancy paintings, particularly in the late 1890s and early 1900s. The exhibition includes her A Dream Princess (RA 1897) (Royal Cornwall Museum, Truro), which features the mill wheel at the Clapper Mill at Trewoofe, and a recent acquisition funded by the Friends of Penlee House, Autumn Breeze.
The Birches were joined in the Valley in 1903-4 by Charles and Heather Thompson and they returned during their
vacations even after Charles had been appointed Curator of the new Watts Gallery at Compton, Surrey, in 1905. He is represented in the exhibition by his 1907 Academy exhibit, 'Twixt Love and Duty', which shows the aged stonemason
Thomas Pengelly Eddy tended by the youngest of his 13 children, Florrie, whose thoughts are elsewhere. She did indeed marry local boy, Everett Leah, as soon as her father died in 1910. Also included is Thompson's depiction from 1908 of the remaining section of the Elizabethan E-plan manor, 'Trewoofe', then occupied by the farming family, the Harveys.
Another artist, who, along with his students, was a regular presence in the Valley from 1906, if not before, was the landscape painter, John Noble Barlow. He is represented in the exhibition by The Stream, Lamorna (RA 1914), one of his most highly regarded works, whilst there are also works by his students, the American, Anna Althea Hills, who went
on to become an important figure in the Laguna Colony, California, and the young local prodigy, Garstin Cox. Cox's
exhibit, Springtime, a six-footer, is one of his 1913 Academy exhibits, which were hailed as "extraordinary achievements" for a 20 year old at the time.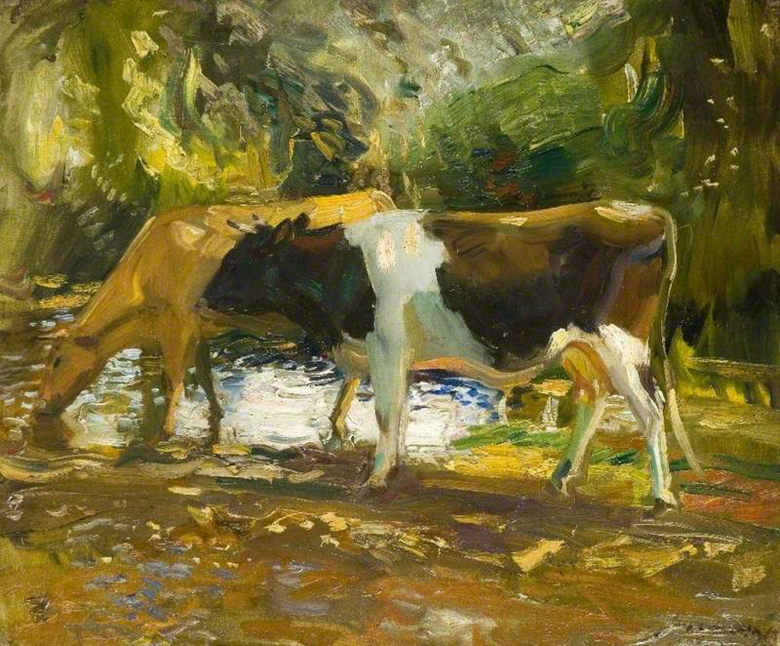 Alfred Munnings 'Cattle Watering in a Stream', Zennor Sir Alfred Munnings Museum
The heyday of the Lamorna colony is the decade between 1910 and 1920, when Laura and Harold Knight and Alfred Munnings were part of the artistic community. Laura is represented by her portrait of Lamorna Birch's daughter, Mornie, from 1909 and by her large painting Spring in Cornwall (Tate), originally painted in 1916 when Laura thought that a depiction of the glories of spring, which would be as "theatrically moving" as always, would be a good antidote to the horrors of the War. Also included is one of her 1917 paintings of local girls on the Lamorna cliffs -My Lady of the Rocks, which features Marjorie Taylor by Carn Barges. I believe this is the work that inspired Colonel Mayes, then Head of Physical Training for the Colonial Forces, to declare at Knight's Leicester Galleries show in 1918 that he would make
Marjorie "the Example of Feminine Physical Perfection for the whole world".
In a scrapbook, put together by Lamorna Birch, I found a rare colour image of Harold Knight's iconic painting, The Sonnet (location unknown, feared lost), which shows Alfred Munnings reading a poem to Laura Knight, Florence Carter-Wood (his future wife), and Dolly Snell, model and ballet dancer. As this seems to capture an idyllic moment in a community
that Cecily Sidgwick referred to as 'the Happy Valley', I have used this as the front cover image of Volume One of the
history. In the exhibition, Harold Knight is represented by portraits of the wild-haired Phyllis Yglesias, carving a wooden
toy, and of fellow artist, Robert Hughes, drinking a pint of beer.
Alfred Munnings is represented by six works. Cows watering in a stream (Munnings Art Museum, Dedham - above) is one of a series of paintings that he did after buying for £14 a cow with distinctive black, white and dun markings. This was looked after by the Hosking family of Hosking's Mill and was trained to be led on a halter by the pub landlord, Nick Jory. Munnings found that, when he led it down to the Lamorna stream, other cows from the herd would follow, and he commented in his autobiography, "A pleasant way of life, painting to the music of water running over stones and pebbles; the high sunlight piercing the foliage, flashing on leaf and stalk - throwing pools of light on transparent, rippling, sandy shallows. What colour there was in the running water, the reflections, the sunlit ripples; what subtle blue passages in the shadowed current!". His other major work in the show is Country Races : The Start (RA 1915) (Walker Art Gallery, Liverpool). It is clear that a visit to St Buryan Races was a fixture in the calendar of the artistic community and this is Munnings' first depiction of a start of a race. Forbes student, Fryn Tennyson Jesse, recorded in her 1908 Diary, "To describe Buryan races - how I loved them!...It was all so exactly like the things that one had read in books about racing -the noise, the crowds, the horsey-looking men, the smell of trodden turf and orange peel, the slim little jockeys in their bright jackets and peaked caps with the curious, dark ferret-like faces beneath - it was all delicious."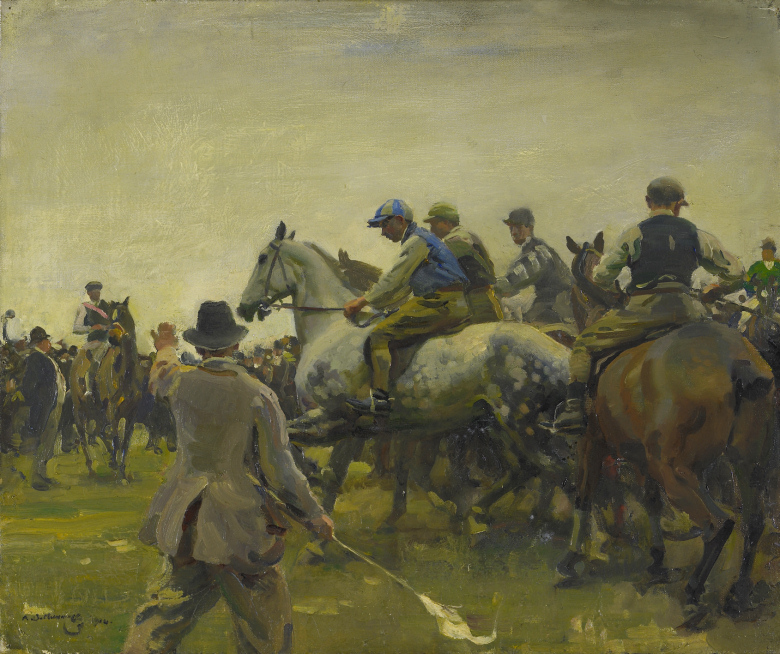 Alfred Munnings 'Start of St Buryan Races' Walker Art Gallery
Munnings is also represented by his much loved Sausage Supper, given to Gilbert Evans, when Evans had rescued a barbeque in Trevelloe Wood by cycling into Newlyn on Palm Sunday to acquire some sausages off a disgruntled butcher, his sketches for a Concert at Trewarveneth in January 1912 and for a New Year's Eve Dinner thrown at the end of 1912 and by his sketch of Hannah Gluckstein, who insisted on being called just Gluck, done in 1916 - one of the only images of her showing her with long hair and wearing a skirt.
In April 1907, Elizabeth Forbes took a group of her students to stay at 'Boleigh Farm', Lamorna, for a month and many developed a love of the Valley. The following year, Eunice Shaw and her children, Dod (later Procter) and Gerard, moved to 'Oakhill Cottage', Lamorna and the exhibition includes Dod's depiction of that cottage and Elizabeth Forbes'
portrait of Cicely Jesse, whom her cousin, Fryn Tennyson Jesse, records as staying there whilst working in Lamorna in September 1908.
Other works from the pre-WW1 era featured are an attractive coastal scene (Royal Cornwall Museum, Truro) by Benji
Leader, the son of Academician, Benjamin Williams Leader, who was killed in WW1, a depiction of Lamorna Cove from 1907 by the famous American marine painter, Frederick Judd Waugh (Penlee House Gallery) and two portraits by Madge Fawkes, a Forbes student who was a key figure in the Lamorna community in the years 1912-4. One of these is of Florence Munnings - which was only discovered recently hidden behind another portrait by Fawkes by the family of local land agent, Gilbert Evans. Evans clearly was very close to Florence but felt the need to hide this portrait. It seems to be the Munningses, Evans and Fawkes who were largely responsible for the Lamorna Alphabet of 1912, on view in
a display case.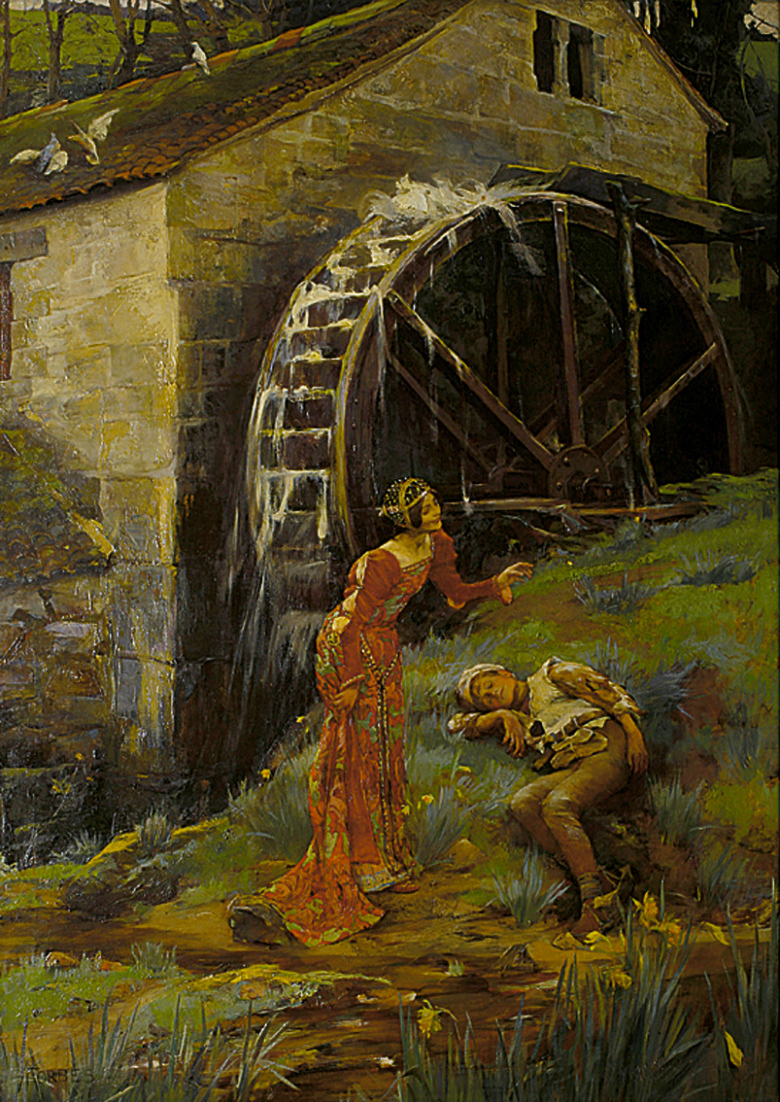 Elizabeth Forbes 'A Dream Princess' Royal Institute of Cornwall
There are a number of paintings from Lamorna Birch's heyday featuring different aspects of the Valley - several of which have not been shown previously at Penlee House. In the 1920s, Frank Heath came to prominence, and he is represented not only by A Summer Afternoon at Lamorna, showing his daughters Aileen and Nancy on the Lamorna cliffs (the poster image), but also by The Little Maid - one of his depictions of his daughters in his home, 'Menwinnion', of whose interior decor and design he was clearly proud. Stanley Gardiner, who settled in 'Lily Cottage', Lamorna in 1922 and who became Birch's studio assistant, is represented by April Morning, a depiction of the Lamorna Stream from 1927, which shows Birch's influence. There are also included an example of his vibrant still lifes, Sun Daisies (RA 1942), and a depiction of Lamorna Quay, probably from the early 1950s as it has been damaged in a storm. Naturally, Penlee's vibrant full size portrait of Stanley Gardiner Painting by Richard 'Seal' Weatherby is also included and once again is a stand-out piece. Robert Hughes is represented by some of his virile coastal scenes, whilst there are a selection of the etchings and watercolours of tree-girt ancient Cornish homesteads, such as 'Trewoofe', 'Hosking's Barn' and 'Boleigh Farm', done by his talented New Zealand wife, Eleanor.
Charles Simpson, who had two distinct spells based in Lamorna, is represented by Dying Light, Carn Barges (RA 1936) - his first success at the Academy for a decade after concentrating on equestrian painting, whilst Ruth Simpson is represented by her portrait of Ella Naper, recently bequeathed to Penlee Gallery by the sitter's great niece, Maryella Pigott, Charles Naper is represented by two of his depictions of the couple's hut at Dozmary Pool on Bodmin Moor, at which their Lamorna friends, such as the Knights, the Sidgwicks and the Harveys, enjoyed a back to nature existence. Some examples of Denys Law's depictions of the tree-lined stream complete the representational art section of the show.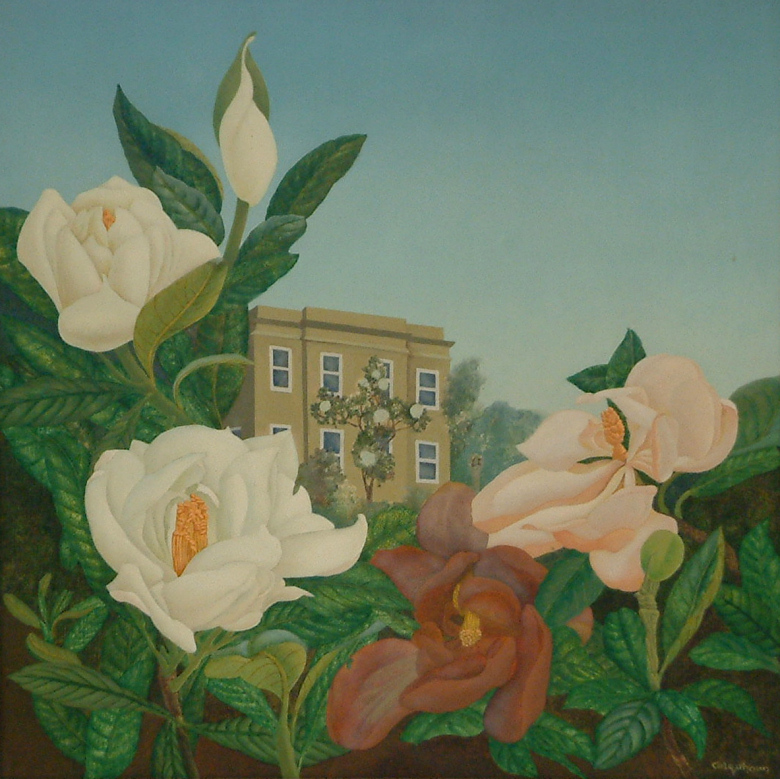 Ithell Colquhoun Morrab Magnolias 1956 Private Collection
The exhibition had hoped to showcase to a greater degree the work of the avant-garde artists associated with Lamorna,
particularly in the post-WW2 period, but numerous loan requests were unsuccessful. However, the final Gallery does
include work by John Tunnard and John Armstrong, as well as by the three trailblazing female artists Marlow Moss, Gluck and Ithell Colquhoun, who feature in the Tate's recent short film, Queer Cornwall (which can be viewed on YouTube).
Ella Naper was the colony's principal craftworker and examples of her jewellery, the enamels that she did with Laura Knight and her pottery are featured in a display case in the final gallery. This also contains pottery by Kate Westrup, who set up the first incarnation of the Lamorna Pottery with Ella in the early 1920s. The second incarnation of the Pottery was established in 1947 by Chris Ludlow and Derrick Wilshaw and there are a number of pieces showcasing the decorative skills of Ludlow, which were highly regarded at the time. There are also some examples of Tregurnow Pottery, which was established in 1965 by George and Margaret Smith, after they had worked for a while with Ludlow, and which they ran until 1999.
I often feel that the Lamorna colony does not gain the attention it deserves as the Lamorna artists tend to be classed
as among "the second generation of Newlyn artists". In fact, being five miles away from Newlyn without any public transport connection, it was a distinct community which needed to be largely self sufficient, and its cliff-girt Cove, its
mysterious woods and its tree-lined stream provided distinctive subject matter. Many of its artists enjoyed very successful
careers, not least Lamorna Birch who was still selling all his Royal Academy exhibits right up to his death in 1955, whilst Valentines, the printers, were producing each year 100,000 cards, 5,000 calendars and 5,000 other prints from Birch's
work alone. Furthermore, whilst the Knights and Munnings went on to receive many honours and accolades after they left Lamorna following WW1, it is their Lamorna period work that has set world record prices at auction. The fascinating collection of works that Penlee House has managed to gather together certainly support the comments made by Laura Knight and others that Lamorna then presented "a vista of paradise".
David Tovey's website is here www.stivesart.info. Also see 'interviews' for recent (and older) interview.