Groundwork pt one (May)
Rupert White
'A season of exhibitions and events by international artists in Cornwall'
The early weeks of the Groundwork programme were structured around a nucleus, or spine, of moving image works in four locations.
In the CAST building in Helston (below), which served as Groundwork HQ, a large downstairs room was carefully adapted to show Steve McQueen's 'Gravesend' (2007). Gravesend is an exquisitely crafted film that depicts the mining and processing of coltan, a mineral used in the manufacture of the Playstation. Far-removed from its hi-tech end product, we see workers in the Congo using simple hand tools and, indeed, their own wiry fingers, to forcibly prise it out of the rock.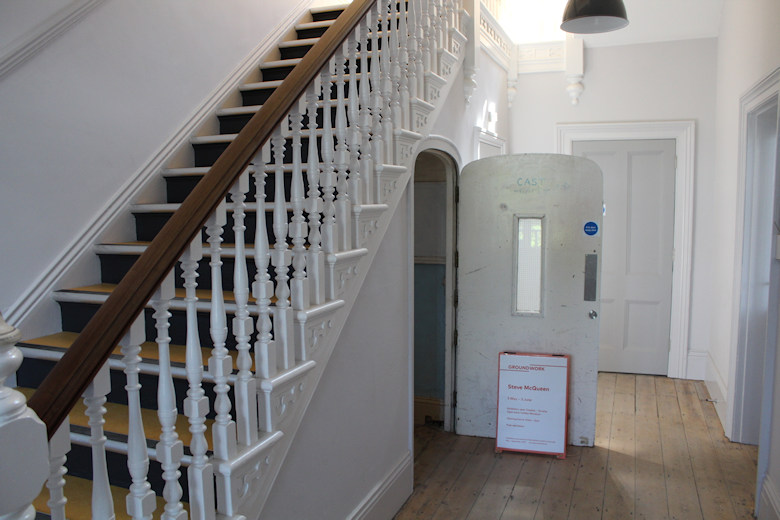 The texture of McQueen's film is unexpectedly broken up by digitally-manipulated sequences, including an animated image of the Thames at Gravesend itself which is where Joseph Conrad started his journey to 'The Heart of Darkness', but it is the soundtrack that lingers most strongly in the memory. The thunderous sound of rocks being struck, alternates with a nerve-jangling symphony of scratchy, scrabbling, rustling noises as their fragments are sorted and processed.
It is one of several pieces in the programme that, in a nod towards Cornwall's industrial heritage, take mining or geology as a theme, but inspired by Conrad's book McQueen's work also talks of colonisation and economic exploitation.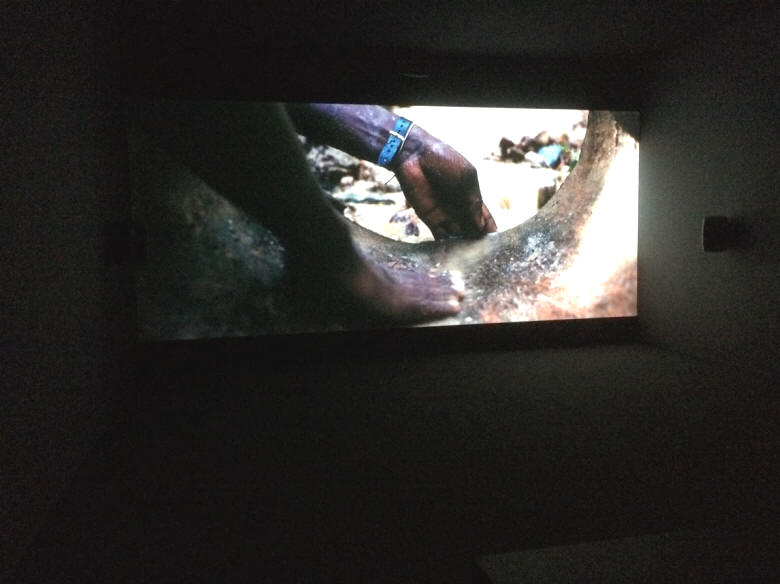 In Helston Gravesend was paired with the more enigmatic, and rather haunting, shorter film, 'Unexploded' (2007) which is a depiction of a war-damaged building in Iraq containing an unexploded American bomb. Made using super-8 whilst McQueen was working as an official war artist, it played on a monitor outside the main space.
Next door to CAST, the Helston Folk Museum is probably one of the only civic buildings in the country built on the side of a hill such that its floor slopes at the same startling gradient. It's a treasure trove of knick-knacks, and many of the exhibits celebrate vocations now extinct. This includes, for example, the lathes of the serpentine workers that once made lamp stands and ornaments out of the soft, soapy green rock of the Lizard.
More informal than McQueen's installation, Sean Lynch's video Latoon (2015) (picture below) looked very much at home here , especially on the first weekend of May as the town of Helston prepared for its ancient Flora Day celebrations. If magic is producing change in accordance with the will, then the documentary-like quality of Latoon demonstrates it in action, after a motorway in contemporary Ireland was moved, at great expense, to avoid a tree sacred to the 'faery folk'. It's a brilliantly succinct work, reminiscent of WB Yeats' deeply romantic 'Celtic Twilight'. It's also one that seems to divides audiences with Maria Walsh, the Art Monthly reviewer, for example, being concerned by the film's portrayal of the Irish as 'quaintly superstitious'.
Lynch was also showing the less controversial but more ambiguous film 'What is an Apparatus?' (2017) in a room at the top of the museum.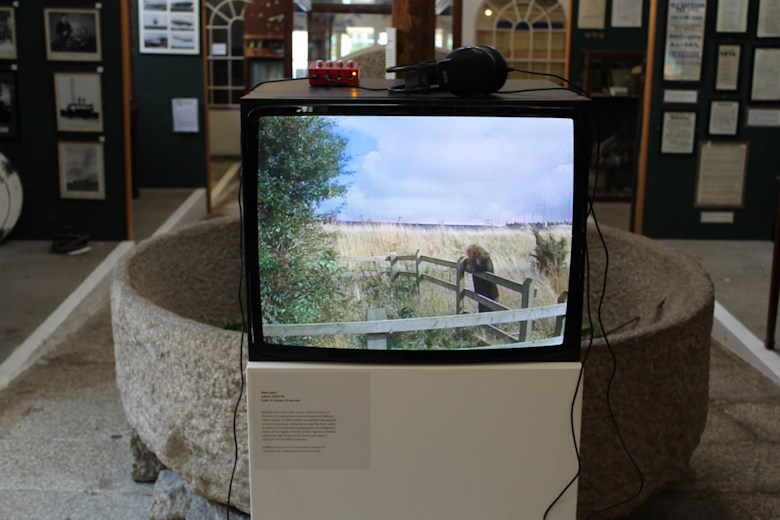 At Goonhilly Earth Station, literally in the shadow of Arthur, the largest of the satellite dishes, a light industrial building that was once a battery store was temporarily refashioned as a cinema. Semiconductor had been newly commissioned to make a 13.5 minute film using footage they'd filmed at the site. As the World Turns (2018 - below), with its poetic spoken soundtrack and musical score, is largely a nostalgic record of Goonhilly's gradual demise, as what was once a state-of-the-art telecommunications centre degrades and becomes recolonised by nature, by budlea plants and bees.
The Semiconductor work was paired with Simon Starling's 'Black Stop' (2012), a longer and rather more austere black and white film inspired by the life and work of the astronomer Jules Janssen.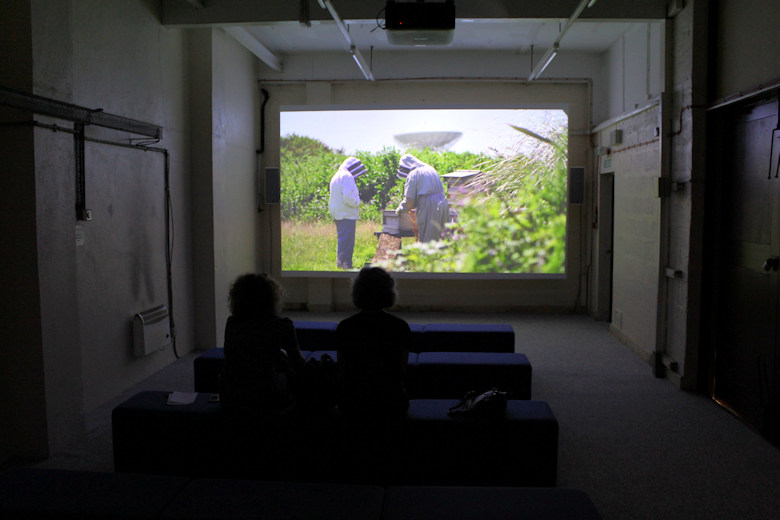 Twenty or so miles north of Goonhilly lies Godolphin House. Apparently they film Rosamund Pilcher novels here for German TV, and though built on the proceeds of early mining wealth in the 1600s, Godolphin is not one of those flashy, ostentatious stately homes. It is more down-to-earth than that, and being age-worn and weather-beaten, it seems to grow out of the ground as naturally as the Cornish bluebells that surround it.
Christina Mackie's contribution to Groundwork, 'The Judges II' (2012 - below) was spread out like a Jacobean banquet on a set of tables in Godolphin's 'King's Room' (so called because Charles II slept there whilst on the run from the Parliamentarians). Mackie retained a large 17c table in the centre of her installation, in this iteration of a work inspired originally by a trip to visit a volcano in New South Wales, Australia. In Mackie's installation there is a frisson between the objective rigour of documentary photos and text, and more free-form hand-made objects. Yet it too is strangely filmic: a succession of images greet the eye as you move around it.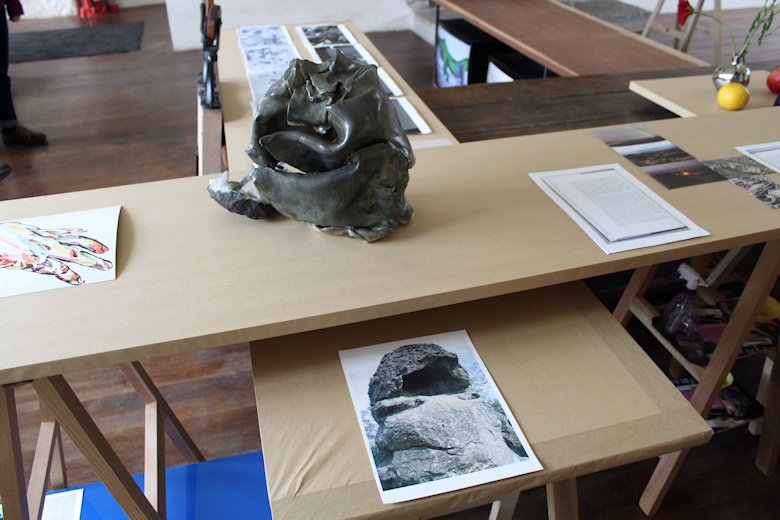 During this, the first month of the programme, workshops, talks and more transient works by Adam Chodzko, Andy Holden, Jose Roca and Abel Rodriguez were also enjoyed by many.
https://groundwork.art/. See 'exhibitions' for more installation photographs, and features for Sean Lynch's essay on Latoon.