Laura Knight: Representations of Women
Helen Hoyle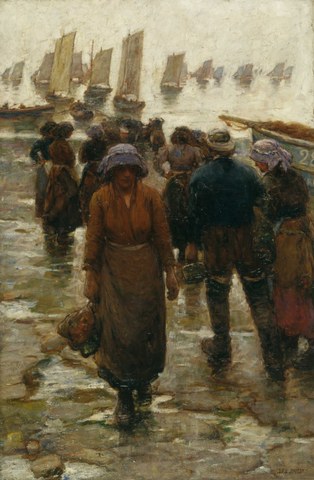 The early life of the painter Laura Knight was dominated by adversity and overshadowed by tragedy. Her father abandoned the family shortly before Laura's birth in 1877, leaving her mother struggling to support three young daughters. Both her sisters were sickly, and when Laura was 12 her middle sister died. Two years later her mother died from cancer, and she found herself having to provide for herself and her remaining sibling. Laura somehow took over her mother's job as an art teacher, convincing the authorities that she was older than she was.

Shortly afterwards she gained a place to study at Nottingham School of Art. Here female students were denied access to nude models, having to make studies instead from plaster casts. Reflecting on this in later life, Laura felt that this restriction had hampered her progress. It was at art school that she met her future husband, Harold. He was five years her senior and Laura, greatly in awe of his technique, used to peer over his shoulder as he worked, rather to his annoyance. Harold was very different in temperament from Laura. While she was gregarious and outspoken, his emotions were inhibited by a strict Victorian upbringing. This shy and introverted man was a deep thinker who advocated the cause of pacifism.

After their marriage the couple moved to Staithes on the Yorkshire coast where they involved themselves in the fishing community, whose precarious way of life was permeated by tragedy. Their Staithes paintings documented the harsh lives of the fisher folk. Laura's portrayals of women and children seemed to hint at nostalgia for the lost world of her childhood, which had been abruptly cut short.

In 1907 they decided to move to the south west. For them, the contrast between the coasts of Yorkshire and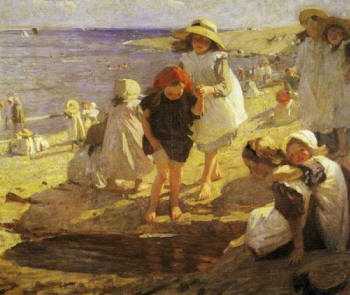 Cornwall could scarcely have been more dramatic. Here the sun sparkled on an aquamarine sea bathed in light. Laura had shouldered enormous responsibility from a young age and had struggled through early adulthood to forge her career. Newlyn represented a carefree way of life in which she could relax in the company of like-minded friends and fellow-artists. Cornwall's mild climate enabled her to work out of doors, which she took to with enthusiasm. She became accustomed to dragging large unwieldy canvases across hostile terrain in order to obtain the perfect vantage point from which to work. Newlyn had become a popular holiday destination and her paintings now reflected this lighter mood, with the sea forming a backdrop to scenes of children playing on the beach, splashing about in the water or exploring rock pools.

But I believe that it is in her representations of women that Laura Knight's best work is to be found. 'Self and Nude' is probably her most well-known painting, and the relationship between the women depicted in this work was far from conventional. In 1913 the Knights, who had no children, moved away from Newlyn to the secluded Lamorna valley. Here they made a number of close friendships, in particular with their neighbours, Ella and Charles Naper. Ella was a ceramicist and maker of exquisite jewellery, and the two women collaborated on enamelling projects. Laura and Harold had drifted apart emotionally and Harold fell in love with Ella, though there is no evidence of marital infidelity. Laura encouraged the relationship as it made Harold easier to live with. Furthermore, she was attracted to Ella's beauty and gained emotional sustenance from their friendship. In her autobiography Laura described Ella as 'an adorably lovely slim creature, brown as a berry'. The Napers had a hut on Bodmin Moor which provided a retreat where they would relax away from social pressures. Often they were accompanied by close friends such as the Knights, where they would enjoy a bohemian existence, swimming, sketching and taking photographs.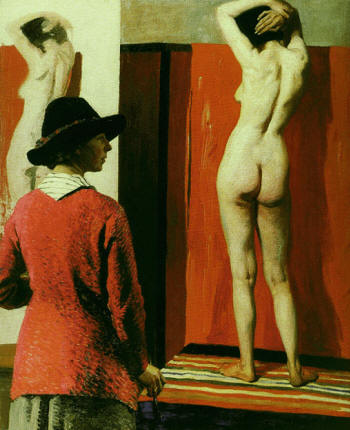 'Self and Nude' (left) represents a seminal moment in the career of a painter at the height of her powers – a woman confident enough to risk scandal by encroaching on the territory of male artistic creativity. She was perhaps aware that the world was on the brink of a tumultuous upheaval which would, in the longer term, herald a new era for the status of women.
The First World War abruptly changed the lives of the Cornish artistic community. Many young men volunteered for the trenches. But Harold Knight suffered from poor health, and would have been eligible for exemption from active service. Despite Laura's pleading, he refused to undergo a medical examination. Instead, he declared that he was a conscientious objector, in the full knowledge that he would be subjected to a harsh regime of working on the land for the duration of the war. Laura was furious and it is said that she never forgave him for this. The tough manual labour affected him physically and mentally, and he was unable to paint. Those in the local community who had lost fathers, husbands or sons during the conflict felt betrayed by Harold's stance.

The Knights left Cornwall in 1919 to begin a new life in London. Harold resuscitated his career, becoming a successful portrait painter, while Laura developed a passion for theatre and ballet. A divergence of interests was probably inevitable in such an ill-matched couple. Harold would never be drawn into discussing painting with his wife. He rarely expressed an opinion on the calibre of Laura's work, possibly because he felt threatened by her talent. They never again lived in Cornwall though Laura often returned, maintaining a close and life-long friendship with Ella Naper.

Sketches and portraits of performers backstage predominate in her work of the 1920s. Her relationships with members of the circus suggested an affinity with those living on the margins of society. Determined to record every aspect of travelling circus life, Laura accompanied her friends on tour, adding considerably to her portfolio.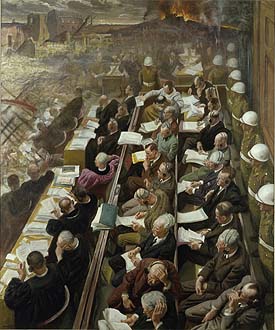 The high point of her career was her election in 1936, aged 59, as a full member of the Royal Academy. Laura was only the third woman in history to attain this honour. This was an extraordinary achievement: even today, only 10% of RAs are women. By this time she had abandoned her exploration of the female nude in favour of less controversial subjects, in keeping with her status as an establishment figure. Her high profile continued through the years of the Second World War, culminating in a post-war commission to record the defendants in the Nuremberg Trials of 1946. The result was 'The Dock (right)', testament to the painter's determination and courage, living through several months in a city suffering from devastation on an apocalyptic scale.

Harold died in 1961. Now 84, Laura continued working and in 1965 was rewarded with a major retrospective exhibition at the Royal Academy. By now she was arguably Britain's best-known woman artist, and continued to paint until her death in 1970, at the age of 93. Representational painting had become a spent force in a post-modern world, and Laura's work became virtually forgotten. However, towards the end of the twentieth century she attracted the attention of feminist art historians who recognised that some of her images manifested a struggle to assert her position as a female artist on her own terms. Laura's representations of women continue to play a role in feminist art historical debates.

It is difficult to ascertain what Laura really thought about 'Self and Nude'. There is no mention of it in her autobiography of 1936, 'Oil Paint and Grease Paint'. Perhaps her reticence on the subject reflected an unwillingness to engage with emotions associated with memories of her early married life. 'Self and Nude' was purchased by the National Portrait Gallery and this iconic painting remains one of its most popular works.
Helen Hoyle's blog is at http://cornishmuse.blogspot.com