Venice Biennale 2009 Part 2: The Arsenale
Rupert White visits the Arsenale in Venice, 2009.
The Venice Biennale is the oldest of the art Biennales, having been first held in 1895. The Arsenale, location of the old dockyards, is a newer addition as a venue and for a number of years it housed the 'Aperto'. The main exhibition space is a long brick-built warehouse lined with thick pillars and, this year at least, little or no natural light, providing space for the more theatrical part of the Birnbaum-curated 'Making Worlds' show.
At the entrance to the Arsenale exhibition is the highlight of this year's Biennale with two works by two historically important artists, one associated with Brazilian neo-concretism the other with Arte Povera, juxtaposed to great effect. Dim lighting tenderly picks out the golden threads of Lygia Pape's installation, running miraculously like shafts of light from floor to ceiling. Entering Michelangelo Pistoletto's hall of twenty two shattered mirrors subsequently, the bright spotlights seem all the more glaring and the effect is startling and profound. If Pape's work symbolises the dawn of creation, Pistoletto's seems to symbolise the end of civilisation, or some other uniquely iconoclastic or revolutionary moment.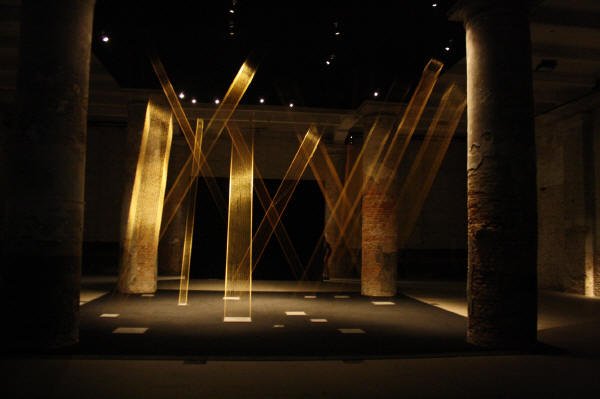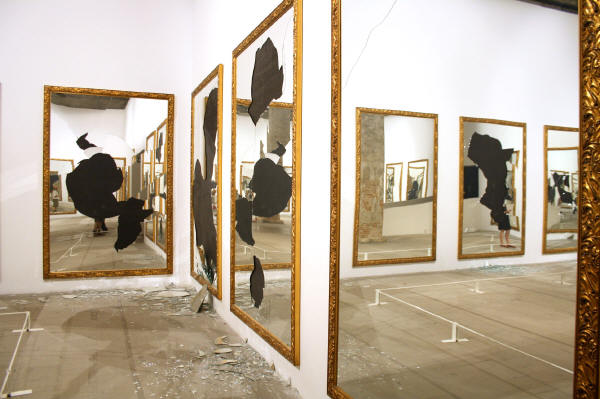 Other juxtapositions are less kind. Richard Wentworth's work looks just right in the Giardini, but here his walking sticks suspended on little glass shelves seem meagre and even pedantic next to the ebulliant and noisy installation by Pascale Marthine Tayou (picture below top), in which the architecture of an African village is recreated with small huts on stilts, projected videos and child-sized figurines.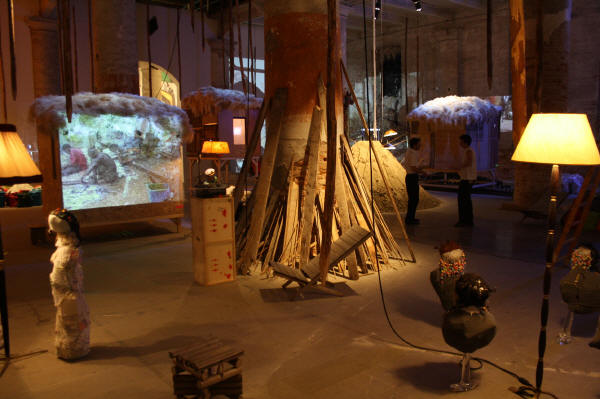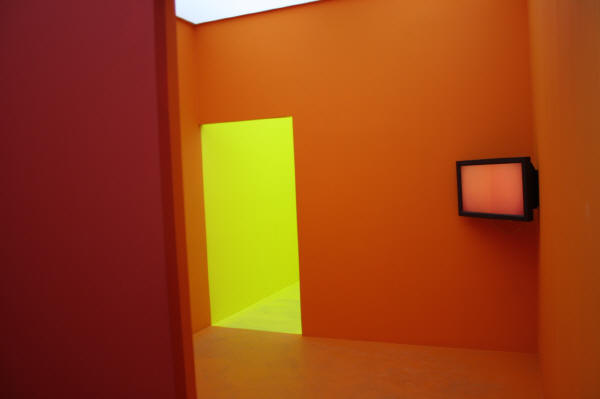 Other striking works further down include Cildo Merieles installation of 6 different coloured rooms (above), and a work by Jorge Otero-Palos which is a latex impression of the wall of the Doge's Palace in Venice, complete with a layer of dust.
The curation is more favourable to another British artist, Ceal Floyer whose projection of a bonsai tree looks back down the length of the exhibition space. Called 'Overgrowth' it returns the overmanicured plant to a size one would normally expect a tree to be. Videos nearby by Joan Jonas and Keren Cytter require the visitor to linger longer than most appear to wish, but beyond them are two more memorable rooms, the first containing extraordinary squid-like objects by Huang Yong Ping, and elegant light-works by Spencer Finch (picture below top). The other room of note is in a smaller separate building filled with strange chandeliers by Pae White (picture below bottom).