Joan the Wad and the Pixies
Paz Lenchantin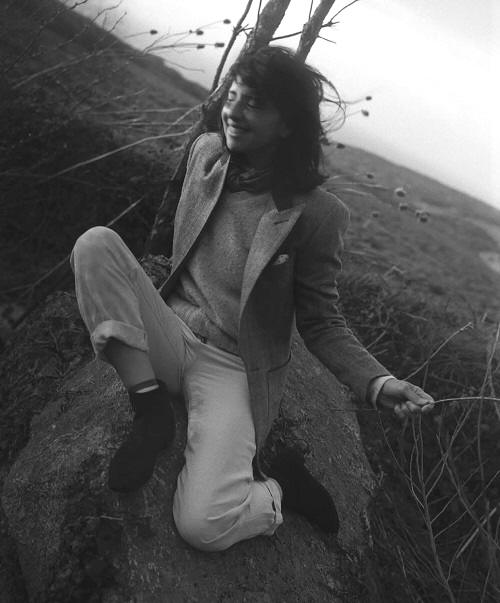 When Rupert White asked me to write the foreword for 'Magic & Modernism', it was an affirmation that the Cornish creatures called 'piskeys' still flicker their lanterns and light our way.
Rupert and I met on April 1st 2023 on a rainy afternoon at his residence in Cornwall. I drove out to see him with only a day left before my flight back to California, making this only my second visit to Cornwall in 10 years.
The first trip was in 2014, just months after my start with the legendary Pixies. The band had asked me to go on a world tour which started January 10th in the US, replacing bassist/singer Kim Deal who had unexpectedly quit. Unflinchingly, I accepted the offer and committed to the tour dates which included most countries in every continent around the world.
It was a transitional period for all of us Pixies, and transitions beckon signs to help validate our choices. Before committing myself fully I needed to know that these 'Gigantic' pixie-shoes I was being asked to fill were indeed the right fit.
That summer, on July 9th, during our UK/EU tour, Pixies were scheduled to perform at the Eden Sessions at the Eden Project. This was the band's first time in Cornwall. As we crossed the Tamar River Bridge I can remember Black Francis saying: 'We have arrived at our next beehive'.
Disheveled and disoriented, Pixies and crew exited our dimly-lit tour bus into a brightly lit day at Fowey Hall Hotel. Fowey Hall sits overlooking the Celtic sea with views over the river mouth. It was the setting for classic children's book 'The Wind in the Willows' by Kenneth Grahame.
Toad, Mole, Rat and Badger embodied the timeless scenery which sprinkled Pixie dust on my expedition, later that day, around the idyllic fisherman's town of Polperro. I wandered through the narrow cobbled streets that led down to an antique shop full of Cornish treasures. I purchased a mysterious brass charm of a naked figure no larger than my thumb with writing above her that reads 'Joan the Wad' and then made my way back to Fowey Hall.
After the Eden Session concert at the Eden Project I climbed back up into my bunk in the bus and began researching the mysterious 'Joan the Wad, Queen of the Piskeys!' The word 'Pixies' derives from the Cornish word 'piskeys' which made all of this too serendipitous to ignore. It seemed to be the sign I was looking for. Soon after I became a permanent member of the Pixies and we have been prospering since.
Joan the Wad paved many paths connecting me to Rupert. His article 'This Charming Man: FT Nettleinghame and his Piskey Empire' took me to his book 'The Re-enchanted Landscape' which introduced me to surrealist/occultist Ithell Colquhoun, and finally led me back to Cornwall and to this new book, in which Joan, Nettleinghame and Colquhoun, as well as Kenneth Grahame, all make welcome appearances again.
It's safe to say, I have been 'piskey-led'.
Photo by Jack Whitefield is of Paz Lenchantin in Zennor, 2023
'Magic and Modernism: Art from Cornwall in Context 1800-1950' is available on Amazon. https://amzn.eu/d/bCY5S9l
1.8.2023