Cornish Gothic today: Mark Jenkin's Enys Men

Rupert White



Mark Jenkin is now a filmmaker with a reputation. 'Bait' , for which he was awarded a BAFTA, has received a tsunami of positive reviews from around the globe, and currently has an impeccable 100% on 'Rotten Tomatoes'. So successful was it that audiences are, of course, now attending screenings of his follow-up film, Enys Men, with huge expectations.
Bait's success came from the way Jenkin combined formal and technical innovations with tight, plot driven story-telling, and Enys Men, which was filmed between coronavirus lockdowns, is similar. It was shot with the same 16mm wind-up camera, and uses post-synched sound in the same way. The female and male leads are played by the same actors (Mary Woodbine and Ed Rowe respectively) and, of course, it's also filmed in Cornwall. But Enys Men does not have a plot in the same way as Bait, or at least there is no narrative arc, no character development, and no simple beginning, middle and end. Instead the story jumps about in a way that is deliberately disorientating. Time itself is fractured, and memories, history and future events all seem to bleed back into the present.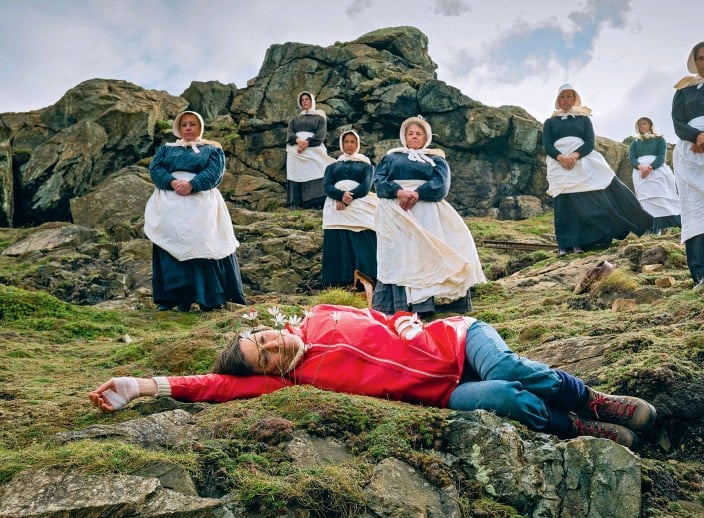 The film opens with a wildlife volunteer, living alone on an island, locked into a simple daily routine. She repeatedly visits a cluster of preternatural white flowers, notes their soil temperature, throws a rock down a mineshaft, and walks past an isolated standing stone, before returning to her run-down cliff top cottage. After a while, though, she starts seeing figures in the landscape, standing as silent as the megalith itself. Men wearing traditional cork lifejackets, a teenaged girl on the roof of the house, and a Victorian preacher clutching a bible. Is she hallucinating? What is going on exactly?
Because she is alone, there is no dialogue, but other details come into focus and simple objects become symbols freighted with meaning. You notice that she is making tea with a 'Seven Maids' dried milk brand, then later seven bal maidens appear on the cliff side (picture above). The number seven turns out to be a recurring motif: there are seven petals on seven flowers, seven singing children carrying seven sprigs of May blossom, seven miners in the damp shadows of the mine, and seven lifeboat men.
The puzzle does not stop there, however. At one point the volunteer finds the remains of a boat in the rocks. Some lettering is visible which spells 'oven', and looks like a fragment of 'Govenek', the name of the supply boat that comes to the island. Meanwhile lichen starts to appear on her body; on a scar that runs across her stomach. She doesn't seem particularly concerned. Nor is she unduly bothered by the other apparitions. She is aware she is not alone, at one point saying as much on the short wave radio. Although somewhat bemused she seems to quite enjoy the company of the ghostly visions around her.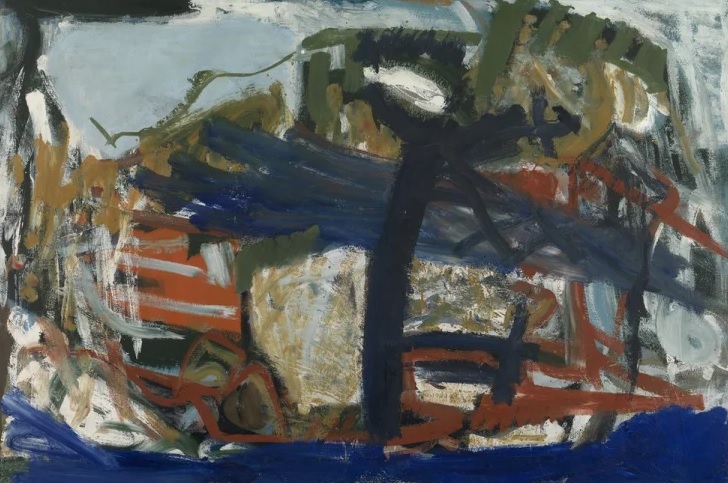 Indeed Enys Men is most easily thought of as a ghost story in which the ghosts are essentially benign. They are, in fact, our ancestors who live on in the landscape around us, so rather than being frightening, their presence is strangely reassuring. But the film will haunt you long after you have left the cinema especially when you learn, as I did at the director's Q & A, that the mine stack used for the location filming is Wheal Owles, where in 1893 there was a mining disaster in which scores of men were killed; their bodies left deep in the collapsed mine. Interestingly, in the 1950s this was the subject of an abstract painting by Peter Lanyon (above).
Other location details help make sense of the film. Boswens stone, used in the film and in the publicity, is sited a couple of miles inland from Wheal Owles, near Sancreed, whilst the empty harbour we see is Mullion. Ironically, however, the island in the opening frames of the film is not in Cornwall. It is actually Skomer in South West Wales.
Despite this, the depiction of the Duchy resonates strongly. The lichen, and other details of the natural world, are, in that typically Cornish way, juxtaposed with the remains of industry - bits of rusty iron and even a stretch of railway track - which litter the landscape. There is little genuine Cornish folklore in the film, but the legacy of mining and sea-faring communities are explored, and there are other interesting Cornish references that are easily missed. We see the volunteer in her kitchen listening to Brenda Wootton's 'The Bristol Christ', a suitably mournful piece, for example. She is also reading 'Blueprint for Survival' which, as a founding document of the green movement was published in 1973 by Teddy Goldsmith and The Ecologist team at the time they were based in Wadebridge. Enys Men also incorporates Cornish language into some of its signage - its title meaning Stone Island - and has a theme song ('May Song') by Gwenno. It even taps into the contemporary revival of interest in sacred sites and standing stones. Denzil Monk, the producer is a proud member of 'Stone Club', the artist group that recently toured with Gwenno (picture below).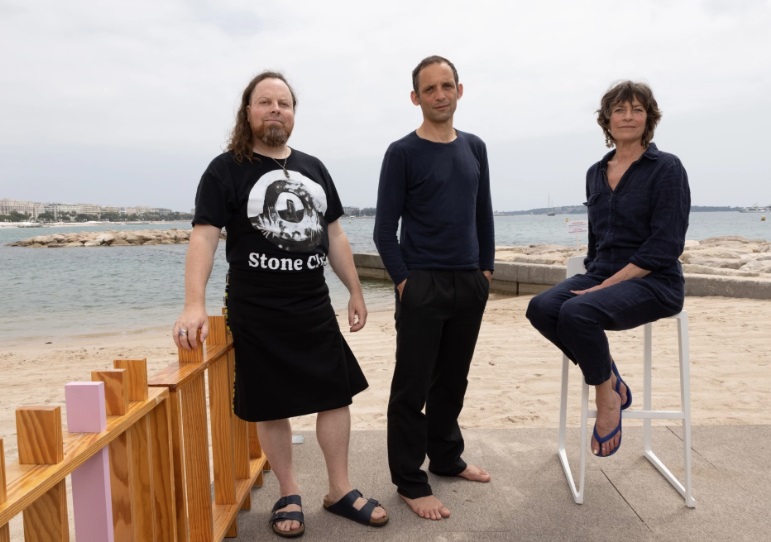 Enys Men has been badged as folk horror, but there is another term that helps describe it. Daphne Du Maurier's writing - which has similar supernatural elements and inspired films like Hitchcock's 'The Birds' - is sometimes referred to as 'Cornish Gothic' (a concept that Ruth Heholt and Tanya Krzywinska have explored in their recent book Gothic Kernow). Cornish Gothic, like Enys Men, is typically set against the sublime terror of cliffs and mineshafts: something depicted by J.M.W. Turner and other artists of the early 19th century, and exploited in Hammer horror's 'The Reptile' and 'Plague of the Zombies'.
If Bait was largely about contemporary Cornwall, and its politics and culture, Enys Men is a poetic reflection on its history and its landscape. It is equally insightful and valuable, equally original and important, but unlike Bait it will probably never appeal to mainstream audiences. In this sense, I suspect it will have a slow burn impact, perhaps not unlike The Wicker Man, also of 1973, which took years to become established as the film icon it now is.

Enys Men premiered at Cannes (see picture above) and, in the UK, at the London Film Festival last year. It is currently (January 2023) showing in Cornwall before touring across the UK. Also see interviews with Gwenno, Adam Scovell, and with Paul Bunyard of The Ecologist.
5.1.23