Give Un Fitz!
Rupert White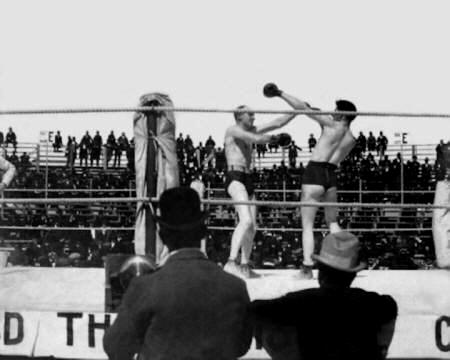 The son of a policeman, Bob Fitzsimmons was born in Helston in 1863. He emigrated to New Zealand several years later, and after working as a blacksmith, became a boxer. With a huge punch and a fearsome reputation, he toured Australia and America, and went on to become World Champion in both Middle and Heavyweight divisions.
A heroic 'rags to riches' story, Fitzsimmons' life is now the subject of 'Give Un Fitz! The Ballad of Bob Fitzsimmons', a new play by Alan M. Kent, performed in Fitz's home town by Gwary Teg Theatre, directed by Jason Squibb.
Kent ensures that issues of Cornish identity are prominent in the play, as they are in all his work. In this case the experience of a Cornishman that leaves home to find fame and fortune is emphasized. We hear English spoken in many different accents, as Fitz travels to different parts of the world, and in many of them, particularly New Zealand, Australia and California, we learn of Cousin Jacks (or other Cornish men and women) who have emigrated as a result of the collapse of the mining industry in Cornwall. The idea of the Cornish Diaspora, and of the migrant Cornish, is thus written into the narrative in a subtle but insistent way.
The role that the media increasingly had in the late 19th century is also acknowledged, with the main action intercut with scenes in Helston (including the ancient Blue Anchor pub) where newspaper stories of Fitz's exploits are debated by two amusingly monosyllabic local men. The sense that, thanks to the mass media, the world is becoming more interconnected, is also reinforced by postcards and photography from the period which are projected on a screen at the back of the stage, in lieu of props and scenery. Together they provide an interesting running commentary, or second narrative, that runs alongside the main one. At one point sections from a film made in 1897 of one of Fitz's most famous fights, against James J. Corbett are shown. At over 100 minutes long, it was, at the time, the longest film ever made.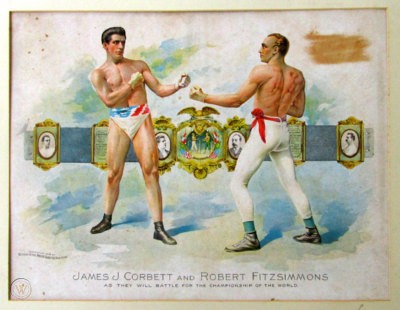 Fitz himself is played by Adam Trembath, who portrays him sympathetically, as sincere, gentle and likable. With his soft Cornish accent, Fitz comes across as more Frank Bruno than Mike Tyson, despite actually killing an opponent in one of his bouts. This, together with a troubled private life (four marriages and apparent gambling problems) suggests, despite his fame, Fitz was a rather tragic figure.
Stories about our towns and their people, heroic or not, help create community, value and meaning. If they are not told they are forgotten. Whilst the Cornish have a strong sense of identity, it tends to revolve around a set repertoire of symbols and icons, that can become outdated or overused. 'Have Un Fitz!' offers another approach to understanding and celebrating identity, one that is based on a more complex narrative, at a time when migrants - this time the Tory Rwanda policy - are, unfortunately, again in the news.
To say that Fitz has been forgotten in Helston would be wide of the mark, however. There is a blue plaque marking the birthplace of Bob Fitzsimmons, and a few doors down from the performance space is the Blue Anchor Pub, as mentioned in the play. There, taking pride of place on the wall, is a print (in fact the one above) of Fitz fighting Corbett...
'Give Un Fitz!' was at the Epworth Centre 18-24th April, 2022
29.4.22