Blue Tiger: Mary Butts in Cornwall
Rupert White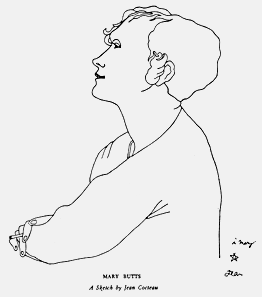 Mary Butts (1890 - 1937) came to live in Sennen in January 1932, initially staying in a rented bungalow. The night she arrived she wrote: The sea is like a blue tiger lying on its side, stretching out a paw… The first-night's walk, the full moon rising, shining through the wheels of the keltic crosses in St Sennen's churchyard. I think with Montague [M. R.] James that there are things about in Cornwall at night that are better not talked about (Blondel, 1998).
As well as being a highly regarded modernist author, Mary Butts was a spiritual 'seeker' whose life intersected with many others linked to Cornwall. She was friendly with numerous artists, and had her portrait painted by Nina Hamnett (in 1917), Roger Fry (in 1918), Cedric Morris (in 1924), and Jean Cocteau (in 1926 - picture right). She also knew composer Philip Heseltine (aka Peter Warlock), and claimed that, in 1919, 'he induced me into the study of magic'.
This interest was encouraged by the ill-fated Cecil Maitland, with whom she had an affair. Maitland also, it seems, introduced her to opium-smoking. In Paris, in 1921, Butts and Maitland became acquainted with Alistair Crowley via Nina Hamnett. They met on several occasions, with Crowley encouraging Butts' experiments in astral journeying. Then on 11th March Butts was inducted into the A∴A∴ noting, simply: Aleister Crowley. 1st degree of initiation.
In late June 1921 Butts and Maitland went to Cefalù, Sicily, staying with Crowley in his infamous Abbey of Thelema. As well as participating in extravagant ceremonies, like the ritual sacrifice of a black cockerel, Butts practiced yoga, meditated, worked on her first novel 'Ashe of Rings' and critiqued Crowley's draft of 'Magick in Theory and Practice' . At the Abbey various drugs - hashish, cocaine and opium - were in plentiful supply, and Butts returned to England in September more enlightened but more severely drug dependent.
Ever courting notoriety, in 1922 Crowley caricatured Butts in his fictional 'Diary of a Drug Fiend'. He based the novel's protagonist, Peter Pendragon, on Maitland, but Butts also appears as a lesser character described as 'a fat, bold, red-headed slut…pompous, pretentious, and stupid. She gave herself out as a great authority on literature; but all her knowledge was parrot, and her own attempts in that direction the most deplorably dreary drivel'.
Butts retaliated by going to the Sunday Express. Though she is not named, much in the article of November 26th was taken from her testimony: The story of the bestial orgies conducted by Aleister Crowley in Sicily… was related yesterday to a Sunday Express representative by a woman who has just returned from this place to London.
The orgies are carried on as mystic religious rites in an old farmhouse near the village of Cefalu, in Sicily. The main room of the house is windowless, with a flagged stone floor. On the floor is painted a great orange circle, lined with pale yellow. Inside the circle are interlaced black triangles. The room is lighted by candles.
A tripod, upheld by three little fauns, burns incense made of burnt goats' blood and honey. In a cupboard are heaps of little cakes, all made of goats' blood, honey, and grain, some raw, and some baked. The raw ones, gone bad, fill the room with their stench.
In this room are carried on unspeakable orgies, impossible of description. Suffice it to say that they are horrible beyond the misgivings of decent people...
In the early 1920s May Butts spent much time in Paris, socialising with HD and her lover Cecil Gray during the summer of 1921, for example. During this period Butts had short stories published, and after initially struggling to find a publisher, her 'Ashe of Rings' came out in 1925.
Butts first met Jean Cocteau in January 1926, when staying in Villefranche on the Cote D'Azur. Both were at the Hotel Welcome, and both had a dependency on opium, though at the time saw it as an aid to their creativity. They struck up an easy friendship and Cocteau provided illustrations for her 'Imaginary Letters' (1928 - picture above) and 'The Crystal Cabinet' (1937).
Butts even knew Christopher (Kit) Wood from her time in Paris , and was asked to write a tribute to him after his suicide in 1930: …We both came from the same part of England, the short turf & chalk hills which are like nothing else on earth. They sprawl across counties, & our history & the history of man is written on them in flint & bronze & leaf & grey stone. Written on very short grass full of small black & white snail-shells.
Mary Butts' subsequent years in Cornwall were undoubtedly happy, settled and productive. After six months in rented accommodation, Butts bought her own bungalow in Sennen and named it 'Tebel Vos' (or 'House of Magic'). In July 1932, as she was finishing the novel 'The Death of Felicity Taverner' she would say: These last weeks have been, no, are being the happiest in my life. A balance of all ways, focused round the new house & the home & in the life we are making.
Part of her contentment in Cornwall can be attributed to her discovery of the church at St Hilary, half an hour's drive from Sennen. Butts joined the community of souls centred on the church, having probably been introduced to Vicar Bernard Walke by her Sennen neighbours, the writers Ruth (1888-1988) and George Manning-Sanders (1884-1951). Butts would attend mass every Sunday, and would quite often have breakfast with the Walkes afterwards. She also became friendly with writer Frank Baker who was employed by Walke as the organist at St Hilary's, and later became a successful though now largely forgotten paperback writer (cf Newman, 2010).
Despite, in Sennen, being a close neighbour of Angus Davidson, editor at Hogarth Press, in 1936 Butts wrote an essay critical of the Bloomsbury Group. Though she was respectful of their achievements she, like T.S. Eliot, came to dislike their atheism, saying that they had 'a hole in their centre'.
Butts continued to use opiates in Cornwall, drinking poppy tea and preparing opium using the poppies that grew in her garden. She was also partial to a mysterious elixir called 'Champagne Wine Nerve Tonic' which she obtained from a herbalist in Penzance. Sadly, though, she died unexpectedly at the age of 46 of a perforated duodenal ulcer.
She remained on good terms with HD and Bryher, and Bryher published her collected essays shortly after her untimely death. Frank Baker and the Walkes subsequently moved to Mevagissey where they formed the nucleus of another community of writers and artists (cf Newman, 2010)


Main references: Nathalie Blondel (1998) Mary Butts Scenes from the Life; Paul Newman (2010) The Man who Unleashed the Birds