Between lockdowns: Rick Stein's Cornwall
Rupert White
Rick Stein is the most recognised and well-travelled of all UK TV-chefs but, probably because of coronavirus, his latest BBC2 series was set in his own back yard, here in Cornwall.
The series was filmed in autumn 2020, when restrictions were still lax, then screened during the third national lockdown when they had tightened again. This will be remembered as an acutely stressful and unsettling period, when rising case numbers and the first identified 'new variant' coincided with the disgusting denouement of the Trump presidency. At a time, then, prior to the 'vaccine roll-out', when it felt like the whole world was imploding, the series' simple optimism came as a welcome, reassuring balm and an antidote to 'stay at home, help the NHS, save lives'.
In it we see the idealised, nostalgic Cornwall that most of the world quickly recognises - that is Cornwall as a holiday destination - and each of the episodes follows a familiar formula. As he takes his Landrover to various unspoilt, picturesque parts of the Duchy, Rick reminisces about his life and demonstrates various recipes, in between sections interviewing local celebrities (especially writers and artists), chefs, and 'producers' (ie fishermen or farmers).
Four artists appear in the series. In bright sunlight overlooking the sea, Kurt Jackson walks with Rick down Kenidjack valley near Cape Cornwall. Lucy Stein, who is shown painting goddesses in John Wells' old studio in Newlyn, visits the magical Boscawen-Un stone circle. Abstract painter Antony Frost goes to the Barbara Hepworth museum and recounts the Terry-Frost-urinating-in-the-greenhouse story, whilst ceramicist Jack Doherty of Mousehole is filmed throwing delicate, but enormous, white porcelain pots.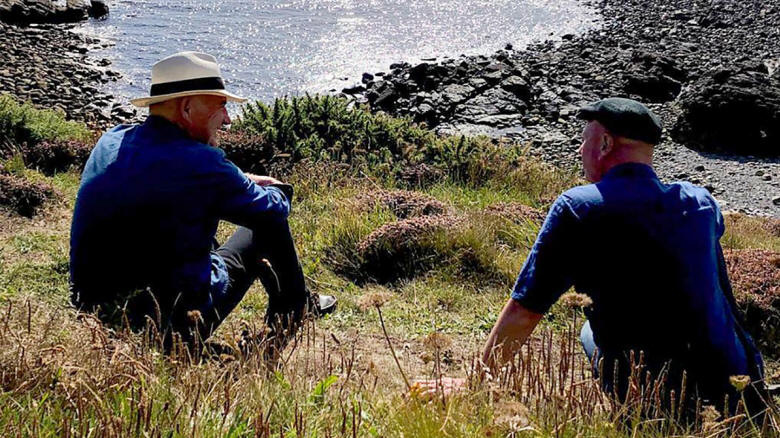 Socially distanced: Rick and Kurt Jackson near Cape Cornwall
Sadly none of them are given much of a chance to talk about their work. Many others of those interviewed are charming though. The elderly gardener, John Harris from Tresillian House, who features in a couple of the early episodes talking about his love of plants, stands out in particular. His Cornish accent is strong to a degree rarely heard these days, and in this sense he seems to embody a much older, more authentic Cornwall. Certainly more so than the likes of Philip Marsden, Patrick Gale, Dawn French and Tim Smit who, though perfectly engaging, were chosen primarily because they are recognisable to the metropolitan middle classes and those from outside Cornwall.
It's a long series, running to 15 episodes, and generally it seems to have been well received by local audiences. However Rick Stein has always tended to divide the Cornish. He owns restaurants and hotels across Cornwall, to the point where, as is well known, some people still refer to Padstow as 'Padstein'. A certain amount of negativity blew up in 2007 when a redevelopment in Padstow caused traffic congestion and bad feeling in the town, for example. There is the perception amongst some that, yes, Rick has helped bring recognition and work to Cornwall, but it is mainly in the tourist industry, which edges out other industries, and is servile, poorly paid and ultimately reliant on money coming from elsewhere.
In choosing to interview the owners of the elite Tresanton Hotel in St Mawes in episode 12 he was, to use a nautical metaphor, sailing close to the wind. St Mawes is almost all second homes now, and the Tresanton costly to a degree that makes it well out of the price bracket of most people who live in Cornwall. St Mawes, indeed, epitomises the gentrification process in Cornwall - as depicted in Mark Jenkin's 'Bait' - and so the episode undoubtedly touched nerves.
Fortunately the series bounced back strongly. In episode 13 Rick more than redeemed himself with visits to Tintagel and Camborne. A rousing chorus from Wagner's Tristan and Isolde was chosen to accompany scenes on the cliffs at the former location, and Rick was able to openly and sincerely discuss the poverty of the latter area, without labouring it in quite the way the none-the-less impressive Simon Reeve had done a month or so earlier. Indeed by interviewing two residents from Camborne in the dignified surroundings of the Methodist chapel there, Rick was able to capture, to a refreshing and poignant degree, much of their civic pride and dignity.
7.2.21