The artist as spectre: a personal response to 'The Horror Show!'
Rupert White
'The Horror Show!' at Somerset House has been
well-
received
,
with Jonathan Jones in the Guardian, for example, giving it a rare five
-
star
review
. Others, though, have been more sceptical. I came to it as a fan of British horror films, particularly of
'
The Wicker Man
'
era, but also as someone who knows of curators Iain Forsyth and Jane Pollard, having been one of the artists included in their mid-90's multiples project 'Words and Pictures'.
Entering the exhibition to the sound of Bauhaus' 'Bela Lugosi's Dead', I was transported back to
my youth
in mid-Cornwall when
stud
iously back-combed hair was a thing and my friends wore black
, with
whitened faces
and
eyeliner
,
when they went out.
Inside the galleries are suitably dark - all shadowy corners and spotlights - and it feels like entering a fairground haunted-house. The first section, supposedly reflecting the horror-film 'Monster' archetype, and certain preoccupations of the 70s and 80s, is very full, bewilderingly so, and includes lots of punk ephemera, such as photos of Don Letts, John Lydon and Jordan, alongside punk-inspired artworks by the likes of Sue Webster and Tim Noble. A Siamese triplet by the Chapman Brothers (below), a painting by Noel Fielding, and a particularly monstrous version of Margaret Thatcher in the form of a Spitting Image puppet are also in the mix. Peter Fluck, who made the Spitting Image puppets, was active as an artist in Cornwall in the noughties - showing at Kestle Barton early on - and was interviewed for this website back then.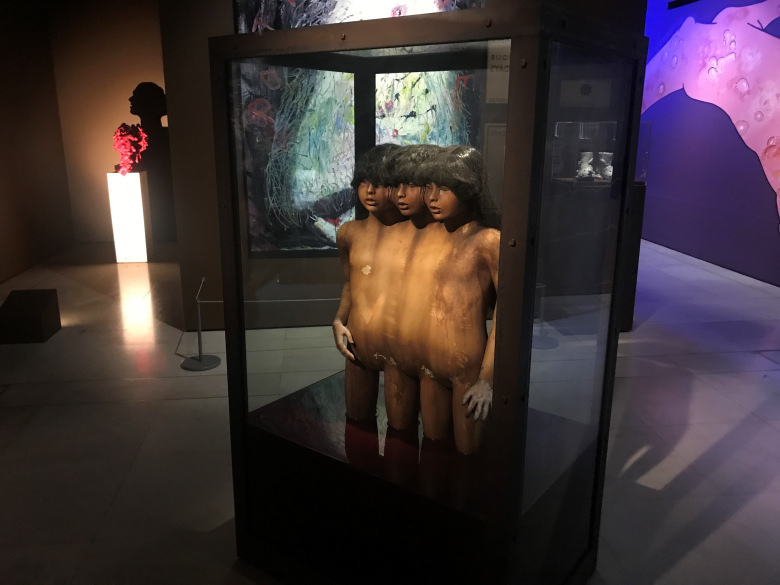 The ubiquitous Linder and Jamie Reid also have art works in this section
of 'The Horror Show'
, which includes lesser known manifestations of the counter culture, such as the papers
'
King Mob Echo
'
and
'
Class War
'
. Throbbing Gristle - and Coum - d
o
n't make an appearance, which I thought surprising, but other industrial music groups like Cabaret Voltaire and Nurse with Wound
a
re represented
,
as well as John Balance's Stabmental zine, which featured two
music
acts now based in Cornwall, and previously interviewed for artcornwall.org, namely Nocturnal Emissions and ClockDVA.
Dick Jewell's films of Leigh Bowery and of Kinky Gerlinky club
-
goers from the 80's are included in another room in this section of the show. I remember Leigh Bowery
(below), at the time,
appearing
regularly
on TV shows like The Tube, and on the front of ID magazine. Later, in about 1990,
when
he was involved with Michael Clark's ballet company, I sat next to him in the tiny ICA cinemateque.
Bowery
was sans makeup and dressed in a plain track suit, but still instantly recognisable by the size of his frame if nothing else. Dick Jewell, meanwhile, came to Cornwall a
few
years ago
as an artist-contributor to
'Unstable Monuments', and one of his photopieces is in
artcornwall.org
webprojects.
Such was the impression he made that Lucy Stein's response to the show was simply entitled 'I love Dick'...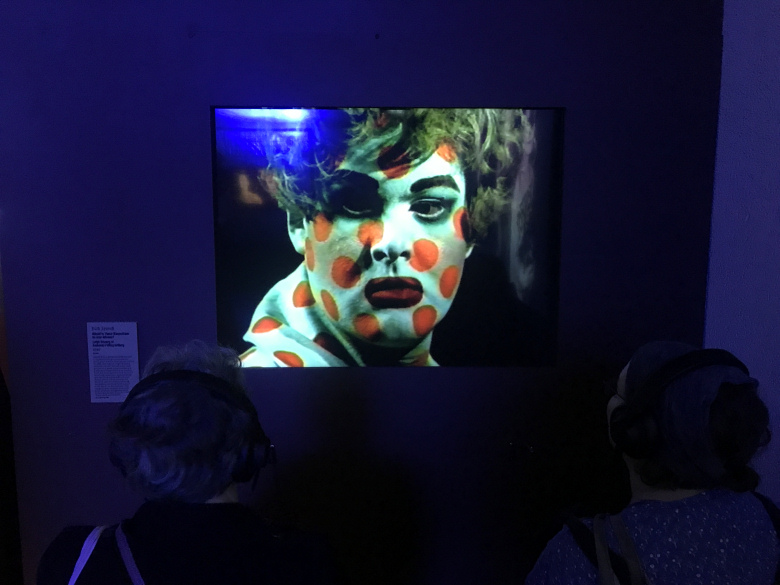 Upstairs, in an equally constricted space, the derangement of the senses continues. A large projection on gauze reads 'Ghost' - the title of the next section of the exhibition - a period
in the 90s
supposedly characterised by the coming of the internet. This section is less persuasive, but Jeremy Millar's creepy
'
Self Portrait as a Drowned Man
(Willows)' (below),
is
its
most striking
exhibit
.
Expert on folk horror,
Adam Scovell, interviewed for artcornwall.org a few years ago, contributes some polaroids to this part of the
show
, and Susan Hiller
'
s
nearby
collection of water gathered from holy wells
is simple
,
yet poetic.
Derek Jarman's little known film 'Blue' is showing in an easily missed side room, and like the Millar piece it is a haunting meditation on death. It came out only a few months before Jarman died, but inspired by Yves Klein and his ideas of the 'void', it was developed over a number of years. I met Jarman in 1991 at an earlier iteration of the film: a performance of 'Bliss' with live narration by Tilda Swinton, and live music by Simon Fisher Turner. As I left this section I also realised that I myself am a spectral presence in the exhibition, another ghost in fact, by virtue of being one of the many unseen and unnamed artists included in the aforementioned 'Words and Pictures' boxes.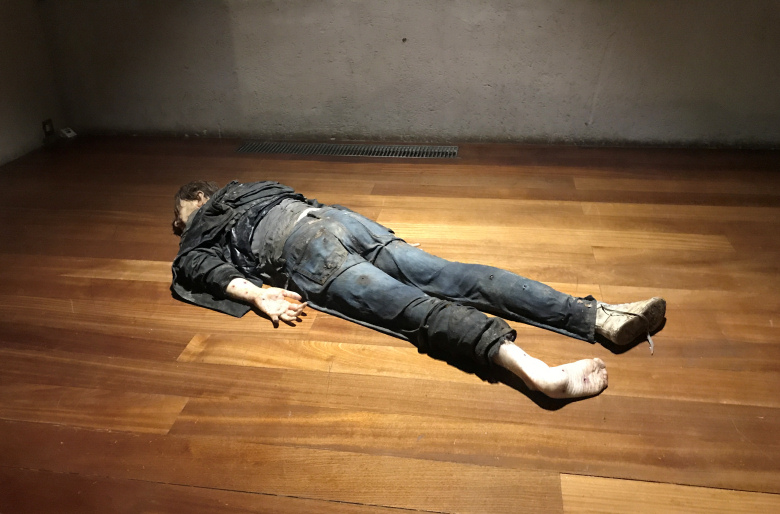 The final section, reflecting the 'witch' archetype, and Britain since the financial cr
isis
of 200
7
, was more engaging
, and seemed yet another confirmation of the importance of the occult to contemporary artistic practice. My favourite work in this section
i
s at its entrance: a
C
yclop
e
an face from floor to ceiling made of brocade and sensuous red velvet by Bert Gilbert, commissioned by Somerset House and called
'
The Vesica
'
. But Tai Shani's giant blobby 'Neon Hieroglyph',
part of a much larger work,
and Zoe William's
lurid green
ceramic hand were also memorable. Zoe had a studio in Cornwall in 2021, and a piece in Tate St Ives earlier this year.
Talking of Tate St Ives, Penny Slinger was in The Dark Monarch (2008) and her 'An Exorcism' is featured in artcornwall's webprojects. She is in the 'witch' section of the Somerset House show, as is fellow Surrealist Leonora Carrington. Both have experienced a revival in recent years. Here too, Suzanne Triester's tarot cards are juxtaposed with Extinction Rebellion flags, a film by Anne Bean, another by Tina Keane of Greenham Common, and B&W production stills from 'The Wicker Man'.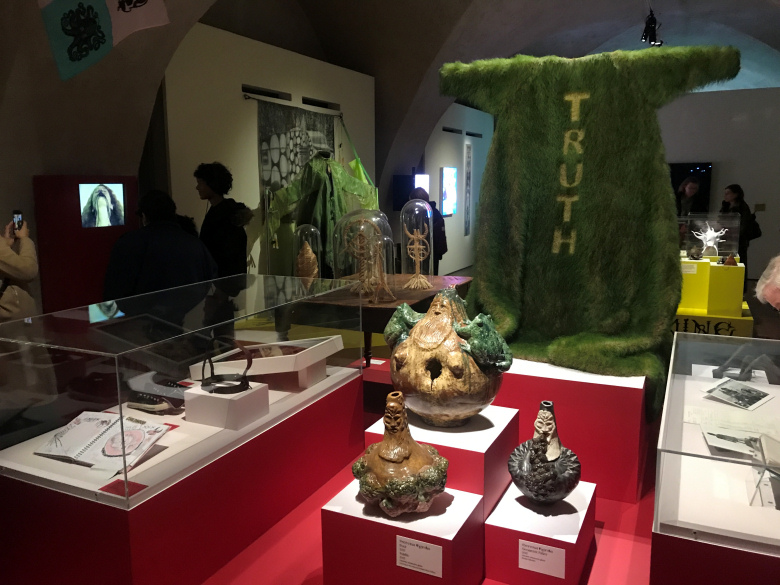 I had a strong sense of déjà vu on seeing Serena Korda's bellarmine jugs (above), Cathy Ward's corn dollies and Anna Bunting-Branch's posters placed carefully nearby. These three art works were included by Legion Projects in their 'Waking the Witch' exhibition from 2019. Legion Projects had met myself and Fourthland at Kestle Barton the previous year, when they were in the process of putting their show - which included items from the MWM in Boscastle - together.
The Somerset House curators suggest that the current artistic interest in witchcraft is a manifestation of anti-patriarchal, anti-capitalist sentiment (see signage below). There is definitely something in this. 'Hummadruz' at the Newlyn, which informed 'Waking the Witch' was an all female show, and in truth most of the contributors in this section of 'The Horror Show!' seem to be female. However some Coil ephemera is included amongst them. This includes, for example, a copy of The Book of Pleasure given to John Balance by Derek Jarman.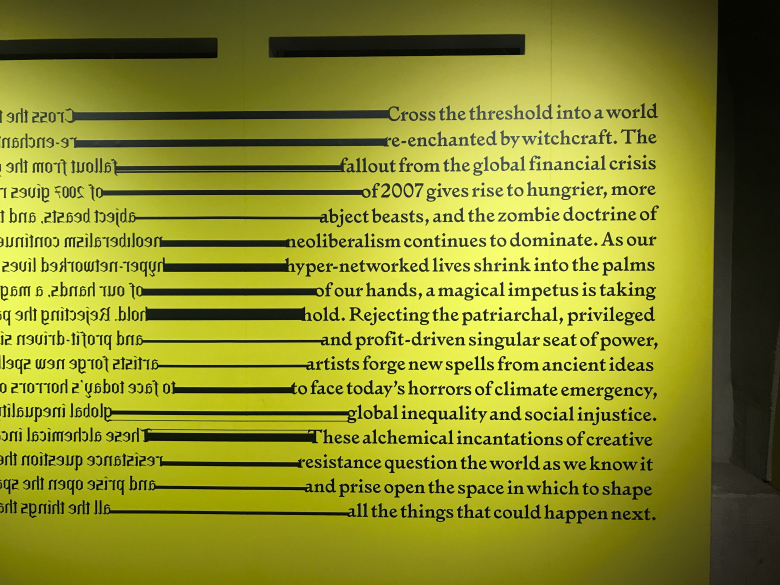 I was expecting to find
'
The Horror Show!
'
a very London-centric exhibition. In some ways it is, yet to its credit, it has tendrils which reach
out
much further. Certainly its
very
enjoyable, if bewildering
in its complexity
.
Most of the reviewers have responded positively to both the show and the ideas behind it, which suggest that the horror film, and archetypes from horror, can be used as ciphers for different phases of British culture. It's an interesting concept but not one to take too seriously. The exclamation mark in the title, the fanged entrance arch, the ornate, heavily designed signage, and the inclusion of works like the ape mask of 'Bollo' from The Might Boosh, all underline the irony and playfulness that runs through the show. This is fine up to a point, but there is a danger that important ideas can become obscured or trivialised. Certainly treating some topics humorously can only take you so far...
.
http://www.artcornwall.org/interviews/Adam_Scovell.htm
http://www.artcornwall.org/webprojects/Dick_Jewell_War_and_Peace.htm
http://www.artcornwall.org/webprojects/An_Exorcism_Penny_Slinger.htm
http://www.artcornwall.org/interview_Nigel_Ayers.htm
http://www.artcornwall.org/interviews/Adi_Newton_.htm
http://www.artcornwall.org/features/Lucy_Stein_I_love_Dick.htm
2.12.22