Bryan Illsley: a resume
Ruth Guilding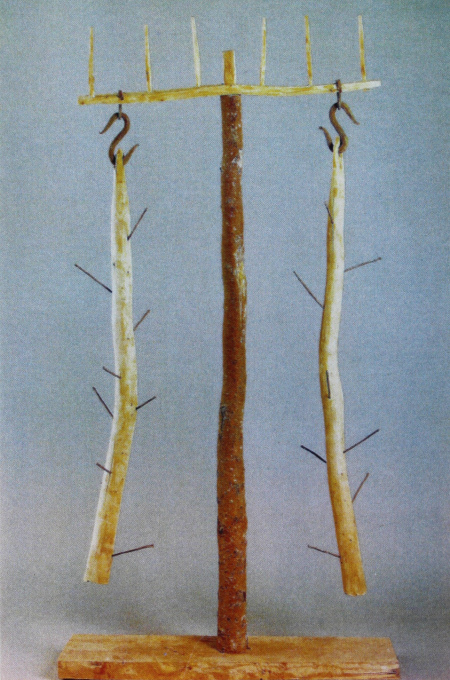 Bryan Illsley paints in a freezing shed in north London, in a woollen hat and thick, paint stiffened overcoat, but changes later into the rather avant garde jacket made for him by the art collector Anthony Shaw. He has a show coming, in Shaw's west London gallery, and says characteristically, 'I'm going to put in a lot of things which nobody likes'. Otherwise he is chary, touching on his 1960's apprenticeship in and around the artists' colony of St Ives only to clam up again. St. Ives taught him a lot but then turned into a dead end, and he left for London twenty years ago. He has worked there in isolation ever since, shielded by the useful solipsism which makes him suddenly start pulling old paintings from a drawer and calling out, 'Look at this, bloody brilliant!'
Illsley arrived in St Ives in 1963, five years after Ben Nicholson left, and two years ahead of Roger Hilton. Pop Art was sweeping through London and America, but St Ives offered a world within a world where Modernism was still being developed and experimented with, and although the Arts Council was paying attention, the big money had yet to follow. But there was another peculiarity, for here the fine arts and crafts went hand in hand, subsidising and inspiring one another. Artistic activity centred around Barbara Hepworth's studio and Bernard Leach's Pottery, the town's main employers. Breon O'Casey, Terry Frost and Denis Mitchell were all working part-time in Hepworth's sculpture studio. Illsley's brother Leslie was there too, working at the Troika Pottery, and Illsley got himself a job in the Leach Pottery as their odd job man and packer, working two days a week.
Illsley had come to St Ives as a sort of refugee. His working-class childhood in a London suburb was succeeded at 16 by apprenticeship to a stonemason, and he was enrolled at evening classes at Kingston Art College when National Service transported him to Singapore. A nervous breakdown set him free again, and after a spell at Brookwood Hospital he fetched up in St Agnes on the north coast of Cornwall, before moving on to St Ives. His arrival there was a kind of rebirth, all to the good, for, as he says, 'Illness has attended all my liberations.'

At the Leach pottery he led a charmed life despite of the monotony of the work. The potter Trevor Corser who succeeded him still remembers that 'Bryan Illsley was very arty.' He was making free form beaten pots in his lunch hours and anarchic giant sculptures modelled from wet clay slops, supported by Leach's third wife Janet, who was running the Pottery. A year later he was showing with the Penwith Society of Artists and by '68 he had a small abstract in a 'St Ives Group' London show along with Nicholson and Hepworth, John Wells, Peter Lanyon and Roger Hilton. Meanwhile Janet Leach had invited him to show his paintings with her ceramics at the Majorie Parr Gallery in Chelsea.

Illsley was taking every opportunity to learn, collaborate and experiment in several mediums, and as his friend the artist Breon O'Casey shrewedly observed, 'his enquiring mind soon pushed and shoved open middle-class doors that should have been closed to him'. His painting was always rough and expressive, with the impatience of the inspirational bozetti, rather than the finish of a studio piece. He was also learning from O'Casey and working in the jewellery studio above the Penwith Society's Gallery which O'Casey ran to support his family and his painting. Later they were joined by Stella Benjamin, now a highly regarded weaver.

Needing more latitude to do everything he wanted, Illsley quit St Ives with his wife and young sons in 1976 for a life of extreme frugality at Higher Vorvas, a semi-derelict smallholding near the mining settlement of Halsetown. Here, one year on, he made a bonfire of all his previous work, but instead of bringing relief, 'it felt like suicide.'

When he eventually began to work again, he decided not to think, but to do something every day. He was making all his own paints, brushes and carving tools, painting on discarded cardboard, planks, old wrappings and sacks, sometimes with mud as a pigment. A barn was a studio for painting and sculpture, and there was an anvil and a forge 'lifted' from a defunct marine engineering shop in St Ives. With rudimentary blacksmithing skills he made sculptures from scrap and rusted debris, old iron gates and agricultural tools, boat builders' nails or green wood, forged and hacked, almost by a process of alchemy. Several were crucifixion pieces with three uprights, such as his 'Tree with Hanging Limbs' (1978, Anthony Shaw Collection). There were also macabre painted figurines carved from green rhododendron, and paintings using earth pigments and grit. 'It was cold and the wind used to beat you,' he remembers. In this bleak place, Illsley had tuned into some kind of extreme, and the 'art brut' quality of his new work made O'Casey feel nervous.

By now the Tate Gallery was devising its exhibition 'St Ives 1939-64,' fashioning its avant garde into an orthodoxy which would become the colony's defining story. In this their revisions would succeed where the Hepworth-Nicholson junta had failed to segregate the Penwith Society's artists and craftsmen in '49, ('separating the sheep from the goats' as one member angrily put it then). Meanwhile Illsley had been offered a one man show in London, at the Crafts Council Gallery in 1984. He showed paintings, forged iron sculptures poised somewhere between Picasso, and Julio Gonzalez and necromantic little wooden pieces which the Jacobean playwright John Webster would have relished and understood. Illsley thought his luck had turned, but the critic William Feaver judged this promiscuity with the genres dishonest, and writing in The Observer he belittled the whole lot as 'artistic souvenirs', the opportunistic evidence that 'St Ives has found itself another more knowing Alfred Wallis'.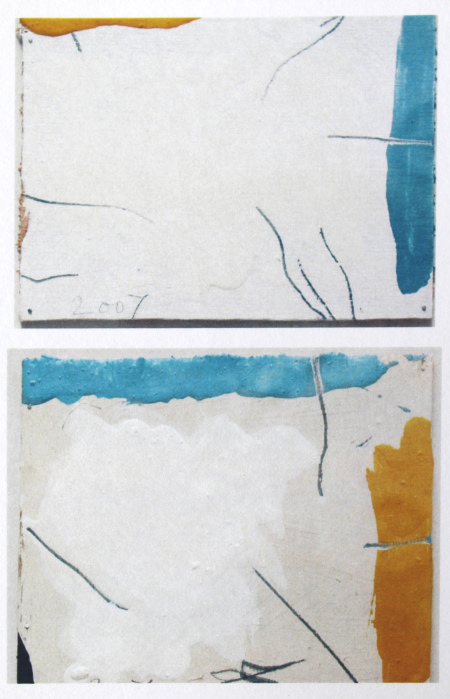 For Illsley the St Ives association had turned sour, along with the debts and privations of life at Higher Vorvas, and in 1986 he left for London. He had decided to begin again as a postman, but ended up at the Crafts Centre instead, installing exhibitions. Two years later there was another show, this time of what he called the 'main' work from the previous decade, more sculptures of iron and planked and pegged wood and spacious abstracts in a palette of gritty browns and greys, empty of detail but not of feeling. Like all of his paintings he had conceived of them as contemplative pieces, taking their cue from the Constructivist Vladimir Tatlin's pre-Revolutionary practice of making small abstracts for the corner of a room, the spot where an icon would once have hung. Edward Lucie Smith was enthusiastic and called them 'intensely interesting ... right at the cutting edge', but long-memoried Illsley must have been aiming two fingers back over his shoulder when he called this show 'Souvenirs from St Ives.'

Without a studio his paintings had to stay small until he got his present place at the back of an old butcher's shop in north London in the 1990s, premises shared with the ceramicist Alison Britton. He lives almost without money, away from the fashion skirmishes of the art world, protecting himself from professional disappointments by a series of armoured retreats, emerging occasionally to bite the hand that feeds him. Friends and old connections are cherished or suffered, but new arrivals might come up against the same candid mistrust which he still turns upon his own work. But there is also a good deal of humour in the little artists' books which he makes, each one a mixture of collage, painting and calligraphy. 'Dirty Words Dry Cleaned,' was produced in 1988 on a high quality copying machine belonging to the Serious Fraud Squad, where one of his sons was temporarily employed. Finding the art market insufficiently appreciative, he takes pleasure in hiding his light under a bushel, now. He prints only about ten copies and gives them all away to chosen friends and collaborators, ('so you can't buy one!' he cackles gleefully).

Since he makes poetic paintings and word smithery of his own, Illsley has proved a sympathetic, if opinionated, collaborator with the poet Christopher Reid. In 1996 he made a fierce scrawled drawing for the cover of the limited edition of Reid's poem, 'Two Dogs on a Pub Roof', published by Prospero Poets. 'Broken Bones' (2003) is his brilliant yellow compendium of chopped up pieces from Reid's 'Bone Songs', produced in a print run of about a dozen by the gallery owner Tatjana Marsden, one of his earliest supporters. In the 80's Reid had sent him the manuscript of his long Blakeian narrative poem inspired by the painter Alfred Wallis, 'Memres of Alfred Stoker.' Reading it during a bout of depression had made him feel worse, Illsley complained, but he went on to make a longhand copy with about twenty plates in a spectrum of gritty iridescent greys and whites, painting them kneeling on his bedroom floor. In 2008 Reid composed two more new poems for Illsley's print series published by the Pauper's Press in Hoxton.

IIsley's work is the antithesis of Conceptual Art. Reid says of him, 'He invented himself. He seems so completely his own man, he's authentic and unspoiled by fashionable considerations. I don't think he spends a lot of time thinking about other artists.' In the 90s when his paintings became less black and more delicate, animated with a personal handwriting of swirls and scribbles of coloured brushwork and graphite, Grey Gowrie wrote that they 'hit me in the way of feeling, like love or sexual attraction,' the best comparing with 'Roger Hilton, not least'. Certainly Illsley's vocation has served as a kind of self-medication, powered by agitation and unpredictable mood swings, producing work of startling, harsh directness. But in an unexpected twist his most recent small paintings are a melange of brilliant pastel pinks, blues and yellows, black and white, which he describes as 'pure and innocent, like little choir boys.'

©R.G. 2008
www.bibleofbritishtaste.com


With thanks for help from: Anthony Shaw/Tatjana Marsden and Alida Sayer, Marsden Woo Gallery/Phil Sayer