This Weekend? A personal response to two events
Joanna Thomas
This Weekend? was a summer-long series of temporary site-specific art works curated by Ruth Gooding and Veronica Vickery under the auspices of BOSarts, a visual arts initiative that runs in partnership with The National Trust. On six weekends in August and September, six different artists - or groups of artists - presented the results of their place-based research and practice as public art projects set in the landscape. Joanna Thomas was invited, as a writer, to respond to two of the six events: Janet McEwan's 'So Near… So Far…' at Godrevy and Continental Breakfast's 'There Was' at Cape Cornwall.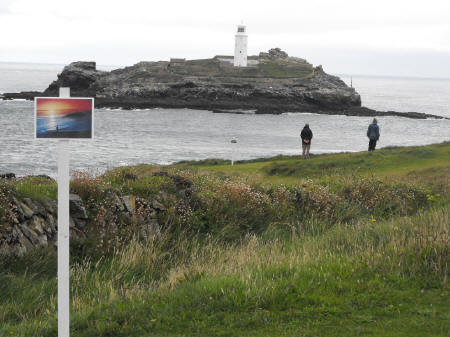 I know Godrevy. I have leant into the wind on the cliff tops, and stared out to sea with my arms outstretched. I have flown a kite on the open expanse of beach at low tide. I have crawled across the rocks peering into pools and crevices. I have crouched at the edge of a sheer drop waiting for a glimpse of a seal in the waves. And I have stood on the headland wondering if it is possible to swim to the lighthouse.
But this weekend I have begun to question whether you can ever truly know a place like this.
When I arrive it is much as it ever is, the car park filled with surfers peeling their layers on or off, a brisk wind blowing in over the dunes and a general preoccupation with what the clouds might be doing. Emerging onto the cliff top, sky and sea fill the frame as always. But today the picture is punctuated by white posts, way markers dotting the familiar land edge all the way from the lifeguard's hut to the headland. The urge to follow these seeming signs, despite the gathering cloud, is irresistible.
I am not the first. Groups of explorers up ahead move from post to post, stopping briefly to consider what they find, then striding on to the next, like bees collecting pieces for a giant honey jigsaw.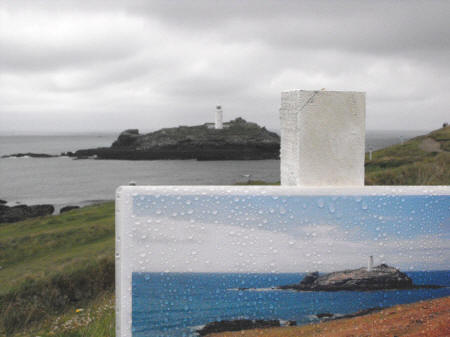 Each post holds a photograph, showing a view from that spot. Some are colour, some black and white. Some are occupied by people, some are uninhabited. Some look left across the bay towards St. Ives and some look right towards the biggest signpost of them all. At intervals, sunlight darts through the clouds illuminating the lighthouse and glinting off these pins that have been stuck in the map, leading the way towards it.
Following the pictures, I am discovering the story of Godrevy. Or should I say stories? Because each stop is a new way of seeing, like I've been given one hundred fresh pairs of eyes for the day. Though I am standing alone at this point or the other, as I try to work out how old the photograph is, who took it, why they came here and what they were thinking, I am joined by everyone who must have stood on this very spot over the years, contemplating their own version of this view. With each picture I am considering what is different and what is the same. I see Godrevy in all of these ways and none of them. My own view is at once unique and just one among many.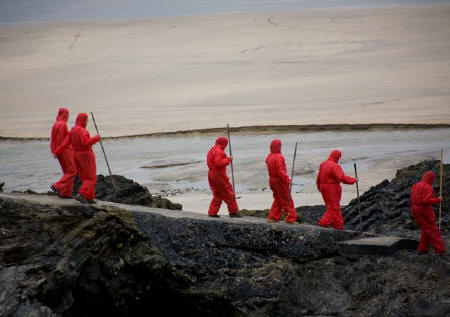 At the top of the headland, where a bench invites me to rest at the point closest to the island, there is a surprise. Where I was expecting the ultimate shot of the lighthouse, perhaps a long lens peek inside the windows, there is only grass and rocks. An empty island? How did they make the lighthouse disappear? Then I realise I'm looking at myself. It's the view of where I'm sitting, taken from the lighthouse. The tables have turned. Soon I am round the headland and there are no more white posts, no more way markers, no signs or pictures. Just the rugged, rain-spattered landscape, resonant with the reminder that there is so much more here than I alone can see.
Back along the cliffs, the tide has retreated leaving a beige slab abutting the grey. The colours are subdued but not dull, there is a persuasive brightness in the sky. When a siren blasts and a line of red-suited shapes moves from cliff to beach, it must pick its way between windbreaks and tents. The waiting canvas is clear but not entirely free from footprints. More siren sounds initiate mark-making in the sand. The red-suits spill out from a central point. Uniform, stark colour and movement, where usually all is random. Staking out a territory or standing sentry? Like synchronised caretakers doing their rounds. Or industrious park keepers sweeping away the day.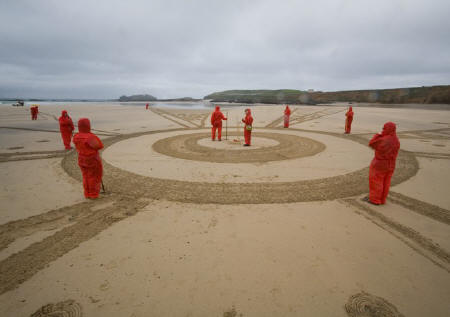 At first, onlookers pick their way around the etched creation, but soon it is too big to avoid. Groups in their own black-suit uniform weave and bob across the emerging pattern, some stop to ask. As the red-suits file away up the beach, their work here done, a young girl is already adding her own creation to the canvas. To newcomers perhaps it appears she did it all herself. Beachcombers will later follow the trails. The red-suits consigned to anecdotes yet to be told. Another layer, another view. The tide will soon be turning.
Janet McEwan's So Near… So Far… does not perform to everyone at the same time. It does not selfishly demand attention. It reveals itself to people in different ways and from different starting points. The artist's work with the local community recorded on the project pages of the This Weekend? website has enabled her to look harder at the place and its people, in order that we can see it anew on this one day. The 100 photographs sent by local people in response to a request from the artist, stake their claim on Godrevy. They assert ownership and share viewpoints in the same action, encouraging a joint responsibility. Janet McEwan's work at Godrevy brings the place to life and describes its mortality with the same breath.
____________
Cape Cornwall is the locals' Land's End. For many years it was considered the bona fide Land's End until cartographers discovered it was a pinch less westerly than the place where they've stuck the signpost. Now Cape Cornwall is known as the connoisseur's Land's End and it certainly feels that way. It doesn't shout its existence from billboards or sides of buses. Well-meaning celebrities don't make fleeting visits here at the start of some cross-nation endurance test. And you don't have to fight through hoards of tourists to pay for the pleasure of staring out across the Atlantic and imagining nothing but sea until America. Cape Cornwall feels quieter, more sedate, harder to find and more rewarding. The perfect place to reflect on the personal stories and memories inspired by this rugged landscape.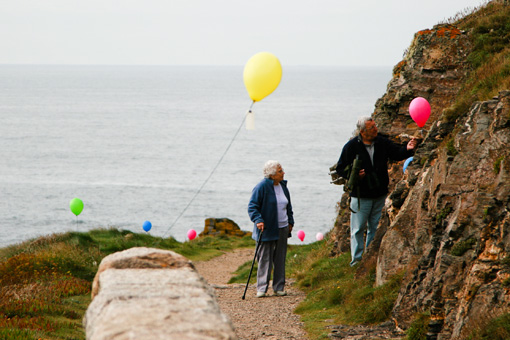 As I arrive at the National Trust car park just above Priest's Cove at Cape Cornwall, I am invited to follow the balloons. I had noticed a few as I drove in, but now I realise they're everywhere. Tied along the lane leading to the stone cottages below the headland, weighed down by the pebbles on the beach and peeking out from fishing huts near the shore. I could follow the bobbing, multicoloured blobs anywhere I want. It already feels like there is something to celebrate here; as one visitor says, "it must be some kind of kid's party or something".
On closer inspection, I discover that each balloon has a label attached to it. The first one I choose to read is stretching eagerly out to sea, struggling against its line to be set free. I gather in the line and catch hold of the fluttering label. "Can you just sit with me for a second," it says. I almost do. Across the lane, one tied to a stile simply says "Beautiful, Beautiful."
Around the bend in the lane, four artists from visual art collective Continental Breakfast are sitting outside Brisons Veor cottage in the sunshine having tea and biscuits with passers by. The table is laid with pens and labels and just inside the cottage is a room filled with balloons on strings. As visitors wander by, they are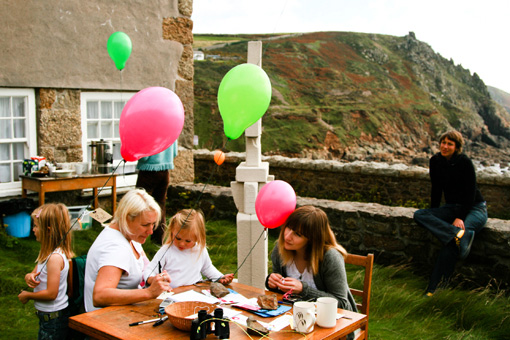 invited to collect a balloon, write a memory or a thought on a label and then tie it somewhere in the surrounds. A slow but steady procession of people stride eagerly off down the path that leads around the headland, clutching their balloons and looking for a suitable place to position their imaginings. In the distance an orange balloon soars up into the sky, broken free from its tether. An elderly couple sit contemplating what to write on their label. "Wouldn't it be nice if the world was friendly like this?" the lady says to no one and everyone.
I take my balloon for a walk. There are more and more balloons attached at the edge of the pathway now. "To my wife with love," "Happy memories of days gone by," "Catch A Fish," "I think I'm pregnant." It is as if I am seeing the thoughts that people carry with them when they come here. Like landscape-based facebook status updates. Except we are not all isolated and staring at computer screens; we are connected by action, by seeing and doing and feeling. As I reach the top of the headland and peer down to the cove, I wonder which people left which memories. A man with a walking stick is helping his wife attach a blue balloon to a wall. "We've done our balloon," he calls out to me with a huge grin on his face. "Me too," I call back. By selecting my balloon, finding the words I wanted to say, pinpointing the spot and adding my contribution, I have left something behind here today and taken something away. I have changed the landscape and it has changed me.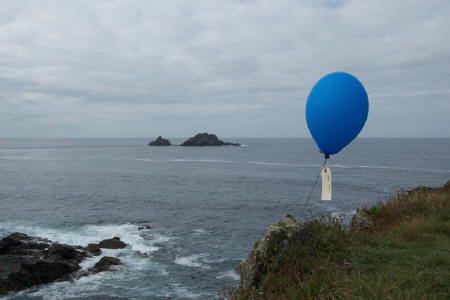 Continental Breakfast stayed at Brisons Veor for a week leading up to this weekend, spending time on the Cape and with the people of St. Just. They spoke to locals about their memories and talked about art in all its forms with the local school pupils. They discussed the nature of collaboration amongst themselves and sought out new ways to interpret this landscape through art. What they have achieved at Cape Cornwall is a surprising, fun and colourful physical manifestation of their take on collaboration creating valuable connections between local people, visitors and the land. By layering a thoughtscape on top of a landscape they have captured the essence of this day to be enjoyed now, as well as archived and revisited in the future. In so doing, they have added to the story, myth and wonder of this place.
Joanna L. Thomas 2/10/09
go to www.thisweekend.org.uk for photographs and written responses to the other works. More 'This Weekend?' to come...