Lamorna, Penzance
The leafy Lamorna valley, a few miles west of Penzance, supplied the granite used to build the Embankment in London.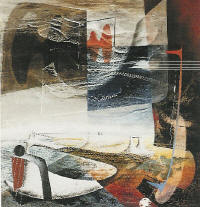 At the turn of the century members of the Newlyn School, including Lamorna Birch and Laura Knight, lived there, but later the small hamlet was also to become home to a trio of important, and arguably more interesting, surrealist artists.
Like Ben Nicholson and Barbara Hepworth on the North Coast, John Tunnard (left), John Armstrong (below right) and Ithell Colquhoun (below left) all migrated to the area as a result of the upheavals of the second world war.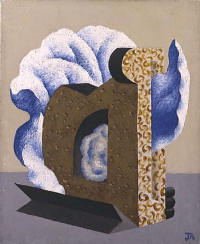 All three had already acquired a reputation in London before doing so, John Armstrong with Unit One and Lefvre Galleries, John Tunnard also with Lefvre, and Ithell Colquhoun with the Mayor Gallery.
Tunnard had had the longest connection with Cornwall and had visited for the purpose of painting as early as 1930. His paintings were admired by Henry Moore and featured the same strange biomorphic shapes.

Colquhoun, (left) was the most enigmatic of the three, and though not as widely exhibited in her lifetime is known as much for her interest in the occult as for her art. She published a number of autobiographical book and novels, which she also illustrated.
The excellent website www.ithellcolquhoun.co.uk is the definitive resource on Colquhoun and her life.