Newlyn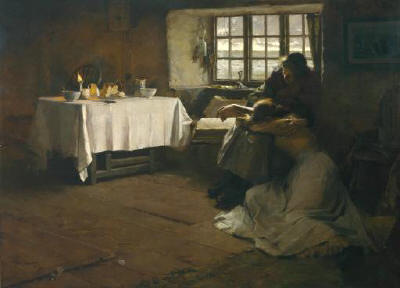 Stanhope Forbes first arrived in Newlyn in 1884, and when other painters such as Frank Bramley (right: A Hopeless Dawn), Thomas Copper Gotch and Norman Garstin followed him there to form what became the Newlyn school, he remained a central figure.
All the artists of the school were influenced by the plein-air naturalism of French painters of the time, and part of the attraction of Newlyn was, supposedly, its similarity to Brittany.
In 1899 Forbes and his wife set up the Newlyn School which attracted students from all over the world. The most successful of these were Dod Shaw and Ernest Proctor who went on to marry one another. Harold and Laura Knight, other members of the 'school', were late-comers to Newlyn, moving there from Yorkshire in 1910.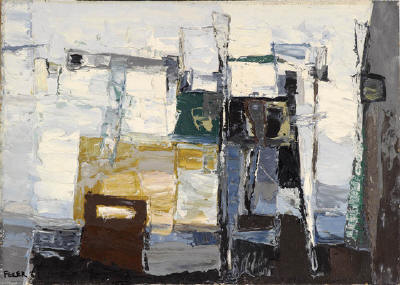 Trewarveneth Studio, purpose built in the 1880's, and studios in the nearby Rue Des Beaux-arts, provided space for this first generation of artists to work in. Trewarveneth Studios was later bought by John Wells, the abstract painter associated more with the St Ives school. He lived nearby, and from 1967 the space was used by him and his friend Denis Mitchell. The studios are now managed by the Borlase Smart/John Wells Trust, and have required considerable renovation work.
Paul Feiler (above) has also remained based in Newlyn during this time, and from 1974, after having moved away from Cornwall for a time, Terry Frost worked in a studio higher up on the hill over-looking Mounts Bay.