St Ives, Zennor and St Just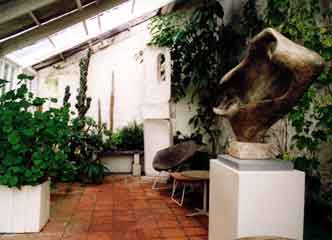 Of the most famous St Ives artists, only three lived in the middle of St Ives. Alfred Wallis, of course, was born and bred in the town. Hepworth and Nicholson moved down from Hampstead together during the war, then lived apart in the town after their marriage broke up. Hepworth worked from home; Nicholson had one of the Porthmeor studios.
Bernard Leach's pottery is on the road to Penzance as it leaves St Ives: a spectacular drive in both directions.
Naum Gabo lived in Carbis Bay between St Ives town centre and Lelant, before moving to the States, and Peter Lanyon, who was also St Ives born and bred, had a large house from which he worked: 'Little Parc Owles', also in Carbis Bay.
A number of artists lived between St Ives and St Just in the far west of Penwith. The road that links them is one of the most majestic and inspiring in the UK. Patrick Heron lived just outside Zennor in an imposing house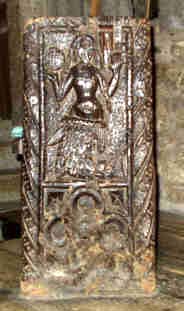 overlooking the sea called 'Eagle's Nest'. The house had an extensive windswept garden that inspired many of his paintings, though Heron had one of the Porthmeor studios for many years, so would tend to travel into St Ives to work.
A few hundred yards away, living in a house that once belonged to the occultist Aleistair Crowley was Bryan Wynter. This house, called Carn Cottage has fallen into disrepair now. Bryan Wynter is buried next to the church in Zennor, where the famous mermaid carving can be found. Further west, in Botallack is the house that Roger Hilton lived in for the last years of his life.
The St Ives artists often met in the Tinners Arms and at Gurnards Head in order to avoid the holiday makers in St Ives in season. These are both near Zennor.
Artists like Dennis Mitchell, John Wells, Terry Frost and Paul Feiler were based in Newlyn for most of their careers.
film by Anna Chen of the Barbara Hepworth Museum garden: