Martin Val Baker: promoter, publisher, gallery-owner
Currently the owner of the Rainyday Gallery, Martin's CV includes being a founder of the St Ives festival, and the man behind publications such as 'Eighty from the Eighties' and the Cornwall Gallery Guide. He is also the son of Denys Val Baker: one of Cornwall's foremost writers.
Martin, you've been an important figure on the art scene in Cornwall pretty much all your life - always acting as a facilitator for others - not I would guess in it for the money - but because you attach an importance to culture and the cultural life of Cornwall. Is this a fair description?

Yes I suppose so. I tried Art but was not good enough! I tried music, bought a banjo and then a trombone but never had the patience to practice...consequently I have great admiration for those who did. I get great satisfaction from promoting events, putting on exhibitions and publishing, a pastime for which I realised I do have a particular talent. There is nothing more satisfying than inflicting your own taste in music and art on the public...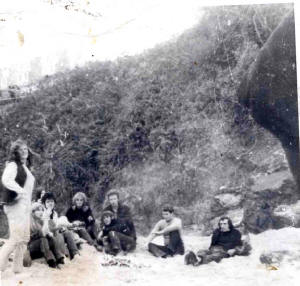 The business of Arts promotion in Cornwall needs what I call 'mechanics', people who have the confidence and ambition to make things happen and are prepared to take a risk...Bob Butler, Rob Lewis, Mike Reynolds, Robert Etherington, Mark Shaw come to mind but there are plenty more all over the county. Making money is a pleasant bonus - but not losing it is the main aim...

There is a lot of talent around - both in Cornwall, and the UK and of course in the rest of the world - we should grab the chance to see it in a local context. Also as a tourist area we should try to utilise all the facilities that lie dormant for half of the year- why not make the county a centre for Festivals of all kinds which can be of benefit to the locals as well as the visitors who can help subsidise the exercise.



On a biographical note: you were born at the end of the war and moved to Cornwall as an infant. You went to art school at Falmouth and got involved with organising music gigs in the 60s - what was the music scene like then, how did you get into it, and how did this affect your own work as an artist?

I remember I was a great Adam Faith fan as a kid - and later I listened to my father's collection of records, Chris Barber, Louis Armstrong, Sydney Bechet...things like that. By the time I got to Falmouth I was a confirmed jazz fan - though not the modern sort! We formed a jazz record appreciation society at Art School and I learned about Bix, Ellington George Lewis and Ken Colyer - we used to sneak our own favourites on to the record player at parties and hide the Beatles and Stones records favoured by another gang. These were the days of the Beatnik and we would hitch hike all over the country going to jazz/blues Festivals and if in London to the All-Nighters at the Ken Colyer Club in Great Newport Street.

Parallel to all this came the advent of the singer songwriters (at the first party I ever went to we sat around and listened to Joan Baez records) and a little later Bob Dylan broke through. He had a tremendous effect on our generation - all those words...we became politically active, marched from Aldermaston to London with with CND, sat down in Trafalgar Square with the Committee of 100 and got arrested. From Dylan we moved on to Woody Guthrie, Ramblin Jack Elliott, Cisco Houston, Derroll Adams, Judy Collins and later their British equivalents. In 1966 I started a folk club at the Winter Gardens in Penzance in aid of CND, the first major guests were Shirley Collins, Cyril Tawney and the American banjo player Hedy West. Later that year a group of us were hired to play beatniks in an ITV documentary on Donovan at St Ives (picture right above) all this gave me a good background in the music business.

The Folk Club scene in Cornwall was very lively in the late sixties with a lot of the people who later became big names performing in crowded venues. In 1970 I put several of them on together at St Ives Guildhall and we pulled a crowd of 450 - that really gave me a taste for promoting bigger gigs. Through the seventies the folk boom continued and I ran clubs and concerts culminating in 1978 when we started the St Ives September Festival, which is still going strong.

I really was not much of an artist though I have always had a good eye for type which has been very useful for poster layout and advertising over the years - I also was a great gothic letterer!
Talking of Donovan, I understand he was down here at the time his career took off, C.O.B. who we both admire were down here when they recorded both of their immensely influential acid-folk albums, and Ralph McTell also has close links with Cornwall. Can you expand on some of this?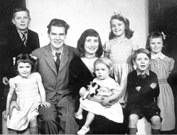 Yes Donovan was down in St Ives in 1962 or 63 – he was a friend of my sister Jane. I remember lending him a tent as he was living rough – a lot of his songs were inspired by St Ives. In autumn 1966 he returned with an ITV film crew to make a film. The hour long documentary was to be set half in London and half in St Ives, and Donovan sent the crew round to hire us all as extras. Eventually a dozen or so of us gathered on Porthminster beach with Don, his friend Gypsy Dave and also the American Folk Legend Derrol Adams who was travelling with the party. For three pounds a day, good money then, we were to play beatniks, sitting around a camp fire cooking mackerel and potatoes whilst Donovan mimed to a tape of his current hit record 'Catch The Wind'. The props department rushed around town buying kettle, mugs, cutlery and rolls of tin foil, all of which were in mint condition and so we had to age it all with the aid of candle smoke. As for the mackerel, well there just weren't any in St Ives on that day so the company had six driven over from Newlyn by taxi. Filming continued for a week, on the beach, in an old Second World War bunker above it and in the woods above the town where Don and his friends had camped first time round. The continuity girl would demand 'who was smoking in the last shot' all our hands would shoot up and we were tossed Senior Service cigarettes, a posh smoke that no self respecting beat would have been seen with in those days. In the end the film was actually quite good and clips from it turn up every now and again in 'The Sounds of The Sixties' series on T.V. - it really is quite strange seeing younger versions of us all after all these years.

Clive Palmer turned up at The Old Sawmills near Fowey (now a recording studio) where the Val Baker family (picture left) was living at the time (1969). His band at that time 'The Stockroom Five' metamorphed into 'The Temple Creatures' a three piece with John Bidwell on dulcitar and Indian hand organ, and my sister Demelza (later of Zambula) on bongos. They played the Cornish Folk Club circuit as did Ralph McTell, Pete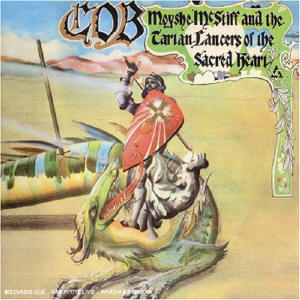 Berryman, Mick Bennet, Tim Wellard, Wizz Jones, Michael Chapman, Mike Silver, Roger Brooks... Cornwall was a hive of talent in those days. Probably the most influential club was the Folk Cottage at Rose which spawned 'The Famous Jug Band', the Railway Cub at Penzance was pretty good and of course Botallack Count House. Clive was a bit of a catalyst then and with John Bidwell and Mick Bennett he formed 'Clives Original Band' (C.O.B.) in 1971. I put them on a few times at St Ives – I remember once the three of them turned up, with all their instruments, on two mopeds having driven all the way from Fowey. A year later I saw them at The Royal Festival Hall with Pentangle! Of course the two albums 'Spirit of Love' and 'Moyshe McStiff' (picture right) became collectors items and rightly so. Clive at his best was terrific – someone should have given him a wad of money and recorded a lot more of his music, particularly the Temple Creatures and his work with Bob Devereux and Rhombus in the late seventies.

How did the Val Bakers get to know Clive Palmer originally? Presumably he moved to Cornwall soon after leaving the Incredible String Band (ISB) and before they made their appearance at the era defining Woodstock festival. Also did the Temple Creatures ever make any recordings that are available to the public?
Clive turned up at The Sawmills as a friend of Demelza's (not a boyfriend!), she probably met him at the Folk Cottage, he stayed there for a few months. Since the ISB he had been part of The Famous Jug Band with Pete Berryman, Jill Johnson and Henry Bartlett but left after the first LP 'Sunshine Possibilities' again a great record: still highly sought after. By 1969 Clive, John Bidwell and Demelza formed a new band and soon Temple Creatures were gigging regularly around Cornwall, sometimes with Chrissy Quale on vocals – I have a few badly recorded demo tapes. Grahame Hood is writing a biography on Clive which should be out soon (see interviews).
Was the Folk Cottage in Rose near Perranporth or was it a different Rose? Am I right that it was also referred to as the Folk Cottage at Mitchell? Where exactly was it? Do you know what this building is now?
I think it moved: it was at Rose first and then Mitchell – oddly I never went there in the glory days. Later, Ella Knight ran The Folk Cottage at a pub in Truro for some years (The Swan I think).
Given that artcornwall is a new publishing venture it would be nice to move on to discussing the 'Cornish Review' - which your father edited and promoted - and also your own experience of publishing the 'Peninsula Voice'. (The 'Cornish Review' was a quarterly periodical - and the 'Peninsula Voice' a monthly publication that ran from 1982 to 1995 or so). Would you mind describing these publications a bit more? In what way were they alike and in what ways different?
My father was always a great inspiration to me. Besides being a prolific creative writer (over 100 books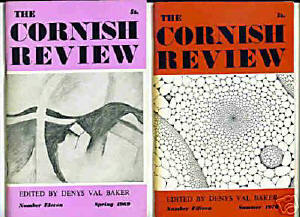 published) he too was a 'mechanic'. The Review (picture right) really was a labour of love for him, it ran from 1949 to '52 and then again from 1966 to '74. The purpose of the Review was to give a platform for creative writers in prose and verse and also to carry reviews, articles and letters covering the local art scene. It was destroyed by the withdrawal of an Arts Council grant. The Lesson of this is 'Don't put yourself in the hands of 'funders'' - at any time they can change personnel and dump you!

The Voice started as a co-operative of about 15 people all of whom had a vote at 'copy date' this provided terrific energy and we had many, many stimulating arguments. To begin we used to put on benefits to keep the paper going but then we realised that if we each went out and got a £20 advert we would not have to expend so much energy. Having so many people involved was a definite plus - the editorial collective was much better than having an individual as a dictatorial editor - and we could do the stuff we ourselves were interested in. We rarely turned articles down and were mightily relieved to have enough copy to fill the thing. We were eventually destroyed by a rather silly libel action and although the paper carried on for a few more years under a capable editor, the original energy had been dissipated.
Re your fathers journal: having read some copies recently it is interesting just how little visual art actually featured. It was very much a literary journal wasn't it? Was there a reason for this? Did it simply reflect you father's own interests?
Yes my father was very much interested in literary journals. In the forties he put together many annual anthologies of the genre and was recognised as an expert on the subject long before he came to Cornwall – see my website rainydaygallery.co.uk. In Cornwall it was pretty obvious that there was a large visual arts community and he did take that on board, but as economics prevented the publication of paintings in colour he was only able to reproduce work in black and white and that was never satisfying. I think you will find that a lot of the articles do refer to the painters and their struggles. Two books 'Britain's Art Colony By The Sea, and 'The Timeless Land' as well as numerous articles in national newspapers and magazines helped bolster Cornwall's fledgling art industry in those days. But he did feel that the county's writers had suffered some neglect by comparison and brought out a book on them 'A View From Lands End' in 1982. I'm sure he would have been delighted to see the Tate St Ives mounting a show in the late nineties on five writers connected with the 'St Ives School', himself, Sven Berlin, W.S. Graham, Arthur Caddick and Norman Levine.

What do you see as the role of periodicals like this, and what are the problems and pitfalls to look out for? How does this relate to your experience of publishing local art-related material and indeed to that of your father and his journal?
There is an enormous arts community in Cornwall - possibly, after tourism, it is the next biggest money earner in the county - and it needs to be serviced by a competent and well-informed media. There needs to be somewhere for practicing artists, writers and musicians to argue their causes through articles, letters etc and of course for publication of original work - but although such a publication is likely to be non profit-making beware of taking the 'Queen's Shilling' and being in the hands of someone else's purse strings. Even advertisers can be upset and withdraw their support - possibly the answer is a large number of annual subscriptions.
Can you see the internet as a way of avoiding some of the overheads and difficulties that may have affected the other two periodicals you had links with? I guess it becomes easier and cheaper to publish things, but there is a danger that the quality suffers as a result because the stakes are not so high...
Well computers and the internet certainly would have made things a lot easier but having a physical magazine that can be passed around is a more punter friendly publication – I have just passed a lot of old 'Peninsula Voices' on to The Morrab Library. Yes I agree that financial pressures are a great incentive not to do anything silly – and also to go out and SELL the thing !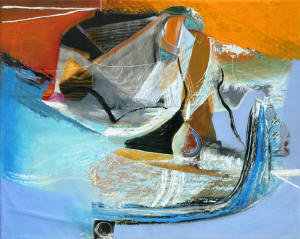 re Your own gallery: the Rainyday Gallery. How long has that been going and what have been the highlights for you? I think you've moved location 3 times am I right?
I worked as a litho printer for many years and by 1992 was based in an old chapel in a Penzance back street. The late Hazel Burston who ran the gallery at the Royal Cornwall Museum in Truro suggested that the building could make a good gallery so I put on my first show in May of that year. I have since staged about 170! (eg picture left: Matthew Lanyon). For some years I ran the printing and shows in tandem but when I moved to my present premises we could not get the machinery up the stairs so I had to abandon printing at very short notice.

Readers of artcornwall.org may be interested that you showed David Tremlett, who was one of the original British conceptual artists, and who was nominated in 1992 for the Turner Prize for his wall-drawings (picture below right). How did this come about?
David Tremlett is an old pal of mine- we first met when we were teenagers in Mevagissey. We went to Falmouth Art School together and shared digs there. Later he lent me some of his drawings to get into Hornsey Art School – I think I lent him some of my pen lettering to get into Birmingham! Dave was one of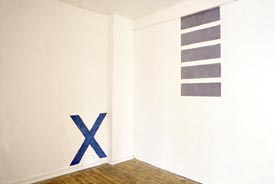 the gang at Falmouth in 1962 who would take off our jazz records at parties and put on stuff by that new fangled band the Beatles. He was very ambitious and certainly caused a stir early on, he had a show at the Museum of Modern Art in America and was described as a '...disgrace to British Culture' in The Times – what more could a young artist wish for... We his contemporaries were rather baffled by the early minimalist stuff but I think he has now developed into a really major artist – I still get invites to his openings all over the world. I went to his Turner Prize Opening but discovered he had gone to another one of his in Mexico or somewhere! His show with me in 1993 was one of the best and busiest shows I have put on – we did'nt sell much though...


I notice you also put on a show of the Brotherhood of Ruralists. Peter Blake, the pop artist, was one of their number, together with Graham Ovenden and David Inshaw. Am I right that they have links with Cornwall? Ovenden had an amazing house near Liskeard...
Yes, I did put on a show. I sold a few Inshaws. Graham and Annie Ovenden live on the edge of Bodmin Moor (I think the others are outside Cornwall). I saw their house which is amazing (picture left below)

Thanks for sharing your thoughts with us, Martin. Have you got any pictures you could let us use? How about the little one from the fifties of the Val Baker family?
Yes use the picture of the family: Me and Gill at back, Denys, Jess, Jane centre, Demelza, Genevieve, Stephen front. I've also have found a photo of Donovan Film 1966: Jane 1st left me 3rd right.
By the way, Mick Bennett of C.O.B. is now in Falmouth, Clive Palmer in Pendeen (a biography by Grahame Hood out soon). John Bidwell I think in Thailand - a brilliant band. Tremlett was in the last four of the Turner Prize in 1992 the others were Rachel Whiteread, Damien Hirst and Grenville Davey – it was won by Davey who was from Launceston.
<![if !supportLineBreakNewLine]>
Rupert White November 2006<![endif]>
<![if !supportLineBreakNewLine]> The Rainyday Gallery is at <![endif]> <![if !supportLineBreakNewLine]> 116 Market Jew Street, Penzance<![endif]><![if !supportLineBreakNewLine]> <![endif]>
<![if !supportLineBreakNewLine]> http://www.rainydaygallery.co.uk/<![endif]><![if !supportLineBreakNewLine]><![endif]>