Trevor Bell
Text: Chloe Wild Photos: Steve Tanner
Trevor Bell's paintings have received critical acclaim spanning five decades.
Bridging the gap between the old St Ives School and the young contemporary Cornish art scene, his work was propelled from 1950's St Ives to significant stature in the States. Now living back in Cornwall, we are once again being rewarded with these sublime paintings on our doorstep.
Trevor Bell arrived in St Ives in the 1950's: one of a number of younger generation artists who were drawn to the town by the presence of such artists as Patrick Heron, Peter Lanyon and Terry Frost. Describing his experience of that time, Trevor says: "I was one of a small new wave of young artists; there was myself, Brian Wall, Keith Leonard and then there were the elders. It was marvellous to be showing at the Penwith Gallery with all the great names of the time. Dealers would come down to see Peter (Lanyon) or Ben (Nicholson) and I remember Ben saying to me that it was time I showed in London. It was 1958 and Waddington's Gallery took me on for my first solo show."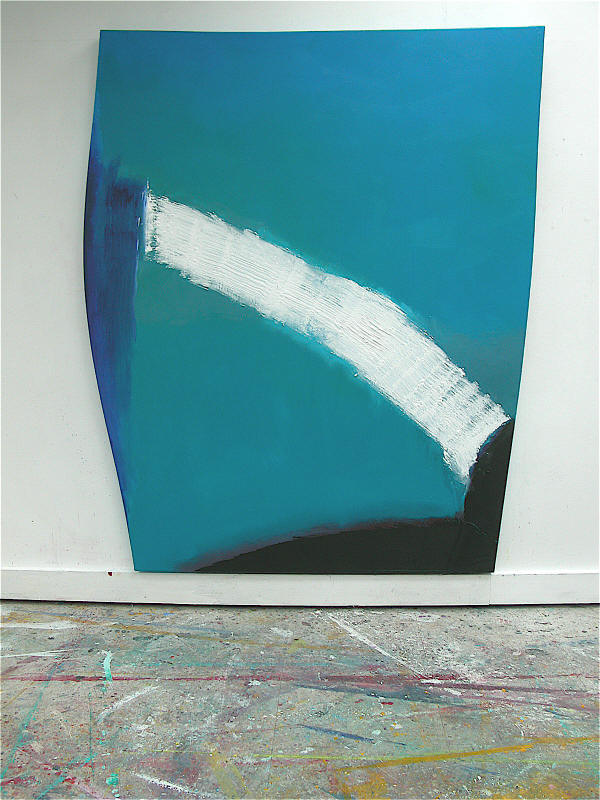 The show sold out before the opening night, marking the emergence of what Patrick Heron described as 'the best non-figurative painter under thirty in Britain'. The following year Trevor was awarded the Paris Biennale International Painting Prize.
For five years he stayed in the town, developing his own visual language and savouring the seriousness of the surrounding atmosphere. His reflections are of a time that was "all about the work" with little in the way of commercial understanding. The Waddington show was he says "like magic" because it was usually washing dishes that provided the means for the next tube of paint.
In 1960 Trevor moved back to his home town of Leeds. He had been offered the Gregory Fellow in Painting at Leeds University and with it ended his first Cornish chapter. Trevor's path over the next sixteen years was one spent moving, with various teaching roles interspersing time dedicated to painting. Throughout this transient time, his connection with Cornwall's art scene remained evident and he warmly recalls his time as Head of Painting at Winchester School of Art when "Patrick Heron and various others would come up from Cornwall and run colour courses - we had great fun".
It was after accepting a full time teaching post in Canada however that he recognised he had reached an important cross roads; if he stayed he would be a teacher for the rest of his life. He moved back to Britain, and whilst still lecturing he began to hone the language of his work. What followed were two major shows – at Richard Demarco in 1970 and at the Whitechapel in 1973.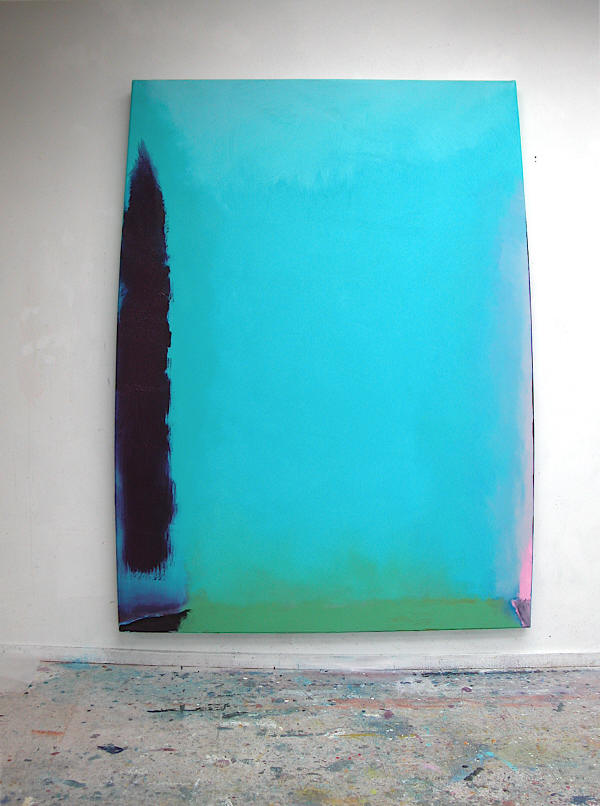 Three years later he moved to Florida, beginning an episode in his life and work that would span the next two decades and confirm his international importance in modern painting.
When he moved to the States, Trevor admits he had reservations. Looking back he says: "When I went to Florida, post the Whitechapel exhibition, it was in some ways a let down professionally; I had to make new connections all over again".
New connections proved not hard to come by. As Professor for Master Painting at the Florida State University, Trevor was provided with a warehouse studio space and time to develop his work. What followed were twenty six solo shows spanning the next twenty years. Describing the painting he was making at the time, he says: "I was still identifying with the same language, the language I took with me. There were aspects of it that developed; after all, you can't live in the sub tropics without something happening to you".
What happened were series upon series of vibrant large scale paintings that reverberated with intense colour. Calling them his 'heat-scapes' the influence of his immediate environment was more apparent than ever and it is for these more than any other that he became most well known. Whether in Florida or travelling to the Himalayas, through India or back to Cornwall, the paintings he was making made unashamed connections with his experiences of the places he travelled.
Experimenting since the early 1960's with shaped canvases; the dynamic curves and sheer edges are a clear identifier of Trevor's work. Talking about their structure, he says: "They were small humble things to begin with that grew because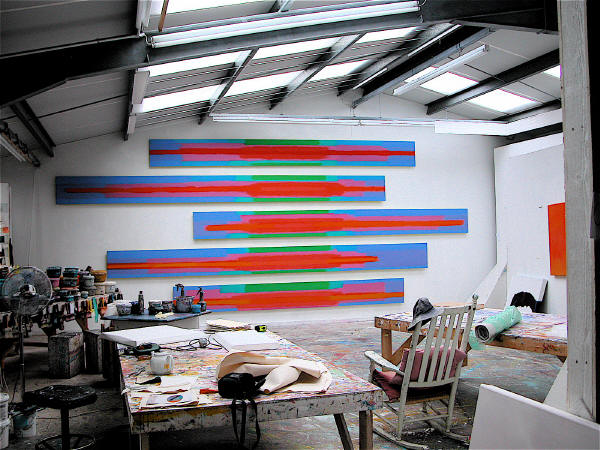 the ideas demanded it. I wanted the paintings to become affirmative themselves, I didn't want them to be an illusion of something, I wanted them to be the something."
Making sporadic trips back to Britain, it was twenty years before the time came to return for good. And when he made the decision it was Cornwall that once again drew him to its shores.
Talking about his decision to return, Trevor describes how Cornwall became the focus for his new base back in Britain: "The cliffs of Cornwall related to trips I had been making to the Himalayas and northern India. The convoluted strata of Cornwall's coastline excited me and I had been making trips back over the years, renting cottages and working whilst I was here. When we decided we wanted a foot back, we found this place the other side of the St Ives peninsula. It was nearly a ruin, too big and too wonderful in its potential. We upped sticks and took it on. I have since built a studio and this is where we are settled."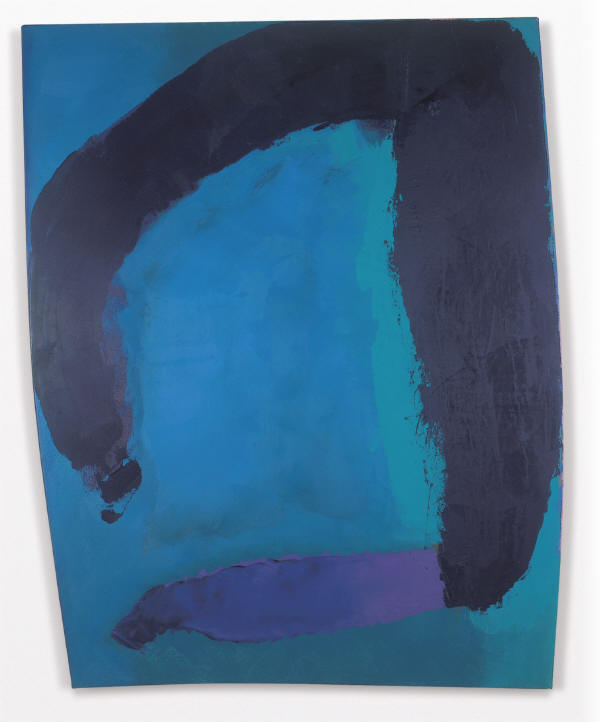 Having established his reputation in America the decision to move back must have been hard and Trevor found himself once again covering old ground. He says: "It's a question of being willing or able to take it on again. Coming back I had to start again, after all – it's not as though I was a spring chicken. Many people who knew me from the early days weren't around or had passed away and it was difficult to make the connection in London because you are up against an ageist attitude."
Contending with comparisons to 1950's St Ives, Trevor extols the virtues he has always held true, that being that it is the work that matters. By standing by this principle the paramount eulogy of his work is one of dedication and a lifelong passion for honest true painting.
Trevor Bell's paintings can be seen at 'White and Colour' Solo Exhibition, 12th May – 12th June, New Millennium Gallery
'Five Bar' (studio shot 4th down) is a newly acquired painting in Falmouth Art Gallery's permanent collection
25/5/07 Article courtesy of Cornwall Today