FLUXSHOE Felipe Ehrenberg, Stuart Reid and Barry McCallion
Fluxshoe catalogue
Throughout the 70s there was little conceptual or experimental art to be seen in Cornwall or the rural South West (or at least what there was remained hidden). One event in 1972 stands out, however, when the touring exhibition 'FLUXSHOE' opened in Falmouth.
George Maciunas coined the name 'FLUXUS' in 1961, initially as the title of a magazine. It went on to become, arguably, the most radical of post-war art movements, and almost certainly the one with the furthest reach. Although it started in the US, artists from across the world, including performance artists like Joseph Beuys and Yoko Ono, became involved.
In '72/'73 a touring FLUXUS exhibition was coordinated by David Mayor, who was based in Exeter, with the blessing and support of Maciunas and Ken Friedman. Called FLUXSHOE, it travelled to a number of 'provincial' locations and gave a platform for then emerging British artists like Ian Breakwell, Helen Chadwick and COUM Transmissions (later Throbbing Gristle).
The substantial catalogue (above) was printed by the Beau Geste Press. Founded by Felipe Ehrenberg in 1971, and located in a farmhouse near Collumpton in Devon, Beau Geste went on to be one of the most influential small presses of the 70s.
Felipe, who was also a performer and contributor to 'Fluxshoe', and Stuart Reid who was involved in the Falmouth show, shared with artcornwall some of their recollections by e-interview. Stuart also passed on to us a rare copy of the Falmouth programme, and put us in contact with Prof. David Manley who had the accompanying poster and three photos taken by Allan Green in Falmouth.
FLUXSHOE flyer
Felipe, you are from Mexico originally: how come you ended up in the UK and what did you make of it?
FE: England's capital, to the eyes of the newly arrived, energetic iconoclast from Mexico (me) was quite the most exciting, stimulating and democratic place. A deep involvement in the Student Revolt of '68 and a deeper concern for my family's and my own welfare had forced me to join the 10,000 or so other Mexicans who became unwilling exiles in other lands. Painful as that departure may have been, leaving home was probably easier for me than for many other less lucky ones.
For one, I had been feeling gradually more constrained by a very stifling and incestuous art scene, one which wouldn't tolerate anybody 'arting' differently than the way things were being 'arted' at the time. I was already a disobedient artist and my incipient unorthodoxy required an urgent change of scene. On the other hand, Marta and I were young, and on looking back, we both appear to have been quite courageous: we flew off in worried haste with two little kids and barely 200 dollars in our pockets.
I understand you became immersed in the art-scene in London, and got to know several artists. What happened then?
FE: Three of us decided to found the Polygonal Workshop, a short-lived but very intense experience in group art. We then convinced Sigi Krauss to allow us to perform our first conclusions at his frame shop-cum-gallery, in the heart of Covent Garden. (Sigi's was one of the few spots in London where people could do things they were unable to do in other places).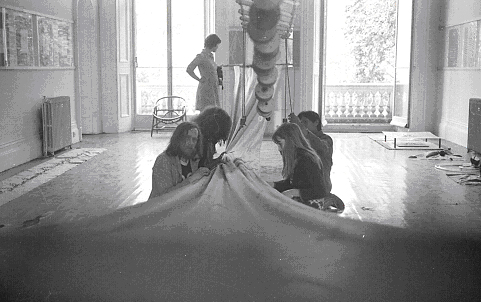 Sigi Krauss at Gallery House with David Medalla
PW's non-art show was called "The Seventh Day Chicken". Strangely enough, it got very good reviews and attracted a surprising amount of people, among them David Mayor, then a student -of math, I believe- at Exeter University. For some unreasonable reason, Dave had been doing research on something called Fluxus and saw, or thought he saw, similarities between that and the PW's doings. Soon thereafter Richard and I accepted Dave's invitation to do something in Exeter and so we traveled all the way south and did something quite polygonal. One thing led to another and early in 1970 I decided to move to the West Country (which effectively marked PW's demise).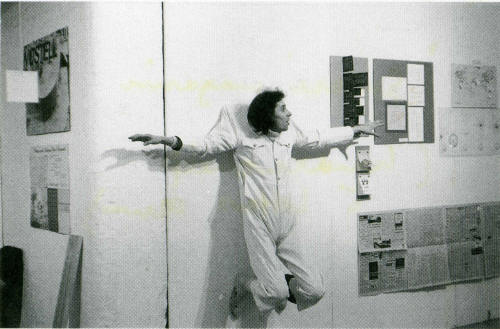 Opal L Nations (Oxford)
What did you make of Devon, and what led up to the FLUXSHOE exhibitions?
FE: Devon was a marvelous land, full of high tea afternoons and winding hedges, folk festivals and fascinating eccentrics who studied ley lines or surrealism or concrete poetry and who lived in stone cottages. The natives didn't seem to mind coloreds like us and we soon moved, kids, cats, non-art works, Beau Geste (the groovy Gestetner) and all, into Langford Court, the beautiful, thatched mansion that had sat, overlooking the tiny hamlet of Clyst Hydon near Cullompton, since the 14th Century. Though the rent was cheap we still found it necessary to share. Cartoonist Chris Welch and his girlfriend, Madeleine, joined us soon thereafter and, not much later, so did David.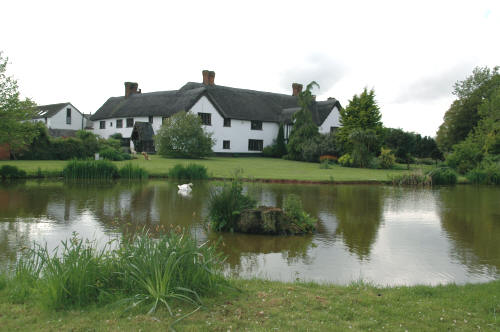 Langford Court
The stage was set for the birth of Beau Geste Press, and Dave's project to gather all his fluxdocuments into a travelling show proved to be just the mechanism that triggered the Press into being. The idea was to help all-thumbs Dave get the thing going. But the little group's dynamics being what they were, things got out of hand and the now famed FLUXSHOE grew into something much more than originally intended.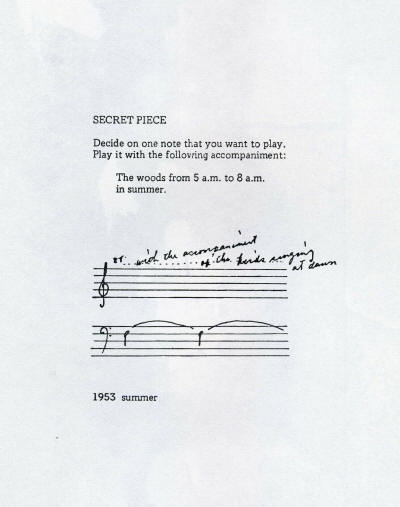 Yoko Ono (from the catalogue)
Cunningly redesigned by Marta to be shown on collapsible cardboard cubes, accompanied by a great looking catalogue for which an enthusiastic prologue (5 pictures below) had been written by Kyosan Bajin no less (me - a pseudonym), it was crammed into a second-hand van and hit the road full of even greater plans. Funds were solicited and somehow received and we were able to invite live Flux and fluxlike artists to join us and the press's presses and talent were put to chronicling a year of events.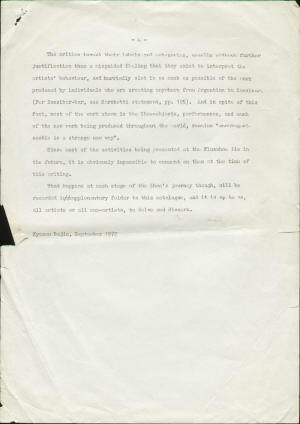 Prologue to FLUXSHOE
Beau Geste Press went on to publish more Fluxus and fluxlike things, including works like Ken Friedman's conscientious "The Aesthetics", Takako Saito's wondrous productions and Ulises Carrion's sensational "Arguments". We produced my own and David's works, those of Opal L. Nations, Mike Nyman, Carolee Schneemann ('Parts of a Body House Book' - picture above), Genesis P. Orridge, Milan Knizak, and many, many others'. We even produced Sitting Dog's methane gas producing manual which sold especially well.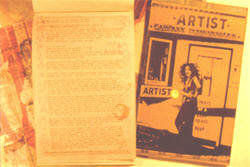 Carolee Schneemann (Beau Geste publication)
Y

ou mention the year of events that was FLUXSHOE: d

id you visit the venues that

it

toured

to yourself,

and what are your recollections of th

em

?
FE:

Ah, yeah... most of 'em. They were all fun. It was much like a tiny travelling circus. I liked Oxford and Falmouth most... and it's not just because you're writing from there. I really mean it. Look at the broadsheets we printed AFTER the F

almouth

show was over. I created a couple of dam

n

good perf

ormance

pieces, one of which I repeated several times (the one called "What are you doing?)....
And in Oxford I broke a front tooth pushing my daughter Yaël on the merry-go-round.
Stuart, I see from your CV that you were in Falmouth at the time of FLUXSHOE- presumably doing a degree?
SR: Yes I was a student from 1970/73 doing a degree in fine art painting.
And the exhibition was in the Arts Centre that was, I take it, on the High Street as it is now?
SR: No not as far as I can remember (35 years is a long time!) The exhibition was held in the College gallery and the performance in the Arts Centre.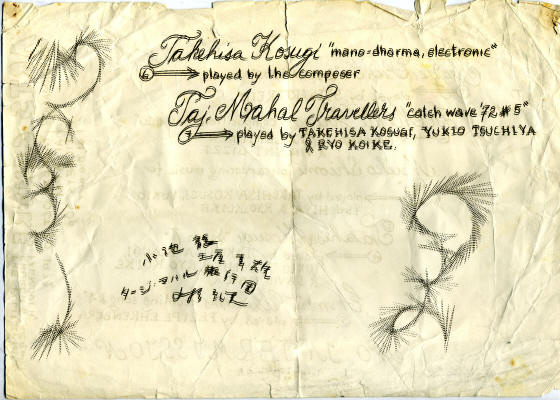 Falmouth Fluxshoe programme
How did you get involved with the show?
SR: I was on the exhibitions committee; the exhibition opened the program for the new academic year. We took touring exhibitions mainly, the Fluxus tour represented good value as it stimulated great debate, publicity and musically there were strong connections with Harrison Birtwistle, David Mayor, and College staff.
I was interested in electronic music e.g. John Cage. The College had invested in an electronic music studio run by a composer Howard Rees who had been involved with the first one in the country established at Goldsmiths. It was partly through these connections and getting to know the participating artists especially Eric Anderson and David Mayor. The person to talk to about this is Philip Hogben (he headed up the exhibitions committee) who I think you may be able to contact through the Newlyn Society of Arts.
How was the exhibition installed and did you have a role in doing this as well as performing?
As far I can remember the exhibition arrived in boxes, or parcels which I helped unpack. The installation was quite easy. David, Eric and Felipe knew how it all came together.
We had to make some white plinths for the exhibits to stand on
.
S
ome I think were in perspex boxes. I don
'
t remember anything on the walls.
I can't remember all the artist
involved but it represented a cross section of those
involved with Fluxus.
Much of the work travelled through the
post and was
therefore of a
postable format and table top. A lot of it flew across the
A
tlantic
and was
opened by customs or got lost. I don
'
t think this could happen today without the packages being
treated as possible bombs and you can
imagine the artists being
arrested as suspect terrorists.
Were most of the artists you knew at the time already aware of Fluxus, and related movements like conceptual art and performance art, or were these still very underground?
There were a few of us as I can remember, Vincent Gizzi always dressed in a Joseph Beuys style hat and jacket and as I have mentioned there was a strong interest in electronic music. I think most students in my year were aware of Dada and its influences.
The
library was always up
-
to
-
date with books and art magazines. The
Librarian Derek Toyne was very
knowledgeable and could get the most obscure literature. Because of its location the college
tried to create a diverse visiting program
.
I remember having a tutorial with Ian Breakwell and David Med
al
la, Richard Long giving a slid
e
show of his work and someone gave a lecture entitled "Flight from the Object" but I cant remember who it was.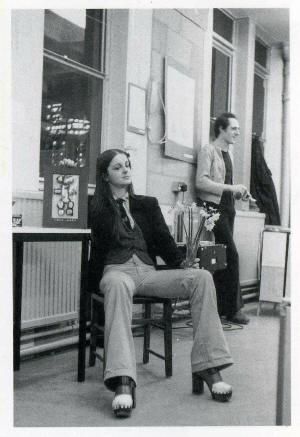 Helen Chadwick (FLUXSHOE Nottingham
What was your contribution to the FLUXSHOE performances?
SR: I performed a George Brecht piece entitled 'Durations Red & Green'. This involved eating a green salad and drinking a bottle of red wine while a red and green spot light revolved on me. The performance ended when the salad was eaten and the wine drunk!!
In fact Brecht's score provides no further instruction than the words "red" and "green." It is up to the performer to interpret those instructions. In 1972, Takehisa Kosugi performed "Two Durations" by eating a green salad and drinking red wine. The spirit of Fluxus commands that "anyone can and probably should perform events at will and often" and so Takehisa passed the piece to me to perform.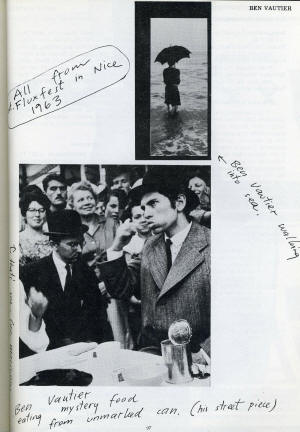 Ben Vautier (from the catalogue)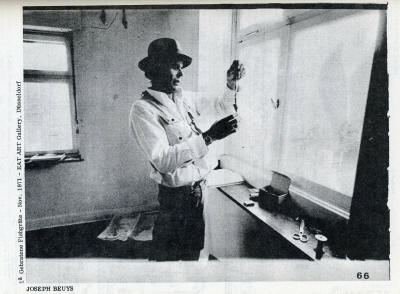 Joseph Beuys (from the catalogue)
Can you describe any of the other performances?
Its difficult to remember back 35 years particularly as at the time I had drunk a bottle of red wine in a relatively short space of time!!!
I remember all the performers were dressed in black including myself, as one would expect for a FLUXUS event. As I was first on I watched the other performances from the wings. I remember Takehisa Kosugi was the leader of the Taj Mahal Travelers. They were all very accomplished musicians who, although speaking very little English, popped up all over the art school wearing an array of bizarre costumes. They were Takeshisa Kosuar, Yukio Tsuchiya and Ryo Koike. The music they played had Japanese's influences merged with John Cage and Stockhausen . There was a lot of Zen influences. The whole event was a success and well received. It would-be interesting to find out if it was reviewed in the local press.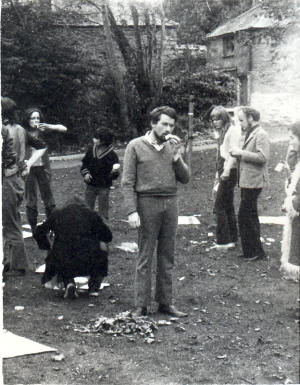 The cannabis ice-cream event: David Manley in Falmouth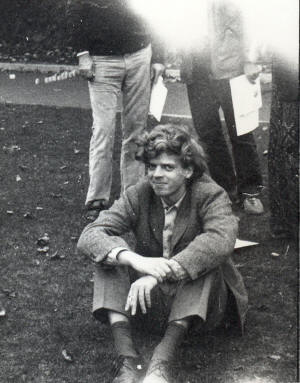 Danish Fluxus artist Eric Andersen in Falmouth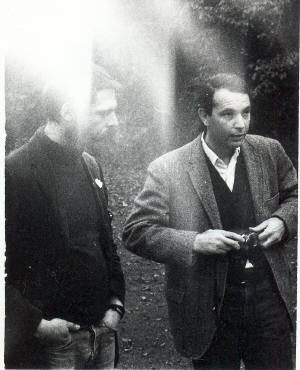 Felipe Ehrenberg and Barry McCallion in Falmouth
all 3 photographs thanks to Allan Green
Were people generally bemused or did they understand the ideas that motivated the works? Do you think people were more open to those ideas then than perhaps they might be now?
I think the general public were bemused but then they always are when their perceptions are challenged. The audience was made up of students, staff and general public and as far as I can remember the art center was about three quarters full. I think it would be fair to say that that some understood the ideas that motivated the performances and events and for others this was a new experience.
The students who participated in the performances and events most certainly did and were eager to participated in the debates which Eric and Felipe instigated. One of these events was the "Marijuana ice cream event" and a "Table Tennis Tournament". (Hopefully we can find the photographs to put in here I don't remember much about the " Marijuana ice- cream event" as I was enjoying the ice cream so much!)
Yes I do think that society was more open to radical ideas all the
boundaries in the arts were being pushed out.
You wouldn't get away with what went on 60s 70s in today
'
s art schools, societies changed and so have the students.
In December 2008 Barry McCallion contacted artcornwall.org. He had contributed to most of the FLUXSHOE events, and is pictured above in Falmouth next to Felipe.


Barry, thanks for contacting us. When and how did your involvement with FLUXUS begin?

I was living in California in 1970. John Cage's books had made a great impression and I was trying to adapt notions of Chance and Randomness to my own graphic works, constructions, and performance pieces. I wrote John a tribute letter which reached him in St. Paul de Vence and he replied, suggesting that I look up Dick Higgins. Dick, Alison Knowles, Emmett and Ann Williams and others had just moved to California to teach at Cal Arts, Valencia.
Dick and Alison took charge of my FLUXUS education and were very gracious and generous with their time.
They were both integral to FLUXUS werent they? They had presumably come from New York?
Dick and Alison were New York based and only moved to California for a few years. Dick and Alan Kaprow and George Brecht and others all attended classes (1957-59) that John Cage gave in Experimental Composition at the New School for Social Research in NYC. And yes, I'd say that Dick and Alison were integral to Fluxus in the sense that Dick started the Something Else? Press and published books as well as early Great Bear pamphlets by George Brecht, Claes Oldenburg, Cage, Ken Friedman... maybe (probably) others. Alison is still performing. But there are Fluxus histories which will detail Alison and Dick's part in Fluxus better than I can.
Any way Mail Art connected many of us and I probably learned of FLUXSHOE either directly from David and Felipe, or indirectly from David Briers, Colin Naylor or Nick Zurbrugg. At any rate I sailed for Southampton, drove to Cullompton and stayed with Felipe and Martha and David. So-called important things have faded but I have a vivid memory of Martha making soup with nettles! I was probably with them for a month or more before I moved into The Old Barn, Wiggaton, Ottery St. Mary.

Mail Art was really important for several years. Before we go on to FLUXSHOE itself, can you just say what you remember of the Mail Art movement and how it worked?
Mail Art was to the sixties and seventies what Blogging and My Space and Facebook are today -- a way to preen a little, network like-minded artists, and develop a sense of creative connectedness. It was amazing how quickly a handful of addresses multiplied into real numbers. I created a "company" called Aleatory Novelties Limited and offered such items as: "Burned and Returned -- You send it, we burn it and return it." Art is a mostly solitary affair; it always gave me a lift to get "art" mail.
So which bits of FLUXSHOE did you contribute to? What are your memories of the performances and venues?

I remember the two pieces I did at Falmouth reasonably well. One involved a series of slides documenting a butcher shop chicken from purchase to roasting to eating (Life?) then the slides showed the bones being de- greased, painted gold and ceremonially interred in a hedgerow (Art?). I showed the slides in a darkened room, describing the process to students. It was a simple narrative about transformation and it was well received.

Eric Andersen came to Falmouth and sat on a public bench with a sign that read:

Free Advice
Free Music
Free Sex

Eric had an easy manner with anyone brave enough to stop. He doled out Free Advice in excellent English and provided Free Music from a small portable tape player. The Free Sex was intriguing but tame – having to do with a vibrator, I think.

For my second piece I prepared two scrolls, one of profanities and a second with news headings from the Times pasted in. A student volunteer and I alternated reading from the scrolls, but there were few (very few) of the hoped-for funny and /or provocative verbal collisions. I was later criticized for the piece, not for the right reason – that it was a flimsy idea and bad theater – but because the student reading the profanities scroll was a woman. I hadn't anticipated being charged with sexism; I got angry and relations were strained with David and Felipe after that.

The only other clear memory I have of FLUXSHOE is a walking event I organized for Nottingham. It involved a city map and locations determined by throwing darts. Participants traveled from place to place and things collected at the various locations were later assembled on a canvas.

I have a good Nottingham memory of David Briers and others of us eating crisps and drinking beer outside the Trip to Jerusalem, a pub at the foot of Nottingham Castle's walls, but I was in England for a year and that may have been another time.


Do you remember much about the people involved at the time: including Felipe Ehrenburg and David Mayor?

Felipe and David… John and Claire Gosling were particular friends… Mostly I remember that they were all bright and enthusiastic and very decent, and that the need to ply Art with questions forged a fellowship.
FLUXSHOE was also the subject of an exhibition called 'Fluxbritannica' at the Tate in 1994. There was no catalogue produced for this later show, but there is a broadsheet which provided most of the text for the Tate website.
http://www.tate.org.uk/research/researchservices/archive/archive_mayor.htm
If anyone has more contacts, information or documentation relevant to this article please contact artcornwall.org via rupert.white@virgin.net