Anna Lovatt on Bob Law, minimalism and drawing degree zero
e-interview Rupert White
Accounts of Bob Law's career tend to begin with his Field drawings, which started in 1958. At the time he had recently moved to Cornwall to live in a cottage a few miles from St Ives. What can you say about his relationship to the other art and artists of St Ives?
I know that Law met Ben Nicholson and Peter Lanyon when he moved to Nancledra in 1957 and like those artists, his work responded to the Cornish landscape. We can see the influence of Nicholson in a drawing like River Avon Gorge, 1966, in the current exhibition (image below).

Yet more than these British artists, Law appears to have felt more of an affinity with the American artists he encountered in the Tate Gallery's exhibition "New American Painting" of 1959. Law described "an identification with these huge expanses: Newman, Rothko and later on—although he wasn't in the show, Ad Reinhardt." These artists treated abstract painting as a "field" to be delimited and intervened in, something Law does in his own Field drawings.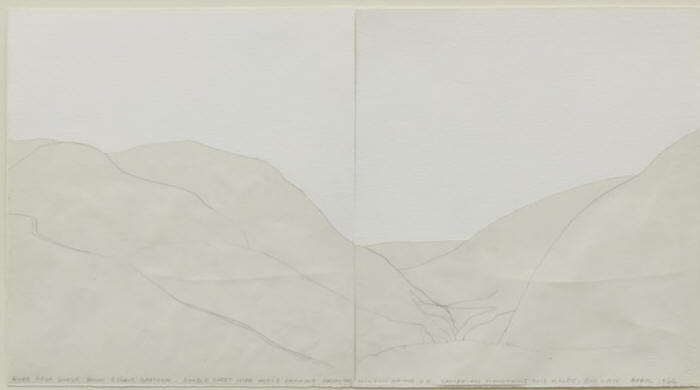 What were Law's other inspirations, and what was he trying to do in these early works?
Law was interested in the writings of nineteenth century nature mystic Richard Jeffries, such as his book The Story of My Heart, 1883. Jeffries describes an ecstatic communion with the English landscape, lying down in the meadows and looking up at the grass, trees and sun above. In Jeffries' book, the sun becomes a symbol of the soul, drawing his thoughts outwards and upwards in a rush of enlightenment.

I think Law was trying to diagram this kind of ecstatic experience in the Field drawings (eg 'Drawing 10.5.59' below), which were made in the meadows surrounding his home in Nancledra. He would sit or lie on his back in the field, trying to "discover himself" in the landscape and to record that moment of discovery in these schematic drawings. Details like trees, grass and stars are pushed to the margins, as if registering in his peripheral vision as he gazes upward.


Can you say more about the impact of the new American painting? He must have been impressed with the works' scale...
Law had already begun the Field drawings when he saw "New American Painting" at Tate and the similarities with his own work were revelatory for him. Although he had seen paintings by Newman and Rothko in reproduction, he was "knocked… out by their sheer size" when he encountered them in person.

Law's first black monochrome of 1960 prefigured Ad Reinhardt's black paintings, but he did not become aware of Reinhardt's work until later, when he acknowledged that they had been "working parallel" to another. He was a great admirer of Reinhardt, although they never met.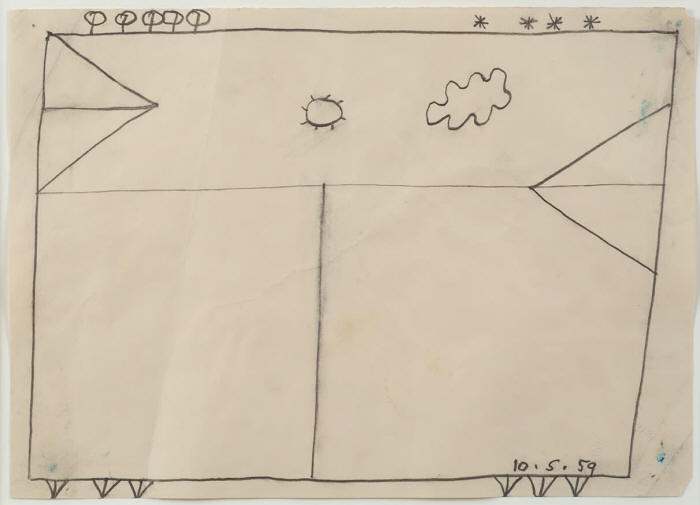 Did drawing remain important to Law later on? How did this change over time?
Drawing is a continuous thread throughout Law's work, as demonstrated in the current exhibition at Richard Saltoun.
We could think of linear sculptures like Reclining Obelisk, 1984, (image below) in terms of drawing, or the skewed black frames of his large Mister Paranoia paintings. Law often made drawings in series, noting their dates in the lower right-hand corner so that each set records the passage of time. Drawing was a daily practice for Law, which extended from the late 1950s into the early 2000s.
The exhibition includes a set of eight drawings produced in July and August 1995, which show his interest in seriality and the many possible permutations of a relatively simple structure.


Looking back over his career is it right that Bob Law is described as a Minimalist artist? How well does this label fit his work?
Law is sometimes described as an "English Minimalist" and his interest in abstraction, the monochrome, series, and systems could be linked to the work of Donald Judd or Sol LeWitt. Yet the term "Minimalist" is problematic, because it was used by critics and rejected by all of the artists to whom it was applied.
More than fifty years on, I can see connections between Law's work and that of younger artists like Roni Horn, who have invested Minimal forms with affective and esoteric meaning. The term Minimal only makes sense in relation to Law if we apply it in this more expansive sense.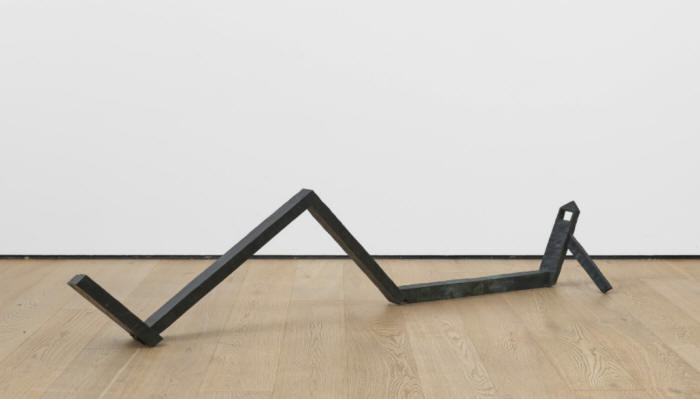 Can you say something about drawing in a more general sense. Why was it so important to minimalist and conceptual artists in the 60s?
This is a question I address at length in my book Drawing Degree Zero: The Line from Minimal to Conceptual Art.

In brief, I would say that the turn to drawing participated in a deprivileging of the art object in favor of conceptual and material processes during this period. In the Field drawings, Law moved away from representational drawing to a more diagrammatic practice that sought to capture conceptual and psychological responses to the landscape. His Scribble drawings of the 1970s emphasize the physical process of drawing and are as much concerned with the movement of Law's hand across the page as they are with the finished product.
Drawing's preparatory and subsidiary connotations had seen it marginalized by collectors and museums in favor of painting and sculpture, but these provisional qualities were precisely what made it so attractive to artists in the 1960s and 70s.


It sounds like drawing took on a very different quality during this period. Which artists would you say are interesting in this regard and why?
During this period drawing became less concerned with representation and more concerned with notation—recording ideas, impulses and processes as they were unfolding.

Sol LeWitt, whose work was shown in the Lisson Gallery's "Wall Show" of 1970-71 alongside the work of Law, is a major figure in drawing of the 1960s and 70s. Many women artists who worked in drawing during this period are finally getting the attention they deserve, such as Howardena Pindell and Michelle Stuart. Like Law, these artists enrich our understanding of the art of this period and highlight its relevance for younger artists like Emma McNally, who I recently spoke with about Law's work (see video link below).



https://www.richardsaltoun.com/exhibitions/82-bob-law-ideas-energies-transmutations/video/
Dr Anna Lovatt is Assistant Professor of Art History and Director of Graduate Studies at Meadows School of the Arts, Southern Methodist University, Dallas. Her book 'Drawing Degree Zero: The Line from Minimal to Conceptual Art' was published by Penn State University Press in 2019.
Bob Law: Ideas energies, transmutations is at Richard Saltoun Gallery 3.9.20 - 31.10.20