Bob Butler on the Polgooth and Elephant Fayres
In 1977 Polgooth Fayre was the first large open-air music festival in Cornwall. In 1980 it moved to St Germans and was renamed Elephant Fayre, which grew even larger. Bob Butler, as one of the main organisers, explains how both Fayres came about.

What was the background to the Polgooth Fayres?

Polgooth grew out of a series of monthly 'events' that I and a group of friends organised in St Ewe Village Hall, near Mevagissey. At the time I ran a wholefood shop and it became a kind of focus for those of us who were interested in exploring alternative lifestyles.
There was a high concentration of like-minded people living around St Ewe and a couple of us joined the local Village Hall committee and during 1976 and 1977 we organised some wonderfully anarchic evenings featuring music, theatre and a vast amount of free scrumpy cider. I think that just about anyone who was musically active in Cornwall at the time would have appeared at one of these shows as did theatre groups like Footsbarn. These shows were always full to bursting and it was clear that there was an appetite for something larger and more structured. This coincided with the growth of the festivals in East Anglia and I remember getting in touch with the people who ran Barsham Fayre and they had written a very inspirational book called 'Build Another Barsham'. We used that as a blueprint for the first Polgooth Fayre which took place in August 1977.

Can you explain in what ways your lifestyles were 'alternative'?
In the late 1960's and the 1970's Cornwall was a haven for those of us who shared a vision of an alternative lifestyle and this manifested itself in a variety of ways. There were a lot of smallholdings, and people exploring self-sufficiency, a number of wholefood shops (Goodness Gracious in St Austell and St Columb, The Granary in Truro and Falmouth), the beginnings of alternative therapies/medicines, a couple of alternative bookshops, lots of craftspeople and so on.
There was also a very active 'arts' scene – obviously music was important with the legacy of the early 1960's folk boom and the network of folk clubs like Mitchell and Lostwithiel hanging on - but there were also a number of music venues springing up in odd places like Davidstow that were much more liberal in their choice of music with everything from African music to punk likely to turn up (Davidstow put on some amazing nights and I saw Stiff Little Fingers and Elvis Costello there). Theatre was very important and the legacy of Footsbarn cannot be over-emphasised. Footsbarn moved to France in the early 1970's, but several groups were inspired by their legacy including The Barneys, Miracle Theatre and, of course, Kneehigh.

There was a high concentration of this energy and activity in the mid Cornwall area around Mevagissey, St Ewe and St Austell and a whole community living in and round Heligan Woods. Musicians Mick Bennett and Pete Berryman lived in Heligan at various times and Ralph McTell bought a house close by in London Apprentice. Polgooth Fayre was very much rooted in this community and we tried to harness all these strands to make a statement about a viable alternative lifestyles.
As far as I know it was the first festival of its kind in Cornwall but it was inspired by similar 'lifestyle' festivals in other parts of the country, particularly those that had been held in East Anglia. The nearest similar festival was Hood Fair which was held annually in Staverton, near Totnes. Some people in Penzance had organised a Festival of Fools – a touring international theatre festival – but this was very much concerned with physical theatre and tomfoolery and was more or less an extension of Footsbarn.

As well as this rural idealism there was also a libertarian political current underpinning this movement and this was articulated by a group in Truro called the Diggers of Albion. The Diggers were led by a remarkable guy called Dave Faulks (?) who was always known as Digger Dave. Dave was a master at propaganda – if you wanted something printed for next to nothing Dave was your man – he produced all the programmes and newsletters for Polgooth.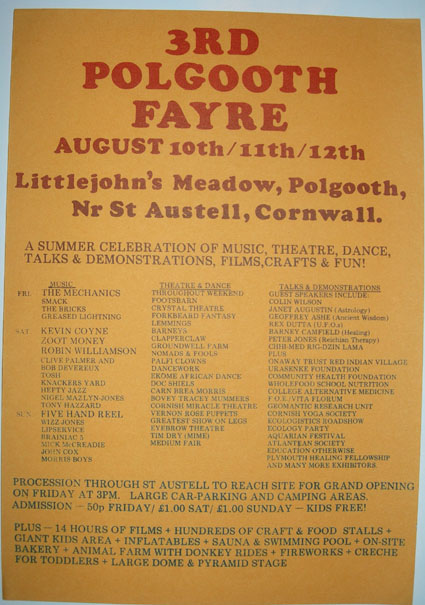 Can you describe the Polgooth festivals themselves ?

We managed to persuade a local farmer, Percy Littlejohn, to rent us a couple of fields in the Polgooth Valley near St Austell. The first event ran over just a single day and into the evening and was very unambitious. I honestly can't remember too much about it, but it attracted 500 or so people and we covered our costs. In those days that represented a significant achievement – so we decided to form a co-operative and work on something more adventurous for the following year. In 1978 we went for a two day event with overnight camping and a much bigger budget. That year we had a whole load of stuff going on - music, theatre, puppetry, crafts, inflatables, aikido, animals and a great kids area. Musically we had Wizz Jones, Clive Palmer & Bob Deveraux, Nigel Mazlyn Jones, Tony Hazzard, Roger Moss, Chris Ridley as well as a whole bunch of bands like the Brainiac 5 and Smack. FootsBarn played and we had some wonderful theatre companies like Friends Roadshow and The Barneys. We attracted a couple of thousand people and it was a great weekend all round.

In 1979 we introduced a film marquee, lots of talks and demonstrations, a second music stage and a much busier programme extending over 3 days. The organisation was much more complex and early on we attracted a great deal of hostility from the local police who decided that every drug user in England would be descending on sleepy Cornwall. In the weeks leading up to the festival I spent hours and hours trying to persuade the local drugs squad in Liskeard that this was nonsense but they were intent on causing trouble and warned us that if we went ahead they would set up roadblocks and search everyone travelling to the festival. I think that just made people more determined and the festival was wonderful. We had some great music – Kevin Coyne, Zoot Money, Five Hand Reel, Wizz Jones again and Robin Williamson. In fact Robin and Clive Palmer teamed up for an impromptu set and Ralph McTell got up to play with them. One of those magical moments.

The police were determined to ruin everyone's enjoyment though and on Saturday night they decided they were going to storm the campsite and put an end to the 'illegal and immoral behaviour' that was taking place. But they reckoned without our security – a group of bikers and friends who were led by the infamous Jim The Tree from Bodmin. Jim and his mates stopped them in their tracks and remarkably, they backed off and didn't return. Instead they turned their attention on Percy Littlejohn and told him that they were going to prosecute him for allowing his premises to be used for illegal activity. Percy was very ill at that time and that was simply disgraceful – he didn't really recover. I spent a great deal of time that weekend at Liskeard Police Station dealing with the police and afterwards they made it clear that they wouldn't allow another event to go ahead the following year. So that was the end of that – we didn't have the resources to fight them and I decided it was time to move on.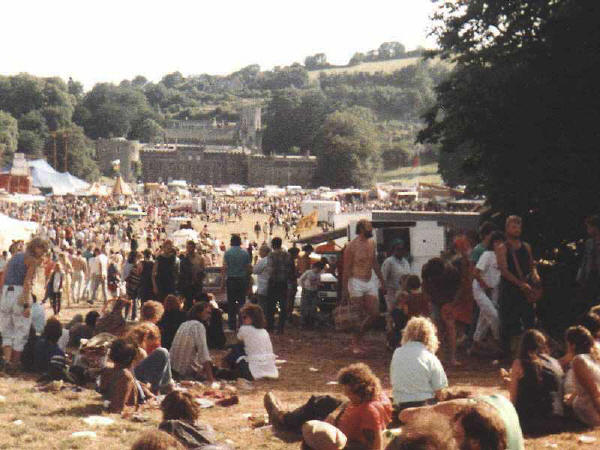 And so Polgooth Fayre became Elephant Fayre (photo above and belowx2) in 1980...

In 1980 I had a year out but I was determined to refine the idea of a multi-disciplined arts festival and so started to look for a site for another festival in 1981. I heard a whisper about a crazy 'hippie' Lord who lived in St Germans. Apparently he had worked for The Beatles in his youth and had later inherited a rather grand pile and was, by all accounts, well worth talking to. So I called up his Estate Manager and made an appointment to meet with the gentleman in question, Lord Peregrine Eliot. This was a memorable meeting – Peregrine turned up in jeans and a very moth-eaten jumper, put his feet up on his antique desk, rolled a joint and basically, said 'yes, let's do it'.

Peregrine became a great friend and my wife and I actually moved into Port Eliot, in the Stable block. Over the next 4 years we organised what I still believe to be the best festivals of their kind in the country and we attracted some of the biggest names around including exclusive appearances by Siouxsie and the Banshees, The Cure and The Fall. We also had some great folk names such as John Martyn, The Albion Band and so on. I also organised an Elephant Folk Festival with a good friend, Martin Val-Baker. We put together a fantastic line-up – Steeleye Span, Alan Stivell, Stockton's Wing, Dave Cousins, Bill Zorn, Michael Chapman, Martin Simpson, Dave Swarbrick's Whippersnapper and Bert Jansch. But it was a freezing cold weekend and I remember that we had to provide bowls of hot water for the musicians to warm their hands.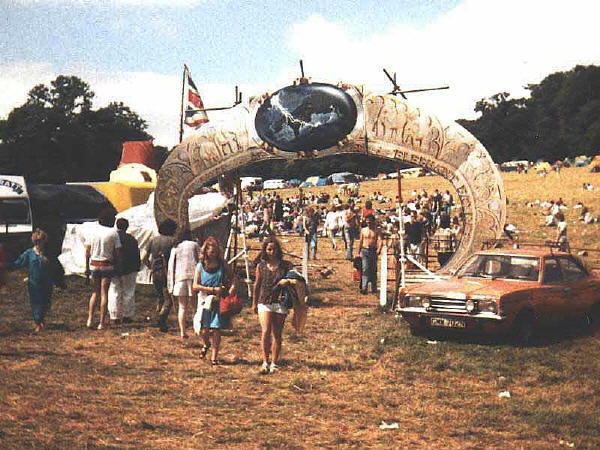 Elephant Fayre continued for several years, didn't it? Did it remain similar in spirit to Polgooth?

The spirit was similar in many respects but everything was on a much larger scale (Elephant attracted 30,000 people in 1984) and that places huge strains on the organisation. Finances become crazy and when, for example, you're dealing with the sole UK date for The Cure in an entire year, as we were, the media pressure is phenomenal. But we were straying further and further from the type of festival I wanted to be part of – I think it was the site manager's intention to put an electric fence around the performer's camp-site that did it for me - and in 1984, after 4 Elephants, I decided to leave.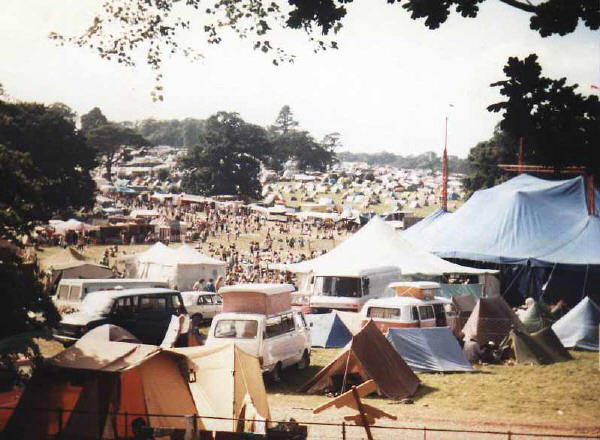 What's your understanding of what happened during the last summer that it ran? The Peace Convoy were accused of vandalising the site and the village of St Germans, and in the process putting an end to the festival.

The festival struggled on for another couple of years, but I think that it simply ran out of steam and I know that Peregrine became rather disillusioned by the constant aggravation that some of the travelling community caused. By then most of the original organisers had left and it was inevitable that it would fold.

For me it was a question of scale. In the early days we knew everyone who came pretty much – there was a human scale that allowed people to genuinely develop relationships and there was a feeling that we were really affecting some kind of change. But human beings can't relate to people when events grow too big – large festivals dehumanise people and I find it astonishing that events like Glastonbury are so revered - 140,000 people paying a small fortune to watch aging rock stars through binoculars in a muddy field – personally I can't conceive of anything worse and it's a million miles away from what I and my colleagues were trying to achieve both at Polgooth and the early Elephants...


Photos (1986) by Herb. Thanks also to Dave Lang at www.ukrockfestivals.com