Bob Devereux on poetry, deck chairs, the craft market and the Salthouse Gallery
Born in 1940, Bob Devereux moved to Cornwall in 1965, and worked in a variety of roles before opening the Salthouse Gallery in 1980.
When and why did you first come to Cornwall?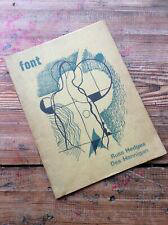 I'd rode through it on a pushbike twice when at art school in Kingston, but missed St Ives. Then in 1965 I went to St Ives for the first time. I came down to Newlyn with John Mitchell and Roger Bristow. John was in Fine Art at Kingston, I was in Graphics, and Roger was a year behind me in Graphics...that was Easter 1965. Roger has more recently written books about Terry Frost and the two Roberts, Colquhoun and MacBryde, by the way.

Chris Cocklin, who we also knew, had moved to St Ives and he took us to the Penwith. I was shocked to see work that was much closer to mine than anything that was in London at the time.
That was a surprise to you?

Yes. I had no clue...though we'd had a lodger in Kingston who had been taught by Terry Frost, I'd not put Terry Frost and St Ives together. I had no idea that it was such a centre for abstraction. I was, in fact, painting abstracts some of the time before I moved down. It was my escape from doing graphics.

I went back to Kingston aware that property was fairly cheap down in Cornwall and that St Ives seemed more of a cultural centre for me, than London. The truth about London and art galleries was that for students coming out of art school there was very little chance of getting any attention, or finding exhibitions.
I thought as a poet you might also have known of St Ives as a centre for beatniks...

No. I didn't know about that. We were simply visiting Chris Cocklin, who later became Mayor of St Ives. By September we'd purchased a house in St Erth and Jenny, my first wife and I, had uprooted.
I've seen a book of poetry by Des Hannigan that you printed in St Erth ('Font' above right)...

When we came down we had to find ways to make a living. I thought I could work as a gardener. We'd used our savings and desperately needed money. I did all sorts of jobs that winter.
In about 1968, I bought an Adana press and started printing business cards and things like that. Then I bought a Heidelberg press from Headland Printers in Penzance. I had it brought to St Erth strapped to a breakdown jib. I brought it across a field and through a hedge, and put it on a platform at the bottom of my garden where I erected a double garage. And that was where my print business was. I was also doing silk screen on a table there.
I hand-set all the type for Des' book. Towards the end of hand-setting the type, my wife had had Zara and had gone back to London with the baby, which got in the way of the printing. I was in such a state I hitchhiked to London to try and sort it out, which rather disrupted the work.
There was that big event in 1970, the 'Festival/Gathering', that I know you were involved with...
We were very aware of Nicki (Tester), the organiser, prior to that. She'd been at Falmouth Art School, and had continued working with poet Peter Redgrove after she finished there. She had met up with myself and Jenny, my wife. Jenny drove her around the West of England, to visit other performers, and persuade them that St Ives was the best place to have the festival.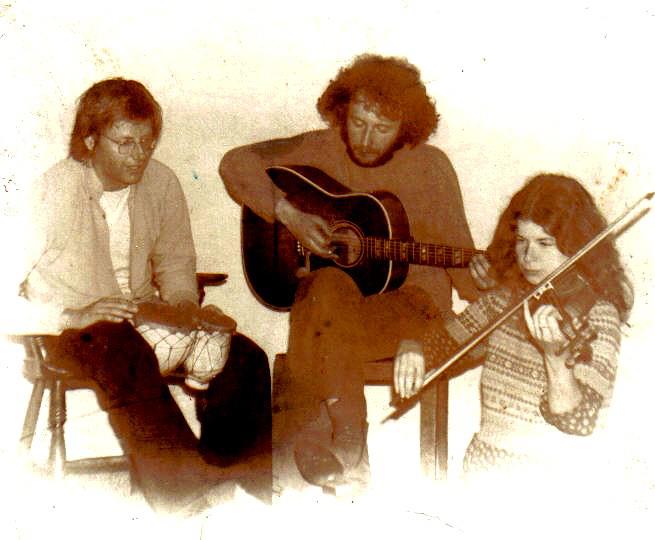 A lot of the contributors were from Bristol. Was Jenny a poet herself?

No, but Nicki knew me as a fellow-poet. Jenny was learning to drive at the time. Nicki had moved to Zennor, and Redgrove used to meet her at the cottage there. I don't know if they were in a relationship. Andrwej Jackowski, the artist, later moved in there with her. That festival came from their energies. Money had been put aside for five festivals to support new talent. I printed the posters. John Charles Clark was very involved too.
Did you meet Monica Sjoo, the feminist painter, at the time?

No. My activity was around the Island. I looked after the marquee on the Island and Mask poetry that had moved to Peggotty's. So I was shut off from what was happening in the rest of the town. But I know Monica's paintings had offended people. And some actors from Exeter, who walked through the town to perform, had done so also...
Then in the early 70's you went touring with Jim Hughes, as Mask (pictured above).
I mentioned that I'd gone up to London to sort my marriage out. Well, when I got back, that same night I went to Julie Hewitt's folk club, 'Mask' in St Ives. Jim Hughes, who was a guitarist and songwriter, was there and he came back to the house whilst Zara and Jenny were away. He had the idea we could write something. He encouraged me to develop a performance piece with him, called 'Arnold', and it turned out to be one of the best things I've ever done.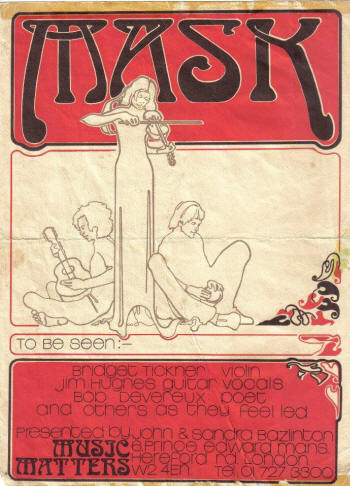 I've not mentioned Derek Hyatt in relation to graphic design at Kingston. He was a major influence. As our tutor, he encouraged us to do collage, and he sent us into the market place in Kingston to find things to collage. I became interested in the shouts of the market stall holders in the market, and that was the beginning of 'Arnold' really.

Jim encouraged me to also write 'Morris Room' where we took the inspiration from a book. Morris Room became so popular it was clear that it was something to develop, and I worked on it again with Clive Palmer later in the 70s. That version was recorded by Martin Val Baker on the album 'Suns and Moons' and, later, Billy Connelly played it as one of his Desert Island Discs. But I really wrote it with Jim Hughes. 'Morris Room' and 'Arnold' were things I was performing with Jimmy.

In 1971 we had so many invites we took to the road: folk clubs, art centres and universities. Martin Val Baker drove us about in 1972. By then we had Bridget Hughes with us, who is still the best violinist on the folk scene (see poster, right). We were very lucky to have her. In 1972 we performed at the 2nd Windsor Folk and Pop festival. We were the second act on just before Hawkwind. And the same year we won a competition, and the prize was a forty minute programme on Radio 2.
'Mask' was my winter occupation, but in the summers I wanted to be at home. So I became a deck chair man, looking after the chairs on the seafront at St Ives. I looked after the whole lot on my own! It was on commission. Alongside that I was looking after Zara, my daughter, and other children on the beach. Their mums would bring me tea and sandwiches. And sometimes Mask would come and rehearse with me there on the sea front! It was a busy time.
Then Dennis Stephens, who is a lutenist now, brought me a box of watercolours. I'd been giving him space and encouragement at the folk club. I sat on the front and began to paint in watercolour, and discovered the complexities of water colour. Every colour, when liberated from water, has its own property.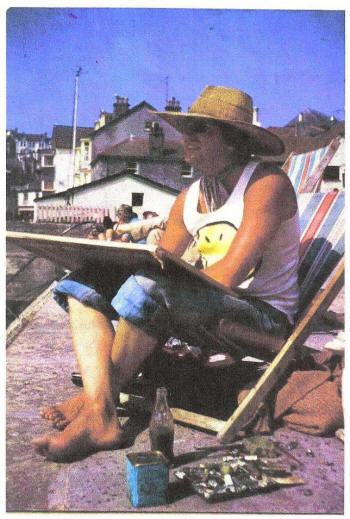 And you first started exhibiting these works in the craft market?
The Sloop Craft Market opened in 1969. It became very active. Jenny had been working there from 1969. She worked on different stalls eg with Reg Simpson, the silver worker, and someone who was making wooden furniture. One of her jobs was to sand off the label on wooden spoons that said 'Made in the Philippines'! And she worked on another stall where they made sandals with wooden soles.
In 1973, in the spring I had an exhibition of the seascapes in the library and I sold all of them. That made me think I could find a stall in the market and I could live from that instead of being a deck chair man. I met another painter called Peter Knox who was keen to move to the craft market and we chased down a man who had abandoned his stall, and it was agreed we would pay him rent out of what we'd earned. And we agreed an amount we would pay him every week.
The next year I had the stall to myself, and I started looking at the possibility of print. I started with simple linocuts, then wood engraving, then reduction prints on lino.
What other outlets were there in St Ives at the time? The Penwith was nearly all abstract art was n't it?
It was n't all abstract.

So did you join the Penwith Society?
I tried to join in 1965 when I first arrived, and they didn't accept me. Someone said, really, you have to get to know them. Ken Symonds was accepted by the Royal Academy on five occasions but never hung, because they were all Londoners. In the same way, in St Ives the artists would hang the artists they were acquainted with. Once I'd discovered that, I was so disillusioned I didn't bother to submit any more, at all. And didn't until I was more established and had been accepted by the Newlyn Society and I'd also got my own gallery.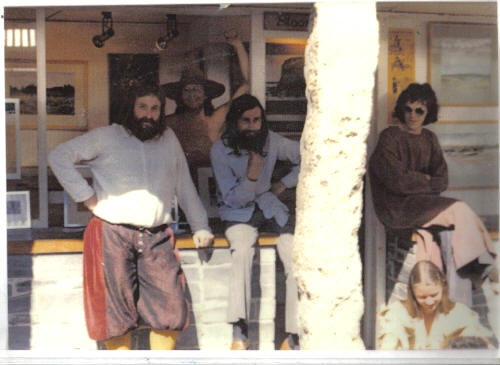 I then put some of my big beach hut paintings into the Penwith and sold them, because people had seen them in my gallery first. That was 1980. It was a big sale.
Before going on to the 80's, can we just talk about Barbara Hepworth dying in 1975. Do you remember much about this?
I regret that fact I never got to know her. But I visited her gardens on the first day that it was open to the public, very soon after she died. One of her children was married to Alan Bowness. It was Bowness that opened it up to the public.
I was very moved by visiting the garden and I wrote a poem, 'Hepworth's Garden', about it:
Her garden
a green cathedral
peopled with strange presences.
Primaeval stirrings amongst the palm trees,
the cherry blossom seen
through a bronze eye of mystery,
A great stillness…a great unrest.
Comfort and question
in one enigmatic smile.
Sparrow sounds are not just sparrow sounds
gulls cries, more than gulls cries,
the church bell, a bronze gong
echoed in every corner.
Fan Palm
Woman Form
Blue Cineraria
Memory of Mondrian
Light of Italy
Green of Greece
Fan Palm
Woman Form
Lovely. Talking of your own gallery, what was the Salthouse before you took it on?
The top room had been selling prints and drawings by Hyman Segal and bits of antiques and so on. Segal had had a studio underneath what is now the St Ives Art school, and he had an antique shop with his wife in Fore Street next to the New Craftsman, but he also had some of his drawings and other bits in the top room. He was renting it. Keith English was using the small room downstairs. (Photo below left shows old Salthouse Gallery entrance c1981)

What other galleries were around in the 1980s?
The New Craftsman, the Penwith, the St Ives Society and the Arts Club. And there was also the Wills Lane.

Yes. Gilly was an architect who collected art, and he moved into the Wills Lane in the late 70s - about 1978. Previously it was run by Reg Singh, who lives in Bath now and has a gallery in Bath and a gallery in Cork Street. But he started in the Wills Lane. It had already been a gallery. There had been a surrealist artist there.
What were your intentions with the Salthouse gallery?

When I finished art school in Kingston, I became aware that there was little chance of exhibiting in London. I said to Jenny that we could start a gallery, possibly with a coffee bar attached to it that would give artists of my generation a chance to exhibit.
When I moved down I was finding my way as a painter, and printmaker and poet, and so that wish went to the side for a bit, but it was still there. Jenny had started etching and the stall was becoming cramped so eventually, in the late 70s, I started looking for a gallery where I could represent other artists; younger artists that had been overlooked, and non-established artists from within the colony and outside, and where I could show my own work.
When I was doing the deck chairs I used to work as a waiter in the Harbour restaurant and work until after midnight. I arrived at the deck chairs at half seven in the morning, except on nights when I compčred events at the Guildhall. It was like I was two or three people! The person who I worked for in the Harbour restaurant happened to own the Salthouse Gallery building and Norway Square outside. I approached him to rent it, and he let me in, with no problems at all.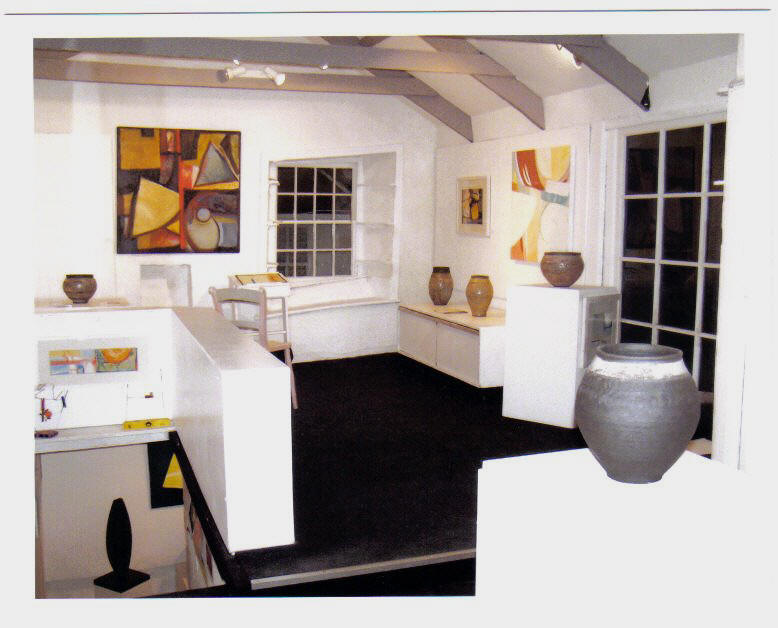 Three years after I'd moved in, he wanted to sell the large, big room downstairs, or get someone to rent it. So he let me organise builders to cut through the wall from the old Salthouse. It had been a garage. It was full of all sorts of crap. He paid for the conversion and for cutting through. I paid for the lighting in that big room. That was 1983.

Patrick Heron came to the opening and said to me I wasn't really a gallery yet because I wasn't buying the art! He was showing in London at galleries where they bought a certain number of paintings prior to an exhibition. There was no gallery like that in Cornwall. I can visualise the scene now. I'm standing holding a wine glass and he's looking up at me, because I'm a bit taller, in that big room...
Did you cover your costs?
It was bloody hard work. Sometimes it was frightening to the point of having bailiffs and things. Max Saunders who first rented it to me was really good. But then someone took over who kept upping the rent.
For many years I was the biggest gallery west of Bristol giving one-man shows to contemporary artists. So people from Wales and Bristol as well as St Ives, Penzance and Falmouth were coming to me.
What appealed to them even more is that I paid for the publicity. A lot of galleries charge the artists to produce the invites and catalogues. I got the artist to supply postcards. Postcard sales helped finance invitations.
Was there the same interest in art in St Ives in the 80s?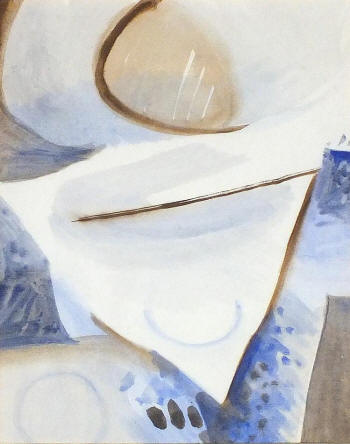 Yes, I think so. The visitors were still coming. The New Craftsman started to put paintings on the walls in about 1978, and Gilly took over Wills Lane at that time. These things both propelled me to open the gallery because I thought there's going to be more and more competition if I leave it too long.
The Wills Lane and Penwith were the most serious contemporary galleries. There was the St Ives Society but it was very backwards-looking. And then there was a gallery run by Keith English that was upstairs over the Union pub. People like Donald McLeod was in there. Then it moved into Fore Street, down near the book shop. Then he moved to where Donald McLeod is now.
There was nowhere in Cornwall that was giving people regular one-man shows. I did solo shows from the beginning. I also had a lectern along the top of the stairs where there were books open with glass over the top of them and that was selling books rather well.
One of my best supporters was a chap called Kim Taylor who started the Ark press in Somerset, but he moved it to Zennor. Ark press was a press that published D H Lawrence. He published all sorts of people, and was able to use Guido Morris' old presses.
Quite a few books about St Ives art came out in the early 80s. 'Painting the Warmth of the Sun' by Tom Cross, and Marion Whybrow's first books, for example.
Marion was living with Terry almost opposite the big downstairs gallery in Norway Lane. They moved in in 1980 and they came to the first exhibitions. Terry Whybrow was painting, and I gave him an exhibition of abstract paintings in 1983, one of the first in the big room. Then he moved to painting more figurative ones that I was less interested in. But the work I was showing was not all abstract. I just used my own judgment as to what was good and what was bad, and what was interesting to me.
You yourself were painting more abstract works...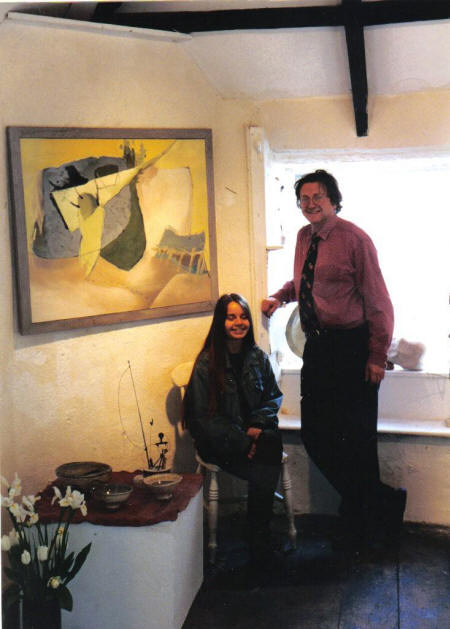 I'd gravitated back to abstract. When I moved into the gallery I was painting these big beach hut paintings and deck chair paintings. They were four foot square. They moved me back to abstraction. On one occasion I'd been painting on Porthminster beach, and I came back to the gallery with it and put it on its side, and when I came back to it I didn't recognise it, briefly, as my painting and saw all these abstract things in it that were in earlier paintings of mine before I moved to Cornwall. I got very interested in that.
There was the St Ives exhibition in 1985 at the Tate in London. I don't know what had persuaded them to do it. The painters in St Ives were amazed by how much work the Tate owned that was 'below stairs', as it were. It wasn't regularly on show at the time. And they thought if they had a gallery in St Ives and put those things on show and got the support of the Tate to do it, it would be in all their interests. That's what happened as a result of the 85 exhibition. And by 93 the Tate had opened.
And as a local gallery owner you'd have been supportive. It could only help your business.

Yes, very supportive. And I helped find ways to raise money. I gave paintings to the auctions and so on. There are now many people in St Ives who aren't interested in art, but who recognise that it has helped their businesses. Restaurants in the town and so on. In terms of the money circulating in the town it has been very good news. And there have been more galleries buying and selling.
And the Tate has helped revive St Ives as an art centre, and given it a new lease of life...
Yes. And the fact that the Tate is there has meant that there are more and more people coming down to paint and exhibit.

For images of the Salthouse Gallery over 30 years see:
http://www.artcornwall.org/features/Bob_Devereux/Salthouse_Gallery.htm
The programme of the 'Festival/Gathering' is here:
http://www.artcornwall.org/features/Festival_Gathering/Festival-Gathering_St_Ives_1970.htm