Denny Long on Richard Long, Bristol, St Martin's and Dartmoor
Richard Long is one of the world's most important living artists, and currently subject of a large solo show at the Arnolfini in Bristol. Denny Long - artist and archivist and his wife of 17 years - recalls details of their time at The West of England College of Art and describes Richard's boyhood connections to the landscapes of the Southwest. Abridged from interviews by Rupert White.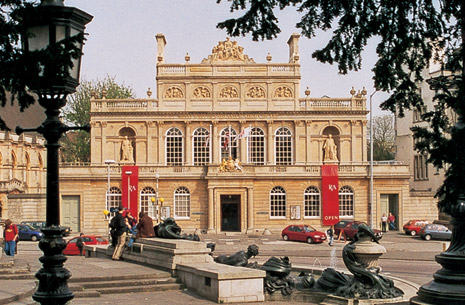 Are you from Bristol originally?
Yes. Richard and I met at West of England College of Art.
Which was in the big Academy building on Queen's Road (picture right)?
Yes. Now the Bristol School of Drawing. The art school is actually behind that main building.
That was in the early sixties. Painting, sculpture and ceramics were in that Queen's Road building, there was print-making just behind the Victoria Rooms near the Downs, and then there was fashion and textiles in Cotham. In Unity Street there was lettering, and painting and decorating. Lads came and learnt how to do house-painting and we learnt lettering and perspective. In the last year we were all amalgamated.
I stayed on and went up to the new art school in Ashton Court in 1967, but Richard was expelled.
Why? Can you explain what happened?
Paul Feiler was Head of Painting, Ernest Pascoe Head of Sculpture, Jack Chalker was Principal, and a lot of people with studios in Cornwall were involved: as well as Feiler, people like Karl Weschke, and one person that Richard was particularly interested in: Peter Lanyon. Richard denies it now but I remember that he liked that fact that Peter Lanyon said 'I am the landscape' when he went out walking and flying. Peter Lanyon was at Corsham (Bath), and some of the lecturers there would come over to give us lectures. David Hockney came down in his golden-hair, golden-jacket phase. He' d gone to New York and bought all these gay films and magazines, and though they were confiscated, he managed to get them back and he brought a couple of these films to Bristol. We were in this lecture theatre watching lots of nude men playing catch! It was a bit shocking, but sweet really looking back on it.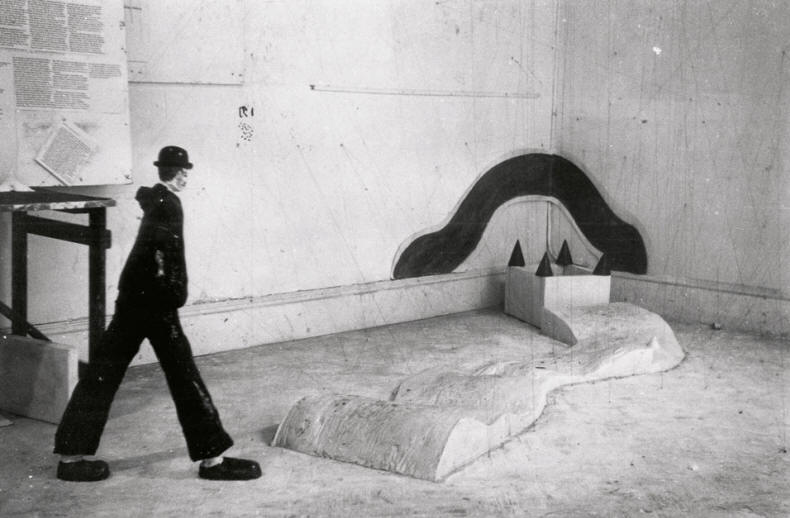 Then a group of teachers came from Exeter Art College: Dennis Curry and John Epstein. And they wanted to throw out all the old ideas. A new degree called the DipAD had come in and the old NDD was being phased out, and the old tutors were threatened by these new tutors, but Richard loved it.
And Richard had made one of his first installations in the lower sculpture studio. It was a sculpture of a man walking through a landscape (above). But then they basically expelled him for it.
It was the summer holidays and this letter came, and it said that he was being expelled on the grounds of 'mental instability' which was supposedly reflected in his work. It was our liberal studies tutor Ray Racey who'd written it. Richard's family were really shocked and said that they would take the college to court for making these assumptions. Richard was a terribly hard-working student and very serious, but they threw out a whole group of students. They weeded out anyone who was doing anything different, but it was the best thing that could have happened in the long run.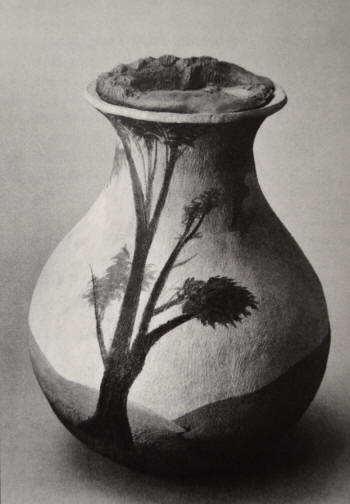 That was at the end of summer term - the end of that academic year?
Yes, or a shade earlier (Easter). So he then had a year out trying to get back into college. His Aunt was instrumental in helping me get him interviews, but every college he applied to had links to Bristol apart from Central St Martins.
You mentioned Richard's parents. Did he live and work at his parent's house during that year before going to St Martin's?
His Aunt died and she had a flat in Clifton where the family used to live before they moved to Redlands. So Richard lived in that flat. He made some lovely miniature landscapes, and we collaborated on a piece. It was a pot that I had made by coiling, and he decorated (left).
His father was a primary school teacher, and very left wing, and his mother a legal secretary and they wanted to him to go into teaching and get a 'proper' job. His Aunt helped partly because Richard's parents were in a bit of a panic at the time, because of that business with the 'mental instability'.
Feiler was not a good tutor - at least to the women. He would have a 'I expect you'll just get married, have children and support your husband' type attitude. But ceramics was good. Before my final year I went out to Japan. I didn't really want to work in the Leach pottery because none of us really got on with Bernard. He and Janet were both visiting tutors, and she championed us three women, and she wrote me a letter of intro-duction to the Hamada family. So I travelled through the Soviet Union by train, and ship, to Japan. And I remember Richard seeing me off on the train.
And Hamada was still alive?
Yeh. He was great. He was so much more fun than Bernard Leach.
In what way was it a ceramic village?
It was like part of the infrastructure of the village. Like you'd have had basket-makers or thatchers in Somerset in the past, and they made everyday pots for everyday life. I've always been interested in Zen Buddhism because of going to Japan. And I think I influenced Richard in relation to the Zen stuff.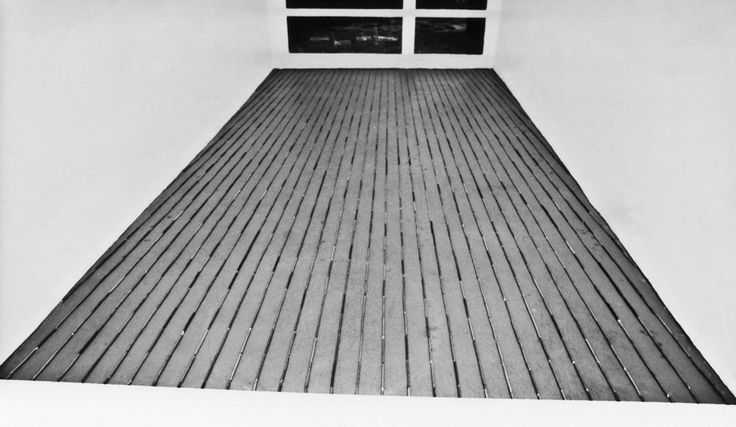 Once he'd started, Richard flourished at St Martins, didn't he?
The course at St Martin's was brilliant. That's where he met George, of Gilbert and George, who we knew before Gilbert came along. It was very relaxed there. Gilbert just turned up and sat on the window-sill until they said he could be a student! They lived opposite Richard in Fournier Street. Richard got an attic in a Jewish tailoring firm. George lived over the road, in the house that they bought, where they now have a beautiful studio.
My granny had left me some money. My mum suggested I got a really great car, so I bought this Triumph Spitfire and I used to drive them up to tutorials with Anthony Caro at his studio at home up in Hampstead. George would sit in the dickie seat. I was still doing my DipAD in Ceramics, and BEd in Bristol, but used to go to London at least once a month.
After art college Richard developed an international reputation very quickly...
He was talent-spotted at St Martin's and he got picked up by 'Art and Project' in Holland, and Jan Dibbets liked his work. He was doing the right thing at the right time. Then he met Konrad Fischer and that was his first major European gallery (picture above - 1968). Then we met people like Martin Visser in Holland. He had a great collection, and Richard made works for him.
Richard was invited to make a big sculpture in Museum Hause Lange in Krefeld near Dusseldorf. I went out to help him. We did earth-moving and things like that. (Denny pictured inside 'Turf Circle' below).
When we came back I still lived with my mother, and the phone went and it was Richard. He said: 'You better sit down... let's get married on the equator in Africa'. I thought 'great'. So I fixed up the flight in this ancient plane with propellers that flew over the Sahara. His sister was doing voluntary service out there, and he wanted to climb Kilimanjaro.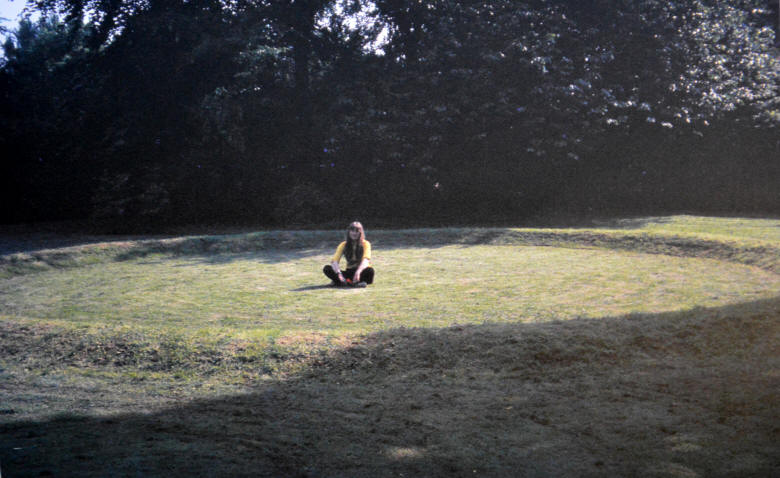 And he did (1969)...
Yes. And we had this marriage ceremony on the Equator in Kenya, that was actually in the District Commissioner's office in Nairobi. But it was legal because Britain was still involved in Kenya at the time. No-one else came to the wedding, and he said the vows to the secretary. The District Commissioner who must have been a Muslim came in all his robes. Richard didn't have enough money to pay, so left me there whilst he went to a hotel nearby to get some.
Afterwards we sent a telegram to our parents, had an Indian dinner and went to see 'The Boston Strangler' (film). There were a lot of Ugandan Asians on the flight escaping Idi Amin, and when some of the passengers heard we had just got married, they bought us a bottle of champagne. Back in Bristol my mother put on a lovely wedding party for us, with a cake the shape of Africa, and Richard put together a slide show of the works he 'd made out there.
I understand you went to some music festivals around that time...
We went to the first Glastonbury, when it was still Pilton Festival, but Richard hated it as he didn't like the crowds. We also went to the Isle of Wight festival in 1970 with Roger Ackling and saw Jimi Hendrix. We camped in the grounds of Roger's parent's hotel, which was a posh hotel there. We'd been married a year, and during that holiday Richard, who was used to making camp fires, used the lens from an old watch Roger had to start a fire. I think that was the origin of the burning that featured in so much of Roger's work.
Richard had agreed to go the Isle of Wight because he had to go to America from Southampton, possibly for an exhibition at the Dwan Gallery. He got the boat to New York, and I didn't see him again until Christmas, when I went out to San Francisco.
He's made works all over the world, but Dartmoor seems a particularly important location for Richard. Is that something to do with the fact his grandfather lived near there?
Richard's mother, Frances, was born in Rio de Janeiro because Richard's grandfather, Medland, was an agent for Hispano-Suiza cars. Then they moved to Malaga where she grew up, whilst Medland was selling cars to film stars on the coast of France. Sadly Frances' mother died of TB.
Medland was away when Franco invaded Malaga. And Frances and her sisters had to escape. I saw one of the ships that brought them back on TV. It was packed like the refugee boats now. They had to leave in the clothes they stood up in. Medland initially lived near Bristol and Richard's mother, Frances moved into Bristol, when she met Richard's father. And actually they met in a walking club!
Later Medland moved to Bovey Tracy. I think Richard was just put on the train by himself and would often visit. He was very attached to his granddad and Dartmoor. Medland was a Unitarian lay preacher, and a quite radical sort of person.
Later, once I knew him, all our holidays were in Cornwall or Devon or Somerset. His cousin had a sheep-farm in Somerset on the coast near Holford, and we would also stay there.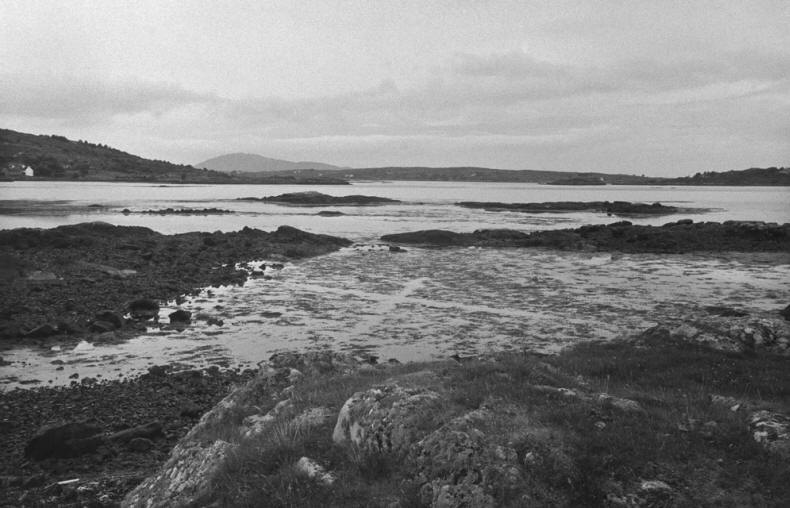 Did you also accompany him on trips to make artworks?
Very early on I used to go with him when he was making works. We'd camp in horrible primitive tents with slugs climbing up inside! I remember camping in Wiseman's Wood on Dartmoor, and then I'd just wear things like tennis shoes and a cycling cape. The whole moor would be moving because of the wetness. He would show me how to jump on the tumps. Once on Dartmoor I remember I was approached by a man on a horse who warned me to be careful because a convict had escaped from the prison!
By then I'd changed the car for a Renault 4. Richard didn't drive. He'd generally travel on the train or go hitching. I used to take him out to Silbury Hill on the A4 to hitch. In the early days he would just camp and sleep in barns.
I went with him to Ireland in about 1970. Someone had lent us a cottage and it was horrible and damp, and we didn't have enough money to get the ferry back. One summer before the children were born we went cycling in Ireland and he made some pieces in Bertraghboy Bay (1971 - above).
Our eldest daughter stood up for the first time on the banks of the Shannon. Someone had lent us a house near the cliffs of Moher. I'd be on the beach making friends with another mother, so he could go off and make some work.
Once Richard was showing in the Old Hops Store at the Guinness Brewery in Dublin, and I made a video that was used the first time he was nominated for the Turner Prize. We were staying with Nicholas Mosse's family in Bennettsbridge, and I remember we spent a lovely day with Joseph Beuys who was also staying. Richard made a work near the black fort there at Dun Aengus and on Innismore in the Arran Isles.
It was the same when we went to the Scillies. We stayed a couple of times on the Scilly Isles, in Coveen Cottage B&B on St Agnes, and he made some work there. He walked around Gugh. Not sure if it was ever documented.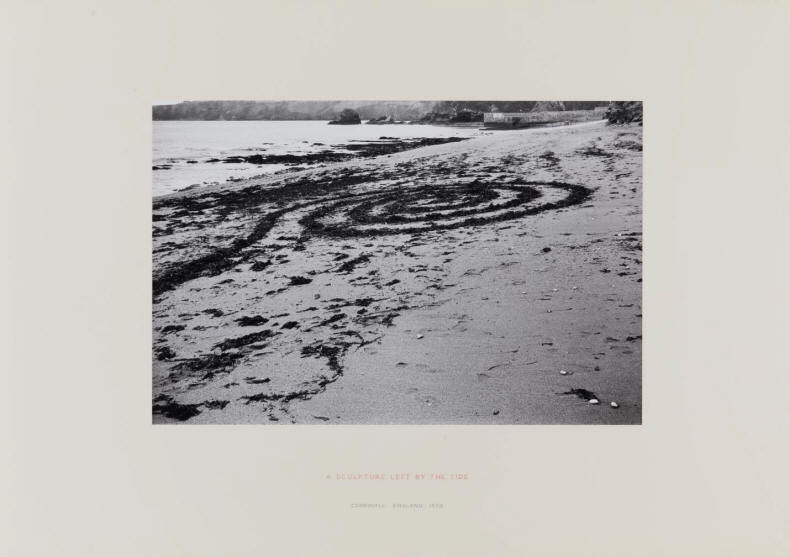 And then there's the very early seaweed piece made in Cornwall (above)?
We were staying with an old school friend near the station in St Austell. The nearest beach was at Carlyon Bay and I think that's where it was made. He made a spiral using seaweed, then the tide came in and washed it away. It was one of his earliest land art pieces (1970).
Once the girls were born (1974 & 1977) I was a bit less involved, as I was less able to travel long distance to attend exhibitions etc. But Mum and I were just so glad he'd made it...