Denzil Forrester on St Just, Jah Shaka and Peter Doig
Interview by Rupert White at the Jackson Foundation, St Just
old and new paintings
here in St Just
...
The work was selected by Peter Doig and Matthew Higgs. They
chose
some work from the early 80's
, but a
bout a quarter of the work is new. The very earliest work - which is
from the
late 70's - is of St Just. I came
painting here
in 1977
,
with my tutor from Central School of Art.
How old were you then?
I was in my early 20's
;
about 21, 22. I'd just started at art school and David Haughton
,
my tutor
,
always
used to come
here
.
Most of
his paintings are of St Just. He's done some of the best work inspired by the area.
He used to live
here.
Exactly. He used to bring his students
down
here from London for two weeks
at a time
. I really liked it
here
.
Then my partner's parents bought a cottage near St Agnes, so I started coming to Cornwall every year. It was an old run-down cottage between St Agnes and Mount Hawke that they bought for £95. They did it up and retired here in the early 90's.
But for most of your career you were in the Hackney area?
I grew up in Stoke Newington and Hackney, and a lot of the paintings in the show are to do with the nightclubs in the Dalston area, mainly Jah Shaka sound system; mainly the dub reggae sound systems in the early days.
That would have been in the early 80's?
All through the 80's. I stopped going to those clubs in the early 90's, because then I travelled a lot to Italy and America.
I used to go to the
London
nightclubs and make drawings to the length of a record, which is about 3 or 4 minutes.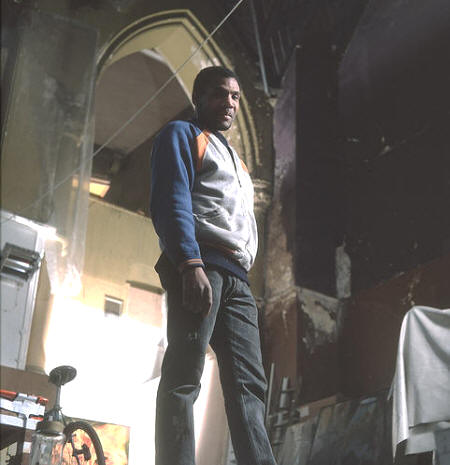 So I'll have A1 paper, it's dark, and I can't really see what I'm doing, so I'm going for the movement, the action, the expression of the people. I'll make the drawings, and take them to the studio and use them for making the big paintings in the studio.
Was your sole inspiration the music scene, or were there other artists that you were interested in at that time?
It was mainly the music, the dub scene, the punks. London was a very active, vibrant, colourful place then. It was cheaper and freer to live there then too. You could squat a house.
So I was in a squat for about 5 to 6 years in Clissold Road. It was easier because an artist could have lots of space. And there was an energy there. Particularly the dub nightclubs. Jah Shaka, the Rastafarians, basically they'd dress up, they'd dance and play their monosystems, and I wanted to capture that energy.
These are big paintings. Did you get much chance to show them back then?
No. Not really. The galleries wouldn't dare show these paintings. But there's a generation now, the same age as me - I'm in my 60's now - that can appreciate them. They can say 'I went to some of those raves!'
So in some ways they're being seen and discovered for the first time. Which must be nice for you...
The main person who has got me back into the art scene is Peter Doig. He saw my work back in the 80's when I was at the Royal College, and he really appreciated it. He gave me an exhibition at his gallery in Shoreditch, Tramps, just over a year ago, and then got me a show in New York at White Columns, and now the show here at Kurt Jackson, and another coming up in Berlin.
I have 40 years of work. I kept it all. I took care of it. As you say they're big paintings and you need a big space to store them, so I was very lucky that I had the Islington Arts Factory that my parents-in-law started in the 70's. It's on Camden Road opposite Holloway Women's Prison, and it's still going. My in-laws named it after Andy Warhol's factory, and we had spaces there in which to teach and paint. It's a church so actually I had a space even bigger than this in which to work and store my paintings.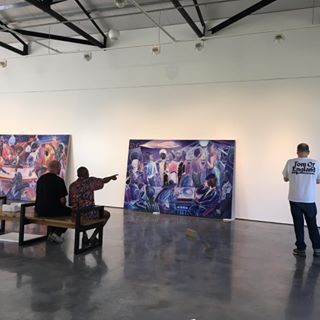 How did you end up living in Cornwall?
My partner's parents were in the their late 80's. They were so good to us when we were starting our young lives in London and we wanted to spend some more time with them. We moved down in 2012, but within a year or two they passed away.
I was still teaching in London, but I was waiting until I was 60 to stop. I taught for 30 years at Morley College, Waterloo. I decided when I was 60 I wanted to get back into full time painting. So I've given myself some more time, and thank goodness I did because I'm back on it again! Painting every day!
You've got a studio in Truro? Is it in the Old Bakery?
No. But it's very near there, down by the river. It's a lovely part of Cornwall.
see 'exhibitions' http://artcornwall.org/exhibitions/Jackson_Foundation/Denzil_Forrester_Jackson_Foundation.htm
16/6/18