Hope Wolf on Pailthorpe and Mednikoff, Surrealism and A Tale of Mother's Bones
Interview by Rupert White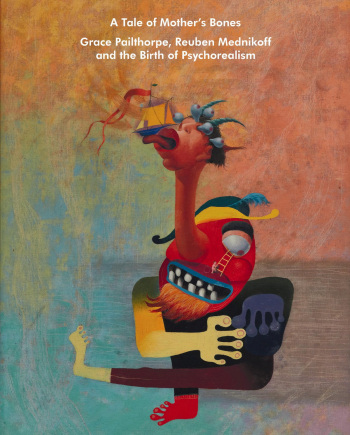 There was a Pailthorpe and Mednikoff show, 'Sluicegates of the Mind', two decades ago that focussed more on the Surrealist works from the 30's. 'Mother's Bones' seems to take a broader view...

Surrealism is an important part of the show, but it is not a show about surrealism in any straightforward way. A Tale of Mother's Bones is primarily interested in the ways in which Pailthorpe and Mednikoff told their life stories, and it looks at how they used psychoanalysis and the practice of automatic painting and writing in order to do so. Although they shared with surrealists an interest in freedom, many of their peers would have objected to their use of art as a therapeutic tool. Although Pailthorpe and Mednikoff exhibited in surrealist galleries, it's also useful to know that they primarily identified as researchers rather than as artists.
Sluicegates was a really important show, partly because it located a lot of the works that hadn't been seen for a long time and brought them together. The catalogue also introduced many people, for the first time, to Pailthorpe's article The Scientific Aspect of Surrealism, and also to some of her unpublished texts. What makes A Tale of Mother's Bones different from previous shows is that it substantially brings together the archive and the art works, and it also tells a story of their lives through their works. This required a big archival dig: finding the interpretations and matching them up to the paintings and drawings, and piecing together archival documents in order to tell their story from 1935 to 1971-72 (but also including a discussion of their childhoods and adult lives before they met one another).

Their interpretations are provocative and interesting, but you implied that at times they can be a distraction from what was really happening in the paintings, and in the artists' lives.
Having a questioning approach to the story that Pailthorpe and Mednikoff told about themselves and their art is, I think, really important, and it encourages viewers to spend more time with the works. It shouldn't be the case that the captions, and the artist's own psychoanalytic interpretations, flatten the meanings of their images. There's always more going on, and perhaps more going on than Pailthorpe and Mednikoff were aware of too.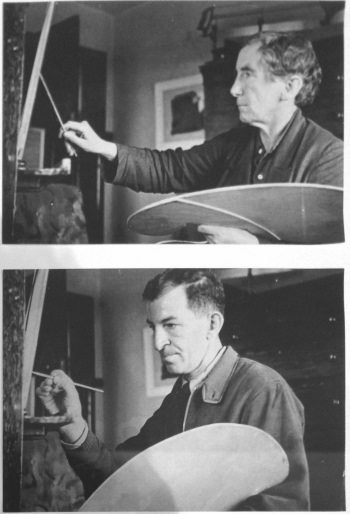 One aspect to this might be their connection with Aleister Crowley the occultist, who like Pailthorpe, was brought up as a member of the Plymouth Brethren...
Yes, there is a tendency to see Pailthorpe and Mednikoff as isolated figures, but they met and corresponded with many people. Pailthorpe knew Crowley. Both Pailthorpe and Mednikoff were very interested in the occult. Although they become very deeply invested in thinking and reading about spirituality from the 1940s until their deaths in 1970-2, they were also exploring occult practices when in Cornwall in the 1930s. Here they went to sťances, and Mednikoff writes that on one occasion he was told that he was an older spirit than Pailthorpe. I imagine this pleased him very much, because she was the more authoritative character of the two, so afterwards perhaps he felt he had a bit more of an upper hand!

It's easy to miss some of this context.
Well, for me, it is fascinating how Pailthorpe and Mednikoff sought (often with difficulty and not always with success) to fuse together surrealism with psychoanalysis and the occult. I discuss this in the catalogue, but I have much more to say here, and hope, after the exhibition, to write more about this.

You mention Cornwall. They worked in Port Isaac from 1935 (picture above left). Have you managed to visit? Have you worked out which house it was?
I know which house they lived in, although I haven't yet visited. I have seen many photographs of their time in Cornwall (a few can be seen in the catalogue for the show), and there are people around now who still remember them. I'd imagine they weren't easily forgotten!

And talking about bringing the archive and the work together, the archive is in Edinburgh, but where are the art works themselves? Are they widely dispersed?
Most of the surviving works are in the UK, although there are some in international collections. Some are in national and regional collections. The majority, though, are in the hands of private collectors. Some works are currently lost: I've seen photographs, but just don't know where they are. I hoped that the owners of some of these works might come forward during the show, and indeed some have, but there are more to be found. If anyone reading this knows of any works that haven't been exhibited in A Tale of Mother's Bones, I would be delighted to hear from them!

They tended to play down the fact that they were influenced by Surrealism, but they must have had some contacts in the movement to have been invited to show in the 1936 exhibition in London (picture below)...
Mednikoff knew David Gascoyne, and they corresponded with Roland Penrose and other Surrealist artists such as Ithell Colquhoun. They were very good friends with Victor Neuberg and Runia Tharpe too.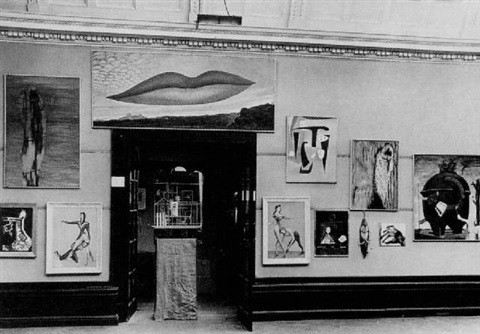 In terms of the stylistic influence of Surrealism, I see a lot of Andre Masson in some of the drawings, for example.
There are similarities. One of the vitrines in the show draws attention to their exhibiting history with other surrealists. There is of course a lot more work to be done here, comparing and contrasting their work with that of other artists, but the show instead focussed on Pailthorpe and Mednikoff's interpretative method in the captions: I very deliberately prioritised their voices over my own. The catalogue, however, (picture top right) opened the works out to alternative interpretations. Scholars and curators were asked to choose one work each, and to offer a new reading of it, using their own skills and knowledges.


And presumably to consider how Pailthorpe and Mednikoff are relevant now...
Yes, essays in the catalogue explore how Pailthorpe and Mednikoff's work might link to contemporary discussions about imperialism, gender, and the anthropocene, for instance.
At the same time, the show and catalogue has sought to situate Pailthorpe and Mednikoff in a historical context, talking about the aesthetic and psychoanalytic discussions that they contributed to. This, I hoped, might counter the dismissive idea of them as eccentrics, working on a strange personal project. So, for example, the philanthropic dimension to their work, their wish to understand where hatred - and indeed Fascism - came from, can be situated in the context of a conversation that other writers and artists were having at the time. I am not, here, trying to suggest that their practice was not very unusual, but it is useful and illuminating, I think, to make these kind of connections.




Hope Wolf lectures in modernism and life writing at the University of Sussex. She curated 'A Tale of Mother's Bones: Grace Pailthorpe, Reuben Mednikoff and the Birth of Psychorealism' with the De La Warr Pavilion and Camden Arts Centre, and it is showing at Newlyn Art Gallery and the Exchange until January 4, 2020.
A catalogue accompanies the exhibition, and can be acquired at the gallery. Hope Wolf will be continuing her research on Pailthorpe and Mednikoff after the close of the show.