Jill Smith (aka Jill Bruce) on Bruce Lacey, the Albion Fairs and sacred sites
Jill Smith was known as Jill Bruce during the period of her involvement with her artistic and real-life partner Bruce Lacey. Here she describes her life's journeys, and her books 'The Callanish Dance' and 'Mother of the Isles'. Interview Rupert White.
I started off wanting to be an actress.
Were you from a showbiz family?
No. Both my parents died of cancer when I was two and I was brought up by my mother's parents. My uncle once told me that my mother had theatrical ambitions. But it's sad because I think we'd have had lots to talk about.
Was it hard to get into RADA?
I left school when I was coming up to 16. I tried RADA three times and LAMDA twice. The third try, they let me in. May be I was a bit young, but I found it a disappointment. None of the lessons seemed to join up into a whole.
Was it a couple of years you were there?
It was supposed to be two years, but that's when I met Bruce Lacey and we had our first child, so I left after 4 terms and never completed it.
And of course he was already married with a family, which must have been difficult. So did you get to do much acting after you left?
Being a single parent, or 'unmarried mother' as we were then, I couldn't go off and do the old rep thing, so I did small parts on telly. Bruce was making films with Bob Godfrey who did comedy live-action things, and I was in some of those. Bruce and The Alberts had done 'An Evening of British Rubbish' at the Comedy Theatre, which was very successful, but a failure in America. That toured round for a few years and I participated in it.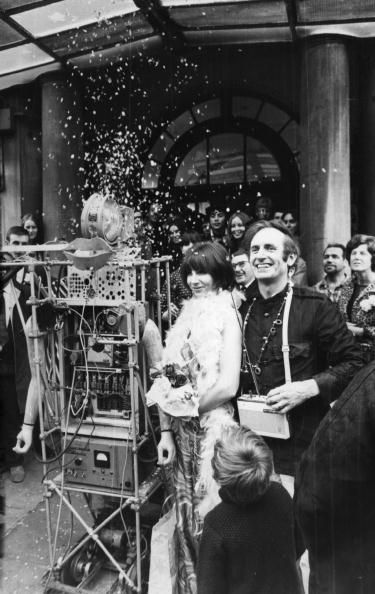 Didn't The Alberts help Bruce get into TV?
Not really. He got into TV in his own right, after being at the RCA, as a propmaker working with Michael Bentine.
You got married in '67, several years after first getting involved with Bruce. Did that change things, in terms of what you were contributing to the shows?
When we were doing British Rubbish, I was filling a role that was created for other people. But then we did our own version of 'The Three Musketeers' (picture above), and I was more involved in writing the script, and doing costumes. In the early 70's we did a show with The Alberts called 'The Electric Element' at Theatre Royal Stratford East. Again, I was much more involved, and costume-making became an important art-form for me.
But I wasn't doing so much when we were first married. I was the one who had to go out and work and earn the regular income! I was a market and social researcher. It was interesting, and a steep learning curve. Meeting every possible kind of person in every part of London.
Bruce's income was more sporadic at the time...
It was earlier in the 60's that he was doing the assemblage sculptures, but he was getting better known and showing at the ICA and so on after we'd got married. Then at the beginning of the 70's all the regional arts associations formed, and suddenly it was possible to do an awful lot more things.
Because of the way the funding was distributed?
Yes. So we - our family - became like a community art group as 'The Laceys', with our children and Bruce's eldest son. We did 'Magic Fun Factory', 'Incredible Whatsit Machine', and 'Journey though a Black Hole to a Coloured Planet'. I organised it all, and I was more part of the creative process. Eventually I gave up the market research job.
Where were you living when you first married?
On a road between the Holloway Road, and Caledonian Road. It was a very rundown area at the time. We were in a condemned building. It was like a Rediffusion centre, and it had a hole in the roof when we moved in. There was a damp basement. Bruce had the ground floor as a workshop, and we had the top two floors, two rooms and a kitchen upstairs.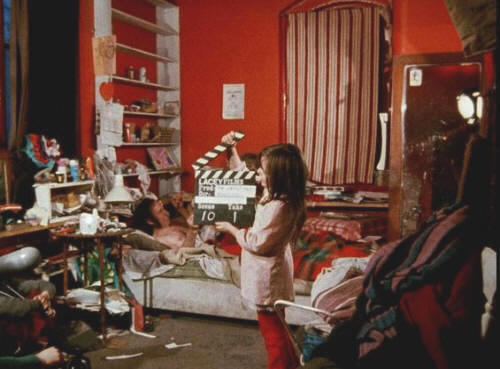 Was The Lacey Rituals (picture left) filmed there?
No, that was when we moved to Hackney.
In about '72? Wasn't Bruce running SPACE studios then in Martello Street?
We were the caretakers, and we had a little house just inside. It was the caretaker's building in what had been a clothing factory.
With bright red walls...
I did that. I painted the ceilings and floors.
Genesis P Orridge was at Martello Road studios in Hackney at the same time as you, and Throbbing Gristle would have formed there...
Yes. He was downstairs. He was becoming better known then. There were lots of artists there, and many were involved with the ACME gallery. Peter Dockley and Robin Klassnik were there, and Jules Baker and Rosie Antrobus, who did big inflatables.
Before talking more about the 70's, can you say something about that photo of you getting married, with a robot as your best man (above)? How did you feel about that?
When I was a child I'd go to weddings and think they were really boring, and thought I wanted something a bit different when I get married. And I quite liked the publicity. We were on the Eamonn Andrews show. At the time it was fun.
I did Andrew Logan's Alternative Miss World, which I did independently of Bruce (picture below). I made all my costumes for it. It was the one thing that was just mine. Then after I left Bruce, he did it with a robot, and won it! So I have a funny relationship with the robots really.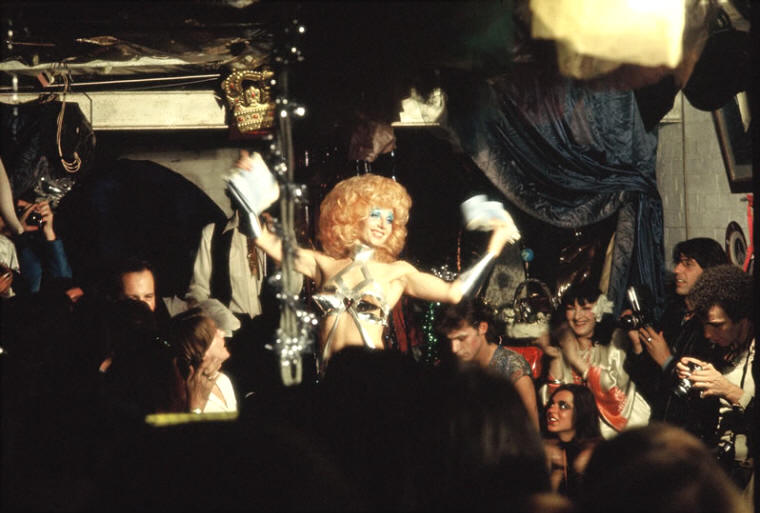 Can you also talk about the performances that you were involved with in the 60's, at Better Books?
They were called happenings then.
Were they more like the rituals you did later?
I wouldn't say they were ritualistic, and they really came before performance art, but they didn't have to be entertaining or hold an audience in the way that a theatrical show has to. Better Books was quite early. There were quite a few poets who were doing them, like Jeff Nuttall and some Americans.
I remember one where I had a bag of offal sellotaped to my abdomen, so I was like a pregnant woman that was then operated on!
So Bruce would have pulled bloody entrails out of you. Must have created quite a stir.
People were up for anything!
Did Better Books have a separate room for these events?
Yes. A downstairs room. And there was Middle Earth in Covent Garden too. Stuart Brisley was involved at that stage.
The other thing about the 60's - a more personal thread - was going out into the landscape.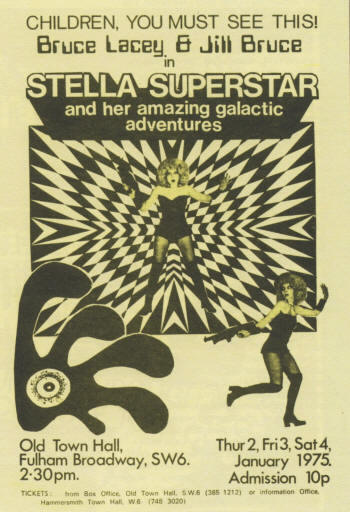 Once we were driving - before the M4 - driving down the A4 and passing Silbury Hill and we became really intrigued by it. So we then went on holiday with the children to discover all the sacred sites. When we climbed Windmill Hill above Avebury I had this experience as though I was somebody from the Neolithic Era. It was as if we were a tribe of people who travelled on The Ridgeway path, and had an annual gathering on Windmill Hill. It was like we were Mesolithic people, but I felt the West Kennett Long Barrow belonged to us. And looking down to where Avebury was, it was as if there were alien people putting the stones up.
Another time travelling on a train going to Wiltshire, I got this feeling that there were all these prehistoric ancestors rising up from the ground, like in Jason and the Argonauts. I'd not been taught about anyone who was pre-Roman, but they were saying 'we are really wise people'. They were really talking to me, saying 'its your duty to go out into the world and tell people what we were - that we weren't stupid savages'.
I'd never had an experience like that before, and it didn't relate to anything in my life or our life at the time, so it was put on hold, but it was sitting inside me, for a long time.
Was Bruce sympathetic to these ideas?
We both got interested in sacred sites, but I don't think I told him about these experiences. It was a very personal. The spiritual aspect was stronger in me than in him.
The family holidays to the sacred sites – was that in the sixties?
Yes, we still only had two children then so it was probably '68.
So your interest in prehistory grew over several years. Did you do much reading around this topic?
There was one show we did called 'Obsessions and Fantasies' which were talks at art schools, with performances. Bruce would give talks and express a lot of my ideas. And there was a thing he did in Hyde Park with a load of students being American Indians.
There was a series of magazines called 'Man, Myth and Magic' and we started to get those. When I started to read them, it was like I had this knowledge already deep inside me. That was the only real reading.
What about Ley Hunter Magazine?
We came across that later.
In 1976 My grandmother was in hospital and I went to stay with her whilst she got back on her feet. And I started having odd psychic experiences. I felt her thoughts coming into my head. And my son bought me 'View over Atlantis' by John Michell, and my brain was going click-click-click, and there was this sense of things joining up. And then on the telly there was this programme with Mary Caine talking about the Glastonbury Zodiac. Massive things were happening inside me at the time.
'The Electric Element' at the beginning of the 70s, involved Bruce as a professor who made this machine called the Materialiser, and he materialised the most beautiful woman in the universe, which of course was me. Then she disappeared, and he travelled through time and space trying to find her again.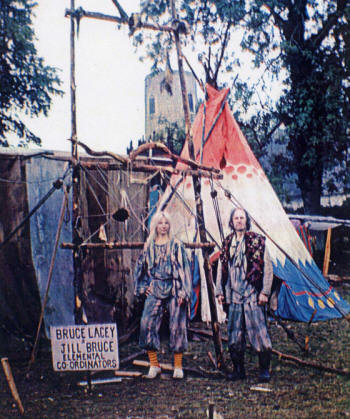 All the people in the cast had written their own scene, and there were pirates and doppelgangers and Russians. And I would crop up in each of these scenes, then right at the end we met each other and did a Fred Astaire and Ginger Rogers dance. He was wearing a silver space suit and I was wearing a gold dress. As I appeared, I declaimed this speech which was a sort of invocation of the Goddess. I adapted something from the Golden Ass. It was like an invocation. It was the first time I brought the Goddess thing into my life.
After that show Bruce and I wanted to do more sci-fi things, and the Alberts didn't, so that's when we split with them, and Bruce and I became a performance art duo.
Called Galactic Theatre...
Yes. Stella Superstar was a similar story, except I was being chased by a black hole. Bruce was the black hole! I can't remember the whole story. It was very multimedia. The audience sat on cushions in the centre, and there were screens all the way round and lots of projected films and slides, and some live action. And the audience moved around looking at the different screens.
There is a film sequence where I'm running in a wood and I'm getting sucked into this black hole, and I turn into an old woman.
It played in Art Centres and Town Halls. Sometimes it was booked to play to children. Our poster had me in this Barbarella-type outfit, and somewhere, I think Hammersmith Town Hall, had painted over it because it was considered too risqué.
Your performance style changed a lot when you appeared at Barsham in East Anglia in '76 (picture above).
We did another science fiction thing called Exiliad. But at the time we were reading Man Myth and Magic and I had all this stuff stirring inside me. We were at a sci-fi conference and someone came up to us and asked if we wanted to do the last Barsham Fayre, but it was to be non-electric. I mean, up to that point, everything we'd done needed electricity!
When it came to doing something non-electric we thought: well what shall we do? and so we decided to call ourselves Elemental Coordinators.
Bruce was building structures. He was interested in the scientific aspect of the sites. In your interview with Cheryl (Straffon) you mention the Dragon Project. We always wanted to get involved in that, but they didn't want us! Bruce was interested in the experiments they were doing, and he made lots of machines that could measure and record things. We spent a weekend at the Rollright Stones trying to measure things. And strange things happened, like his razor suddenly got sharp.
Paul Screeton (Ley Hunter editor) remembers meeting you at Arbor Low Ley Hunter's moot
We went to a few Ley Hunter moots. We sometimes gave talks at them. I remember one talk was about an Alfred Watkins journey we made, then later I gave a talk about my Gypsy Switch journey. I got interested in leys from reading the John Michell book, when I first got a sense of the earth being alive, and having energy in it. And so finding out what people were doing with leys was a way of interpreting the way I was feeling. So we really got into leys.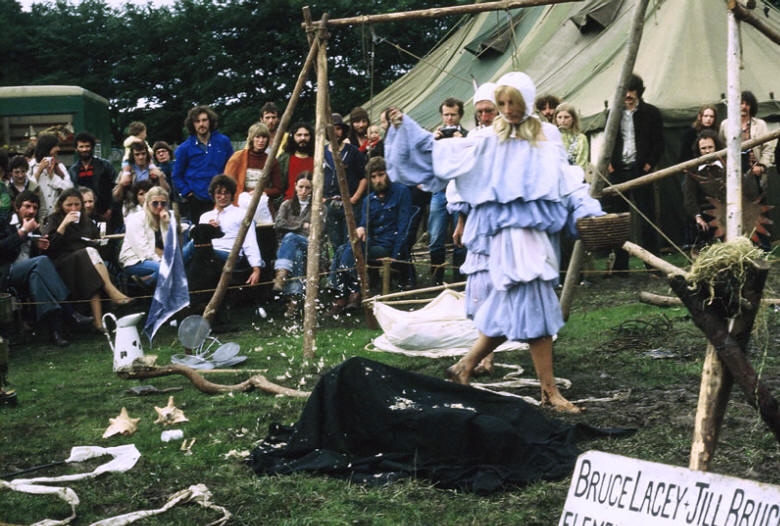 Do you want to talk some more about Barsham? I know it was the first of several fayres you did in East Anglia...
Bruce had got a big globe, and it focused light, and he'd burn the track of the sun through the day. For Barsham we decided to work in a circle, but it was me who worked out the ritual, and I started making the costumes. It was a way of expressing my creativity and spirituality, through these elemental costumes. I was working out the rituals initially, and telling him what to do. I devised the ritual language, with all the objects. It was me who worked out what we were going to do.
When we started doing the Albion Fayres in East Anglia they had themes, and it was like going into a little retreat. Because I'm a Leo I'd always been a sun person, but for the Moon Fayre I went into a moon retreat. In order to evolve a ritual performance I was, without knowing it, developing this spirituality inside myself.
Was this ritual language purely intuitive or were you reading about ritual magic, or witchcraft at the time?
Not really. It was very much from within. I didn't know about pagan rituals. Though I suppose I was learning little bits about solstices and equinoxes and things, learning about the cycles of nature and evolving what felt right. Bruce had a vast collection of things and they were the things we performed with.
There was a place in London called Theatre Scene Armoury where you could get coloured fire, that you could light with a match. So you could light something from the sun. And if you sprinkled the powder on some straw, you knew you could get it to ignite. We used to do a lot of fire performance, and I had a headdress that I lit and I'd walk about with fire on my head.
Talking of headdresses, the little skull caps that you often used (picture above) look very Elizabethan.
They were actually based on what the Apollo astronauts wore underneath their helmets.
Were the costume-designs intuitive too, or were there particular sources you took inspiration from?
I think all the ideas just came from me. I'd go around all the markets and find fantastic fabrics. When we were still in Hackney I had a shop window dummy that I made the costumes on, and I had a sewing machine on the floor. I think all my life I'd been trying to create identities for myself.
When we were doing the science fiction stuff I got a shop-window dummy firm to make me solid wigs, which I used for fantasy hairdos. But then as it evolved it was about getting away from artificial materials and I started buying unbleached cotton and muslin, and dyeing it
There's that really lovely picture at the Rainbow Fayre (below).
Yes. We had costumes and I'd dip-dyed them. The big rainbow, I dyed all that....and my hair.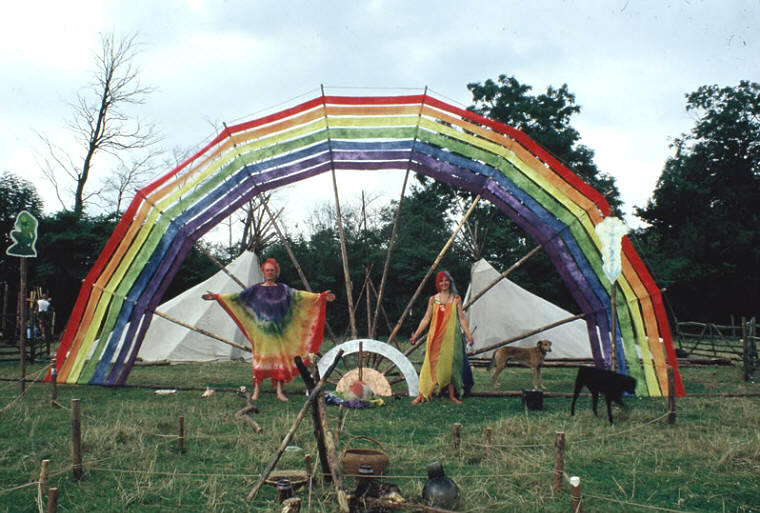 Can you comment on the performance based on the zodiac?
For the Glastonbury one, we went down to Somerset for 4 days, and went round doing performances, doing 3 signs of the zodiac a day, so we did the whole thing in 4 days. At the time we'd kept on going out to lots of ancient sites, and this is where I began the concept of 'journey'. Journeying between the sacred sites. It was as though ancient sites had been connected by paths of energy. Or paths of 'British dreaming' like the 'Australian dreaming'. And so I'd take sacred water, maybe from Chalice Well in Glastonbury, and I'd anoint the stones, or I'd take one thing from one site and carry it to another, as a way of linking them; feeling that they'd once been part of a whole web or network that in the modern world had been lost.
Doing that for four days was like entering a different reality. You might go into a pub to have lunch, but it was a slightly different out-of-sync reality. We were in the reality of zodiac. It was a very powerful and intense experience. It was deepening my relationship with the land.
The Bury St Edmonds one we did when we moved to Norfolk in '79. We went over the course of a year, once to each site in the appropriate zodiac sign and did something quietly somewhere.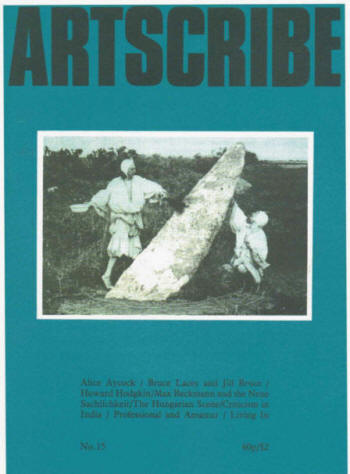 During the ritual performances at the fayres I didn't realise what was happening to me. It was like a self-initiation into my woman-power. When we moved to Norfolk that was like a shattering change really. I really started living the cycles. Looking after chickens and goats, and I started to really get into the moon.
One year I photographed every sunrise from the same place every day. It moved across the sky, and that was a sort of artwork.
And the Glastonbury Zodiac work was shown in your show at the ACME gallery.
There were two shows at the ACME. I did all the wall panels. This was a way of presenting to the public the documentation of the things we'd do in private.
We visited lots of sites. We'd take our van of stuff, all our props. And we wouldn't pre-plan it, but think 'right, what does this place want us to do?'. Then we'd evolve something we wanted to do. We'd do it for real then we'd reenact it with a camera taking photos.
You would've come down to Cornwall as part of this. The pic on the cover of Artscribe (left) was taken at Boscawen Un in Penwith.
And we did one at Boskednan. There was another one high up on the moor (Tregeseal). There's a famous photograph of us going round a circle in Cornwall with our fire costumes on, and some fire torches (used for poster for 'Ancient Forces'). I think that might be Boskednan. At Boscawen Un we did something with the air costumes.
Had you come down for a fayre or festival?
No. We would have driven down especially, and slept in the van. It was a 3 ton yellow ex-GPO truck. This was 79, 80, 81.
It all became more real to me and using things from our land in the performances. But you could be jokey too. I had a bantam chicken that always laid double yokes, and so we'd do the zodiac performance (picture below right), and when it came to Gemini I used the egg, and people would be amazed that it had a double yoke!
It was becoming quite overwhelming. It was like this ancient knowledge was rising up inside me, like I'd always known it. I left the house and went to sleep in the little goat shelter, because I didn't want to be indoors in the house. I would cook the supper and go outside. I was like that for a number of years. I started to reject houses. I needed to be physically on the land. There was a big upheaval in my life, and I wanted to go to the ancient sites on my own. Bruce's energy was different to the energy I wanted to be in when I was there.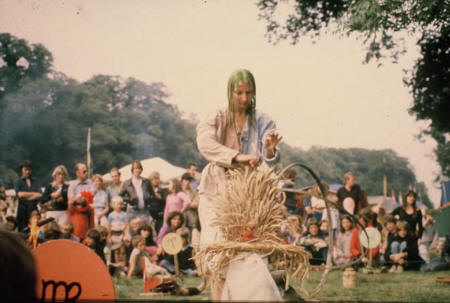 Then I started on the long journeys. I went down to Cornwall, and travelled up through stone circles all the way up the country. It's not like a chakra system, but I'd got very involved in tibetan buddhist teachings, a cleansing practice visualising different sites in your own body. So Cornwall, Boscawen Un, was in the feet. So I was doing this practice in the feet of Britain, and I did it all the way up the country. It was like I was becoming the land. I was becoming Britain. These places were coming into me, like an internal map. And it was massively powerful.
By then I no longer wanted the costumes.
It was no longer public in any way.
No. I was still doing my little rituals, but they were smaller and more powerful.
I 'd learnt the meaning of things. It was macrocosmic-microcosmic. It was like going off into a dream-time linking the sites. It was like a line of light that I was following up the country.
I remember sleeping outside with no tent, spending days at each site. I would travel by coach then walk perhaps 15 miles to each ancient site in pilgrimage, and then sleep there for a few days. I would just nestle down into the earth. The earth really had become my mother then, and it enfolded me and kept me safe and secure. When I got up here (Hebrides) for the first time it was like I' d come home. I walked off the ferry and went and slept in the heather, and it felt like I'd come home. I'd never had that feeling before.
Having done lots of photography with Bruce, I stopped using a camera. I didn't want to experience everything though the lens of the camera. I wanted to be totally in it. But I had a frock with me on that first journey. It was a garment on which I sewed things. At each site I'd leave a little coloured disc, and I'd take something from the site, like a little plant and I'd sew it on the frock.
Yes and I've got slides, and all the little plants I'd sewed on. It goes over your head so you can't see your face. I photographed it at all the stone circles.
I wanted to share what I was feeling so that's when I started to draw. I bought some pastels. The early ones are very light, but full of energy.
How long did that first long journey take?
Something like 6 weeks. I was meeting other people at Callanish for the summer solstice. After this I did the Gypsy Switch journey around the whole of Britain.
You called the first journey 'Awakening' – where does the name 'Gypsy Switch' come from?
At one of the fairs we got talking to a woman about Arbor Low, and Gypsy Switch goes around Arbor Low which is the hub, like the hub of a wheel, and she gave us a diagram, and it relates to the zodiac.
After the 'Awakening' one I came back to East Anglia. But I didn't live with Bruce, so I 'd given up everything, I 'd even left my daughters. I lived in a caravan in a field. I went through a winter that was very heavy-going: a kind of shamanic death and rebirth. I made sense of it by turning it into a journey. Every dark moon and full moon I went to a long barrow or a chambered cairn or a well. And it kept me sane and I came through it.
I heard of people who were doing 'The Walk for Life' from Faslane to Greenham Common. Rather than travelling the whole thing with them, I did my own journey from Orkney and joined the Walk at Coventry, again without a tent. I hitched. That was a weird one. It was linking Neolithic sites of power, with nuclear sites. It was this thing about healing, because we really thought there was going to be a nuclear war. People used to talk about healing the earth, but it was people who needed healing.
The Goddess movement partly grew out of Greenham common...
My Goddess awareness evolved from my experience of the power of place. I had a friend called Lynne Sinclair Wood who was Australian. A very powerful woman, she introduced me to Monica Sjoo and the politics of it all. That woman-power thing. And going to Greenham, and feeling the amazing power of women, that was amazing. And there was Starhawk. I was also experiencing Mother Earth as something I nestled into when I slept.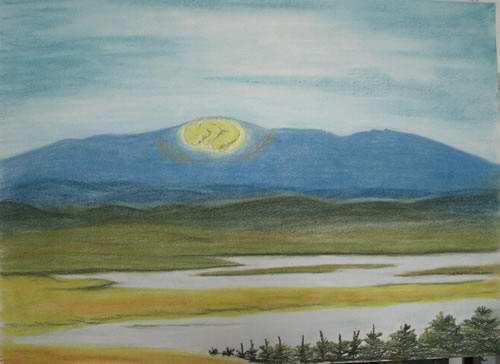 Up here there is a being called Brighde of the Isles, when Christianity came, she became St Bridget. She was more than a Goddess and more than a saint. The people really revered this being. Brighde was and is the power of this place.
In the practice of Dzog Chen you're manifesting dakinis and beings like that. So Brighde is a manifestation of particular energies.
Is that a mental process?
Yes. It's visualisation.
One year I went to a beach, and I got this whole experience of suddenly becoming a wild being, and being a wild hag. I wrote a poem about that. I wrote a lot of poems during the first ten years living on Lewis.
When I was in Glastonbury and I wrote 'Mother of the Isles', I came across the wild hag the Cailleach Bheure, who was an existing part of Scottish mythology. She was a creation ancestor.
It was interesting to me that I had this thing of experiencing that, before I knew that she was a manifestation of the landscape. She created mountains, and the Western Isles I think.
Have you abandoned ritual in recent years?
Once the rituals became real rather than performance, I no longer wanted them to be public. I will still do things when requested by people I can relate to on a deep level, but they evolve from my own relationship with place and whatever and whoever I am working with, not following the traditions of others. I tend places on a deep spiritual level in my own way and have deep relationships with place. There is still the performer in me who will devise performance-type pieces for the right situations.
In 'The Callanish Dance' it was that thing of doing the journey of the year, going with my son to the same places at the same time each year. And being part of that cycle of nature. We would always do things on our own. We used to just camp at Callanish for several days.
I still give places gifts, and they give me gifts which I return again the next year. And I'm doing it on my own.
What kind of gifts?
Gorse is the tree of the spring equinox in the Celtic tree calendar, so at the Spring Equinox I'll take some new gorse to Callanish and I'll place it at the end of the arm facing the rising sun, and I'll put the old one at the end where the sun will set. It's a tiny thing but in a sense it's massive, as it marks a turning of the circle.
I've seen another ritual involving a model with jelly babies inside it on your website...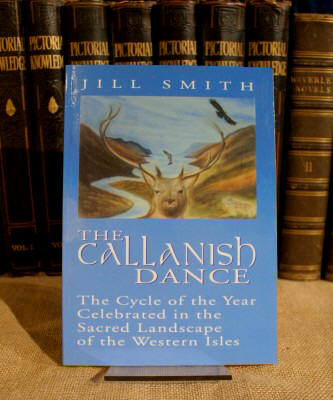 That was my birthday! There is a mountain up here called The Sleeping Beauty (picture above). At the southerly lunar standstill every 19 years, the mountain gives birth to the new cycle of the moon. There is the Achmore stone circle, where all the stones have been laid down. And seen from that particular position she looks pregnant.
I made a cake sculpture, a model of the Sleeping Beauty. I got everyone to bring gifts. Everybody walked the spiral and gave their gifts to a corn dolly. I then gave the cake a caesarian, and inside she had the jelly babies.
On another occasion, when Lynne died, she'd asked her brother to bring her ashes to Callanish and said that I should do the ceremony as I 'would know what to do'. We also took some of her ashes to Brighde's Well and the Achmore circle, giving them up to the elements.
Coming to 2012, did you get to see the Camden Show?
Yes. I got on well David Mellor and Jeremy Deller and William Fowler of the BFI. David Mellor phoned me up a lot, and was able to put more of me in the book than was in the exhibition. It was a bit of a shock, though, when I saw the exhibition. There were three photos of me in the exhibition, but they didn't say it was me. And they had costumes in the show that I'd made. And everybody thought that he'd done them.
What like the tie dyed things?
Yes. They were mine. We were amicable when I went off, but later he was, in a sense denying me, and I got very angry and he didn't understand my point at all, and it became difficult for us to meet and talk.
Your involvement makes sense of Bruce's career. The robots are so typically blokish, boyhood fantasies of machines and idealised women. His work so obviously changed as you became more involved...
David Mellor picked up on that. Bruce wouldn't have gone off into the ritual areas of work had it not been for me, and when I left him it upset me that he continued that type of performance using the ritual language which I had evolved and we had used together, changing its energy and meaning. I was pleased when he took up painting again.
The two of you must have found yourself in a weird psychic space. You'd gone so far down this extraordinary artistic and spiritual route...
There was so much going on inside me, even before I left, things of such enormity that were happening with me, that were n't happening with him. So it was a path I had to take alone. I found other people who I found understanding with. So it was an era that was over for me.
I still see life as one of journeys, though. I still go off to places in the landscape, later making art work from the journeys. A few years ago I journeyed round sites dedicated to the Cailleach in Ireland and Scotland and produced a sequence of pictures from this.
http://www.jill-smith.co.uk/