Liam Jolly on Martin Creed, festivals and music in Cornwall
Artist-musician, promoter and founder of Tardis Projects interviewed by Rupert White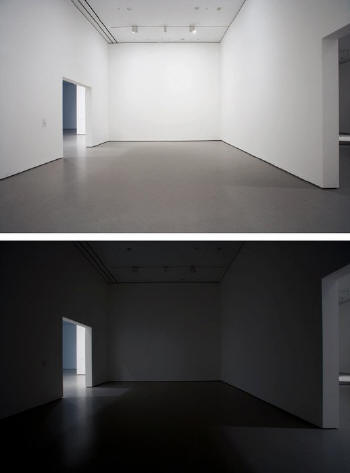 How did Tardis Projects come about?
When I finished my Fine Art degree in 2001 and came back to Cornwall, I naively thought that everyone would come a-knocking at my door, but soon realised that wasn't going to be the case. But I always wanted to do artists projects and this unusual building behind the Cathedral in Truro seemed perfect.
It m

ust have taken a while to work out who owns it

...
I did some Google searches. It actually made The Sun newspaper as the smallest office in the country. Then I rang the estate agents when it was for sale and it turned out The Cathedral owned it. But it took about 5 years altogether to get it organised.
Why Martin Creed?
I thought 'let's push this and see if we can get someone famous' and Martin Creed was pretty much top of my hit list. His gallery responded to an e-mail I sent to them through his website. They were like 'send us more info, and send us a floor plan and say which works you'd like to borrow'.
You chose 'Lights going on and off'. Did they stipulate how you should show it?
The only stipulation is the lights have to be 5 seconds on and 5 seconds off.
If it was much faster it would be like a stroboscope

...
People had to wait for the light to come back on to finish writing in the comments book
!
Have you got other plans for Tardis Projects?
Yes, but rather than having strictly scheduled shows we'll put on projects that are strong
,
and just happen when they happen.
You're used to organising events, because you're also a musician and have been heavily involved with music promotion. Can you talk about this?

I was promoting gigs at the Wig and Pen pub for about 18 months. It was a brilliant space because it was empty so there was nothing that could get hurt. We had some incredible shows down there. We had this hardcore band from Wales. I remember the singer was screaming; pinned to ceiling by the crowd, everyone was sweaty, tattoes, it was perfect! Then I started B-side at Bunters, as the new management were very keen to get the music up and running.
Communion, which we do once a month, came about because I used to be in a band called The Noel Prior Band and we did a recording in London with Ian Grimble. Ian, together with Kevin and Ben set up Communion. Ben is now in Mumford and Sons, and since Mumford and Sons have gone massive so Communion has gone massive.
No. It just so happens the fashion at the moment is towards that folk thing. I noticed, though, with Communion that they were having a lot of the same bands that I was already having at The Wig. For example Ben Howard was someone we had worked with from the very early days. He has recently signed to Island Records.
As well as running clubs

Communion are a label too

now

aren't they?
Yes. They themselves can't believe how it's happened. Mumford and Sons have a lot to do with it.
With SW1 y

ou also book bands for the big Summer Boardmasters festival in Newquay. Do you want to talk about this, as well as some of the other festivals in the Southwest?
You've got Port Eliot Literary festival, which is very cool.
But
Boardmasters is a very different kind of beast. It's very sponsored, very corporate. Its a big, shiney festival. Port Eliot is much more arty. We book a lot of pop acts for Boardmasters, but getting too alternative wouldn't work
there
. There's a great festival up in Bude called Leopallooza. I was up at Leopallooza1 which was
put on
about five years ago. It
'
s all DIY
: t
hey've built a stage and a bar out of wood and it
'
s really good. That
'
s at the end of July. They call it the best house party in a field ever
...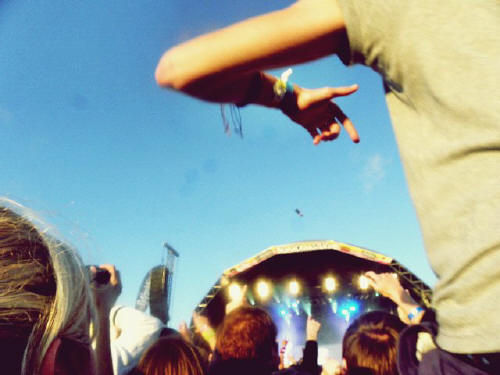 The N
ASS
festival in Shepton Mallet is n't too far away.
It
'
s an extreme sports version of Boardmasters.
At SW1 w
e work on three festivals
:
Boardmasters, NAS
S
and Freeze Festival at Battersea Power Station, which is snowboarding and music.
Its an incredible landscape actually: the Powerstation, a massive tent for bands and a 150 foot ski jump, and trains going past every three minutes. It's really cool. This year we've got Groove Armada, The Streets, and Everything Everything at Freeze. At Boardmasters: Fatboy Slim, Zane Lowe - whos amazing - Klaxons, then at NASS we've got Tinie Tempah. NASS is very urban. Lots of teenagers on BMX bikes!
There was a good BBC3 documentary on the culture of British festivals
recently:
relating to where they
'
ve come from and where they are now.
T

he way that

the

Stonehenge

festival was

policed in the 80

'

s

was really quite shocking. The attitude towards festivals is different now. They're more mainstream.
For me going to a festival is
still
a kind of escapism
, though
. Glastonbury is the most incredible thing
.
Is it the sheer numbers

that make it so

?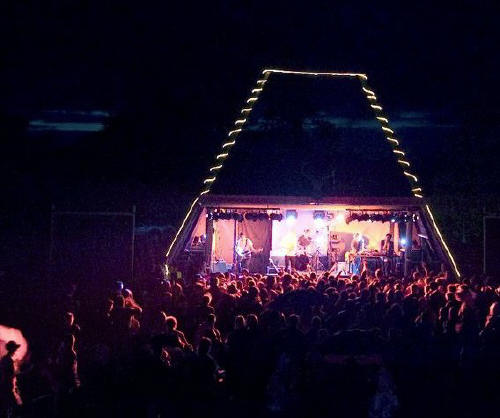 Yes - you can't comprehend it. It temporarily becomes the second biggest city in Somerset. 120,000 people. And when you're there the bands playing etc are the least important part.
Are you interested in the crossover between art and music? Is this something you might do with Tardis Projects?
There are musicians who are
interested in playing there. So that could be good, but I kind of want to keep music slightly separate...
But it

can be

interesting to bring them together. Particularly if you

'

re mixing up the audiences
Yeh
- and
this has happened this week.
Tardis Projects is a good name.
Now we've set up the website I like the idea of a small physical and then this expanse of virtual space. And whatever happens with this building it can be picked up and taken somewhere else....