Liam Jolly on Redruth, the Cornwall Workshop and Auction House
Interview by Rupert White during the Groundwork exhibition 'Where it is, there it is...'
Which came first: the space or the exhibition idea??
The space. As you know I was in Krowji for several years but I was a bit frustrated because I didn't have anywhere for my band to rehearse. Especially being a drummer, its difficult because it always takes a long time to set up the drums and the equipment.
Ross Williams - who is the Krowji boss - and a consortium of local business people bought up this whole area: the Butter Market, the Mining Exchange and this building, the Auction House (picture below). They set up a Community Interest Company called The Redruth Revival. They feel the footfall of Redruth is going to increase once the new Cornish Studies Library is open, and they saw this as an opportunity to energise this central part of the town.
The big room below this was used by Field Notes' for In Land Festival...
Yes. It was actually a Gospel Chapel and I was interested in using it, but Ross said 'come and look upstairs at the Auction House'. It was filthy and stank, and it was really quite gross! It was going to take a lot of work to get it to the point of being a usable space.
It was Sept 1st - one year ago today - when I first started working on it. I'd had to submit a proposal. It was primarily to move my studio here and create a music space and another multipurpose space. I didn't want to call it an exhibition space, necessarily, because I didn't want to rely on it having to be open to the public.
The building has now been functioning since February, which is when I completed making the sound studio, and so Disco Rococo, Stuart Blackmore's band, and Wolf Note, my own band have been using it. Then in October last year I went on the Cornwall workshop and met this group of artists, and had a conversation with Teresa (Gleadowe) about the space. At the time Groundwork was being put together.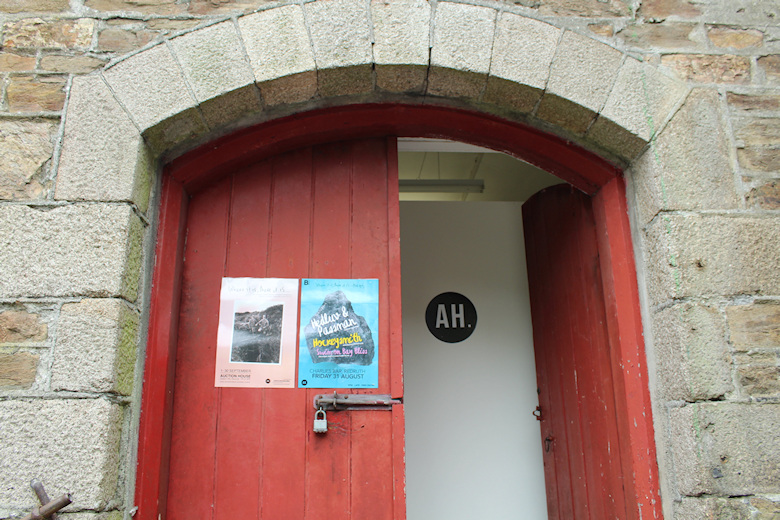 Teresa, of course, is known as the organiser of both the workshops and of Groundwork. Can you say more about the Cornwall Workshop you were involved in? Who went to it? Were they artists from all over the country?
Artists, writers and curators were involved. So for example Gina Buenfeld from Camden Arts Centre, Bo Lanyon who is based at Spike Island, local artists Nina Royle, Rosanna Martin and Ben Sanderson, and Polly Gregson who is a writer. It was led by Christina Mackie.
Who is an American artist?
She is British actually, but was brought up in Canada
, now based in London. She had a major
three-part installation
in the Tate Duveen Galleries about 4 years ago and a
recent show at Godolphin House as part of Groundwork.
It was a residential workshop. 12 of us living down at Kestle Barton - which was delightful in itself. We had a wonderful week, and there was a sense of camaraderie, and a sense we should work again.
The first day was a day of presentations. On the second day we went on a field trip to Tregonning Hill and Great Work Mine outside Helston with Stephen Polglase and Anthony Bryant. Stephen gave us the history of that landscape and, talking about how the miners found tin, he used the saying: 'Where it is, there it is'. It really did resonate as a wonderful quip. That, coupled with conversations with Teresa and Josie about Groundwork, and the show started to come together.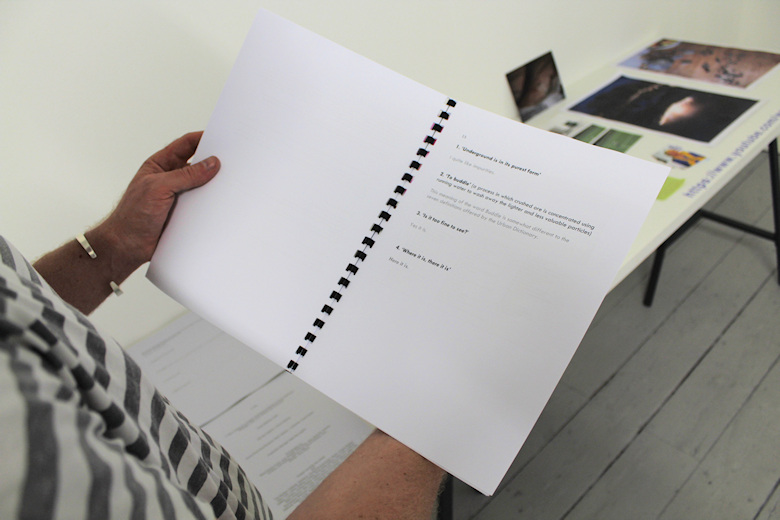 I started working with Rosanna Martin who I'd met on the workshop, and between us we began to work out how we were going to approach this, and make it work with, potentially, a lot of artists and work. We decided it should be open to participants from all four of the workshops, and as we developed the show, it was like: how do we engage these artists? how do we deal with this amount of work? We don't want to be dealing with valuable objects, and we don't want it to to be a big commitment of people's time...So we developed a questionnaire that was sent out to each person (picture above). They had to submit three things by email: an art work, a URL to anything of interest - we got some serious heavy stuff and some silly things too - and a response to four statements suggested by Stephen (Polglase).
We went to see him; spent about 3 hours with him and took away these four statements: 'Underground is in its purest form'; 'to buddle (the process in which crushed ore is concentrated using running water)'; 'is it too fine to see?' and 'where it is there it is'.
Which all relate to art-making in some way...
Yes. And some people have really gone to town with their responses. People have been so generous. So for example we've been having wonderful email conversations with Richard Wentworth.
And these could now be brought together in the form of a publication?
Yes, that's the plan and
I think the only way that we'll able to collect and present everything that has been contributed. That's the next part of the project for Rose and I.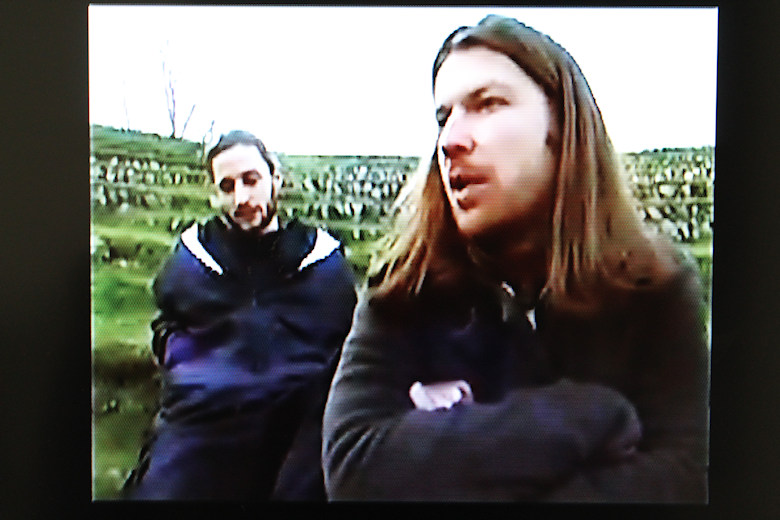 Can you quickly tell me about a couple of the works in the show?
Well there's a good balance of 'art' and 'not-art', shown together in a way that purposefully blurs the line between them.
So most of the videos in the dark space are from the URLs that were sent to us.
And there are URLs on the walls leading you to websites that were suggested as things of interest. It's about trying to start a dialogue with the audience about contemporary art; how do you know when you've found it, where do you look for, what can it be...that sort of thing.
This central piece is a video by Simon Starling with an actor narrating it...
Its a great work that really suits the space really well,
and is very fitting for the show. A talk, about a talk as an art work!
And there is the video that includes John Peel interviewing Aphex Twin and Luke Vibert in Gwennap Pit (picture above). Luke is contributing to Groundwork later in the month...
Yes. The video is the 'Sound of the Suburbs' TV programme from the 90's. That was my choice, actually, and it has some nice connections with some of the other works
that became apparent in the install. So Jesse Smith sent an image of Gwennap Pit, taken by James Hankey, which was part of their 'MINED' project.
But what's also nice is that at the end of the John Peel interview, Aphex Twin says that his Dad was a miner and he himself went down the mines and that's how he earnt money to buy his first bits of music equipment ....
Also, the corner of the Auction House is visible in it. Another nice connection!
see exhibitions for installation shots of 'Where it is, there it is...'