Lucy Stein on the Tate Residency, Lanyon, Polventon and female energy
Lucy Stein is an artist whose practice explores the feminine, absorbing influences from art history, feminist theory and literature. She recently marked the end of her six month Tate St Ives residency at Porthmeor Studios with performance event 'The Wise Wound'. Works made by Stein at Porthmeor were on show at Gregor Staiger gallery in Zurich from June 6th until July 18th, 2015. Interview by Cat Bagg and Rosie Thomson-Glover (Field Notes).

An interest in and ongoing relationship with Cornwall is evident in your work, perhaps most clearly through the body of paintings created for your 2012 exhibition 'Manderlay' (Gimpel Fils, London) and the video work 'Polventon' made in collaboration with Shana Moulton. What did you hope to explore with the residency, and how did this change over the six months you were at Porthmeor?
I have to answer this question with a bit of personal history. In 2010 I left Berlin quite suddenly and moved to The Burren in County Clare on the West Coast of Ireland. I was suffering from what is commonly known as 'burn-out', having churned out lots of paintings and exhibitions that played with constructed female selfhood. Most of the work was laconic in tone but at the same time deeply personal so I was a bit traumatised by my oeuvre and its reception.
Anyway, despite misgivings that I was pointlessly searching for an 'outside' that doesn't exist, I immediately felt an intense relief in that Celtic landscape. I felt immanent, instead of raw, and connected the feeling to my childhood experiences of going to Cornwall on holiday, since the landscapes are similar, although The Burren is more ungodly. It was there that I met Simon Bayliss who had lived in Cornwall and knew the areas that I knew well. My grandparents and two generations before them are buried in St Merryn churchyard, and many members of my family live in and around Padstow. Being of a morbid disposition I have always been fascinated by my grandfather Eric Stein's relationship to the headland and sea and drawn to the site where he eventually suicided. (This story forms the backbone of 'Polventon' (still below - also see 'webprojects') and has been discussed at length by my uncle Rick (Stein) in his TV shows and autobiography).
In Ireland I realised how a landscape can affect one's psyche in good and bad ways, and particularly how one can be drawn, both physically and psychologically, to this liminal threshold space where sea meets land. I was fixated on the idea of a 'genius loci' in these places, and how that had affected the artists and writers in Cornwall. Art historical myths coagulated with family legends and I started to make work that was somehow 'set' on the Cornish Coast.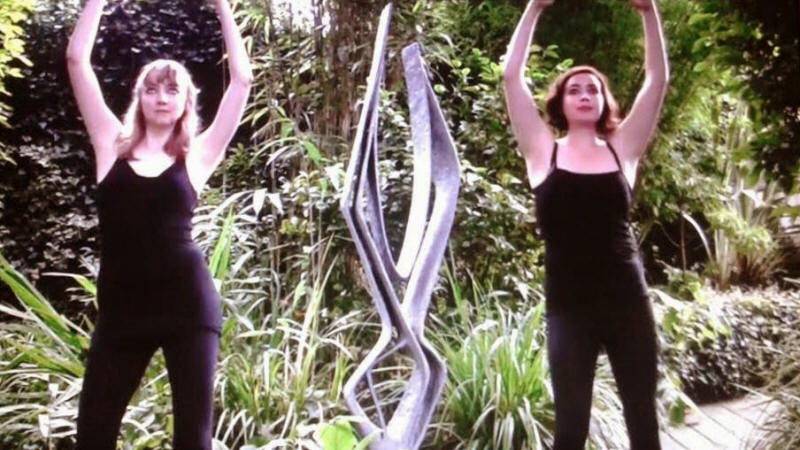 I entered the residency with Tate with lots of ideas that revolved around a project to research Peter Lanyon and aerial perspective in Modernism, which sounds totally boring now, but the plan involved going gliding, which is something I still plan to do. Anyway, as soon as I arrived I was much more concerned with the strong female energies I perceived there. Not only Barbara Hepworth, who's spectre is indelibly printed on St Ives, as we all know, but Ithell Colquhoun and Linder, my predecessor in Studio 5, and some of the artists, scholars and curators I met when I arrived like Rose Hilton, Jeanie Sinclair, Laura Smith, Sara Matson, Fanny Singer, Naomi Frears, Penny Florence, Abigail Reynolds, Rachael Kantaris, Teresa Gleadowe, Karen Townshend and yourselves! I'm not saying that I found the men in Cornwall to be dull, but I was immediately impressed by the women in the arts in the region.
Despite this, much of the progress that I have made in my thinking has been in going beyond the gender binary into something more holistic and tolerant, inspired by my reading of key Wiccan texts such as 'The Witches Way' by Janet and Stewart Farrar. I have always been interested in the occult and witchcraft. When I became 'of age' my Grandmother Dorrie gave me a copy of 'The Golden Bough' and we regularly discussed our own occult encounters. She was a very serious person, and yet these experiences were integrated into her life as though they were entirely natural. In Cornwall she had seen ghosts at Harlyn House and on Constantine Bay beach. I am a synesthete and as a child and teenager I was excruciatingly sensitive to the spirits hanging around, and regularly had predictive dreams. In my twenties I had lost touch with that side of myself, but the channels opened immediately in Ireland and it was quite terrifying. I felt like a cipher and it was beyond my control. The work I made between 2011 and moving to Cornwall in 2015 all tried to contextualise this expanded knowledge.
Within two months of being in St Ives my period was dragged into a 'red moon cycle' and I began to bleed with the full moon. My intuitive abilities came flooding back, benevolently this time, and instead of researching Peter Lanyon like a dutiful student of British modernism, I've become totally cosmic! Simon and I spent a great deal of time walking and exploring the stones and other sacred sites of the region. In the studio I've been making amniotic paintings that hold together, just, but show an urgent desire to push west and slip into the sea.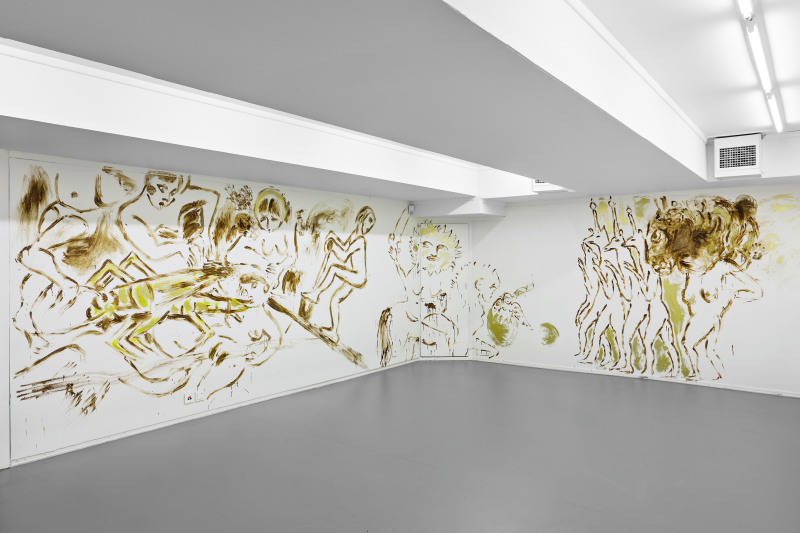 What connections, if any, do you see between your work and the current and historical arts practice that surrounded you in St Ives?
As soon as I arrived I read 'The Living Stones' by Ithell Colquhoun and 'The Dark Monarch' by Sven Berlin. 'The Living Stones' turned out to be more of a guide to how the residency would pan out in terms of research, but 'The Dark Monarch' filled me with insight into these massive angsty characters. There is such a charge to that book and it immediately blackened the whitewash job that has been done on these legends by time and institutionalisation. The Tate show of the same name was clearly hugely influential in the UK. Although I never saw it I was aware of it, and was thinking of Linder's performance 'Your Actions are my Dreams' when I conceived of 'The Wise Wound'.
It is my tendency to want to embody historical research more than illustrate it and I think that my paintings absorbed the lessons of these people and the atmosphere straight away. They became more fluid, thinner in application, bolder and more throbbing, like the vaginal orgasm as described by Doris Lessing in The Golden Notebook: "The vaginal orgasm is a dissolving in a vague, dark generalized sensation like being swirled in a warm whirlpool". I'm not quoting this only to be provocative, as Lessing pointed out at a certain age a woman's physiology changes and becomes receptive in different ways. I love the North Cornish coast and I feel benevolently libidinal by the sea, so this goes into the work.
I have been making gooey monoprints at Porthmeor Print Workshop with Naomi Frears and Rachael Kantaris, the immediacy of the process helps me to declutter my mind and work out spatial relationships that can be carried into paintings. I see them as acts of catharsis. The fact of the Tate residency also gave me the confidence to be brash in my depiction of folk motifs, such as mermaids, goddesses and gryphons.

One of the influences on your time at Porthmeor was 'The Wise Wound' by Penelope Shuttle and Peter Redgrove, which explores the myths and realities of menstruation, even using this as the title for your recent event/performance. Can you tell us a bit about your reasons for selecting this particular text and the effect it has had within your practice?
My former partner the drummer and songwriter Alex Neilson gave me this book a few years ago and it helped me to process the chaos that was unleashed in Ireland. When I noticed that living by the sea had dragged my menstrual cycle in tune with the lunar cycle I came back to it. 'The Wise Wound' is full of archetypal imagery from different cultures, it's a comparative text similar in scope to Joseph Campbell's 'Hero With A Thousand Faces' but written by two poets: a man and a woman, married to each other. Its form therefore follows ideas in Wicca, where it is the masculine/feminine polarity that activates the energy and will that can be harnessed as magic.
Another thing that developed in the last five years is an all consuming obsession with British folk music, and this formed the framework for the event with Tate. Traditional music had always attracted me for its uncanniness, the melodies and imagery that exist at the threshold of knowledge but are part of a collective knowledge. This music provides another example of liminality. The songs feel uncanny, like when you are falling in sexual love and you sense that you've known that person's face, perhaps in a past life... that's the same heartstopping feeling I get from traditional songs, either delivered simply or electrified by people like Fairport Convention, Steeleye Span, Pentangle etc. I love the oceanic histrionics of Sandy Denny and Maddy Prior as well as the pain and tragedy delivered without sentiment by singers like Shirley Collins or Anne Briggs. Every year I go to Mayday in Padstow, and was conceived a few months after my mother got carried under the Oss' robes. The Oss - I don't need to explain on this website - is a case in point: you "know" him but you don't know why, and experiencing him is deeply unsettling but quickens the blood. (He/she/it... whatever). The rhizomatic way in which traditional melodies and lyrics have been passed on within British and Irish music and laterally to America, devoured by Americana and vice versa by people like The Incredible String Band is also fascinating. I suppose I was always interested in the 1960's folk revival but only recently integrated some of those ideas into my thinking. I am forever in debt to Alex for having had access to his record collection, and also for witnessing the way in which he transforms that knowledge into his music with his band "Trembling Bells."
All of the above reasons are why I decided to call the event with Tate after that text. In choosing the different performers (male, female, hetero, gay, prepubescent, synthetic - Heather Leigh's mannequin 'Lynda.') I was aiming for this generative polarity, in the hope of then going beyond the gender binary into something pandrogynous in the fishy subterranean space at Porthmeor.
Your work transverses media, with bodies of work encompassing painting, performance and collaboration with your band 'Death Shanties'. There is often a 'territorial anxiety' associated with such a cross-disciplinary approach. How aware are you of breaching these boundaries within your work? And how do the different elements of your practice feed one another?
After art school I formed Blood 'n' Feathers with Joanne Robertson but then had seven or eight years of lonely painting away in my studio. During the first four years I was very busy with shows and some attention and then after that very few people cared so I was able to experiment more. This gave me a strong vocabulary to work with in all mediums.
All of my collaborations have come about through powerful relationships that demand to made tangible, they are never just for the sake of it. For example, one of the characters in 'The Wise Wound' was my nine year old niece Nell Peto. She is an unusually enigmatic girl with a good sense of the absurd and we are close. My cousin Edward Stein, whose marble sculptures featured in SS Blue Jacket, provided the bouillabaisse, the olfactory effect of which was integral to the event. In deploying family members I was foregrounding a positive nepotism in order to generate a tight but complex atmosphere. In other words, 'blood is thicker than water'. I try to establish an equally complex atmosphere in my paintings.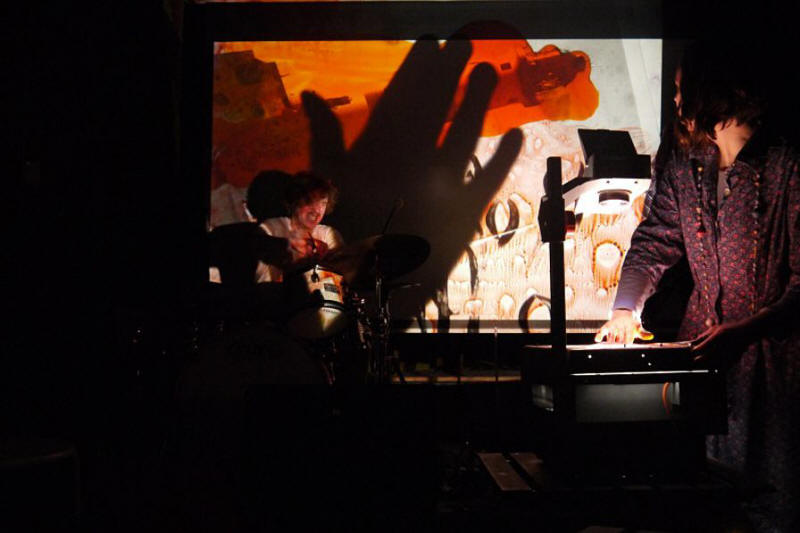 'Death Shanties' (pictured above) started as an outlet for the archetypal love madness that boils over between Alex Neilson and I. Sybren Renema (on saxophone) adds his own intensity and the thing works with or without me, which is good since Alex and I are only speaking to each other half the time. Death Shanties was good for my painting as it forced me to relax my wrist. The performances remind me that my best work is made on horizontal grounds, and that faster is better in liquid mediums.
Shana (Moulton) and I have been best friends since we met at de Ateliers in Amsterdam. We have shared interests in feminist performance art and in the mysteries of landscape, so 'Polventon' was something that had been percolating since she took me to her family home near Yosemite in Northern California and I took her to May Day in Padstow and to Trevose Head. Simon Bayliss and I are both pretty cosmic and sensitive to 'genius loci' and so on, and we like to talk about painting in quite nerdy ways. Our curated show 'SS Blue Jacket' at KARST in Plymouth came out of our conversations in Ireland but it also set in motion ideas that we are both still working through.
Mark Harwood and I have crossovers in our sensibility, we are both into religious music, the morbid, the epic. Same with Andrew Kerton, with whom I have worked on a dance and live painting piece based on D.M. Thomas' novel 'The White Hotel'. Mark and I have also worked together on a radio show for NTS in London called 'Squirming the Worm'. Nowadays I work more regularly with Simon on that, taking field recordings from sacred sites and recording folk events such as Padstow mayday with interjections of Gabba or UK Garage (his area more than mine). We recently made a May Day Accelerationist 'Squirming' where we mixed an hour long loop of the Padstow May Song with readings from 'The Accelerationist Reader' (which is printed by T.J. International in Padstow). I see a futurism in folk music and tradition; it activates a kernel of latent collective knowledge that infers the past, present and future simultaneously by revealing archetypes.
I have no territorial anxiety any longer. Actually I don't identify as a painter as strongly as I used to, although I think I approach everything through the prism of (my) painting: composition, texture, colour, psychological vignette, scale, the figure, lyricism and so on.
You've taken on many roles in your practice, often appearing alongside other performers within your own work. How do you balance the multiple positions of artist, performer and orchestrator? Do you see a difference between them?
I have always been acutely aware of my own body in space, even, especially, when I lose my equilibrium so that probably comes through in my paintings and curated events. What I mean to say is that everything has to exist on a knife's edge. However, to make everything work together in terms of time management, a holistic approach is necessary: rhythm and balance. I tend to spend a few months working intensively on one painting project, quite hermetically, and then when it is over I am desperate to explode into the world, be social and communicate via curatorial projects or a Death Shanties tour or whatever.
Having said that, the nature of the Tate residency is that it is "public-facing", and there are demands for "public-facing outcomes" both written into the contract and implied. I decided to shed any resistance to this and see what I could learn from being a public-facing human for a while. Therefore, in some sense the last six months was entirely a performance, and for the culmination of that I employed other artists to perform alongside me in order to recreate an atmosphere that was in my head. I suppose I was a relational aesthetics witch, throwing elements, including bouillabaisse, into the pot, and choreographing the characters. However cynical that might sound, some atmospheric, de-sanitized magic was activated in 'The Wise Wound'. There were so many strong performers in the event that my hardest task was to find the right flow. I decided to let it loosely follow the form of the Thesmophoria, the women only festival in ancient Greece, which is outlined in 'The Wise Wound'. This began with an ascent so we therefore started up at the Island, with Alex and Roxanne improvising with the sea. Later then we processed down to Porthmeor, and finally descended down into the fishermen's cellars for Heather Leigh's mesmerising performance with 'Lynda' and finally, Mark and Nell.
Ultimately I have taken only positives from my experiences as a public facing human, as Tate were so open- minded and supportive. (Special thanks to Georgina Kennedy and Cassie Penn for that.) The fact that this took place away from the Tate premises probably allowed us more leeway in terms of branding. I have learnt that an institution can be malleable and supportive of magical, liminal projects like 'The Wise Wound'. I have just deleted my Instagram account and it seems as though the coming months are going to be inward facing.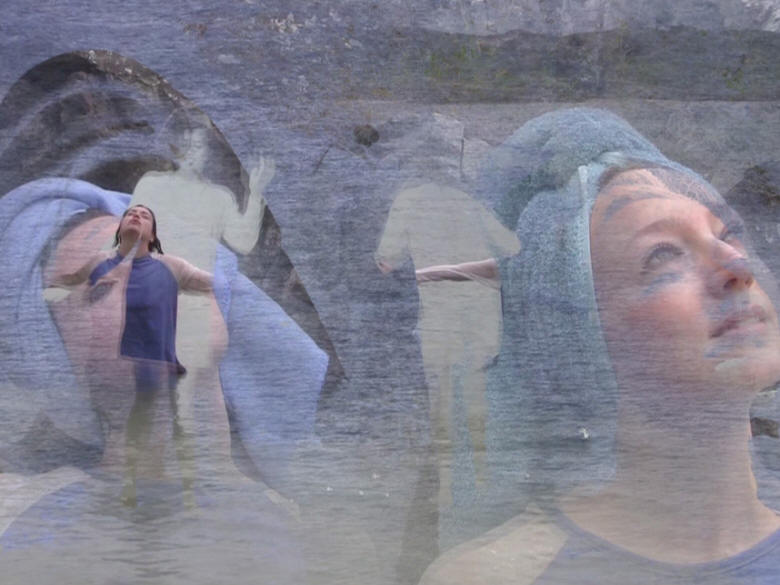 Could you tell a bit about us about the importance of collaboration in your practice?
I like collaboration because you don't have to shoulder the blame for everything yourself. Also it is fun and generative to think through the creative brain of someone you know well, as this brushes with plagiarism and copycatishness but in the end it's always your projected idea of what that person might think or do, and vice versa, which is always 'wrong' but useful in that you can get to a third space together.

What role does improvisation and self-organisation play in your work?
Improvisation makes me a more confident painter. I have always improvised but when I was younger and everything seemed as though it had to be research driven and clearly conceived, I tried to cover my tracks. Now I see that this method of working helped me to learn to make my sort of paintings: ones that exist perpetually on the threshold of falling apart.
Self-organisation is crucial, but only when I can be bothered as it takes so much energy putting on shows. It's important to me that I belong to a network of idiosyncratic, politicized, talented, bizarre and like-minded people. I put up with the boredoms of childhood for that dream and I'll never forsake it. But we're not so like-minded that we all make similar work, or even get on all the time.
When we visited your studio back in April you described your intention to hang a series of small square paintings you were working on, relating to the 30 days of the menstrual cycle, at womb height creating a physical relationship to the viewer. How important is it to you to have control over the way you work is displayed?
Originally this notion came from downloading one of those fertility apps on my i-phone and realising that my cycle is not the average twenty-eight days, but thirty. Also, I have to keep a rigorous check on my moods as I can be emotionally labile, so it is helpful to be reminded by my phone that I am premenstrual or whatever. I then thought about how I get in trouble from collectors and gallerists for darting around stylistically. It seemed natural to me then to make a cycle of works that develop the equation between shifting moods and painting styles, by making a painting for everyday of my menstrual cycle. They were all on beautifully prepared 50 x 50 cm gessoed panels and over the month they inevitably had to deal with painting cliches like 'de-skilling' or 'angst' or 'zombie formalism' etc. because of my moods and capabilities.
I always hang my paintings low so that they can be felt with the body, and not just read cerebrally. Usually I avoid ideas that might seem gimmicky but this body of work was demanding to be hung at (my) ovarian level. I will continue to work with this conceit in the future.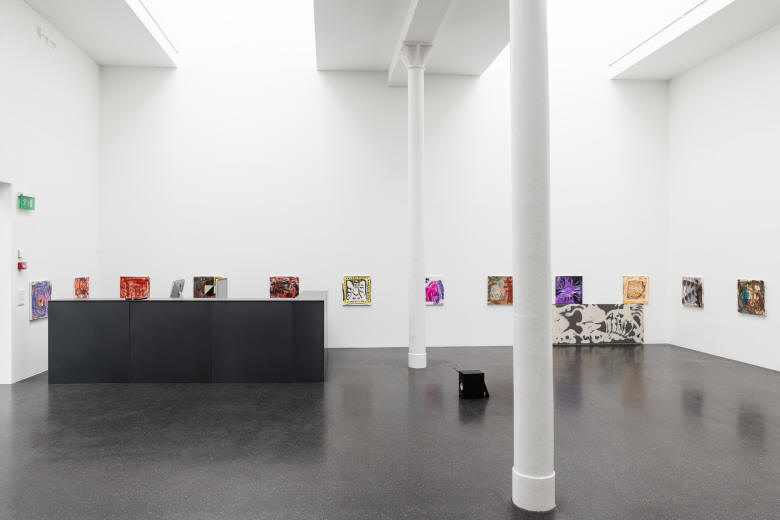 In a group show you have to relinquish control of how the work is displayed. In a solo show I am usually fastidiously controlling of placement and height and so on. However, something that I have noticed recently is that if the work has taken a new direction and I'm about to show it for the first time, a dreadful ennui descends during the hang and I can't make any clear decisions. This leads me to think that processing developments in my work must follow a similar trajectory to processing emotional events, sometimes it all just makes you tired and want to sleep. Then six months later it is obvious what you should have done. I suppose that's pretty obvious in itself, but the veil of exhaustion is intriguing.
There is a directness in your work which has a certain disregard for conventional boundaries: in taking on subjects such as menstruation; openly dealing with dreamscapes and emotion; or even embracing the impulse to stick shells onto a canvas, (which on paper sounds like a venture into kitsch but in reality resists this). How conscious are you of the taboos that surround your practice?

Much of my physical output is compulsive and then rationalized later. The wit and self-awareness is there in the works, if I don't overthink it, but they can't be read like a set of instructions, although I hope they can be decoded by the dark bit of the brain. I hated my coming-of-age time, stuck in the death throes of postmodernism and the sense of having to provide footnotes for everything you did, like some glorified A-Level project. It made me really defensive. Now malapropistic, witchy approaches seem to be permitted which makes me even more defensive. I'm not quite sure why, but it's not because I want to be unique or original, or outside, or bucking the system, as I see myself very much as a specimen of womanhood. I think I just hate it when things get calcified into a 'position'.
You have lived and worked in Glasgow, Amsterdam, London, Berlin and St Ives. Is it important to you to move around to absorb different influences?
I tend to agonise for a while and then just leave a place suddenly, which is emotionally quite disruptive. Oxford is my hometown, even though I don't spend much time there, but my parents and sisters live there. I appreciate that growing up in Oxford has formed my sensibility, as I'm always searching for the mythic in everyday life and (secretly) yearning for some quite boring idea of academic rigor. (This is not to say that I was inoculated against the 'town versus gown' issues that are unique to such university towns. Nor to the fact that North Oxford, where I grew up, is now an enclave for bankers and their A-Level cramming progeny more than it is for the dotty professors of my childhood. Either way it is a very specific micro-culture that has probably left me forever in search of 'reality'.)
Maybe I do move to a place to absorb its influences. I moved to Glasgow originally because my friend the painter Henry Guy lived there with his mother the painter Carole Gibbons. My mother's family were from there too and the idea to move there came to me sitting in bed listening to Belle and Sebastian, as I imagine it did for a whole generation of GSA graduates. I moved to Amsterdam to be taught by Marlene Dumas. God knows why I moved back to Glasgow in 2010 but I did reconnect with Alex Neilson whose influence on my life has been indelible. I also had a teaching position at Edinburgh College of Art.
More objectively, it has been very useful to move around and experience how different cities and scenes create and absorb trends. Glasgow, when I was there in the early 2000's was an example of how a homegrown culture that was antagonistic towards 1990's London can be assimilated into a 'quirky' identity that attracts careerists from affluent backgrounds from all over the world. (Self included.) Amsterdam ten years ago was a city full of finishing schools that provided many non threatening platforms for emerging art careers, it was all very earnest. There it was OK to make figurative paintings, in Glasgow it was not. It was useful to witness that what was permissible in one place was not in another. Nowadays, the expanded network has sent everything spiralling into mimetic chaos, which is fun but it makes me dizzy.
Anyway, it seems to me that aesthetic value judgments may have gone forever, even the old guard don't care, they just express, like Jerry Saltz on his Instagram. Who knows or cares about what is 'good' or 'bad'? I imagine that collaborating with cool people from all over might have made my project more palatable, and also just being around for ages as an emotional work-horse. However, I am yet to see the financial results of my integrity.

What's next, are you intending to stay on in Cornwall after the Tate residency? What projects are on the horizon?

Yes, I am planning to stay in Cornwall. I feel as though I have hit the bottom of my psyche and need to make a base for myself there. I am buying a house in St Just and Simon and I want to start a project space called Bliss: it's a state of mind. I don't have any shows coming up at the moment, which I'm happy about as I've just had a pretty mental run of it. I need to regroup. In the long term I'm considering doing a PhD in witchcraft, hysteria, painting and female sexuality and making an illustrated thesis. But I also might just make the book, without the PhD as I dislike the bit of myself that requires an institutional framework to validate my actions, but on the other hand I dislike how vague I can be...I want to flex the muscle and tighten up. When I had a terrible psychedelic flu last winter I visualized a pagan porn set at the sacred sites of the Land's End peninsula... so I might try to realise that eventually, perhaps this could be my thesis?
I also want to have some cute squidgy babies and take them to the beach.