Patrick Hughes on St Ives, Leeds, rainbows and Ivor Cutler
e-interview Rupert White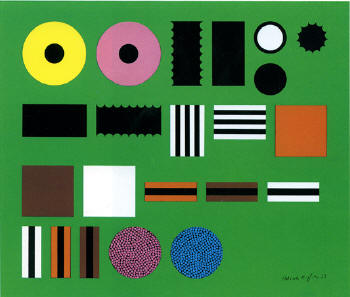 You've written that as a boy in the 50's you were very aware of abstract art. Was St Ives art very visible then eg in the art magazines?
I was aware of Terry Frost and Patrick Heron as a teenager growing up in London, and later in Leeds where Terry was a Gregory Fellow. When I painted my Liquorice Allsorts in 1960 in gloss paint (right) I was partly making fun of Terry who used circles and black and white stripes.

You taught at Leeds College of Art and were associated with a group of artists who were making similar work. You called it 'Jape Art' I believe. What kind of artists did this include?
I taught at Leeds College of Art between 1964 and 1969. There was nobody there making similar work except perhaps my student the late Les Coleman. Tony Earnshaw who lived in Leeds, and Robin Page whom I brought to Leeds, were very interested in humour. Trevor Winkfield and Glen Baxter who were students at Leeds before I started teaching there, are also devoted to humour. But I don't really like the term jape - it's not mine.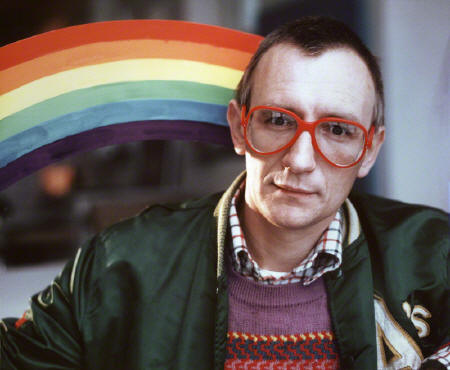 Fluxus artist George Brecht was at Leeds for a while. What sort of conversations did you have, that led to your Vicious Circles and Infinity book?
Robin Page introduced me to George Brecht. We did a small number of performances about paradoxes and humour. George contributed little to the book, perhaps nothing but he suggested I make my researches into a book for which I am very grateful.
The rainbows, and many of your other works, show the influence of surrealism, but by the sixties surrealist ideas also permeated TV and pop-music etc. Were you interested in any of these 'non-painterly' manifestations of surrealism at the time?
My first rainbows were in the early sixties. I came to them again in the early seventies. I don't like eg the Goons, or Spike Milligan or The Beatles. I do like and admire Ivor Cutler and I wrote him his first fan letter - he said - in about 1960. I am a learned internationalist and my interests are more wide-ranging than 'one decade' in this 'one decayed' country.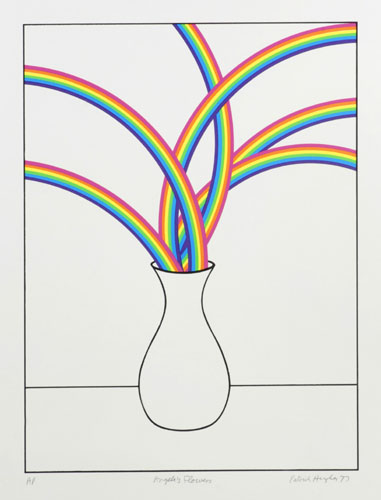 1971 you married Molly Parkin, fashion editor and erotic novelist, and in 1975 you both moved to Cornwall. What brought you here?
Molly and I came to Cornwall because it was cheap, at the suggestion of our friend Terry Frost. And I also knew Patrick Heron through his association with Leeds College of Art. We lived in Rosemergy opposite Anthony and Linda Frost at first, then in a first floor flat in Fore Street, 63 I think, behind what was before our time The Copper Kettle.

Did you come knowing that one of the Porthmeor Studios in St Ives would be available?
No. In fact my first studio in Cornwall was on a farm, a liberal farm, they had had artists there before. Then I got a Penwith studio near to Bryan Ingham, then I got the Porthmeor one (B&W picture below). People seemed to welcome me because I was fresh professional blood.
And Patrick Heron was pretty much next door to you at Porthmeor...
I often visited Patrick in his studio and he in mine. He got his studio from Ben Nicholson and had his (Ben's) school compasses and some of his marks in the studio, which he showed off.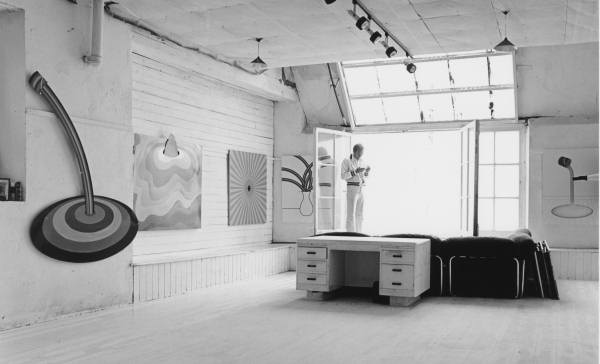 In one of your books you comment that St Ives then was at a low ebb – a bit like New York when you went there in the 80's. Can you expand on this?
Yes... St Ives was at a low ebb, but with our daily swimming and social life we lifted it a bit!
Which artists or gallerists do you particularly remember in Cornwall then?
I showed with Reg Singh at The Wills Lane and with Bob Devereux. Bryan Ingham is a good artist, and Anthony Frost has come into his own. I liked the work of Tony and Jane O'Malley, and I admire John Emanuel.
We bought some Roger Hiltons. I love Alfred Wallis and I have got one. Patrick (Heron) and Terry Frost were close friends.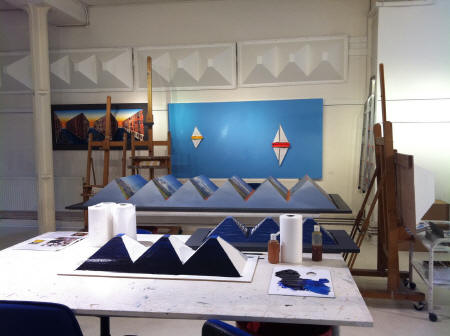 Did you meet some of the slightly more surrealist artists like Ithell Colquhoun or Andrew Lanyon?
Andrew Lanyon is very talented. I got his 'The Rooks of Trelawne' into the museum. Ithell Colquhoun was a good artist in the early days. It was awful egg-box art in my day!
Did being in Cornwall affect your work or the way you worked?
My picture of St Ives Bay with real reflected boats shows an effect St Ives had on me.
Why did you leave?
I left because I was asked to go to Manhattan...